80 Reviews
Recommended by 94% of couples
Quality of service

4.8 out of 5 rating

Average response time

4.7 out of 5 rating

Professionalism

4.7 out of 5 rating

Value

4.7 out of 5 rating

Flexibility

4.7 out of 5 rating
5 User photos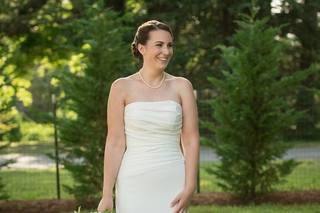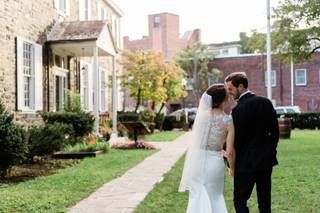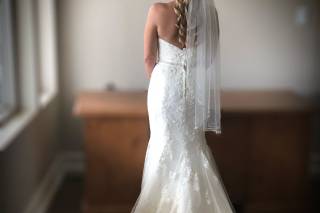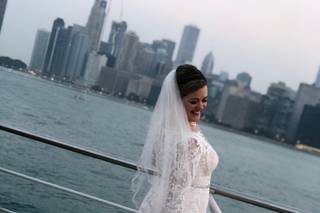 Liza B.

Married on 08/17/2019

Amazing Experience

The ladies at Sposabella are the greatest! From moment one, they made me feel like I was part of their family! They were so helpful and flexible with appointments as I was coming from Boston for my Cape Wedding. They were always willing to help and offer advice on accessories, veil, shoes, etc! I would recommend them to any all Cape Brides, Bridal party, and mothers!

Cindy

Married on 07/12/2019

Great selection, found exactly what I was looking for. The quality of my dress was really good and since we were planning our wedding in such a short time they were very flexible and accomidating. All my alterations came out perfect and my girls all looked awesome as well. There was one girl who lived out of town and had her's done elsewhere and the quality was noticeably lower. The prices were extremely reasonable as well. Highly recommend checking them out.

Racheal

Married on 06/08/2019

Shop Local Kids

I am not from the Cape but Vacation there every year. I came across this shop on one of my vacations and it was the most amazing experience from start to finish. My first visit there Laney was so patient and comforting. I literally spent 4 hours there trying on every dress and re trying on every dress. Never did I feel rushed or pressured they truly wanted to make sure I found the perfect dress. And even though I wasn't from the area I drove over an hour back and forth for every fitting to work with their seamstress. She was so knowledgeable and helped make my dress absolutely perfect.

Are you interested?

Send a message

Melody

Married on 11/11/2018

Best hands down!

This is long over due I got married 11-11-18. Charlene and the staff at Sposabella are amazing they just know your body, match you with your dream dress and they def made my fairy tail come true. The most amazing shop to help you find the right one. I have been coming to Sposabella for years for different events to get the right dresses, So of course when it came to my wedding no questions asked I went to the best, Charlene. SHE HAS WHAT YOU NEED. I will keep using her for other events too. YOU WILL NOT BE DISAPPOINTED! LOVE LOVE LOVE HER.

Katie

Married on 11/10/2018

Absolutely perfect - 5 stars!

My experience at Sposabella was amazing! The ladies were so easy to work with. I couldn't have found the perfect wedding dress without them. In addition to purchasing my wedding dress and veil from them we also rented suits for the groom, groomsmen and fathers of both the bride and groom.

Sposabella Bridal's reply:

Thank you so much Katie. You are an amazing woman. Congratulations on your wedding!!! Cheers to many years of wedded bliss!

Brittany

Married on 11/09/2018

Amazing bridal boutique!

Sposabella Bridal was hands down the BEST bridal boutique. They were SO friendly and helpful throughout the WHOLE process of buying my dress! The first dress I tried on was the one I bought, which I thought was crazy at first, but it was perfect. The alterations went great too. My MOH and I even found dresses for the rehearsal dinner there! My sister (MOH) will be going there one day when she is engaged too :)

Nichole

Married on 11/04/2018

Changed my entire outlook

Shopping for a wedding dress was one of the most stressful experiences I had. I went to two boutiques closer to Boston and the staff pressured me and put me in dresses that were the opposite of what I showed them.

I called Sposabella and scheduled a sporadic appointment when my mom was in town and when we arrived this was the only store we had gone where they let me choose a couple dresses (by myself and with my mom) and let me take my time trying the dresses on. Lehani took complete care of me. She listened when I talked to her about what I liked and didn't like and she didn't pressure me at all when I started getting closer to the style that fit me best. Also, there was no pressure to buy the dress the day of, which is something I experienced at other stores/boutiques.

When I went for my final fitting to have something added and tried my dress on the alterations were done so well the dress looked like it was made for me. I was so impressed and I stayed within my budget.

Sposabella I cannot thank your staff enough. Thank you for setting a relaxed tone and always making me feel comfortable coming in to try on my dress!

Sposabella Bridal's reply:

We are so happy we could be such an important part of your beautiful day! Enjoy your wedded bliss!!


Maggie

Married on 10/20/2018

Perfection!

I couldn't have asked for a better experience! So many gorgeous dresses to choose from and I found my perfect wedding dress when my mom and I dropped by on a whim. They had another bride to attend to who brought a large group but I never felt rushed or like I was a burden. They made a beautiful bustle and took the time to show my mom how to do it a couple of times. Thank you so much Sposabella!!!

Jenna

Married on 08/18/2018

Dream Dress!

I would highly recommend Sposabella Bridal. Charlene was amazing! I tried on a few dresses that I liked commenting on what I liked and didn't like. Then she brought me the perfect dress. As soon as I put it on I knew it. She made sure it fit me perfectly and was the dress of my dreams.
Living out of state she worked so hard to make sure it was ready to go every time. Everyone at my wedding commented on my amazing dress!! It was a show stopper and it is all thanks to Sposabella Bridal.

Sposabella Bridal's reply:

You are so welcome Jenna. We are so happy we were part of your very special day!! Enjoy married life!!

Jess

Married on 08/18/2018

My dress was perfect! I felt like a princess

Alyssa

Married on 05/18/2018

Love love love

I set out on a summer day to start "browsing" wedding dresses. Never intending to buy a dress my first day out. I made a couple of appointments throughout the cape to start finding what I liked. I actually hadn't even made an appointment with Sposabella, they were a happy accident. The first boutique I went to was a small boutique and I had quite an unpleasant experience. This was my first time! I needed some guidance and the sales woman let me rifle through the racks alone. We left the first boutique feeling disheartened by this supposed "magical experience". We had some time to kill before our next appointment and my aunt said "I drove my this place called Sposabella, let's see if they can squeeze us in". She called and Llihane was so friendly and accommodating, told us there was a one day only sale going on and to stop in! Her customer service was unparalleled. So professional and knowledgeable. She knew me better than I knew myself. I kept trying to describe my visions and she knocked it out of the park. The first dress I put on was the one. I tried on several more to be sure. But fell in love. Bought it on the spot and cancelled my other appointments.

Throughout the rest of my planning and fittings they were excellent. The dress fit like a glove and was beautiful. My dress is currently being preserved by them, and I couldn't say enough great things about this company and their owners!

Sposabella Bridal was great to work with! They were accommodating and flexible! They did a great job with the alterations, too!

Jaclyn

Married on 08/05/2017

Sposabella bridal was wonderful to work with! They had a great selection and I cannot thank them enough for helping me find the perfect gown! Their prices were also very reasonable, after looking elsewhere I was surprised at the fact that they had so many different price ranges. They were patient with me each time I visited, and made the selection process a joy! I opted for the sleeves on my dress to be removed, and the tailoring was beautiful! It looked absolutely perfect! I cannot imagine loving my dress anymore. To this day I wish I could wear it again! I would recommend this shop to anyone looking!

Mary

Married on 10/01/2016

Incredible bridal store! Charlene was incredibly personable, kind, and provided exceptional customer service. I've been to five shops and nothing compared. Outstanding inventory, great suggestions and feedback from Charlene, and reasonable prices.

Lindsey

Married on 10/01/2016

AMAZING!!!! Sposabella was the first and only bridal store I went to! It was perfect for me. It was small but had a wide variety of dresses to try. I went with just my mom the first time. Once I said yes I felt bad my sister and sister in law weren't with me. So we did a "dress showing" and I brought them all to the store and should them my dress. They told us to bring champagne and made it so much fun! They were amazing with alterations and added to the dress. I really got to make the dress mine! Always so nice, on time, and truly made my day! PERFECT place to get your dress!

Jill

Married on 07/31/2016

Do not buy your dress until you visit Sposabella Bridal! They are true dress experts and provide exceptional service. Charlene and Lhaine made me feel as if I was their only bride. The quality of alterations was excellent and also on time. We worked together to make the dress my own and it is beautiful. The guidance on choices was spot on so, my photos are amazing. I got my accessories from them too. My MOH and BM were thrilled with them as well. Because of their skill set and quality service, I was able to sit back and just have fun trying my dress on as the alterations progressed. I never had to worry. It was a fun and exciting experience to have Sposabella Bridal on my wedding team.

Angela

Married on 07/30/2016

I went to several bridal salons before arriving at Sposabela. My wife and I had a specific envision and Sposabella was on it. We worked with an amazing consultant who helped us each pick out our dresses, however made sure their either of us knew what the other had picked. Since we wanted to save that surprise to the wedding. We loved it because we could also complete our alterations there and it only took a couple of weeks for them to be completed. I would go back to Sposabella in a heart beat for any formal wear!

Christine

Married on 06/11/2016

Dress was beautiful. Service was great!

Stephanie

Married on 05/21/2016

I had THE best experience at Sposabella! From their dress selection to their honesty, patience, professionalism, passion for wanting you to feel beautiful and the incredible seamstress skills! I highly recommend them!! I had a strapless dress that fit me so incredibly well that I never once had to lift it up or be scared it would slip down and I DANCED the night away!! They really helped to make this process extra special for me and my dress was everything I dreamed of and more!! I also plan on cleaning and preserving my dress through them! AND my bridesmaids got their dresses there! All around WONDERFUL experience!! Charlene and Lhaine feel like family now! They are amazing!!!

We were a walk in and the woman helped us right away and really took her time with us. She was very nice and also gave me a swatch of the bridesmaids dresses which saved everything! Using that swatch I saw that the flowers originally picked out went terrible with the dresses and we were able to change that and now we will have flowers that will look great!! I will definitely recommend this business to others!

Timothy

Married on 10/10/2015

My wife looked amazing on our wedding day! The ladies at Sposabella Bridal made her so happy! She loved her entire shopping experience from start to finish. They even brought her wedding gown out to her car for her. They made her always feel so comfortable. I think she is having bridal shop withdrawals. She truly misses those ladies! Thanks ladies for making her look and feel so beautiful! Also, the tuxes we rented from The Cape Cod Tux were all perfect too!!

Jamie

Married on 09/07/2015

I had the best bridal experience ever! Not only did this bridal salon have Randy from Say Yes to the Dress, but they made me feel like I was on the show! The dress selection is amazing and they treat every bride like a celebrity! They make sure you stay within your budget which was a bonus for my mom, but I found a dress that was well beloe my budget, but made me feel like a million $$$. Thanks to all the ladies at Sposabelka Bridal!!

Sposabella is amazing!! I originally wasn't even going to look there because I thought they were out of my price range ($500), I was wrong! A co-worker told me she got her dress there and that I should look and I'm so glad she did. Cindy helped me find the perfect dress and Charlene and Lhaine helped me with every detail afterwards! I ended up with a gorgeous dress, an amazing veil, and beautiful blue shoes (as well as heel protectors so I wouldn't make divots in the grass during my reception)! The women at Sposabella made this experience as fun as I wanted it to be, making sure everything would be perfect the day of. I called afterwards to see if they had any suggestions to get my dress cleaned and they told me they could take care of it. Not only did they send it to get cleaned and professionally packed, they repaired the damage that occurred during the wedding (a ripped train) before hand. I cannot say enough about this place! If you're engaged, make sure you stop in and see what they can do for you!

Molly

Married on 08/09/2015

Beautiful dresses, helpful staff, and on-site alterations. There's no reason to leave the Cape to find the perfect wedding dress!

My dress was beautiful!!!!!!!!!!!! They did a great job helping me find the right dress, making it fit my style and tailoring it to perfection. They were professional, flexible, and met all my needs. Thank you!
Are you interested?
Send a message