Reviews
5.0 out of 5 rating
Quality of service

5 out of 5 rating

Average response time

5 out of 5 rating

Professionalism

5 out of 5 rating

Value

5 out of 5 rating

Flexibility

5 out of 5 rating
100%
Recommended by couples
12 User photos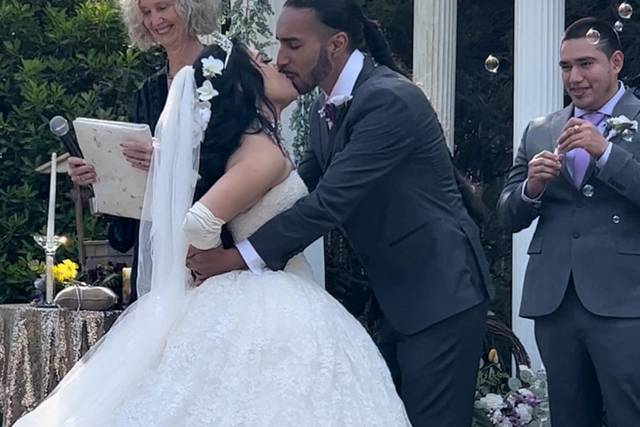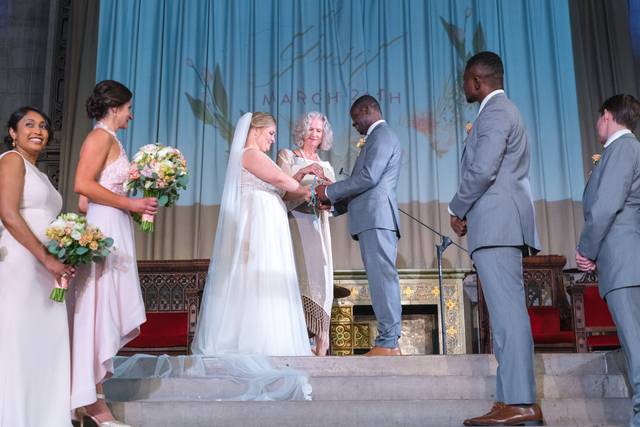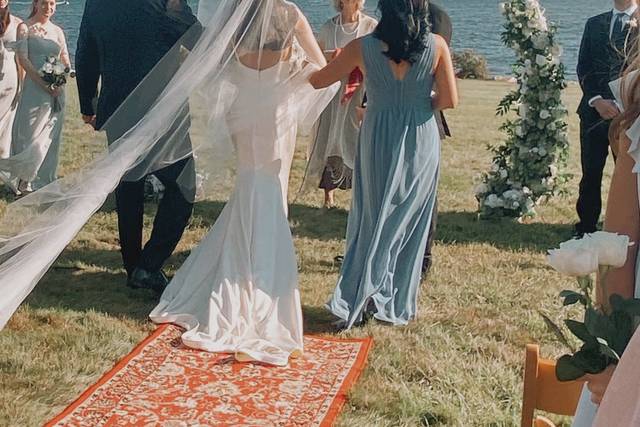 + 8

photos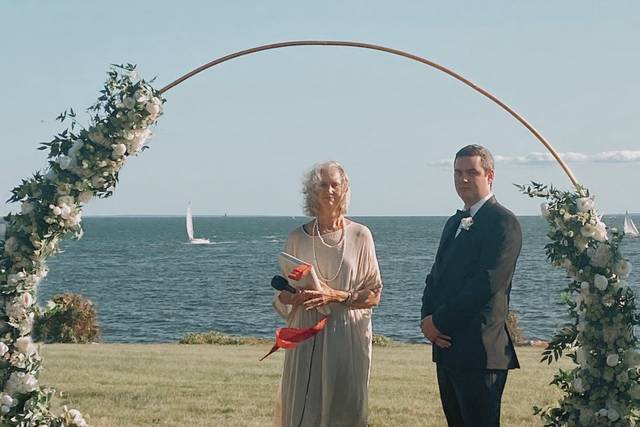 Maddie H.

Married on 09/30/2023

Thank you Deborah!

Deborah was fantastic to work with, from when we first chatted a year out, through several workshops/prep sessions in the months leading up, plus countless offline back and forth with tips and feedback. We wanted a ceremony that was deeply meaningful for us and spiritual without being religious, and an officiant who would help us craft it to be 100% us.
The ceremony came together and was delivered beautifully. While everything felt uniquely us, she artfully created space for everyone around us, regardless of their background, faith system, etc, to feel and share in that sacrament with us.
The process to get there and draft everything was also painless (and fun!).
One of the big pieces of feedback we got on our wedding from guests was how "intentional" everything felt. We think a huge part of that was rooted in crafting such a unique and special ceremony.

Sophia F.

Married on 08/19/2023

An incredible guide and resource for creating our unique ceremony

Rev Deb was an amazing resource and guide to us as we crafted a relatively atypical ceremony for our not-quite-a-wedding. She shared a wealth of knowledge, clearly accrued from guiding many couples through similar processes, while still allowing us to create something that felt unique and new to us. She also elegantly managed the various people other than ourselves who were involved in our ceremony, for which we were very grateful!

Alexis W.

Married on 02/11/2023

A perfect ceremony!

We had the BEST experience with Deborah. Our wedding ceremony was a dream, and Deborah helped us make the process as streamlined and easy as possible. After our wedding, so many of our family and friends mentioned that they thought our ceremony was one of the most unique and beautiful wedding ceremonies they had ever seen. The ceremony was the one thing we were the most apprehensive about putting together, especially because neither of us are religious but we are coming from religious families. Deborah guided us towards a ceremony that was the perfect combination of meaningful symbolism and it felt very warm and personal. It was also so great to meet up with her in person and walk through the details! If you're looking for a truly special wedding officiant, we would highly recommend Deborah Roth!

Are you interested?

Send a message

Madison L.

Married on 09/02/2022

Better than we could have dreamed

Where do we even begin - THANK YOU Deb for making our wedding even more personal, emotional, and wonderful than we could have imagined. In terms of coordinating, Deborah was prompt, professional, and so helpful in keeping us on task. Where she blew us (and our families) away was in her crafting and delivery of an incredible service. Coming from Catholic backgrounds, choosing a non-religious ceremony did not make our parents ~thrilled~ but after our ceremony they couldn't have imagined anything else for us. There wasn't a dry eye in the house once Deb was done with us. Couldn't recommend her more!

Scott K.

Married on 07/15/2022

Incredible Officiant - book her ASAP!

Deborah was FANTASTIC. She was our ceremony officiant for our wedding at Blue Hill Stone Barns in July 2022. We highly recommend her.

During the prep stage, she was genuinely interested in getting to know us and was very patient. We interviewed several other officiants and Deborah was all-around best (positive energy, calming yet had a strong presence, etc.). During the ceremony, when we were getting emotional and crying, she was able to calm our nerves and get us through the ceremony. I cannot overstate how incredible this was. We may have been balling for 10+ minutes if it wasn't for her. We were very glad we had Deborah officiating our wedding and highly recommend her!

Y Turner

Married on 05/15/2022

An Amazing Officiant

Deborah Roth is truly wonderful. She responded very quickly and was extremely accommodating. Her attention to detail far exceeded our expectations. Our wedding was small and intimate and Deborah was a welcoming addition. We were extremely happy to have found her.

Eugene D.

Married on 05/11/2022

Amazing, personalized, unique. A dream officiant!

Meeting Deborah and going through the ceremony planning process hand-in-hand with her was a formative experience for us. Deborah's attention to detail, her personal touch, her years and years of experience all served to make the ceremony an unforgettable experience. As neither I nor my wife are particularly religious, we wanted to find someone who could step in and help us give the wedding ceremony the gravitas and sincerity that we both felt. Deborah was able to deliver that and more! From meeting and getting to know Deborah, to writing our vows, to structuring the ceremony, and throughout the event itself, Deborah was there to help, advise, and guide. If you are looking for a kind, knowledgeable, professional, (did I mention kind?) officiant, look no further!

Melissa

Married on 04/23/2022

Beautifully Pagan! Deborah is AMAZING!

Deborah is one of a kind; an absolute gem! We were looking for someone who could perform a beautiful pagan/spiritual wedding but what Deborah did for us was so much more. She encourages ideas and helps you to create a ceremony in your vision. I'm a writer so I had so many parts I wanted to personally write in. Deborah was so welcoming to that and it truly made all the difference in the world to us. I can not tell you the hours we spent sending emails back and forth to try and perfect our ceremony. The day of the wedding things were a little hectic. Deborah jumped right in, wasn't afraid to get her hands dirty to make sure our day came out perfect. I also was very anxious the day of, Deborah was my support. She was everything we needed her to be and so much more and she definitely wore many hats that day. we can even not even begin to show her enough gratitude. She has a special place in our hearts. we can not wait to cross paths with her again in the future in whatever the future may bring our way.

Erin B.

Married on 03/26/2022

Deb Roth is the perfect minister for any couple making a sacred committment!

I had a huge NYC wedding in March and my wonderful (yet critical) mother told me her absolute FAVORITE part of the entire wedding experience was the CEREMONY. The Ceremony that Deb put together and helped us make PERFECT for our family. The VOWS that Deb helped each of us write were every single person's favorite part of the wedding! We were cared for, supported, encouraged and loved by Deb every step of the way. I truly enjoyed every aspect of working with Deb as a friend and as a vendor. She will make any couple's experience unforgettable!

10/10 would recommend!!

Rev. Deborah was so easy to work with, so kind, caring, full of energy, and professional. She is quick to respond, and allowed us to personalize our entire experience! She was respectful of all of our decisions and was very helpful when it came to things I didn't know about. I also loved how she performed the ceremony because I didn't realize how much she could liven up the ceremony just with how she read the ceremony. She really helped us pull off a terrific ceremony. I recommend her to anyone who needs good a great officiant. You get what you pay for!

Kevin

Married on 10/21/2021

Safe Hands for a Spiritual Ceremony

Deborah had a gravitas and sincerity that significantly contributed to a perfect ceremony. Our sessions with Deborah in the lead-up to the day helped us to fully understand and appreciate the planning of each element of our ceremony and our guests were full of praise for Deborah's warmth and eloquence.

Kristina P.

Married on 09/04/2021

A Perfect Ceremony, Thanks to Deb!

Booking Deb was the best decision we could have made! She was so incredibly helpful and together we crafted a perfect ceremony that was unique to us as a couple. She was able to tie in both of our cultures into the ceremony as well which was appreciated. She got to know us as a couple and included notes about us during. Guests of the event stated that the ceremony was "peaceful," "magical," and "beautiful." Which was exactly what we were going for. We cannot thank Deb enough for making our wedding ceremony so perfect!

Amy S.

Married on 08/21/2021

Amazing Officiant!

Deb was so awesome to work with! She really worked hard to get us the ceremony of our dreams! We couldn't have asked for a better officiant than Deb! Thank you so much Deb!

Christopher T.

Married on 08/07/2021

Deborah helped us create an amazing ceremony!

Working with Deborah was great! She helped us create an intimate and amazing ceremony which all of our family agreed embodied us as individuals and a couple. I would highly recommend working with Deborah to any couple!

Victoria

Married on 06/17/2021

Beyond my greatest expectations!

Deborah was an absolutely fantastic and integral part of our special day! She brought life, symbolism, meaning, and truth to our ceremony — she imbued so much love into her speech. It was an amazing experience and we highly recommend her to any couples looking for a perfect and kind officiant!

Viki S.

Married on 01/17/2021

Deborah Radiates A Beautiful, Spiritual Light

Deborah has a gift for connection. We really felt it in our work with her. In the preparation for our ceremony, she helped us to personalize it and make it feel more special. In one part, she asked us to say things we like about each other. It felt so good to hear her reflect these attributes back to us during her opening words in the ceremony.

She created a safe space for us during the ceremony. She helped me (the bride) to feel completely comfortable and present. I didn't expect to be so nervous on our wedding day! I found myself getting distracted with the computer trying to see what was going on as our wedding was online on Zoom! Deborah knew right away and told me and Alexander (my husband) to look at each other and hold hands. She spoke eloquently and soothingly, welcoming a space of love. She had an amazing command of the ceremony itself. It changed everything for me.

We feel that Deborah genuinely cares and wants two people to have a beautiful ceremony together and a beautiful life together as well! We absolutely love Deborah and highly recommend her!


Dana S.

Married on 10/11/2020

Rev. Deb is a blessing!

Rev. Deb is amazing!!!! Even months after our wedding, we continue to receive compliments along the lines of, "that was the most beautiful wedding ceremony ever!" ... and it is thanks to Deborah who helped us bring our ceremony vision to life!

For my husband and me, the ceremony part of our wedding was always our main priority. We wanted to curate something that was both meaningful and unique, and a reflection of who we are as individuals and of course as a couple (our values, interests, beliefs, etc.). We wanted a ceremony that incorporated elements from various spiritual traditions while also honoring our Jewish roots. Rev. Deb helped us create exactly that! She was super organized and sent over so many great suggestions (everything from quotes, poems, rituals, etc.). She lovingly guided and supported us through the often overwhelming process of customizing a ceremony. She helped us with both the content and structure of our ceremony so that it was cohesive and flowed nicely instead of being disjointed and fragmented. She even read our vows to one another in advance and offered feedback, which was extremely helpful. She collaborated and ultimately co-officiated with a rabbi to ensure that all the pieces of our dream ceremony were in place. 

Rev. Deb is kind, compassionate, patient, punctual, a great communicator, and has the warmest energy. Her presence and heartfelt delivery of our ceremony was perfect and made the whole day and experience so, so special, something we will cherish in our hearts forever! We are so grateful for Rev. Deb and we HIGHLY recommend her! 

Ashley

Married on 10/10/2020

Deborah MORE than exceeded our expectations!! She was extremely easy to communicate with. With us traveling to New York from Alabama for the wedding, all of our wedding plans had to be made via email and she was very prompt with all responses and went above and beyond to help us decide how to make our wedding day as special as we could ever hope for. We couldn't have asked for a better officiant!!!

Lauren

Married on 10/10/2020

Customized and personalized ceremony!

We loved working with Deb - she co-officiated our ceremony with our best friend and worked with us every step of the way. Some of our family and friends said it was the best ceremony they've ever seen!

Maya P.

Married on 06/10/2020

Deborah made our special day perfect!

Deborah was flexible, which was especially important during COVID wedding planning craziness; she was a true professional with such a fun, comfort about her that put us at ease right away. She was helpful with vow writing, and ultimately delivered us the best wedding ceremony we could have dreamed of. We Highly recommend Deborah to any couple who may feel a bit uncertain about what kind of ceremony they want; she will help you figure it out and will cater to your preferences to make everyone feel comfortable. All our guests from different Christian/Catholic and Jewish faiths loved her!

Jessica R.

Married on 12/21/2019

Highly recommend

Reverend Deb created a beautiful ceremony for our intimate solstice wedding. She had several recommendations on beautiful and unique elements to incorporate into our ceremony. She was very communicative and even reviewed our personal vows. I couldn't recommend her more!

Dina M.

Married on 12/10/2019

Warm and Happy!

Working with Deb on our wedding was such an easy process during a time of so much stress planning a wedding! The end result was a unique and personal ceremony that we created in collaboration with her. Every word spoken felt significant and heartfelt. Deb is so kind and genuine and that came through every second that we spent with her leading up to and during our wedding weekend. Thank you Deb so much!!!!! XO

Leslie M.

Married on 12/10/2019

Being high with love in the Colorado Mountains

Deborah officiated at out daughters wedding. She took quite a bit of time talking to Dina and Eric and learned about their lives and values. The service they created together was truly uniquely special. Deborah's heartfelt delivery of the service made the wedding a loving experience for everyone.

Hope

Married on 10/12/2019

Highly Recommend! :)

Deborah was nothing short of fabulous, and I would highly recommend her to anyone looking for an officiant on their wedding day! She has such a calming energy and presence, which I desperately needed for my wedding day, and the process of planning our ceremony was easy and flawless. I felt she truly cared about my fiancé and I as a couple and shared our story with our family and friends in the perfect way, which was most important to me. She was such a special and integral part of our wedding day, and the ceremony was one of my favorites moments :)

Daklea

Married on 07/07/2019

Wonderful experience

Deborah was one of the best decisions we made for our wedding. My fiance and i met with Deborah a few months before our July wedding and we knew immediately that we wanted her to officiate our wedding. She was so welcoming and vibrant. We loved how helpful she was in the planning of the actual ceremony. She was key to making our ceremony feel just right for us.
On the day of the wedding, Deborah made everything so much better. Her professionalism and poise helped bring everything together during a chaotic time. EVERYONE in our wedding LOVED the ceremony and we truly believe that was Deborah's doing.
Are you interested?
Send a message