Reviews
4.7 out of 5 rating
Quality of service

4.8 out of 5 rating

Average response time

4.8 out of 5 rating

Professionalism

4.8 out of 5 rating

Value

4.6 out of 5 rating

Flexibility

4.7 out of 5 rating
95%
Recommended by couples
Awards
19 User photos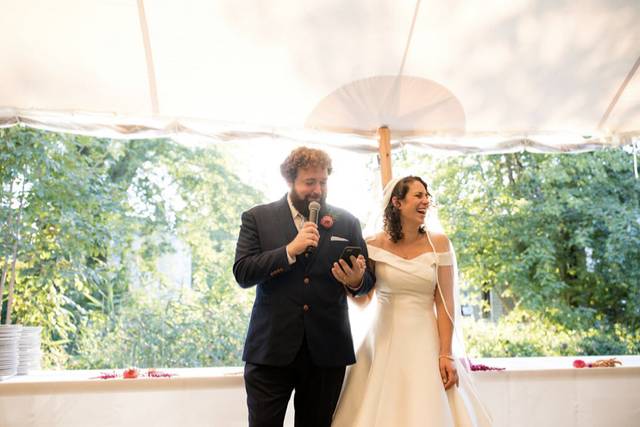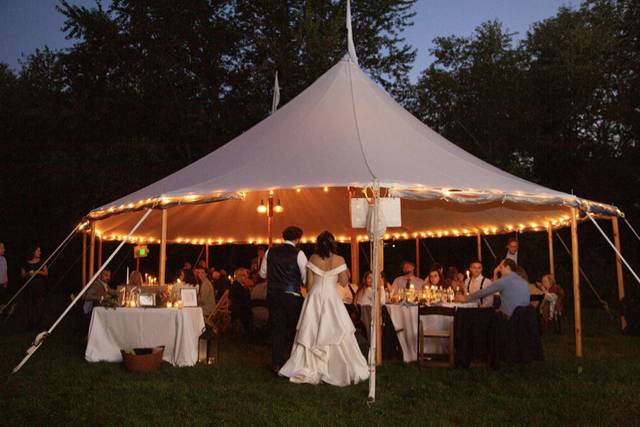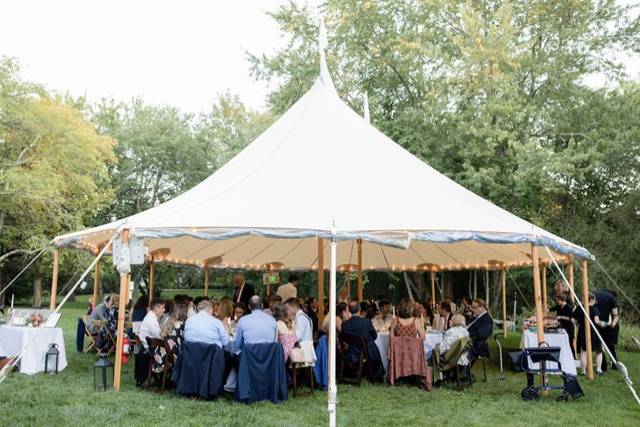 + 15

photos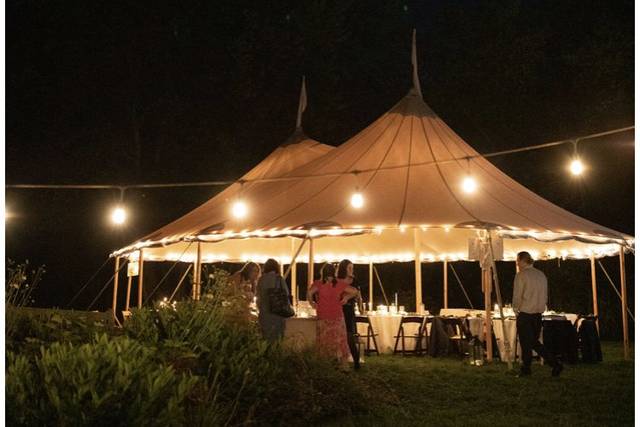 Emily W.

Married on 09/24/2022

great company - beautiful tents

we were so happy with our sperry tent for our wedding! They were great to work with, the tent looked incredible, and their staff was so helpful!

Meg

Married on 08/27/2022

Highly Recommend!

We were very happy with the work of Sperry Tents. We had a ~170 person wedding on a family lawn using the dark blue tent with stars. We really enjoyed the bump out options, which made space for the two bars with ample room for the dance floor. The setup and take down for the event were done quickly and professionally and they were very easy to work with. We highly recommend Sperry Tents and thank you for a day we'll never forget!

Sienna L.

Married on 07/02/2022

Best Decision Made!

I worked with Tania and I am beyond grateful for everything that she did. We changed our minds a lot through the process and Tania was so understanding and helpful throughout it all. She took the time on multiple occasions to walk through the day with me to make sure we didn't miss anything. On the day everything was set up correctly and the quality of their items went beyond my expectation. Yes it might be a little pricey but in my opinion it was well worth the money spent. I would hire them again in a heartbeat!

Sperry Tents's reply:

Hi Sienna - We really appreciate this feedback and are so glad that you had a great experience with Tania. Our event coordinators typically have years of experience and know that things can change a lot during the planning process. With that said, it has been a busy couple of years for our employees and having a positive experience like this to share with them means a lot. Thanks again, and congrats!

Are you interested?

Send a message

Kaitlin D.

Married on 09/18/2021

Absolutely spectacular quality!

So glad we decided to go with sperry tents. My husband convinced me to go with them and so glad we did. When the pandemic hit they were so amazing and accommodating when we had too coordinate the postponement. The day was just magical and so Harry Potter-esk because of the atmosphere that was created under this amazing tent. So glad it all came out so wonderfully!

+ 5

photos

Sperry Tents's reply:

Thank you so much for taking the time to review our services and for the kind words! It was definitely a trying time for wedding planning and we're glad we made it through together. Definitely worth it when the day finally comes and feels like magic - your pictures are amazing. Congrats on your wedding and best wishes! - The Sperry Tents Team

Karen C.

Married on 08/13/2021

Absolutely stunning

Forget about the bride… the Sperry tent you rent will be the star of the wedding. Professional planning, set up and take down. The tent itself is a show stopper with the onion lanterns and perimeter lights. We also rented their farm tables which are huge as impressive, we could not have been more pleased with the tents for the welcome dinner and the wedding.

+ 3

photos

Sperry Tents's reply:

Hi Karen - Thank you very much for these kind words! We really appreciate the feedback and are so thrilled that you had a good experience with us. Plus, we LOVE these pictures! You guys did a great job!!! Congrats!

Sarah

Married on 10/13/2019

Peace of mind

We needed chairs and a tent and Sperry was great! Their cancellation policy is quite fair considering New England weather!

Sperry Tents's reply:

Thanks so much for the positive feedback, Sarah! No one wants to think about rain during their big day but it happens...better to be prepared. :)

Hannah

Married on 09/14/2019

Magical! Gorgeous tent and professional team!

We had our wedding of over 200 people at my family home on Cape Cod, and it was hard for me to imagine how the property where my family and I hang out in our swim suits and sweats would transform into an elegant, black tie venue, and then I saw the Sperry Tent going up. It was STUNNING. Absolutely magical and completely gorgeous. It was classy, elegant, and simply beautiful. I wanted to stand in that tent forever! It didn't take away from the view on the property at all, in fact it added to it, seemingly framing the horizon. The team was also incredibly professional and had their system down! It took them 4 days to build the tent and the full wood floor, but they were incredibly professional the entire time, and worked each day to bring our vision to life while being mindful of the property and not to do anything to harm the lawn, or nearby buildings. Thank you all so much for helping make our dream weekend a reality! The tent was absolutely gorgeous and I wish we could have one on the property all the time! Thank you!!

Sperry Tents's reply:

Dear Hannah, Wow this is such a wonderful review...we want to thank you for taking the time to share your experience. We take a lot of pride in the aesthetics of our tents, which are handcrafted by a skilled team of artisans in our Mass. facility. Our setup crews work incredibly hard and are very dedicated, so we appreciate you noticing this. Congrats on your wedding, and let us know when you want a tent back on that lawn. ;)

Margot

Married on 09/01/2019

Gorgeous tent and Great Service

We used a Sperry Tent for our wedding at a private residence on Mason's Island, CT and they provided a beautiful tent and great service. Another company said they could only do a frame tent (much less attractive), but Sperry was creative and figured out how to do a their signature sailcloth tent with a "Sperry Arch" for the band. The arch only made it more stunning. The team from Mystic was on time and extremely considerate. When they showed up to take down our tent, we realized that the other rentals weren't schedule for pickup until the next day, which was a problem because we couldn't leave them out without the tent. Sperry agreed to leave the tent up and come back the next day, saving us from a major problem.

Sperry Tents's reply:

Hi Margot, Thanks for these kind words! Our crews never complain about setting up on beautiful Mason's Island - it's gorgeous there. And we love when couples get creative with our Sperry Arches! We will pass along these positive words to our Mystic crew for sure. Congrats and thanks again!

Gabrielle D.

Married on 08/25/2019

Amazing Service & Beautiful Tents!

We used Sperry Tent for our reception space and it was the best decision! We worked with Liz and she went above and beyond for our wedding and brought our vision to life even better than we could have imagined! Our guests are still raving about how beautiful the tent was, the lighting, the tables and everything in between. Some of our gusts even said it was the most magical wedding that they had been to. She was easy to work with, organized, flexible and very kind. We cannot recommend working with Sperry enough!!

Alyssa

Married on 05/25/2019

Go Sperry Tents! 5 stars!

Sperry Tents was an absolute pleasure to work with for our wedding and installed a breathtakingly beautiful canvas and wood tent with lights and walls that had wedding guests raving! Rob and his team were attentive, communicative, and flexible throughout the entire wedding process, and smoothly installed and broke down a tent at a venue with strict landscaping policies (since they are a nature preserve). We can't recommend them highly enough! 5 stars!

Nat

Married on 08/04/2018

Absolute VIP of the wedding

Our big "oh God everything is falling apart" moment happened as we realized, three days before the wedding, there had been a terrible miscommunication with the venue- they thought we had a tent, and well, we thought they had the tent. Weather said 95% chance of thunderstorms all day. Cue intense panic. I called Sperry Tents- as the wedding the day after us was having a tent put up, it turns out they were able to put the tent up a day early so we could have it on our day. Every person I spoke to, on phone and over email, was incredibly kind, when they didn't have to be! They easily could have said "no, it's three days before, are you crazy?" And they didn't- they were able to help us out, and did so in such a professional manner. I've worked in customer service for several years myself, and I was blown away by this company. Not to mention the tent itself was just gorgeous. Cannot recommend enough based on their stellar service.

Lisa

Married on 06/09/2018

So glad I got Sperry Tents for my wedding! Cannot recommend them highly enough. The tents are absolutely gorgeous. Our guests were floored by how classy it made a backyard wedding. Lots of our guests came up to us and said it was the best wedding they had ever been to and the tents were a huge part of that. We also loved how closely Sperry was willing to work with us to get the correct size and layout in a nontraditional hilly New England backyard. Setup and break down went smoothly. We got onion lamps in one tent and the string lights in the other. The string lights were really magical for the dance floor. The onions were good for better lighting during dinner. Communication with Sperry was incredible - my emails were all answered within 24 hours. And so thankful for that last minute flexibility in the last few days before the wedding when the forecast kept switching. Yes Sperry tents cost a bit more than the cheapest tents out there but it is worth every penny.

Sperry Tents's reply:

Hi Lisa - Thanks so much for your kind words. We are so glad that we could be part of your special day and that everything went smoothly. Backyard weddings are our favorite. ;) Loving these pictures and congrats again on your wedding!!!!! Have a great summer! - Sperry Tents

Ana

Married on 11/19/2016

Hands down one of the best decisions I made for my wedding. The tent was stunning! Working with Tammy from Sperry was a pleasure! She was thorough, always responsive, and incredibly accommodating to my needs. She came out to visit the site several times (I found most vendors didn't want to do that until day of) and always offered great ideas. If your event calls for a tent, go with Sperry! The only advice to offer is make sure you have enough back up power for tent. At the last minute, we decided to get a back up generator (the lights in tent don't require power but with the band or DJ and everything else requiring power, the power you are pulling from can be overloaded) and halfway through dinner, we lost power and without the generator, it would have been a very different night.

Sperry Tents's reply:

Thank you Ana for taking the time to review us and for your kind words. We really appreciate the honest feedback, and congratulations again on your wedding last November! It was an honor being a part of it. :)

Kristin

Married on 11/05/2016

We had a beautiful speedy tent for our Nov. 5th Bonita Springs, FL wedding! Sherry did the best job, I couldn't have been happier. They worked with us on pricing and a lighting combination of cafe lights and lanterns. Highly recommended- 5 stars! Thank you Sperry Team!

Sperry Tents's reply:

Hi Kristin - Thanks so much for taking the time to review your experience with us and for your kind words. We always love hearing from customers after the fact. Congratulations again on your wedding!! And thanks for having us be part of your special day. All the best, Sperry Tents

Susan

Married on 06/11/2016

We were delighted with the sail tent for my daughter's recent wedding. Choosing a Sperry Tent was easy for us, as my niece was married at the same location, with a gorgeous Sperry Tent, so we knew we would be happy with the result. It turned out that our tent was more complicated as it was larger than my niece's tent and had to fit between the underground water line and underground septic line, with only inches to spare, and over a clump of bushes. Mike came out to the property at least 3 times (no extra charge) to be sure that we could safely place the tent where we wanted it. The installation was flawless, and the removal was as well. We purchased colored lanterns to use instead of the white lanterns we could have rented from Sperry, and Sperry installed them for us beautifully. We couldn't have been more pleased with the entire experience.

Sperry Tents's reply:

Hi Susan - Thank you so much for this review. We really appreciate you taking the time out of your day to let people know about your experience with us. And congratulations again on your daughter's beautiful wedding!!

Beverly

Married on 06/05/2016

I suggest people shop around and meet the other vendors and try to see their products, in order to fully appreciate the quality of this vendor at every level.
From first coming to our property to measure and suggest placement, we were impressed. We had some unusual requests: we wanted a large tent put up over the grape arbor, with seating in a semicircle on the side. The person who came was not surprised or critical of our plans. He was 100% on board to make it work.
We were worried about the fact that the canvas is not completely waterproof. Other vendors scared us and claimed their plastic-coated canvas was better.
We were worried about the price. These seem to be the most expensive tents.
But in the end, we went with them, mainly because they were so cooperative and helpful, sending us diagrams and tools to help us plan seating, etc. On the day they set up the tents we knew we had made the right choice. They were so beautiful and spacious, with lovely old wooden ship masts for the posts. In the center and over the sides the canvas is double reinforced and when the light shines through it makes a beautiful star pattern.
Most importantly, of course, on the actual wedding day, it poured cats and dogs! Our appetizer tent had roll down plastic sides and we rolled down most of them and left a couple up for entry. Sitting on benches under there was cozy and we could look out at the trees and bushes brushing on the plastic, with the rain beating down. After a while, we all ran to the big tent for the ceremony. The Sperry man helped us plan the layout, and with all this dramatic rain pelting down, every one stayed dry because nobody was close enough to the edges for it to sweep in on them.
My guests all raved about the beauty and drama that the rain created. And the tents - graceful, so lovely, and perfectly designed to keep us dry and let the light in and make shadows and just be the best day ever.
There is no competition in my book.

Sperry Tents's reply:

Thank you so much for taking the time to review us! We are always glad to hear from customers after the fact. Your review gives others great advice - we always say that choosing a wedding tent is just as important as choosing an indoor venue. We are glad you stayed dry and that the day went so smoothly and beautifully - congratulations to you and your family and best wishes!

Katie

Married on 10/17/2015

I spent a lot of time researching tents for my Fall wedding. I had so many concerns and needed to make sure I went with the best. Look no further. Rob and CJ are such helpful and knowledgeable people. The planning process was great. Rob came out to the site and did measurements, etc. He e-mailed me back within minutes any time I had a question. The tent itself was gorgeous - I received many compliments. They were so accommodating and kind. CJ was there the day-of to oversee everything from power to heat... everything went perfectly. I would absolutely use these guys again. Really made for a painless experience!

Jay

Married on 06/06/2015

Sperry Tents is amazing! Picca, Zach and the entire team did an outstanding job of working with us throughout our wedding planning to help us find the perfect tenting solutions for our wedding. They tent options are the best in the New England area, by far! Sperry helped us think through rain provisions (it's ultimately did not rain) and more. They even put in the clear paneling during the reception when guests were getting cold. My wife and I would use them again and again if we could. Could not recommend Sperry more highly.

Out tent was absolutely gorgeous. We had ou wedding at our home and the Sperry team was so helpful with their site visits and ideas for planning the layout of our big day! Since the tent was in our yard we were hesitant about the possible damage from the stakes etc but Sperry did such a wonderful job, after the weekend was over the yard looked untouched and beautiful. The tent was absolutely stunning so if you are looking for something that is classy and natural looking Sperry's sailcloth tents are a home run.

Sondra

Married on 08/17/2014

Excellent all around service.

John

Married on 08/27/2011

When my husband first put up a stink about wanting a sail cloth tent I thought that the expense was too much for the product. Well now that our event has occurred I could not have been more wrong. This company is amazing!!! The tent was gorgeous and needed no extra decorating it had some awesome touches like flags on the poles at the top, the cedar poles inside made it look elegant and it was so much better than a vinyl tent. This company was so professional it took 6 guys taking their time and. Just about 2 hours to put up the tent. There was a hurricane on Sunday and they worked with us to not take the tent down. Until late Saturday night after our event. They even were professional enough to offer a refund without me asking for part of the price because there wasn't able to be an attendant onsite for the night because of the storm. If your looking for a tent for your wedding look no further you have found speedy tents!!!

Christine

Married on 06/20/2009

They were a pleasure to work with, very promt and professional. The tents are beautiful.

Stephanie

Married on 06/21/2008

Sperry Tents are truly the most phenomenal tents. The work crew was courteous and efficient. Tim, the owner, was prompt and extremely knowledgeable about what we would need for our type of event. We had 2 tents and 1 had flooring in it, so they were setting up for 1 ½ days with no issues or problems at all.

www.sperrytents.com


Yumi

Married on 09/12/2009

The tent Sperry provided us created a beautiful setting for our reception. Their staff was helpful and everything went smoothly, both in the planning and the tent set up.

The Sperry sail cloth tents are absolutely gorgeous, and their asian lantern lighting looked beautiful. I was very satisfied with the quality of their products.
Are you interested?
Send a message