Reviews
4.9 out of 5 rating
Quality of service

5 out of 5 rating

Average response time

4.9 out of 5 rating

Professionalism

4.9 out of 5 rating

Value

4.9 out of 5 rating

Flexibility

5 out of 5 rating
99%
Recommended by couples
Awards
16 User photos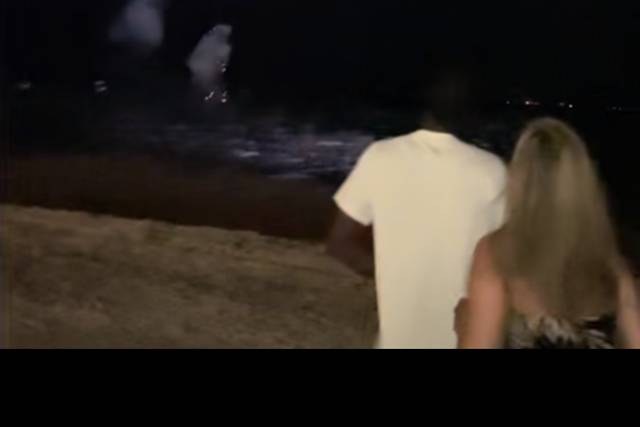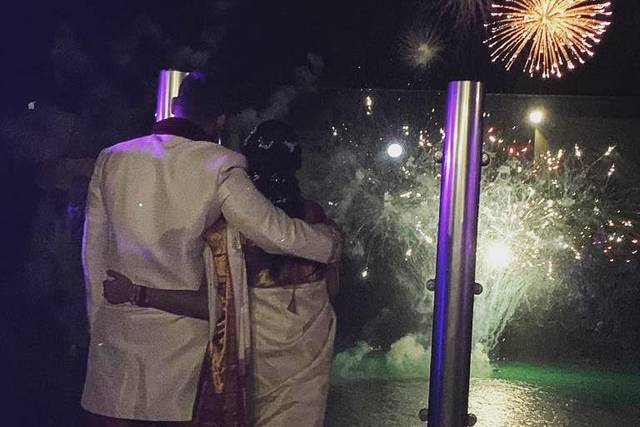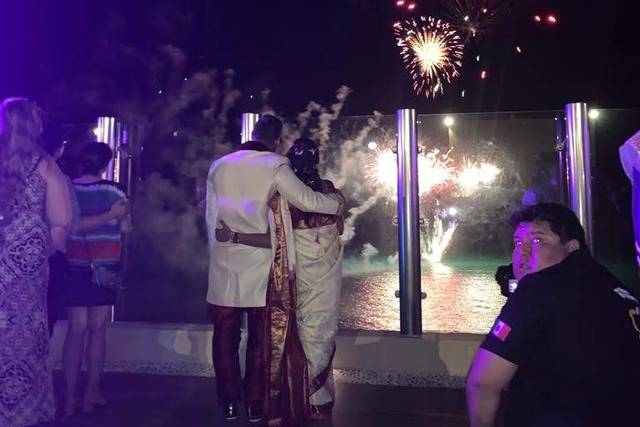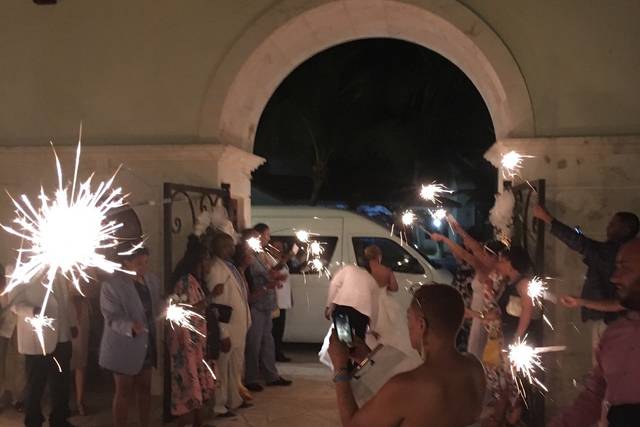 + 12

photos
A'ngelique T.

Married on 11/08/2021

The Highlight of Our Wedding Night!!

We really wanted to find that "spark" that really made our wedding unique so we hired Special Events Mexico/Pyrotech. We cannot describe how SPECTACULAR Hugo and his team made our event! From the 360 photo booth to the fountain of sparks surrounding our first dance, these special effects were the highlights of our entire night! We cannot recommend this team enough!

SPECIAL EVENTS MEXICO FIREWORKS's reply:

Thank you for your kind feedback A´ngelique, Congratulations for your fantastic wedding! Is always a pleasure to assist beautiful couples like both of you

Jessica

Married on 06/04/2021

Gender Reveal Fireworks

My boyfriend and I wanted to do fireworks in Cancun to reveal the gender of our first child. It was very difficult to get fireworks done in Cancun especially when it's not a big event and being though I was last minute (less than a month notice) I did not think it would be possible for me to get it done. Hugo was very attentive and he went above and beyond for our event. He is trustworthy and I feel the need to say that because it was very hard for me to pay somebody I never met. He kept me updated from when we started planning the event until after the event. I mean he made sure he was in touch at all times to keep my mind at ease. He went out of his way to make sure everything goes as smooth for our Gender Reveal. Half hour prior to the start of our Event, we wanted to get champagne last minute but the bar would not sell us a bottle of champagne. Hugo went out of his way to go to the store and get us the bottle of champagne to top off our night. Not to mention, he did not even want to get paid for the bottle of champagne and when we insisted on paying, he gave us a receipt which we felt was very honest of him. Not only that, since fireworks were done in a different location, he made sure that we got back to our resort safely. This Gentleman took us back to our resort using his personal vehicle without extra charge since the event was in a different location. This was the highlight of our trip and I 100% recommend Hugo and his team for any services you guys will ever need! You will never be disappointed booking with them! Very Responsible, Honest, Professional, and lastly, Hugo provides an excellent service!

Nila

Married on 12/07/2019

Amazing !!!!

This team really added just a special additional touch to our wedding day that really "wow'd" our guests. They were extremely responsive and easy to work with. My only regret is not adding more!

SPECIAL EVENTS MEXICO FIREWORKS's reply:

Thank you very much Nila for your kind words, We are happy to know that you and your guests enjoyed theWOW! Factor at your wedding, it was a pleasure to assist you on your big day.
Congratulations for your beautiful wedding.

Are you interested?

Send a message

Justin

Married on 04/27/2019

Great Team and Amazing Fireworks

Got married on the Skydeck at Generations Riviera Maya. Hugo and team were great. Really gave us an amazing fireworks show at our reception.

Gabrielle

Married on 04/13/2019

Sparklers galore!

Hugo was very responsive and the sparklers he provided were the perfect end to a perfect wedding party!

Daniel L.

Married on 01/16/2019

Best show i saw

We got married at mandala beach cancun took them for firework on the first dance !!
I wasnt prepare for that spectacular show hugo took care of everything even the timming was right on !!
You guys rock thanksss a lot hugo

SPECIAL EVENTS MEXICO FIREWORKS's reply:

Congratulations Vicky & Daniel for your beautiful wedding at Mandala beach club. We really enjoyed working with both of you, it was great to deliver even more the WOW! factor at your wedding, We appreciate your very gracious gesture for our staff . You radiate true LOVE as a couple.

Marcela

Married on 11/23/2018

Professional and attentive

Hugo was very professional, his work reflected in our wedding . We had amazing comments from our guests and we enjoyed the execution of the Pyrotechnics and fireworks we were able to capture amazing memories from our wedding . We couldn't be happier.

SPECIAL EVENTS MEXICO FIREWORKS's reply:

Thank you very much Marcela for your kind words, and thank you for let us add the additional WOW! Factor at your magical wedding

Hugo

Vito

Married on 07/06/2018

My Partner & I got married April 28th 2018 at the Hard Rock Riviera Maya. Not only was this the the best wedding ever.. It was the most unforgettable experience you could have asked for thanks to HUGO!!! He was amazing to work with, quick, & professional! We had a ton of fun fire events planned to certain music and different moments of the night. He Nailed it!!! They were perfectly coordinated with the DJ & MC from PSAV by the second!!! I could not have asked for more... I just wish we could do this everyday!!!!!! HUGO you are amazing. Thank you for everything! The Fireworks at the end of the night were incredible!!!!!!!!!!!!!!!!!! Everyone was in heaven!

Vito & Bill
4-28-18

+ 5

photos

SPECIAL EVENTS MEXICO FIREWORKS's reply:

Muchas gracias Vito for your kind words, We really enjoyed being part of your big day,, it was a very beautiful wedding with lots of energy and positive vibes everywhere.

Congratulations!

Un abrazo

Hugo

Margie

Married on 11/11/2017

Amazing birthday fireworks

When I began planning my husband's 60th birthday in Cozumel I knew I wanted it to be special. I also knew I was on a budget and I wanted to deal with people that were reliable and professional. I struck the lottery when I found Hugo and Special Events Mexico Pirotecnia. I can tell you that the service and the firework display far exceeded our expectations!! Hugo and his staff was so professional that I had confidence in their ability to give me what I wanted from the first conversation! We had one on one meetings to determine the Pyro lineup and his designers are off the hook! My husband was absolutely blown away!! The results exceeded our expectations! We live in San Diego… Just have to say that Seaworld has nothing on Hugo and his team when it comes to firework displays and pyrotechnics!

SPECIAL EVENTS MEXICO FIREWORKS's reply:

Hello señorita Margie

Thank you very much for your kind words and feedback

It was a true honor to be part of your very special night where Love and fireworks where in the Air!

It was a pleasure working with a person like you who knows about the art of dleiver emotional experiences on the right moment

Thank you for choosing Mexico as teh destination for your special event

Sincerely

Hugo Olivares

Ladi

Married on 12/31/2016

When deciding to propose to the love of my life I wanted to do something grand. My fiance loves fireworks and I am so grateful Hugo was able to put together amazing display in such short notice. He provides several packages that will suit anyone for their event with a great price. It was very important for me to catch the proposal on camera. However, there were so many variables I did not factor in that he was able to help me with. He met with our photographer ( Lidia Grosso http://photosmilephotos.com/sweethearts/# )to explain the pyrotechnics ( altitude, lighting, safety) to make sure our blocking and frame was perfect. He was truly a blessing and made my fiance's dream come true.

SPECIAL EVENTS MEXICO FIREWORKS's reply:

Thank you Ladi, It was great to be part of that very special moment ,All the best for your upcoming wedding, you made a beautiful couple.

Tim

Married on 08/19/2016

Special events Mexico Fireworks provides an EXCELLENT service. I cannot express in words all the support and professionalism from Hugo. Hugo was very supportive, very responsive and extremely responsible with his work. He goes above and beyond to fullfill your expectations, make you happy and find any solution possible. He will work with any budget and make your big day become just the dream day you deserve. I even remember being so nervous about the weather and I got a message from him saying: " everything will be beautiful, I have sent an email to the sky already..." he is just amazing, he works for you not for him. Fireworks is the touch you want for your wedding; it is so worth the effort.

SPECIAL EVENTS MEXICO FIREWORKS's reply:

Dear Johana and Tim: Congratulations for your beautiful wedding at Cancun Moon Palace Resort,it was a pleasure to assist you on your big day. I really enjoyed being there the full moon reflected at the sea and the nice weather (maybe due the email sent to the sky...ha,ha!) created a magical background for your reception party at the beach resort....... "In every day, there are 1,440 minutes. That means we have 1,440 daily opportunities to make a positive impact."

Hugo and his team were so wonderful to work with, they went above and beyond to accommodate our needs! The fireworks show was the highlight of the wedding, all our guests loved it and it was worth every cent!! I not only 100% recommend hiring Hugo and his team but also encourage everyone to do so!

Hector

Married on 12/04/2015

As a 10 year event producer I tend to be kind of strict with my suppliers. I hired SPECIAL EVENTS MEXICO FIREWORKS (HUGO) for my 40 year old party celebration about 2 weeks ago. I've know Hugo for many years and all I can say is that he never disappoints. He managed to throw an amazing 3 minute long, music coordinated firework show in the middle of a very winy and stormy day !!!
His level of commitment and professionalism is top in the industry.
I'll keep hiring him for all my events.

SPECIAL EVENTS MEXICO FIREWORKS's reply:

Thank you very much Hector for your kinds words, is always a pleasure to work with your fine company , and a nice challange to meet your and your clients high expectations,Happy birthday again!

Pauline

Married on 11/08/2015

Amazing fireworks! Beautifully coordinated. My wedding was a dream come true! Thank you so much for your services and amazing fireworks. I would completely recommend this company for any special fireworks. If there was a 10 star I would chose it!

SPECIAL EVENTS MEXICO FIREWORKS's reply:

Dear Pauline Thank you for your kind words,it was a pleasure to assist you on your wedding day at the Sun Palace cancun resort.I bet you wiill receive a great video of the camera drone that filmed the fireworks direct from the sky

There are truly no words to express how amazing Hugo with Special Events Mexico Fireworks was in helping ensure our brides wedding was perfect! Three days prior to our brides Azul wedding, she was notified that the warehouse that holds all sparklers was flooded and therefore they wouldn't be able to do a send off. She contacted us (her local Colorado photographers) and asked if we knew of any way to get sparklers to Mexico. After contacting a few local friends, Hugo's name came to the top of the list.

Within an hour of contacting him regarding the situation, he responded that not only would he be able to get us the sparklers, he was willing to DRIVE them to us to ensure we received them the day before the wedding so our bride wouldn't be worried/stressed.

From one professional to another, we'd recommend Hugo and his team 100%. Thank you for your professionalism and attentiveness to our bride and groom!!

SPECIAL EVENTS MEXICO FIREWORKS's reply:

Thank you for your kind words. Helping a bride on the most important day of her life is always a priority for us,and the best of all: that always feels good .

"The best way to find yourself is to lose yourself in the service of others." – Mahatma Gandhi





Leon

Married on 10/19/2015

Hugo is hands down an amazing person. He provided everything we needed and pulled off if not the best firework show at Beach Palace for our Wedding on October 19th. Hugo is one of the most humble, kindest heart, and compassionate person we have ever met. He will go beyond measures to satisfy the client, as he did with us. I would definitely refer Hugo and his team to anyone that is planning to get married in Cancun or anywhere in Mexico. Thanks for all everything Hugo and making our day even more spectacular. We will always remember you and will keep in touch.

SPECIAL EVENTS MEXICO FIREWORKS's reply:

Dear Leon :Life is a like a mirror it will reflect what you project to the outside, You and your lovely wife are beautiful human beings, the two of you attract the best vibe around you.It was a pleasure to met both of you and being able to assist you at your very unique wedding.

"The purpose of life is not to be happy. It is to be useful, to be honorable, to be compassionate, to have it make some difference that you have lived and lived well."
― Ralph Waldo Emerson






Elizabeth

Married on 08/22/2015

Hugo is incredibly professional and accommodating with what we wanted to do for our fireworks display. He offered helpful suggestions and worked directly with our resort to make sure everything went off without a hitch while representing our interests. The fireworks display was beautiful and a fun surprise at the end of our reception. I would recommend Hugo and the special events team to anyone!

Thomas M.

Married on 04/06/2015

The best experience ever

Hugo and the entire team were absolutely amazing! Very professional and they took care of all details so you could concentrate on other aspects of the experience. I would highly recommend to use for any occasion. THE BEST!!!!!!

Was very professional in answering my questions and giving me an honest assessment of what type of fireworks show I should have. Did not try and over due and told me what would look perfect. When the display did occur, it was perfect and everybody enjoyed the fireworks show

Nilsa

Married on 09/13/2014

Hugo was amazing! It rained on my wedding and he graciously and patiently waited for the rain to subside so we could have the awesome experience!!!!
I highly recommend this service for any event!

Brian

Married on 11/12/2013

Hugo was great to work with! Our resort didn't allow fireworks so Hugo and I discussed different options and in the end Hugo was able to hire a barge and shoot them off in the water. Hugo then attended the wedding himself covertly and made sure the timing was perfect. My wife and guests were amazed as fireworks lit up the night sky immediately as our first song/dance was concluding.

Hugo was incredibly easy to work with and he did exactly what he said. I honestly couldn't be happier with what I received. I have already recommended his services to friends looking for his services in Mexico, and I will continue to do so.

Saunak

Married on 08/14/2016

Hugo was great to work. He customized a plan for us based on our budget and then we were a few days from signing but changed our mind. He immediately just made a new plan for us. We had the cryojets, and they were awesome. Covered the entire dance floor for a few seconds, and a made sweet noise, and get the whole place just pumped.

Thanks Hugo

SPECIAL EVENTS MEXICO FIREWORKS's reply:

Thank you very much Saunak for sharing your kind feedback with Us,it was a beautiful and fun reception at Moon Palace resort, Is always very important for Us to know what We are doing well and also the opportunities to improve our service,I am so glad you and you guests enjoyed the CO2 Cryojets effect which delivered the WOW! Factor creating a Dance Club efffect at your dance floor .

Yoice

Married on 03/09/2019

Great service but

We hired the team to have cold fires during our dance floor. Hugo was very helpful on the process for us to select what we wanted and make the final decision. The cold fires really were the icing on the cake for our big day and it was simply beautiful.
My only complain is we were supposed to have 8 cold fires and the team contacted my coordinator a couple of days before the wedding offering me a new machine they now have that has more intensity and lasts longer for the same price but it was 6 instead of 8, I gladly accepted since it was no big difference. When looking back at pictures and videos recently I realized I only got 4 not 6 as promised. The pictures still looked beautiful and I was really happy is just I like to receive what I pay for and what was discussed.

SPECIAL EVENTS MEXICO FIREWORKS's reply:

Hello Señorita Yoice

Sorry for the delay to answer , I was on a training on LA

First of all: Congratulations on your beautiful wedding.

Thank you for your valuable and honest feedback, thousand apologies for the last minute change, our staff took the 6 Sparkular (electronic smokeless sparks machines) to the wedding venue, but our techinician find out right there that the power electricity connections at the Villa were not enough to handle the 10 Amp per machine,thats the reason why the staff runs the event with only 4 machines (We didnt want to risk a power failure on all the Villa on the most important moment of the night: Your 1st dance)
The small power plant of the DJ it was not enough for our full capacity effects

Even if the Sparkular machines were an upgrade, you didnt receive the 6 machines with the double shots, and for Us the most important is the perception of the clients, If you agree on this : I will give the instructions to our accounting dept to refund the 50% of the service for the inconvenience,( this accounting process will take several days,I believe 2nd week of May will be finalized or sooner, I will be glad to let you know as soon is taking care)

Thank you very much for your kind understanding Yoice

Sincerely

Hugo

Did a great job but sometimes took awhile to get back to us with questions and details. Also pricey compared to other places but if you're going this route, they came through and made a great display.

Are you interested?
Send a message