19 Reviews
Recommended by 88% of couples
Quality of service

4.4 out of 5 rating

Average response time

4.3 out of 5 rating

Professionalism

4.6 out of 5 rating

Value

4.3 out of 5 rating

Flexibility

4.4 out of 5 rating
2 User photos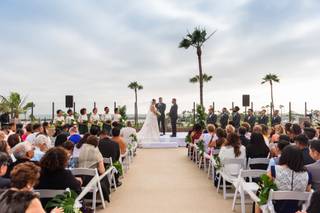 Miriam A.

Married on 08/04/2019

Wonderful Wedding All Around

We had the perfect wedding at Crowne Plaza Redondo Beach and Marina. The Harbor Terrace was beautiful for the ceremony and the space inside was just right for our reception. Yanela is very kind, professional and easy to work with. The food was delicious and our guests had a wonderful time!

Brett L.

Married on 03/30/2019

Outstanding fantastic wonderful service and experience!

We just had an amazing experience and celebration at the Crowne Plaza Redondo Beach for our twin daughters' B'not Mitzvah which we will cherish forever. The service provided was outstanding! Yanela met with us many times and responded to emails and questions and assisted in all ways possible, always so sweet and professional. Everyone we dealt with provided impressive service from the AV staff who stayed during our entire ceremony to ensure everything went smoothly to the wait staff who refilled waters on the tables without asking. We had 150 guests and the dance floor was still huge and the high ceilings made the entire reception feel so regal and special! Thank you so much for helping create a memory and milestone we will never forget!!

Tiffany

Married on 07/22/2018

Quality service

Yanela Nolazco, the event coordinator at Crowne, is amazing! She was very professional and yet we felt so taken care of by her. The ceremony area at Crowne Plaza Redondo Beach has a beautiful view of the ocean. It was a great place for our sunset photoshoot and the pictures turned out awesome. The food was superb. We chose the NY steak and Salmon. We received lots of compliments from our guests about the food.

Are you interested?

Send a message

Ester

Married on 10/21/2017

Crowne Plaza was the best decisions we made in regard to our wedding. We were able to check off half of the items on our list just by booking our wedding receptions here. They took care of tables, chairs, food, Bridal Suite, and provided us with exceptional service. Yolanda was especially helpful with our wedding. She is a pro and gave us lots of suggestions and ideas. She referred a great DJ and really worked with the dietary restrictions of some of our guests. She is also really fun and kind. I would highly recommend Yolanda and Crowne Plaza!

Katrina

Married on 03/14/2015

Amazing venue through and through

The Crowne Plaza Redondo Beach and Marina was absolutely amazing! They did everything and anything to make our wedding experience and stay the absolute best! I would recommend this venue to EVERYONE! Our catering manager was so professional, patient, and helpful! I couldn't have asked for a better experience.

Ellie

Married on 08/31/2014

Great place to put our wedding guests. Lots to do in the area. Rooms are clean and great service. We had our rehearsal dinner and Farewell breakfast here. Catering Director Sheree Deweeze was wonderful as well as bell men and Rick at the front desk.

Desiree

Married on 07/02/2011

We loved having both our ceremony and reception here at Crowne Plaza Redondo Beach. The wedding coordinator Sheree helped us immensely and was available, flexible and personable. The entire staff at Crowne Plaza provided us with top-notch customer service and made us and our guests felt welcome from the very beginning. We had our wedding reception in the seascape ballroom and it was beautiful.

Cheryl

Married on 11/20/2010

Quite honestly working with Sheree DeWeese and her staff at the Crowne Plaza was perfect. She almost made it stress free! She and her staff were honest, helpful, professional, and flawless! We had a great experience, and I would do it again! We had over 375 people attend our Wedding Reception with an invited list of 425. Sheree helped us work through all the details. It was a fantastic wedding! Thank you Crowne Plaza and Sheree!

Amanda

Rooftop Wedding

I am a local wedding planner and would highly recommend Yanela and her entire team for a wedding or any special event. They made the planning process run smoothly by their quick response and flexibility. The entire team was professional each step of the way and worked well with all of the other vendors to ensure we had a successful wedding for the special couple!

Betty

Married on 05/15/2010

Everyone on the event staff was responsive to any questions or requests we had. It was great to work with them. The restaurant wasn't responsive at all and as a result we went elsewhere for our rehearsal dinner, that was really the only negative aspect of the experience. The wedding day went really smoothly and we got a couple compliments on the food. A family member liked the hotel so much that they booked their wedding night there later in the year. My package included the cake, champagne and room so it's an added value to the price per plate that we paid. If you're looking for a beachside location you should definitely consider this place :)

Priscilla

Married on 09/12/2009

When my new hubby and I found this place, we fell in love with it. It has a beautiful view of the ocean for the ceremony. It is located on the pool deck. Then our guests were guided to the cocktail area before going in the magnificent ballroom.

I was a little stress on the big day I have to admit, but everything went really well. One of the vendors hired by the hotel brought the wrong color for the organza sache to be placed on the chairs. Luckily, our personal consultant took care of it, and we obtained the correct color for the sache right on time.

Otherwise, the food at the SPLASH restaurant is delicious. Our guests loved the salmon and vegetarian entree. It was just awesome, and we got so many compliments. I would highly recommend the food for any kind of big event.

Thank you for letting us do our wedding at the hotel,
Priscilla



We had our reception in the smallest room at the Crowne Plaza Redondo Beach, which was plenty large for our crowd. Sheree, our wedding coordinator, was fantastic even though I know we stressed her out on occasion with a large percentage of our guests coming from out of town. She was always friendly and patient with us and worked well with our wedding coordinator. The food was way beyond what I expected of hotel food - some guests asked who we had hired to cater! My only complaint - with everything being newly remodeled, you'd think they would have put in dimmers everywhere. Lighting makes such a huge difference and more intimate lighting would have made it look even better.

We also stayed here for 2 nights and put many of our guests up here as well (we were able to negotiate a good discounted rate). The suites (including the junior suite) are HUGE and very nice and all of the staff was excellent.

The only stars I docked were responsiveness because they are so busy, and value (because it is an overly expensive area).

Kayan

Married on 06/09/2018

The Crowne Plaza: Redondo Beach was the perfect venue for my wedding. Yanela and her team did a fantastic job at making sure my fiancée and I were well taken care of and left nothing to chance. They were extremely professional, responsive, and most of all, they were very caring and made sure everything was taken care of from top to bottom!

Paul

Married on 02/17/2018

Yanela and the Crowne Plaza proved to be the best possible choice for our destination wedding location. Professional, knowledgeable, thorough and on the ball, are all words that don't quite completely describe the amazingness of our experience with Yanela and her dedicated staff. We would certainly recommend their services to anyone who wants a stress-free and all inclusive wedding.

Alison

Married on 08/11/2012

I held both my ceremony and wedding reception at the Crowne Plaza in Redondo Beach. Our ceremony was on the Terrace which overlooks the water. It was a wonderful spot to experience the outdoors, although a bit noisy and a bit windy. It's a little on the expensive side to rent but I'm sure that it's a popular spot.

Our reception was in the Mezzanine room which was the perfect fit for our 65 guests. I wouldn't have many more than that there if you are having a dance floor.

The food was good, but not amazing. I had some comments that the some of the steaks were overcooked but some were just fine. My guests really loved the ice cream sandwich bar which was an awesome summer treat.

The hotel staff treated us all very well and everyone was professional. We did have issues with family members not able to check into their rooms a little bit early which was stressful, but when I talked to the front desk they took care of it.

Sheree DeWeese is amazing! She is very responsive, flexible and really goes to bat for her events. She took great care of us and I'm so happy we got to work with her.

Overall, I'm really pleased with how my event turned out and my criticisms are really minor compared to everything that went well.

Mary A.

Married on 06/09/2012

If I could work with just Sheree Deweese this would be a 5.5/5.0. The moment we started planning she was flexible and accommodating with all our requests.

On the day of the event, we had the ceremony on the Terrace. Extremely windy and loud which made it difficult for the candle part of the ceremony. Also, the mics kept cutting in and out throughout the ceremony which was annoying. Sheree was very flexible with the timeline.

Then during the reception, Sheree left and it was the banquet manager who stepped in. Once Sheree left, everything seemed to go downhill pertaining to the hotel staff. Our wait staff seemed to disappear, and our wonderful DJ took it upon himself to dim lights and find wait staff to cut the cake. We even had to look for the cart that had the small plates and something to cut the cake with prior to the cake cutting. The food we ordered was delicious during the tasting, but something happens when you cook in bulk.

Overall place is lovely, price was within our price range with their special deal, but peeved about the reception mishaps.

Renee

Married on 05/23/2009

we wanted a reception site by the beach and this was one of the more affordable, but still very nice venues. the food was excellent. we had the seascape ballroom which has an outdoor patio. the guests really enjoyed this.

The wedding coordinator was terrific. We didnt have to worry too much. =D

Kim

Married on 09/18/2016

I'm pretty disappointed by this hotel. I am a very frequent traveler--as a consultant, I stay in hotels almost every week. I chose this hotel to be the main hotel for my wedding, and brought this hotel a lot of business. Are the rooms nice? Nice enough. Amenities? Sure, there's a fitness center and a nice lobby. But as a wedding hotel, it left a lot to be desired.

Responsiveness was severely lacking. They couldn't accurately confirm our wedding guests even after we sent them multiple spreadsheets with guest names. We dropped off welcome bags for our guests four days in advance and they promised to match them to our guests, but half of our guests reported not receiving their welcome bags. Where did our bags that we spent a lot of money and effort on go? I'm concerned about the integrity of this hotel, and would advise future brides/grooms to be careful or look elsewhere.
Are you interested?
Send a message