31 Reviews
Recommended by 99% of couples
Quality of service

5 out of 5 rating

Average response time

5 out of 5 rating

Professionalism

4.9 out of 5 rating

Value

4.9 out of 5 rating

Flexibility

5 out of 5 rating
7 User photos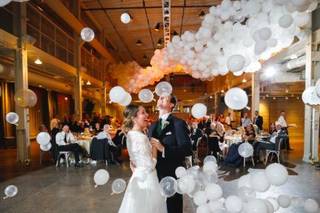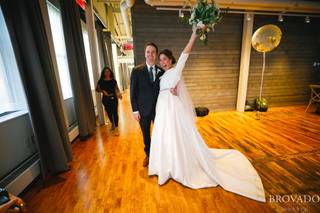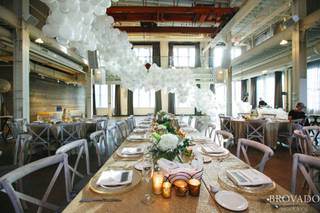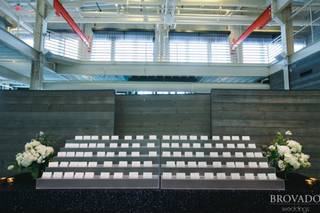 + 3

photos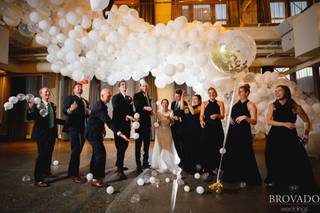 Hannah B.

Married on 09/09/2020

Our day would not have been possible without Sixpence Events

We knew Josey was the one when we received her response to our questionnaire. RJ had described our friendship like "mushrooms" - a risky move, not everyone likes mushrooms - and Josey was immediately excited to work with us and get to know us.

What we really appreciated about working with Josey is that she helped us plan our wedding on our own terms. She gave us a ton of tools and advice and feedback, but ultimately did not pressure us on anything. Instead, she helped us make decisions by listening to our ideas and writing them down as if they had been decided - which was perfect for us because we would have agonized over decisions right up until the last minute. Also, our time with her was so enjoyable because of her incredible laid back attitude and her comfort with the distraction and tangents we often brought into our conversations, because we could talk to her about so many topics beyond our wedding.

Josey single handedly changed Hannah's mind about day-of coordinators. Our wedding would not have been possible, let alone as beautiful and fun and joyful as it was, without her guidance and support. She kept us grounded through the process, and we always left our meetings with her feeling calm and ready for the next steps. On the day-of, she managed everything - schedule, family, details - perfectly, keeping us out of the weeds to enjoy our day.

Sixpence Events & Planning's reply:

I am SO happy that I could work with the two of you. It literally fills my cup to have couples like you in my life and I think your wedding day exceeded expectations ;)

Maddie F.

Married on 04/05/2019

Absolutely wonderful

Having Josie put together the timeline was absolutely amazing. I had never been a part of a wedding before so I had no idea what to expect. Knowing that she has done this probably over 100 times, really made me feel comfortable that we did the right thing in having a wedding planner.

Thank you so much for all your help. I literally don't know what we would have done without you! You made the day easy, fun, and totally worth all the planning.

Sixpence Events & Planning's reply:

Thank you Maddie! I really enjoyed being a part of you and Ethan's wedding! I know 2019 is going to be filled with amazing adventures for the two of you - have the best time in Seattle!!

Ned H.

Married on 10/06/2018

Josey makes your wedding sparkle!

Don't bother looking any further. I mean do, because research is good, but seriously, you basically found the one. No, not that " the one," but Josey will definitely make your wedding day special. We felt pretty independent when it came to planning, not even sure we needed a day-of coordinator, only taking a meeting with Josey when my mom passive aggressively filled out a "contact us" card for us. We were blown away at that first meeting with how joyous and excited Josey was to be a part of weddings, and we hired her on the spot. No regrets at all, because over the intervening (just shy of a) year, Josey helped us vision our event and even served as a referee when our visions did not match. As a testament to just how committed Josey is, she even set up a livestream recording of our ceremony for a friend who was abroad. She did that all without us even knowing, she's that good, and it was the best surprise on an already awesome day. We were really nervous going into the wedding because a lot of wedding vendors either intentionally or accidentally don't do a great job of representing same-sex couples in their portfolios of past work, which meant we were very discerning about who we chose to work with. Josey couldn't have made these big old gay boys feel more like our wedding was somehow totally normal, and yet so special and individualized. Whoever you are, Josey will make your wedding day sparkle (even more than my shoes).

Sixpence Events & Planning's reply:

Ned! (and Ryan!!) thank you so much for the kind words, I am so so happy and thankful to have been a part of your wedding day. I'm glad you saw the video and I'm actually really glad that I kept it a secret from you!! I can't wait to see your photos and to plaster them all over my website, Ned + Ryan forever XO

Are you interested?

Send a message

Marisa V.

Married on 09/02/2018

Josey = wonderful!

We had so much fun in part due to Josey's expert skills. Everyone raved about her positive energy and how much they appreciated her too!

Sixpence Events & Planning's reply:

Thanks Marisa! Your wedding was such a great day and I'm glad I could be a part of it! Congratulations on being married :)

Melinda

Married on 06/09/2018

Josey is the BEST EVER!!! I knew we had to work with her from our first meeting! She is so fun and perky and you will be instant friends. Trust me. She really does it all and has your back the whole entire planning process, even if you only need a day-of coordinator. The planning tools she uses are great and it's really easy to use to track your planning progress. She will make sure you are taken care of! We met several times during the planning progress and on the day of she ran the whole show like the pro she is. Did I also mention she is just full of knowledge and information about all things wedding? The woman has a podcast!!! And a blog too! She covers all the essential topics in wedding planning is so fun to listen to! She is the best :)

Mike R.

Married on 05/27/2018

The best detail we didn't know we needed

The short and sweet of it is that having Josey was the best thing we didn't know we needed. Leading up to the wedding the communication was efficient, helpful, and conscious of not being over-bearing. She seemed dedicated to making the week of the wedding as painless as possible, and received our chaotic questions with grace.

And then the day came. To be honest, we don't remember many of the logistics, but we think that says a lot. From clutch chalkboard calligraphy to constantly reminding the groom to hydrate & take off his wool jacket so he didn't pass out in the heat, Josey was with us when we needed it and in the background when we didn't.

To all of those hesitant couples—whether it is because you feel confident in your ability to DIY or because you just don't know if it's worth it—we've been there. But now we can say that if you're looking to remember the people, the emotions, the laughter instead of who is doing what when; if you are afraid your family or friends might have a few too many to-do's: look no further than Josey.

Sixpence Events & Planning's reply:

Mike and Cat (and the whole gang). Mike and Cat,

To say that I am thankful for your kind words wouldn't quite encompass the way my heart feels right now.

What you've said captures exactly my intentions, the true 'why' behind what I do. I wouldn't say wedding planning is my passion, but helping others have better lives, better days, better experiences is, and I am so terribly grateful that I fit in to your wedding day.

Thank you a million.

Sarah

Married on 05/12/2018

"Josey was our day of coordinator for our wedding and I could not imagine planning our wedding without her. She made our day perfect and we did not worry about a thing. She is kind, humorous and on top of her game."

Sixpence Events & Planning's reply:

Thank you so much Sarah! I appreciate being a part of your wedding day and I wish you could get married on repeat!!

Annamaria

Married on 04/29/2018

I'm not exaggerating when I say that our wedding day was the most relaxing, care-free day we could have imagined, all thanks to Josie. Josie was the greatest and my friends and family all commented on how amazing she was! She was there for us before the wedding, getting us organized AF with resources she provided for us. She made sure we had all of our essentials organized, and that everything important to us was especially cared for. We had absolutely nothing to worry about on our wedding day. She was there to make sure everything was set up correctly, and everyone was where they needed to be for the ceremony. During the reception she was invaluable and made sure everything ran smoothly, and then she was there to organize everything we needed to take home. I can't recommend her highly enough!

Sixpence Events & Planning's reply:

Thank you so much for the AMAZING review Anna! I adored your wedding and I wish every weekend was filled with couples just like you and TIM!

Hannah

Married on 10/20/2017

Josey is an absolute joy to work with. Being a wedding planner, myself, it was so nice having her there to help with the final stages of planning. She hopped on board as a day-of coordinator a few months prior to our wedding, but she went above and beyond the simple tasks of getting us through the day. From double checking our invoices, to giving us advice on what to expect (and not expect) she was brilliant and thorough. I felt like we had been long-time friends, as she was so easy to talk to and work with, thoughtful, kind and understanding. Her attention to detail - and boy did we have a lot of details - and setting things up from ceremony to cocktail hour to the reception and even a first dance balloon drop was PERFECT. Our wedding day was flawless and went so smoothly; we could not have done it without Josey.

+ 4

photos

Jacob

Married on 08/25/2017

Josey coordinated our wedding on August 25 and we had a fantastic experience working with her. Leading up to the wedding, Josey maintained a great amount of contact and communication by reaching out frequently enough to keep us comfortable that we were all on track with planning. She's also very quick with recommendations and responses to our questions—even at the height of wedding season.

I didn't realize how valuable having a good day-of coordinator would be until the wedding day actually arrived! Josey made the day so much better. She anticipated things that we never would have considered and stayed on top of a huge number of details (everything from vendors, timelines, and layout to tricky social dynamics and my very particular demands about music transitions and media presentations). Most of all, Josey's cheerful, smiling confidence was super reassuring—you can tell she knows what she's doing and has everything well-in-hand so that you can relax and enjoy the wedding day. Plus, Josey's just a really great person and we enjoyed having her involved! You won't regret working with her!

Sixpence Events & Planning's reply:

Jacob!!! Thank you so much for your kind words, I honestly enjoyed your wedding more than I can say. I think you hit the nail on the head, you don't know what you need until you need it. Thank you for trusting me to be by your side and to press play on your slide show   XO

Hailey

Married on 07/15/2017

Josey is AMAZING! I have had the privilege of working with her on a styled shoot, learning from her entrepreneurial expertise, and planning my wedding!

Josey is always 1000 steps ahead of the game, she knows exactly what she is doing (this isn't her first rodeo), and she will take care of things you didn't even know existed.

Sixpence Events is as essential as your wedding dress or your groom.. seriously.

Sixpence Events & Planning's reply:

Hailey! I am so glad I got to be a part of your wedding and I can't wait to continue collaborating as you start growing your business!

Eloise

Married on 07/02/2017

Josey is my new best friend. She was so chill throughout all the planning and made me so relaxed on the wedding day. She knows her stuff almost TOO well! Would highly recommend.

Sixpence Events & Planning's reply:

Thanks pal!! I just adore your wedding and wish you'd have one again!

Laurie

Married on 05/12/2017

Great personality and very efficient! Fun to work with.

Sixpence Events & Planning's reply:

Thank you Laurie!

Ann

Married on 10/29/2016

Josey was amazing! We hired her as our day-of coordinator and she made sure she understood everything we wanted for our wedding day. She kept everything running smoothly and whenever an issue came up she was on it and we quickly realized she had it all covered. She worked well with our teenage helpers who needed a little extra direction and brought a sense of calm to everyone she talked to. She went above and beyond with her attention to detail. When I sat down for dinner my lipstick was waiting at my place setting, she helped my elderly FIL by bringing his meal to him, she started a toast to get things going. Our guests raved about her. I appreciated being able to enjoy my special day without worry.

Sixpence Events & Planning's reply:

Ann you are so welcome! I am so glad I could be there to help you and Darren celebrate your love!

Patrick

Married on 07/29/2016

Josey is absolutely amazing! Super attentive and so easy to work with. She takes amazing notes and is super prepared. I couldn't have asked for a better job to be done. We had a great time even going over the details of the wedding. All of our guests loved her, the energy, and hard work she put in the whole day. I would recommend Josey and Sixpence Events & Planning wholeheartedly.

Amy

Married on 07/29/2016

Our wedding day would not have been as low-stress as it was without Josey's help. We had her help for day of coordination. She helped us to feel prepared ahead of time and then worked like a little hummingbird the day of making sure everyone and everything was in the right place at the right time. I like to be organized and involved, so the fact alone that Josey made me feel comfortable enough to just sit and enjoy getting ready was a feat in itself! On top of all of that, my friends and family all commented on how much they really liked her and remarked about what a hard worker she is. She organized, friendly, very responsive with messages, and hilarious! My hubby and I are very thankful for all the help she gave us and highly recommend her!

Sixpence Events & Planning's reply:

Thank you guys! I can't wait to see more goat pictures... and sunset photos... and some at sunset and with the tree house, and the swing...

Courtney

Married on 06/30/2016

Working with Josey was one of the most fun and easiest events that I've shot! She was on top of everything, and she was always there when I had a question or needed help. The day flowed very smoothly and I loved her attention to detail. I would work with Josey again in a heartbeat, and definitely hire her for my own events!

Sixpence Events & Planning's reply:

Thank you so much Courtney!! Excited about our upcoming blog collaborating and would LOVE to work with you in the future!

Nikkolette

Married on 06/30/2016

I'm a local dessert vendor and have worked with Sixpence Events on multiple occasions. It is always refreshing when I get to work with Josey because I never have to worry. She is completely organized, very professional and super fun!!! I can't wait to work with her again.

Heidi

Married on 06/25/2016

I am so thankful to have had Josey be a part of our wedding day! She eliminated any potential planning stresses, and was invaluable the day of. I'm very organized and thought I wanted to do everything for our wedding myself but I'm so glad that we decided to have Josey as our day of coordinator! Seriously other than my husband I think having her there was one of the best decisions I made. As a bride, I'm so glad that I was able to enjoy my wedding day and not have to worry about logistics or any potential issues that could come up. She also allowed my mom and sister to enjoy the wedding day which was very important to me. Luckily nothing major came up on our wedding day but with any big event things are bound to happen, Josey took care of it all and I didn't have to worry about anything. It was also great to have someone to make sure I stayed cool and hydrated on a 90+ degree day with humidity. She was so fun to be around, was hilarious, and put everyone at ease! I would recommend to anyone planning a wedding- Hire Sixpence!- even if you think you can do it all, you shouldn't have to and a day of coordinator is money well spent.

Hudson

Event on: 02/10/2016

Looking for a professional event planner? Look no further than Sixpence!

I had the opportunity to work with Josey, at Sixpence Events and Planning, where she organized and planned a corporate event. I found her to be organized, detail-orientated, and full of energy. She conveys a sense of control and confidence that will ease your concerns for any big event.

Weddings, corporate retreats, or family reunions, are sure to go off without a hitch with Josey and her team at Sixpence in control.

Highly recommended!

Myra

Married on 11/11/2015

Josey is a phenomenal event planner. full of ideas and considerations to make your events memorial and special. Josey is filled with energy, easy to work with, and exemplifies exceptional organizational traits. She is well diversified in her trade from communicating, informing, planning, gathering information, ideation, follow-up, to set up, orchestrating vendors together, creating and executing beautiful events.

Colton

Married on 11/11/2015

Josie at Sixpence organized an event for a large group of wedding and event professionals, recruiting me as an entertainer. I've got to say I was impressed. You couldn't ask for a more discerning crowd than a group of people who are involved in the industry, and everyone was impressed. All facets were well organized and executed. Job well done.

Peggy

Event on: 09/08/2015

Josie has been the event planner at my daughters going away party and at my nephews wedding. She is a rock star! Thorough, organized, creative, calm and just wonderful in every way. I totally trust her to follow through on your vision, execute it beautifully, and if desired by you, plan each and every detail! She is a gem!

Eristole

Married on 05/30/2015

Josey was amazing! She was highly recommended by my husband's family after she coordinated an event for them. From the moment she introduced herself, she was professional, organized, and immensely helpful! On our wedding day, I felt completely confident she had everything under control and I could just enjoy myself. My husband says that having Josey stage manage our wedding allowed him to relax and know that he could just enjoy the day. She was firm when needed (getting our family off the dance floor at the end of the night), but blended right in with the family (she was a great sport when my aunt pulled her on the dance floor!) I could go on and on; I can't recommend her enough - our entire family agrees she is wonderful!

Kathy

Married on 05/30/2015

Josey was the "day of" wedding coordinator at my son's wedding. She kept all plans running like clockwork from early morning prep until the reception was over without involving the bride, groom or either set of parents. This allowed the wedding party and parents to enjoy the celebration. In addition to being extremely organized and personable, Josey has the uncanny ability of anticipate what someone might need and be there waiting! I can't recommend her highly enough to plan a wedding or any event.
Are you interested?
Send a message