93 Reviews
Recommended by 99% of couples
Quality of service

5 out of 5 rating

Average response time

4.9 out of 5 rating

Professionalism

4.9 out of 5 rating

Value

4.9 out of 5 rating

Flexibility

4.9 out of 5 rating
66 User photos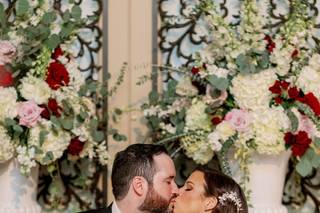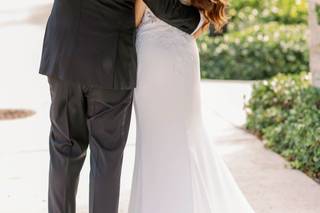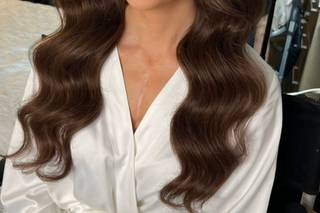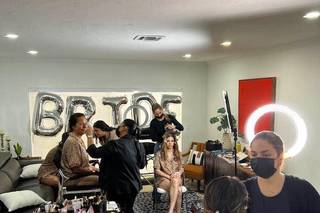 + 62

photos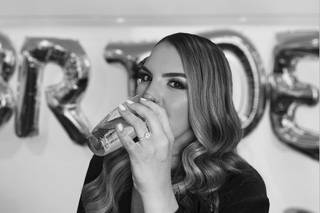 Cristina F.

Married on 11/11/2022

Gorgeous results

I found Sissi through my wedding planner & I'm extremely happy with my hair and makeup on my wedding day. I looked and felt amazing the whole day. My hair stayed pretty much intact throughout the hot and muggy day. She and her team are amazingly talented and made me, my bridesmaids, and my mom look beautiful!

Lucia R.

Married on 09/04/2022

Such a talented artist!

Sissi and her team went above and beyond to make sure my bridal party and I looked stunning on my wedding day. I got so many compliments on my hollywood glam waves and makeup (done by Sissi herself). Not only is she an expert in hair and makeup, but she's such a sweet soul. She made me feel so comfortable throughout this process, and I was at ease from the day of the trial, to my actual wedding day. I couldn't recommend her enough. Thank you for making me look and feel like a thousand bucks! 🙏🏻❤️ Lucy

Isa

Married on 07/16/2022

Such an amazing artist!!

Sissi is an incredibly talented and absolutely fantastic hair and makeup artist. I could not more highly recommend her! For starters, she is incredibly invested in making you look and feel exactly the way that you want. She asks you lots of questions to make sure she understands what you want. She also is very communicative the whole time that she is working with you, so that you can be confident that you are getting your desired look. She has so much patience, is incredibly attentive to detail, will spend hours making sure that you look perfect, and is just an amazingly sweet and wonderful person to spend time with on your wedding day! Her team is also really responsive over email or by phone. Whenever I reached out, I would get an answer within minutes. When you are stressed planning a wedding and are coordinating with a bunch of vendors, this is so critical. It really went a long way in making everything go more smoothly, especially in the last few weeks before my wedding. You seriously cannot go wrong with Sissi and her team. She made me feel so beautiful, and my hair and makeup lasted all night (despite an insane amount of dancing)!

Are you interested?

Send a message

Nina

Married on 06/18/2022

Absolutely everything a bride could want and more!

Where do I begin? Sissi and her team were the definition of perfection and professionalism. From the trial to the very end of the wedding prep, they covered every single detail and offered every possible recommendation. Their passion for their work shined through— even when I change my bridal hair stair entirely the morning of haha. Sissi, you are incredible. We all felt like we were with family. Your passionate being and calm presence through it all made my special day that much brighter. Thank you and welcome to my family 😘. SOS la mejor!!!!

+ 11

photos

Anay F.

Married on 05/21/2022

Amazing experience

Sissi and her team did such an amazing job for my wedding! Very professional and beyond talented. They worked around my every need and made me look like the most beautiful bride for my special day. I was blessed with such an amazing makeup artist and hairstylist she worked her magic and did not disappoint at all! Best makeup and hairstylist team out there 🤍💕😘🙌🏼

+ 2

photos

Yesenia

Married on 05/04/2022

Amazing makeup artist!

Sissi is the best! Loved my hair and makeup for my wedding day. She responded fast when I first reached out to her. We got married at Bakers Cay in Key Largo and was looking for a mua that did Hollywood glamour waves & was unable to find a mua in Key Largo. I contacted sissy & she did not disappoint! She did an amazing job & she's such a sweetheart as well. I highly recommend sissy!

Jessica R.

Married on 04/16/2022

Best make up artist team!

I cannot explain how happy I was with my final look, Sissi left me exactly how I pictured it, her team is full of professional MUA's, I had a big party of 10 and everyone was 100% satisfied with their hair and make up, would recommend to anyone looking for a MUA, also super sweet team, LOVE THEM🥰

Marlett C.

Married on 04/08/2022

Felt like a Princess!

From the team and their art hands down the best in town! Very kind and professional. I was recommended by mother in law and didn't doubt that they will be the chosen one to glam us up for my special day. They arrived on time and came in ready to pamper us. I was very happy with their make up and hair. I'll Definitely use them again! Thank you Sissi Team you guys made it really special!

Daniela R.

Married on 03/12/2022

So happy!!!

Thank you Sissi for making me feel beautiful and glamorous on my wedding day!! She has a great, responsible, and communicative team. I loved my hair and make up trial and was even more in love with my look on wedding day! All my bridesmaids also loved their hair and make up. I'm so happy with her services and would recommend her to any bride!!!

Jessica H.

Married on 01/15/2022

Calmed me down and made me look amazing!

I am so thankful I chose sissi. She made me calm down and helped me choose and switch the style of my hair the day of my wedding. She was so patient when the makeup artist from another company was taking too long. She and her partner made my bridesmaids and moms look amazing. We are thrilled with her work and I loved her as a person. Not one person was unhappy with their hair. They were on time at 7 am and ready to work. These girls deserved every penny we spent on them! I almost wish I chose them for makeup too. Look how beautiful all my bridesmaids look?!? There was no style that sissi and her team could not do. I am forever grateful. Book them! You won't be disappointed.

+ 8

photos

Jennifer C.

Married on 12/04/2021

Best Makeup Artist

Sissi Did My Wedding Makeup And It Was The Best Choice I Could've Made, I Think Her Makeup Technique Is Beyond Gorgeous, Natural I Definitely Recommend Her, She Is Very Professional And Makes You Feel Secure. Thank You Sissi And Your Team Im So Glad I Chose You For My Big Day 🤍

Ashley D.

Married on 11/20/2021

The best bridal HMU team!

I hired Sissi and her team for my destination wedding in Key West and am so glad I did! She is the best at what she does and is the absolute sweetest. She made me feel so comfortable on my wedding day, made sure I was 100% happy and didn't stop until my hair and makeup was perfect. She even stayed a little longer to touch up my hair after my first look. She also took good care of my bridal party including family and friends that needed services (we were a party of 17!!) and made sure they were all happy as well. Could not recommend her enough!! Communication was always easy, she was on time and professional. So grateful for you Sissi!! THANK YOU!

Ashlie

Married on 09/25/2021

Amazing work!

I cannot say enough about Sissi and her team! Amazing service, vibe and work. I did my trial with Sissi and couldn't wait for my wedding day. I was so calm and at ease knowing mine and my girls looks were in her hands. She is so professional and sweet. She made sure not a strand was out of place and made me feel so beautiful. My make up lasted all night long and my picky mom was even satisfied with her hair and make up. Sissi was amazing throughout the whole day and made us feel so comfortable. You will not regret booking with her!

+ 2

photos

Susana Z.

Married on 07/02/2021

Wedding Day Hair & Make-Up

I have never felt more beautiful in my entire LIFE! Sissi has a gift for make-up and is the sweetest and kindest person I have ever met. She works quickly and adapts to any situation! We were running behind schedule because of my bridesmaids but she still managed to get us all ready in time looking flawless! I loved the royal bun she suggested and it truly completed the look. Sissi and her team are extremely talented and I promise you will thank me when you choose her for your wedding or any other special event!

+ 2

photos

Michelle

Married on 03/06/2021

Wonderful!!!

Sissi and her team were truly amazing!!! Sissi did my makeup and hair and her team did my bridesmaids and all of us looked stunning. Thank you so much sissi for nailing the look I wanted and making it even better than I could imagine!!! My hair and makeup lasted all day and night even though it rained and was humid! I recommend her 100% and she is so sweet and always a pleasure to be around!

Shannon T.

Married on 02/20/2020

Worth every penny!!

I went to Sissi's house to do my bridal trial and she made me feel like a friend offering me water, snacks, talking about our relationships, it's like we've been friends for years jamming out to songs, connecting about paintings on her wall. Sissi made me feel beautiful during my consultation! Sissi unfortunately got booked for another event before my contract got to her and I had the pleasure of having another one of her girls do my makeup for the wedding and consultation. My blue eyes POPPED and that was my main goal! All my of bridesmaids looked like a million dollars along with their hair and makeup done by true professionals. Sissi's team took their time asking what each girl wanted and made sure to highlight everyone's natural beauty and enhance it! They found our hotel room, were prompt and professional and sweet to all of us girls. I'm so grateful to have stumbled upon them to do my makeup for my wedding I couldn't of asked for a better outcome on my makeup and for my girls hair and makeup!!! Thank you, thank you again Sissi and team!! 😍💚

Chelsea

Married on 11/13/2019

Impressive & memorable


My experience with Sissi and her Hair & Makeup Team was IMPRESSIVE & MEMORABLE!!
I am so happy and blessed that I found Sissi on Instagram, her team leaves you with impressive hair and makeup and her business leaves you with a memorable experience. I originally came across someone else through Instagram and hired them not knowing Sissi and her team existed. Literally not even a week before our engagement shoot the other business cancels due to an emergency leaving me with no one for the photoshoot. I was in a panic searched again on Instagram where I came across her beautiful page! This is where her customer service shined! I called, told her my situation and she instantly went to work to find a place for me within her team with her busy schedule. (Not saying she could probably do this every time with last minute clients but her efforts showed how much she tried to make it work.) She asked me to send pictures of what I was looking for so she could put me with the best artist that would meet my hair and makeup needs. She wasn't available that day but one of her amazing team members was and we were impressed with our results!! My hair and makeup was done in the morning and it lasted the whole day, I mean it looked the exact same till I went to bed & that was with me being outside majority of the day. Lastly for those woman that have sensitive skin, I hardly can wear makeup because my skin is that sensitive but her products were perfect because I had no issues. I couldn't have asked for a better experience from the phone calls, emails, directions, the appointment itself, and the hair and makeup was perfect for the day! Thank you so so much for your help, hospitality, expertise input, support, love, the teams amazing and talented skills! If anyone is in the area of Miami please use her business because you will not regret it!! Absolutely amazing! Thank you from the bottom of my heart for making me look and feel beautiful on our engagement photoshoot day!! THANK YOU!

Nancy

Married on 03/23/2019

Dream team!

Sissi and her entire team are true professionals! I hired Sissi's services for my wedding day and I couldn't be happier with how everything turned out. Sissi was the sweetest and kindest, she gave me a couple of advises prior to the big day to make sure we would get the exact look I was going for and she was super responsive to all my inquiries and very professional!

Sissi and the team did an amazing job, the make up did not feel heavy or cakey and the hair lasted all night. The team took the time to listen to everyone's request and worked around their vision! Bride, Bridesmaids and Moms were all happy with the results!

They are simply GREAT! highly recommend them.

Dailynn

Married on 10/27/2018

Wedding Makeup

Sissi and her team were amazing! They made us look and feel wonderful. I would pick them again for any event without a doubt! ❤

Alejandra G.

Married on 10/20/2018

Incredible!!

Sissi and her team did an incredible job. They were professional, made sure we were ALL ready at the scheduled time, and of course, had incredible hair and make up skills. Somehow they were able to please 7 different girls with 7 totally different styles and made everyone feel beautiful. In terms of my bridal hair and make up, Sissi exceeded all of my expectations. She made me look and feel better than ever. Her hair and make up skills are incredible and everyone could not stop commenting on the entire look. Aside from their amazing hair and make up services, Sissi and her team were very nice and fun to spend the with getting ready. Overall incredible experience!

Stephanie

Married on 10/06/2018

Simply amazing!

Let me start out by saying that I am naturally a picky person. I am very particular when it comes to certain things and I have used hair and makeup artists before that were just "ok". But Sissi and her team are the best of the best! If you are searching for a hair and makeup artist for your wedding, look no further- Sissi is your girl! She made me and my girls look absolutely stunning on my wedding day, I felt like a queen with a flower crown. My aunt, who never wears makeup looked like an absolute doll. And my mom transformed into a completely different woman! Sissi did such an amazing job, I am so grateful for her and the services she provided. She went above and beyond, and I have never felt more beautiful than I did on my wedding day. I would recommend her x's 1000 and can't wait to use her again in the future!

Ivelisse

Married on 09/15/2018

Thank you so much for making me feel like a princess on my wedding day. Sissi's team is professional and they helped me and my bridal party look our best. She brought my vision to reality. I am so happy I chose her and I highly recommend her.

Stephanie

Married on 03/10/2018

I can truly say Sissi is the best at what she does. I've used many HMUA in the past and no one has ever made me feel as beautiful as Sissi did on my wedding day. She is an amazing artist and so easy to work with. From start to finish her team made the process easy, and everyone was a pleasure to work with.

I will forever brag about her and can't wait to use her services for my next big event. SISSI YOU ARE A GODDESS! ♥

I highly recommend Sissi. I went to her salon to have my hair and make up done for a photoshoot. Sissi did my make up and Diana did a fishtail braid on my hair. I absolutely loved everything ! I also got a lot of compliments . Sissi is great at what she does and she also provides GREAT customer service . She replies to the emails quickly and she really cares about providing her best service to the customer . Thank you Sissi and Diana . You rock :-)

Jackie

Married on 11/18/2017

Sissi is a professional. She takes her work seriously and she brings a positive vibe the day of your wedding. She knocked it out of the park with the look I was going for. After spending hours with her you feel like you have known her for years. LOVED HER and highly recommend her!
Are you interested?
Send a message