36 Reviews
Recommended by 100% of couples
Quality of service

5 out of 5 rating

Average response time

5 out of 5 rating

Professionalism

5 out of 5 rating

Value

5 out of 5 rating

Flexibility

5 out of 5 rating
Awards
68 User photos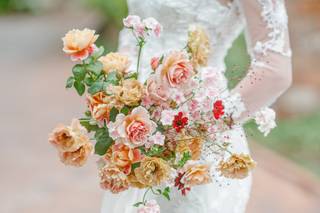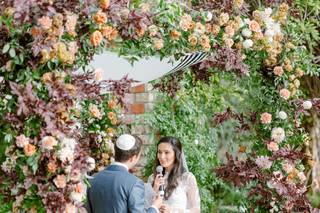 + 64

photos
Dan S.

Married on 10/22/2022

Your eyes will not believe the beauty this team creates

Siren recently did our wedding in Santa Barbara. I'm still in shock by the beauty they created. My eyes could barely believe it. The most beautiful colors and tasteful arrangements, including a perfect yellow flower collar on our black lab. I doubt there's a more talented flowering team on the planet! And on top of that, they're incredibly kind, thoughtful, and pleasant to work with. If you happen to be getting married on a weekend when Siren is available, lock them down immediately and consider yourself very fortunate. We're forever grateful to Siren for the impact they had on our wedding day

+ 5

photos

Melina G.

Married on 08/20/2022

Stunning Flowers/Amazing people!

Rachael and the rest of Siren really made our wedding beautiful. From the trial experience to the final day, everything was smooth and easy. She totally understood our aesthetic and made it all more beautiful than we could have imagined. I will remember our Chuppah for the rest of time. Cannot recommend Siren ENOUGH!!! 10/10!!! Thank you again!

Niki D.

Married on 06/11/2022

The most special experience and final product

Rachael at Siren Floral is a true artist. Her work at our wedding was so perfectly intentional, thoughtful and cool. In addition, the planning process to get there was fun, supportive and collaborative! We would recommend Siren Floral to anyone looking for an event florist. We cannot thank Rachael and her team enough!

Are you interested?

Send a message

Kim G.

Married on 05/21/2022

The most magical!

It is rare in life when you can say your vision and wishes not only meet your expectations but exceed them by a million-fold.
It begins with Rachael and the Siren team's loveliness, kindness, professionalism and deep care that the bride's (in this case my delicious daughter) dreams come true. Add to that her INCREDIBLE talent, aesthetic, knowledge of every flower imaginable and "tweaking every detail" so the creation becomes "your everything"!
Rachael will forever be "an essential" part of our daughter's wedding day and a forever friend! ❤️


+ 5

photos

Tracey C.

Married on 04/30/2022

Beyond our wildest dreams...

Rachael + the entire Siren Floral team delivered the most spectacular florals we have ever seen and that were beyond what we dreamed. Our wedding was "garden party" themed so florals were our main design element and Rachael and team went above and beyond to deliver and work within our budget. They were not only incredibly professional, collaborative, and the most hard-working team but also the kindest and most supportive. I can truly say that the moment I met Rachael I trusted her implicitly and knew that her awe-inspiring knowledge and artistry would make our day. It was the element of our day I was most excited to see and I *literally* cried when I walked into our tent ! I adore this entire team and would work with them again in a heartbeat and endorse them for ANY event. Could not recommend highly enough!!!!

+ 6

photos

Sarah F.

Married on 02/20/2022

Wonderful February Wedding with Rachael

My husband and I got married in Malibu in February 2022. Rachael and the Siren team did our flowers for the entire event. Not only were they incredibly professional and easy to work with, but such amazing visionaries in the floral styling for our day. Rachael is incredibly creative. Her florals are unique and organic. The day was complete perfection and so many guests commented that they had never seen such stunning flowers at a wedding. She used seasonal flowers that so perfectly complimented the mood we wanted for our day. You *want* Siren for your wedding if you are lucky enough to be able to book them! Thank you Siren team for helping to make our day gorgeous and magical!!

+ 3

photos

Shelley B.

Married on 10/02/2021

a happy mother of the bride

My daughter used Siren for the flowers at her recent wedding.
The arrangements were incredible and were exactly what she wanted.
Working with this company was a pleasure, everyone was thoughtful, kind and went over and above what was expected.
I highly recommend them.

Chloe B.

Married on 09/25/2021

Perfection!

Working with Siren was an absolute pleasure. Not only are they incredibly talented, but also extremely professional, helpful, and accommodating. They brought my vision to life and I could not be happier with the results for my wedding day!

Lizabeth P.

Married on 07/08/2021

Rachael is a creative genius!

Most people would understandably assume that a wedding held at a venue along the coast in Santa Barbara, California would be fabulous without having to add much more than food/drinks and some music and basic decor. We learned quickly that this was not the situation at our venue and is why the flowers and the beautiful effect they created were so very important to bringing the setting to life, both inside and out. Enter Rachael Lunghi of Siren Floral Co., and her brilliant designs. The wedding ceremony and cocktail hour took place on a rustic bluff overlooking the Pacific Ocean. The reception was held in an old empty greenhouse; basically, cement, glass, metal and decomposed granite floors. From our initial phone call with Rachael, we had a sense that she quickly understood our vision; beautiful florals in muted colors (think, deep purple, dusty rose, corals, peaches) – the colors of late summer fruit. We asked for arrangements that would complement the breathtaking scenery, not fight with what was naturally occurring. COLOR and design were extremely important – the very popular white or cream décor was not what we were looking for.
She was very receptive to our dreams. Siren is located in San Diego, a 5+hr drive from Santa Barbara; distance was never an issue. She was open to any questions/suggestions that we had; easy to contact and very responsive. A month before the wedding Rachael did a mock-up for us. This was a fantastic way for us to collaborate and pin down exactly the look we were going for.
One of the most repeated complements we have received about the wedding are the gorgeous flowers. From the natural bluff vibe that she created to the most beautiful flowers accompanied by fresh fruit for the greenhouse reception, as well as the wedding party flowers, Rachael did an amazing job making our color palette and flower dreams come true.


+ 2

photos

Michaela W.

Married on 10/17/2020

True artists, absolutely a pleasure to work with

Rachael and her true were an absolute dream. After much back and forth and cancelling our large 250 person wedding due to covid-19, Rachael could not have been more accommodating. She took exactly what I said (and I was all over the place with ideas) and turned my vision into life. She turned our small intimate gathering into a beautiful oasis with a gorgeous table scape and magical hanging greens above our heads. It was more beautiful than I could have ever dreamed. Don't think twice - hire Siren Floral Co for beautiful, stress free, and creative wedding florals.

Alexa E.

Married on 09/05/2020

Wedding florals dream come true

I'd been following Rachael and Siren Floral Co on Instagram for years and hiring her was one of the very first (and best) decisions I made once I was engaged! Rachael is a true artist, I absolutely love her unique creative whimsical style - the only direction I gave her was "colorful and wild" and she ran with it to create the wedding florals of my dreams. She was also an absolute dream to work with, so kind and professional. Meeting her in person was like making a new friend! Her team was gracious enough to host me and my mom in her shop/studio for the mock up which is was hands down my favorite part of wedding planning. The arrangements she made were absolutely stunning, and in addition to all the colorful blooms they had tomato vines with tiny tomatoes! So beautiful and original. I had corsages made for my grandmas/MIL but Rachael had the great idea to make a special floral comb for my mom which she loved. And the ARCH!!! The floral arch she made for our ceremony was one of my top 3 favorite things about our wedding day. We go so many comments on the flowers from family and friends, and I find myself looking at the photos constantly - they bring me so much joy! If you are looking for truly creative and stunning flowers for you wedding I cannot recommend Rachael enough, she exceeded my expectations and I'm so grateful to her and her team for the work they put in to make it come to life.

+ 4

photos

Elizabeth

Married on 09/01/2020

Extremely talented and lovely to work with

I work for a local nonprofit foundation, we do upwards of 20 larger events per year and we ALWAYS bring in Siren florals to help us elevate our events and help us create a warm, beautiful, inviting environment for our guests. She understands our ideas and visions and always has the best suggestions. She creates texture and beauty in our unique and sometimes unconventional spaces. She absolutely makes our sometimes very limited budget events look luxurious and glamorous. Rachael is honest, hardworking, and delightful. I always recommend her to friends, coworkers, and other vendors for all floral needs.

Rachel

Married on 05/25/2020

Hire Siren Floral Co

When you want florals to make a major impact at your wedding, you call Rachael and team at Siren Floral Co. The wedding florals that SFC pulled together were truly 'stop in your tracks' stunning. They played up the season, provided warmth and sweetness to the space, and every single bloom had its own love to give to the event -- each angle of each arrangement was beautiful. Rachael is so creative and talented, and as a bonus she's incredibly lovely. I'm honored to have worked with her for our event. It was one of the top most important and impactful decisions about the day. I could not more highly recommend SFC.

Megan C.

Married on 11/12/2019

The most beautiful florals you will ever see...

The floral designs that Racheal and the Siren team create are absolutely stunning. As an event planner for a non-profit, we appreciate Rachael's dedication to producing high-level, classic, absolute exquisite designs while meeting our event budgets. Every time we work with her, I'm floored at the beauty of her flowers. If you're hesitating booking Siren Florals for your next event, DON'T! They are incredible in every way.

Jessica H.

Married on 11/05/2019

Couldn't have been happier!

My quest for finding a florist had a rocky start but it was worth it because it eventually led me to finding Rachel! From our first phone call I could feel the passion in her voice. She clearly loves what she does and damn is so good at it too. I felt slightly insecure talking about flowers, I know what I like but I don't know all the flower names or how to articulate my vision, and she almost read my mind. She put together some ideas that were spot on and even came up with other ideas that I didn't even know I loved until I saw them. She was a joy to work with and delivered on every front. She was professional but also so sweet and her price was extremely fair. We got so many compliments on our florals. She's the best!

Molly

Married on 10/11/2019

terrific - flexible - gorgeous!

rachael was beyond lovely to work with. she took my inspiration and turned it into reality. flexible and fun to work with along the way . a+ across the board

Melissa

Married on 10/06/2019

Mother Nature's Chosen One

Rachel is a true master of her craft. Not only is she beyond talented, but she knows flowering so well that you would think she was born in a meadow and was put on this Earth by Mother Nature herself to bring joy to the world through floral creations. True story! Hire her and you'll see what I mean!

We hired Siren for our 120 person Palm Springs wedding. Our location was already naturally lush so it was very important to us that we hire someone who understood organic beauty. We didn't want huge arrangements that felt out of place and we needed a collaborator who was a master of balance and scale. Rachel was able to capture and create our vision and made it seem magical.
She's also a lovely person with a humble and warm personality. She loves animals as you can see if you follow her Instagram stories. And she is one of those amazing people who can balance her creative gifts with a sharp business acumen. When you hire a vendor you want to know that you're hiring a trusted business partner in a way because the stakes are high and the prices are not exactly low. With Rachel, you will receive timely and courteous responses, reliable day-of service, and an overall professionalism that is unmatched.
I highly recommend hiring Siren!

Jessica S.

Married on 07/27/2019

Incredibly talented and special florist!

I could not have dreamed of a better florist to collaborate with on my wedding day. After attending a friend's wedding that Rachael did the florals for I immediately knew I wanted to work with her and she did not disappoint when it came to my wedding day. Soup to nuts, she is a total professional but is also SO incredibly kind and generous. She worked with me to design a proposal that was in my budget and was so flexible, responsive and sweet throughout every step of the process. She made me feel so at ease which is so welcome during the wedding planning process, which can become ridiculous and stressful all very easily. I really appreciated how down to earth she was, the whole time it felt like I was working with a longtime friend! In fact I trusted her so much that I pretty much gave her free reign in terms of the florals and design - and WOW. She is a singular creative talent. Hire her and let her do whatever she wants and I promise you won't be disappointed!

Hannah L.

Married on 05/03/2019

Palm Springs Wedding Florist

So what else can I say about Rachael's vision, abilities, style and personality besides absolute perfection… I first met Rachael when my best friends and I signed up for a Holiday wreath making class just a few weeks after I got engaged, hello best decision I've ever made. After that, I contacted Rachael to discuss possibilities of using her services as a florist for my wedding in the Palm Springs area. Rachael extended an invite to meet me for coffee and get to know each other better and see if our visions "vibed". It was such a sweet, personal and intimate touch that really made me feel like I was the most important bride in the entire world! We chatted about budget, visions, color scheme, inspirations, etc. Rachael's calm, collected and caring nature truly left me without worry and confident I had found the exact person I wanted to move forward with out a single shred of doubt. Well that and 98% of my saved floral inspiration photos already came from her instagram account… :) And let me tell you I was 100% right.

Fast forward… It was 7 weeks before my wedding and I just found out my original venue was hit from the Feb storms in Palm Springs and construction wasn't going to be completed in time. I immediately let Rachael know, and without any additional stress on her end she quickly responded letting me know there were no worries and asking how she could be of any help in this process… as if her plate isn't already full, she cared about me and how I was doing. She is a truly genuine person. Once my new venues were solidified (Villa Royale: Ceremony and cocktail hour, Mr. Lyons: Dinner and reception), I let her know immediately, about 3 weeks before my wedding, and sent her photos of the new venues. She jumped on a call with me and we chatted about all the changes and how she was still going to make my dream come to life, maintaining my original budget despite my now wedding being in two different locations! She proposed new ideas and thoughts and throughout the entire process maintained the same fluidity and ease she is known for.

My biggest advice for any bride moving forward with Siren Floral Co. is to trust them, trust the process and allow them as much creative freedom (as your comfortable with) and you will not be disappointed. Im generally a pretty easy going individual, but never would have thought I would answer a vendors question with "You do you girl, I trust you!". But man am I thankful I did. I cannot express how grateful I am that I found Rachael and with her I gathered an intuition of trust, confidence and security. Rachael and her team blew me away with their end result, it was more than I ever could have wanted. Siren Floral Co. was the perfect addition to my vendor list. They kept it real, let me know exactly what to expect for my budget, reviewed inspiration ideas, created mood boards, and when the time came showed up in every way possible. Rachel is a communicative, caring, talented soul that transformed not 1 but 2 spaces exactly how I wanted them in both a visually appealing and absolute STUNNING way. I have and will continue to recommend this Siren Floral Co. to any bride or person seeking florals for events that I cross paths with.

Milena

Married on 03/30/2019

So dreamy!

Working with Rachael (and Sarah!) from Siren Floral Co was an absolute dream. I had found Rachael on instagram, and seeing her creative floral designs, I knew she would create magic! :) She is a wonderful human, and delight to have worked with. She created stunning arrangements, and went above and beyond, when the flowers I wanted were not in season. I cannot thank her and her team enough for truly giving me the wedding of my dreams. XOXO
-Milena

Sarah M.

Married on 03/09/2019

Perfection

Rachael and the Siren Floral Co team are truly fantastic, I can't express how much we loved the florals for our wedding! The thought and creativity that Siren put into every aspect of the day made our wedding the wedding of our dreams. Not only was the end product beautiful, but the whole process with Rachael was absolutely seamless -- she was responsive, diligent, so so sweet and kind, offered ideas we didn't even know could be executed, and, most importantly, she cared that our day was special and unique to us. We LOVED working with Rachael and would hire Siren for any occasion!

I can't overstate how much of the beauty of our wedding day at Leo Carrillo Ranch (Carlsbad, CA) was owed to Rachael of Siren Floral Co. During the wedding planning process, I told many people about how completely I trusted her and what a genius I thought she was (I mean, just look at her Instagram). She outdid herself and exceeded my (very high) expectations by miles. She also did the florals for our rehearsal dinner.

Since I think her work speaks for itself, I should also underscore that she was an absolute delight to work with. I planned my California wedding from Boston and never actually met Rachael before the wedding, but still felt like she knew and valued me. Communicating with her throughout the wedding planning process was such a breath of fresh air—she was always pleasant, enthusiastic, earnest, considerate, thoughtful, and warm. Every time we exchanged emails, her correspondence put me at ease given all the rest of the moving parts of wedding planning. She also collaborated beautifully with other vendors (we used an event designer and had a coordinator that was included at our venue). She was incredibly flexible and open to a few unusual ideas we had for sourcing flowers, among other things.

Rachael's creativity is immense. In addition to the typical table florals, bouquet, and boutonnieres, she did an unusual garland install, a pool install, and a flower crown that was the centerpiece of my bridal look. Everything she delivered was beyond my wildest dreams and perfectly captured my vision—even though I don't think I was the best at articulating myself and gave her pretty loose guidelines, Rachael seemed to understand exactly what I wanted. Her florals are rife with sweet, special touches that show how much of herself she invests in her work. I consider Siren Floral Co the vendor that tied together my wedding and would recommend her—as a human being and a wedding vendor—wholeheartedly.


Allison

Married on 05/27/2018

Rachael / Siren Floral did the florals for my wedding and I had such an amazing experience! I changed my mind on what I wanted to do a couple times along the way and she was super cool about it - she was so flexible which made it easy on me. Her demeanor is very relaxed and chill which is something you especially want for your wedding!! We knew the florals we originally selected had a chance of not being in season by the time my wedding came around and just my luck... we just missed them. So Rachael had to do a whole new arrangement on the fly the week before the wedding which was nerve racking for me but she handled it with ease, kept me in the loop, and came up with a GORGEOUS arrangement that everyone tells me was the most unique / gorgeous arrangement they've ever seen at a wedding. Those toffee roses were to die for. I highly recommend the Siren Floral team!

Tammy

Married on 05/26/2018

We are Lovely Time, a wedding planning company who were very excited to be in LA for this wedding. We'd worked with Rachel with Siren Floral and it was an absolutely wonderful experience. Being in this industry, we work with many florist, although Siren Floral provided us with beautiful and fresh florals that were bloomed beautifully on the day of the event. She was even kind enough to provide extra florals to add extra detailing to the decoration. Rachel is very responsive and professional in her work and we're so happy to have had the chance to work with her. We will definitely reach out to Siren again if we are ever in the area and look forward to cooperating again!

Julianne

Married on 09/02/2017

Working with Rachael was seemless. Even though I lived in a Florida, she made all the details and colors I envisioned come to life through phone call and ppt and emails (ha)! Rachael was also very helpful in my design process throughout the wedding offering good advice on local Cali vendors for my big day! Rachael was so kind and her blooms brought my vision into a cohesive color pattern! Absolutely recommend working with her, you will not regret the time or investment!
Are you interested?
Send a message