Reviews
4.7 out of 5 rating
Quality of service

4.7 out of 5 rating

Average response time

4.7 out of 5 rating

Professionalism

4.7 out of 5 rating

Value

4.5 out of 5 rating

Flexibility

4.7 out of 5 rating
93%
Recommended by couples
Awards
2 User photos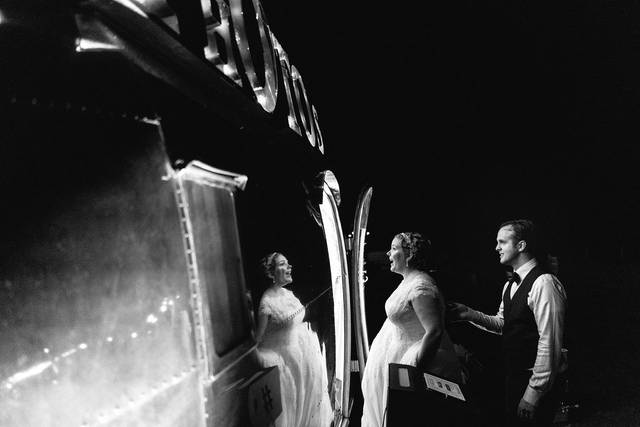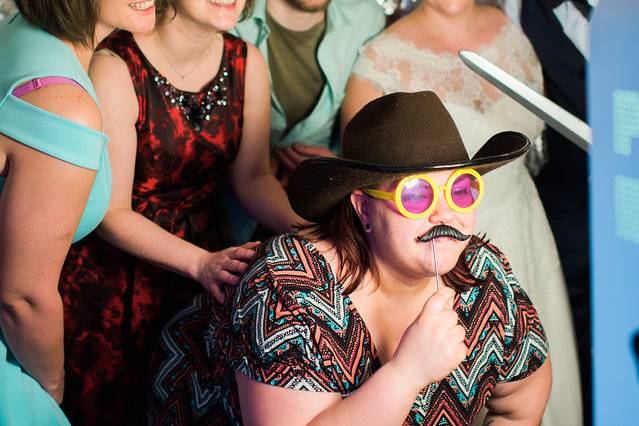 Taylor P.

Married on 10/01/2022

So happy we hired them!

We were on the fence about spending extra $$$ for a photobooth, but I'm so glad we did! I have loved looking back on all the silly pics of our guests. Working with Silvercloud was a breeze and the trailer itself was so cute and really added to our wedding "vibe". Great experience overall and would book again in a heartbeat!

Leanne

Married on 03/16/2019

The perfect addition to our wedding!

We booked Silver Cloud as our photobooth vendor because the airstream was just too cute to pass up. Everyone really enjoyed having the photobooth during cocktail hour and the BEST part was that a few minutes before they were scheduled to leave (we booked them for 3 hours), one of their attendants came and grabbed my husband and I for photos. We hadn't had a chance to take pictures yet, so we were so happy they pulled us aside to make sure that we got a chance to take a few pictures! The printed copies were a great takeaway to help us see everyone having a great time with the fun props, too!

Silvercloud Photo Booth & Silvercloud Mobile Bar's reply:

LeAnne,

Thank you so much for having us out to your wedding! We really enjoyed you, your new hubby, family and friends. It was such a fun wedding and appreciate your review and for making us a part of your amazing day.

Cheers,

Chris and Yvonne Johnson, Owners
Silvercloud Trailer Events

Natalie

Married on 06/10/2017

The Silvercloud Photo Booth Trailer is such a great, fun touch to add to a wedding. Our guests absolutely loved getting in the trailer, having fun and taking photos. Highly recommend!!!

Are you interested?

Send a message

Lauren

Married on 05/26/2017

We had Silvercloud Photo Booth outside of our wedding at Vista West Ranch on 5/26. My husband and I absolutely love Airstreams so when our wedding planner proposed renting Silvercloud, we were immediately sold! They were super easy to book with, showed up early and the onsite team was wonderful. We were pleasantly surprised to receive a book at the end of the night with all of the pictures from our guests and even more excited when all of the photos arrived in our inbox during our honeymoon. So much fun :) Only negative was it was pretty warm in the booth -- which I should have realized being that it's a tin tube outside in the Texas heat!

Kimberly

Married on 12/10/2016

They made our very daughter's very formal wedding a complete blast!!! Their photobooth was the perfect addition to our daughter's beautiful day! It is so much fun to see the bride and groom, wedding party , grandparents, family and friends having so much fun having pictures taken with all of the fun props! We will cherish the album forever with all of the fun pictures. Thank you Chris, Yvonne and Austin for making the day and memories so special!!!

Your guests will LOVE it and you will LOVE looking back at all the photos seeing how much fun your guests had at your event!
The photo booth attendant was wonderful and very helpful with the guests! We highly recommend them!

Lisa

Married on 12/05/2015

You NEED Airstream at your wedding or event. It was a huge hit at our wedding in December. The Aistream is unique to Austin and absolutely adds to the atmosphere, our venue Hamilton Twelve has a food truck so it completed the Austin theme. Our guests loved it and the photos are hysterical. Our attendant was really sweet and helpful. If you are considering having a photobooth spend the extra few dollars, you won't regret it! Chris was very responsive and flexible with our set-up and times.

Silvercloud Photo Booth & Silvercloud Mobile Bar's reply:

Thank you so much for your review! You were so great to work with, as well! All the best, Chris

Haley

Event on: 12/03/2015

I have been working with airstream photo booth for approx 4 years, they provide a photo booth for our annual Christmas party and its a popular spot the entire night. They are also helping us with a video booth project that will be at annual conference! Chris continues to make me look like a rock star when all I have to do is call him! The services they provide continue updating with technology and growing to fit the needs of their customers. Thanks y'all!

Silvercloud Photo Booth & Silvercloud Mobile Bar's reply:

Thanks so much, Haley! It is ALWAYS a pleasure working with you and we can't wait 'til your next event! Thanks so much for the review. Really appreciate it!

It was delightful and great fun for our guests!

Silvercloud Photo Booth & Silvercloud Mobile Bar's reply:

Thank you so much for the review! So glad you had a great time!

Brandy

Married on 11/04/2015

We actually used multiple photo booths from Airstream Photo Booth during the week of our event (Nov. 2-7, 2015). Chris, the owner, was extremely responsive and very easy to work with and made planning the week-long event a breeze. Everything showed up on time, worked well, and our guests had a blast! I will definitely use them for future events and would recommend them to anyone looking for a photo booth!

Silvercloud Photo Booth & Silvercloud Mobile Bar's reply:

Brandy, all of your events were fantastic - we had a great time at all of them AND working with you and your team! Thanks so much for the review!

Sheryl

Married on 07/12/2015

The Airstream Photobooth is so cute and was a big hit at our daughter's wedding last July. Chris was great to work with and answered all my questions in a timely manner. The Photo Booth added such an element of fun to the evening. i would use them again and gladly refer them to anyone looking for this type of vendor.

Silvercloud Photo Booth & Silvercloud Mobile Bar's reply:

Hi Sheryl,
Thanks so much for the review and for having us host the photo booth for the wedding! Tons of fun! Super group of people!

Caitlynn

Married on 07/11/2015

The Airstream Photobooth was a big hit. Everyone had fun getting inside and taking pictures. It was a great addition to our wedding.

Silvercloud Photo Booth & Silvercloud Mobile Bar's reply:

Hi Caitlynn,

Thanks so much for having us out to your wedding! We really appreciate the review!

Danielle

Married on 06/27/2015

Airstream did an amazing job and helped make our wedding day truly spectacular! We highly recommend them!!!

Silvercloud Photo Booth & Silvercloud Mobile Bar's reply:

Thank you, Danielle, for the review! Your wedding was awesome and we were so happy that you and your guests had a great time!

Danielle

Married on 06/27/2015




What a wonderful experience we had working with Airstream! From their responsiveness and consistent professionalism to the amazing custom template they created for our wedding, Airstream was a joy to work with and a smash hit at our wedding! Thanks so much!!!

Heather

Married on 09/06/2014

I had the Airstream Photo Booth at my wedding and I couldn't be happier that I did! First of all, Chris (who I believe is the owner) is absolutely wonderful! We corresponded completely through email and he was always prompt and extremely helpful! It seemed as though I always had questions and he was more than happy to explain things to me.
Stefan actually brought the Airstream Photo Booth to my wedding and he did a spectacular job! He was personable, helpful, and extremely polite. The pictures all came out beautiful, excellent quality, and I never saw a moment that there weren't people taking pictures.
This is definitely a fun way to add a little pop to any event and I strongly suggest working Airstream Photo Booth... Couldn't be happier with service or outcome!

Silvercloud Photo Booth & Silvercloud Mobile Bar's reply:

Heather, Thanks so much for your review of the Airstream Photo Booth and your kind words for our staff! They work hard to make things run smoothly and be fun so it is extremely rewarding to get this feedback from you. Thanks again for having us out to host the photo booth at your wedding!

Jen

Married on 09/29/2012

The airstream photo booth was beyond a hit at our wedding, such a great touch of personality and Austin, especially for our out of town guests. Couldn't have been easier to work with, they even drove the trailer an hour to my venue to show the vendor so they would approve it :) way above and beyond, and I loved how literally when we walked out of the wedding, we were handed a photo album with the nights pictures and messages from our guests. It was such a special experience our friends and family are still talking about!

Amanda

Married on 03/04/2018

We booked Silver Cloud Photo Booth for our wedding because we wanted a fun activity during the reception and loved the idea of having some silly photos with our guests. They were easy to communicate with before the wedding and had no trouble setting up quickly and efficiently after our cocktail hour. They parked their airstream trailer in the yard outdoor wedding venue. The trailer itself was a nice aesthetic part of the event and looked great with the rest of our decor. There was a wonderful assortment of quirky props that our guests had fun posing with. That evening we were left with a photo album with each of the pictures that were taken and messages written by friends and family. And very shortly after the wedding they shared with us a private facebook album containing the pictures! We would highly recommend Silver Cloud Photo for adding some extra fun to your event and creating unique memories!

Silvercloud Photo Booth & Silvercloud Mobile Bar's reply:

Thanks so much, Amanda, for the great review and for posting the 2 photos from your wedding day - so cool! We really enjoyed your wedding! Thanks again for having us be part of your celebration! Cheers, Chris & Yvonne Johnson, Owners

Heather

Married on 04/02/2016

I really loved Airstream photo booth, and so did all of my guests. The booth is really cute and all of the costumes and props are super fun. The staff was very nice and responsive, both via email and in person. I think what I like the most is how unique the photo booth in comparison to other photo booths - this one really stands out and has a very "Texas" feel, which my California guests liked a lot. The only comment I have would be that the photo album they provided us with just had the plastic sleeves, so the pictures our guests took slide around a bit and fell out. But, as my husband pointed out, we can get our own paper and glue them down how we like now.

Karley

Married on 03/15/2015

This was a fun addition that added to the style of my wedding and gave my guests and their kids something else to do. I loved having the pictures to add to my wedding album.

Silvercloud Photo Booth & Silvercloud Mobile Bar's reply:

Thanks so much, Karley, for the review! We had a great time hosting the photo booth at your wedding.

Jessica

Married on 04/10/2015

I thought I would have to put time aside with Airstream Photo Booth discussing colors and visions for my bride to be's picture strips (I was the maid of honor) but Airstream was very effective in communicating with me through email. I would send him examples of colors and text to match the wedding invitations and he was quick to respond with multiple options to choose from and was totally accommodating and flexible with our choices and decisions. The day of the wedding we were taking group pictures prior to the wedding and I was running behind meeting him in the area we discussed for him to set up, when I headed over there he was already setting up and told me not to worry about a thing. Communication is key. Highly recommend!

Silvercloud Photo Booth & Silvercloud Mobile Bar's reply:

Jessica, we appreciate you taking the time to review our service and we had a super time at your wedding!

I greatly enjoyed having the Airstream Photobooth at our wedding! It was great in the background of photos and added to the bit of whimsy for the reception. Guests had a blast taking photos and one of our favorite things from the wedding is the book of photos from the photobooth.

Christa

Married on 05/09/2015

When receiving the actual photos I had an issue where I only received half of the night also they came in a very strange format that had duplicate pics on one photo. When I asked for them in just a single picture format they "looked" for them for a long time, were unable to track down the second half of my photos after me asking for them multiple times. Not satisfied. Wouldn't use again. Didn't want to write a review because I wasn't able to give a positive one, but hey sent me the request to write one 5 times!!!

Silvercloud Photo Booth & Silvercloud Mobile Bar's reply:

Just to clarify, this client did receive 100% of the printed images that guests chose to put in her book. She also received 100% of the digital files in the template format. What was missing was about 1/2 of the single-individual photos without the template which was brought to our attention 30 days after the wedding. These individual shots are not part of our offering, but we do try to provide them when possible. It was an oversight not to include the entire set, however since we were not made aware until 30 days after the event it was impossible to recover those specific image files. We regret the oversight and have offered a concession.

User2341718

We paid $1600 for this photo booth for our wedding. It was supposed to be one of the highlight of the event, but they never showed up to the venue. We expressed our disappointment to the management, and what we were handed was a series of excuses that only revealed a lack of ability to handle their own business. They seemed unsympathetic or caring about the circumstance offering only a short "i'm sorry" over email, as if that some how fixed the fact that they compromised our event. Days later, we are still waiting for the refund.

My warning to all those potentially considering using this service is that, while the concept is amazing, they simply don't have their act together. You are making a gamble as to whether they show up or not... and when they don't show up, don't expect them to rectify the issue in any meaningful way.

Silvercloud Photo Booth & Silvercloud Mobile Bar's reply:

Airstream Photo Booth was scheduled for this wedding on Saturday, September 26, 2015. On the way to the event the driver had tire blow out on the vintage trailer resulting in an un-towable vehicle that would have been dangerous to continue driving. With the distance into Austin, and back, and the fact that it was after business hours, the driver was unable to get the trailer repaired in time to make the event. We were able to notify the mother-of -the-bride immediately about the problem and received a quick response letting us know they received our communication and said "Good Luck with the situation." A refund was issued back to the client within 48 hours of the event (unprompted).

In over 5 years, we have successfully set up and hosted almost 500 Airstream Photo Booth events. This is the first and only missed event; while that does not make it any better for this particular client, we notified the client as soon as possible and before our scheduled arrival.

This is our livelihood and we have worked very hard for over 5 years now to build a reputable and good standing business. We are known throughout the Central Texas community for our quality service and level of professionalism. We love what we do and we do it well. This is an isolated incident which we rectified to the best of our abilities including a full refund with 48 hours of the event date.
Are you interested?
Send a message