79 Reviews
Recommended by 98% of couples
Quality of service

4.9 out of 5 rating

Average response time

4.9 out of 5 rating

Professionalism

4.9 out of 5 rating

Value

4.9 out of 5 rating

Flexibility

4.9 out of 5 rating
5 User photos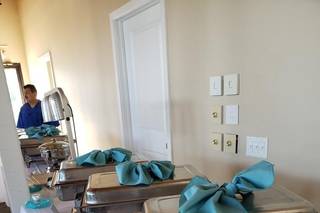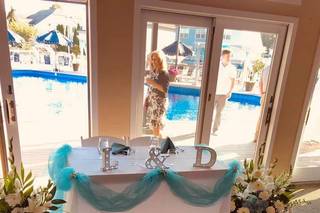 Christine W.

Married on 10/16/2022

Shore catering is outstanding

" I'm not one to leave to many comments or accolades-
HOWEVER, Shore Catering is an exception to excellence and must be praised! I am so thankful for an outstanding job handling my daughter's wedding! Her Husband-to-be had some dietary challenges and were met with willingness to take on the challenge!" Our sweet day was GLORIOUS! They are professional and work very hard to collaborate and eloquently expedite the vision of food you want served! Thank you for a wonderful experience (I am a nurse of 26 yrs and used to be a waitress at "The Cabin" and "The Castle Restaurant doing weddings myself!)

Shore Catering's reply:

Thank you Christine, it was an honor to be apart of such a beautiful day! - Best wishes, Summer Dai & The Shore Catering Team

Sarah M.

Married on 10/08/2022

Incredible!

We cannot thank Summer and the entire Shore Catering team enough for their professionalism, dedication and amazing service for our wedding on October 8th at the Mantoloking Yacht Club! From start to finish, Summer and the team made sure our questions were answered and our requests were honored. The food was absolutely delicious and many compliments were received! They worked collaboratively with all of our vendors and made our special day run smoothly and without issue. Look no further for a caterer for your special event! Thank you Summer and crew! Love, The McKees

Marisa B.

Married on 09/03/2022

Amazing job at our beach wedding!

Patty, Summer & Bryan were so amazing to work with in planning our beach wedding at Taylor Pavilion. The food was phenomenal! Bryan came out with a tray of food from the cocktail hour for us when we were taking photos on the beach which was so nice! Working with George from the township to set everything up was fantastic, he did the best job and was there in a blink for everything we needed. Our dream wedding truly become a reality!

Shore Catering's reply:

Thank you Marisa, we had so much fun and were honored that we were able to celebrate with you. We wish you two all the best

Are you interested?

Send a message

Jade D.

Married on 08/05/2022

Rocking party in a storm

August 5th I got married at an out door venue. As soon as the caterers showed up it started to down pour. the staff was well prepared, didn't bat an eye, popped up some tents, continued to set up the buffet where it was originally planned and everything was delicious and amazing. Would highly recommend Shore catering for all party needs! Thank you for everything we couldn't have been happier.

Jade & Nick

Michelle A.

Married on 04/09/2022

Perfect for Us

My wedding was basically an elopement, but it still felt so fancy and grand because of Shore Catering. They set everything up and made it so easy. Although the setting was my parent's backyard, it felt like we were at a venue. It was awesome. Thank you so much!

Shore Catering's reply:

Thank you Michelle, we were honored to be a part of your special day. We wish you both all the best =)

Alyssa

Married on 03/13/2022

Perfect Breakfast

Breakfast the day after our wedding was the perfect final touch. We got to hang out with our friends and family a little bit longer and Shore Catering took care of every detail. Food was delicious and the service was exceptional!

Les M.

Married on 03/05/2022

An absolute pleasure

Professionalism,
Honest
Excellent quality
Timeliness
And just plain old nice people to do business with
100% pleasure
Thank you Summer and Patti

Carl D.

Married on 09/18/2021

Best Decision for our Backyard Wedding

Due to COVID we decided on having a backyard wedding. We interviewed multiple food vendors and once we chatted with Summer there was no question Shore Catering was the right decision. Summer worked with us from the beginning: she helped us decide on the best package, set up a tasting, and was our Maître D on the day of our wedding.

On the day of the wedding Summer and her team arrived timely to set up. The staff were extremely friendly and made sure all of our guests were taken care of, they even carried small baskets to take care of waste as they passed out appetizers. Summer and the staff also made sure that we had plenty to eat (which is often tough for the bride and groom). We chose the buffet style dinner and the food itself was extremely tasty and hot. We received many compliments on the spread from our guests, especially the macaroni and cheese bar and eggplant rollatini. Summer coordinated with the other vendors to make sure our day was perfect and she also found some extra flower decorations lying around the house and added them to our sweetheart table for an extra touch.

We can't thank Summer and her team enough for making our day extra special. We would highly recommend Shore Catering and would certainly use them again for other events.

Shore Catering's reply:

Hi Shannon & Carl,

It was a pleasure to be apart of such a memorable occasion, a beautiful day filled with so much love

Jacqueline L.

Married on 08/19/2021

Shore Catering was a pleasure to work with!!! Highly recommend!

Shore Catering was amazing to work with for my daughter's Bridal Shower. Patty, the owner, was a joy and made the whole process seamless. She suggested the venue, Taylor Pavilion in Belmar, NJ, and it was amazing. The food was delicious and raved about by all the guests. She easily incorporated multiple GF options. Summer was also wonderful to work with. She oversaw all on the day of the event. The other waitstaff, Lindsey and Xavier, were equally professional and eager to help with anything and everything. This was our 3rd event with Patty and they honestly just get better and better. Highly recommend. Thank you Patty!!!

Myrna G.

Married on 07/10/2021

Excellent and Efficient!!

I have used Shore Catering for 3 tented weddings. They have been very responsive, efficient and timely. They worked with me before the wedding making sure that the clients booked everything they needed and even suggested awesome menus. During the wedding they were very efficient and attentive to all the guests needs! I will definitely recommend them again.

Maryann P.

Married on 04/22/2021

Covid Backyard Wedding

We are so happy that we used the unlimited services of Shore Catering for my son's wedding last week. Having never planned such an event, we relied on Patty to not only provide the food, but also order the tent, portable restroom, tables, chairs and even the wedding cake. The servers were terrific and saw to it that everything went smoothly. The food was great. We look forward to working with Shore Catering in the future.

Shore Catering's reply:

Maryann, It was a pleasure to be a part of such a fun-filled day with laughter and love. We were not going to let a little wind get in our way =) Deepika & Greg are so lovely, we can not wait to see you all in the future at your next event!

Warmest Wishes,
Summer Dai & Shore Catering Staff

Nicole A.

Married on 11/06/2020

Memorable dinner

We had a wonderful expericence using Shore Catering for our wedding. The staff are amazing, so friendly and made the process so easy. The food was absolutly delicious, we had a small reception of 50 guests due to covid. They were able to acccomodate our requests to keep our guests and their staff safe. We now reccommend them to all of our friends and will be using them again for future event.

Kaitlyn F.

Married on 10/10/2020

Pandemic Backyard Wedding

My husband and I worked with Shore Catering for our big day. We were supposed to have it at a venue, where Shore Catering was the caterer, but we had to change to our backyard because of the pandemic. When we called to say we we're switching to backyard, Patty was all for it & ready to help. Working with Patty & Summer was absolutely amazing. They answered any questions we had, came out to make sure our backyard was fit for the event & gave great recommendations. Their food is SO good & very reasonably priced. We loved it so much & plan to order from them again for our one year anniversary to bring back all the feel good memories. I can't say enough good about Shore Catering, we wouldn't have been able to make our wedding the night of our lives without all of their help. Highly recommend to anyone considering catering any event!

Shore Catering's reply:

Thank you so much! Katie & Mike, we were honored to be a part of your special day no matter where it was going to be, It was definitely a day filled with laughter and love =) We wish you all the best and hope to see you soon!!

Warmest wishes,
Summer Dai & Shore Catering Staff

Kelly R.

Married on 10/10/2020

Shore Catering is the BEST!!!

I can't praise Shore Catering enough!!! Patty was an absolute delight! She knew exactly what I wanted and was incredibly helpful and throughfuk throughout the entire process. Some back story we were a Covid wedding on 10/10/2020, our original venue could no longer accommodate so we needed to start fully from scratch, new venue, catering, vendors, downsize guests from 167 to 60 all within 90 days. Shore Catering was a God send! The food was absolutely amazing! The staff was extremely attentive and personable! They saved so much food for my husband and I from the cocktail hour which was so sweet! They even were able to roll with the punches, the DJ announced the food was ready about 45 minutes too soon and they figured it out and it went smoothly! This was all outdoors in a private establishment without a professional kitchen or anything they just knew what to do and where to go. They took every precaution for Covid and everyone at the wedding felt very comfortable. Patty said they specialized in backyard weddings and she wasn't kidding they were terrific! If you are hosting an event I highly highly recommend Shore Catering! The food was amazing and the service was phenomenal! Also they are extremely reasonable and flexible with prices and packages!!!! Again I can't thank Patty and the whole team at Shore Catering enough you helped make our wedding an absolute dream come true!!! (Which says a lot for a Covid wedding!) thank you so much again will definitely call Shore Catering for future events!!

Shore Catering's reply:

Kelly,
We were honored to be a part of your special day. Nothing was going to stop us from making sure you had the perfect wedding, a day filled with so much love. We look forward to seeing you all again in the future =)

Warmest Wishes,
Patty & Shore Catering Staff

Marion

Married on 08/30/2020

Friendly and Flexible

My daughter had a backyard "minimony". Do to the pandemic things changed a few times. Shore catering was easy to work with and everyone was very professional. Everything went very smoothly. A very happy day!

Shore Catering's reply:

Thank you Marion for the kind words, we are happy to have been able to help make that day so special for them. We look forward to seeing you in the future for your next catered event =)

Warmest Wishes,
Shore Catering Staff

Kathleen M.

Married on 09/21/2019

Exceptional

Shore Catering provided caring and professional services for my daughter's wedding. The food was delicious and the staff very friendly and accommodating. They sent out of their way to make sure everything ran smoothly and all guests were happy!

Laura G.

Married on 09/21/2019

Perfection

We can't say enough about our experience with Patty, Bryan and all of the Shore Catering staff that helped made our special day perfect!! The food was amazing and the staff was so accommodating and professional. Our guests were truly amazed and so were we! 💖

Shore Catering's reply:

Laura,
Thank you for your kind words. It was a pleasure working with you and Dave. Your are a wonderful couple and we wish you a life time of happiness.
All the best, Patty and Staff

Laura F.

Married on 08/03/2019

,hfxtjrsustididididido hfxtjrsustididididido dodd

Dudutdutuddurdudurdurdurdrdurduxurxurxurxdurx

M Teresa

Married on 08/18/2018

Excellent - Professional

We had our wedding at home. It was both our third marriages so wanted something that we could cherish with our families and close friends. Shore Caterers gave us that and more. As many would know it is difficult to give up control over your kitchen and your home. Shore Caterers were so professional and on top of everything that I was able to give up control and enjoy our wedding. For that I am grateful and thankful and want everyone to know that Shore Caterers are an outstanding professional catering service and that their staff is terrific and more than accommodating.

Shore Catering's reply:

Thank you Theresa! it was our pleasure to be apart of your wedding weekend! We are so pleased your vision became the wedding experience you were looking for. We look forward to being apart of your future celebrations.
All the best, Patty

Mary

Married on 08/11/2018

We used Shore Catering for our 50th wedding celebration in August 2018. Everyone of our guests remarked on the quality of the food, the graciousness of the server and the seamless management of the event. From our first phone contact to discuss our needs/hopes for the party to the final guest departing, Shore Catering demonstrated a optimum level of service.

Shore Catering's reply:

Thank you Mary for this lovely review. It is the experience we were aiming for! So happy you enjoyed everything!
Warm regards, Patty

Dawn

Married on 02/04/2018

Patti and her team at Shore Catering have done many parties and charity events at our home.
The food is always spectacular. We have done everything from a clambakes to cocktail parties and our guests are still raving about the food!
The professionalism of her staff, from serving and bar tending to cleaning up, makes Shore Catering the caterers we always use. As matter of fact, we have 2 events scheduled with them for 2018!
Dawn Berkeley


Shore Catering's reply:

Thank you Dawn! We always appreciate you thinking of us. It has been a joy to work with you in the past and we very much look forward to providing that same service to you in 2018. See you soon!

Mark

Married on 08/05/2017

We hosted our daughters bridal shower of 60+ women at our home. Patty handled coordinating ALL rental equipment-Turn key service !

Absolutely exceeded ALL of our expectations, the staff is world class. We had Patty the owner onsite, we had by far the best bartender/Allstar " Katie" with us all day.

We also had Barb as the Maitre D and Julie, Mindee, Blair as our servers. The food & service is 5-star. We will be using Shore Catering for ALL of our future events !

Shore Catering's reply:

Thank you for the glowing review, Mark! We are so glad that we could help make your daughter's shower a success! We look forward to serving you again in the future.

Kathy

Married on 06/08/2017

We've been using Shore Catering for the past 7 years for our yearly "Lobsterfest". They always go above and beyond to make sure our event is top-notch! The food is incredible and the service also wonderful.

Shore Catering's reply:

Thanks Kathy! You and your group are always a pleasure to work with. We appreciate your kind words and love the picture :)

Julie

Married on 05/04/2017

Absolutely loved this vendor!! Had a week-long event and they catered almost all of the meals for 15+ people. They were early every morning to set up breakfast, were extremely professional and totally accommodating to our requests. They even delivered a meal when the house was flooded with 5 inches of water! (beach towns...)

Shore Catering's reply:

Thank you Julie! We truly appreciate your kind words and greatly enjoyed helping you make your event a great one.

Courtney

Married on 04/22/2017

Simply the best! We used Shore Catering to cater our wedding on 4/22 at the Sandy Hook Chapel. From Day 1, Patty was incredibly helpful and very responsive. She helped us to plan the perfect BBQ style menu and coordinate everything from our cake design to rentals and set up. She answered every question promptly and even offered some great advice. Bryan and the rest of the staff did such an amazing job with our day-of coordination! Everything looked beautiful, ran smoothly, and the food was fantastic! Our guests are still talking about the food! We would highly recommend hiring Shore Caterers for your next event!

Shore Catering's reply:

Thank you for the thoughtful review, Courtney! It was truly our pleasure to cater your wedding! We wish you and Nick a lifetime of happiness!
Are you interested?
Send a message