124 Reviews
Recommended by 100% of couples
Quality of service

5 out of 5 rating

Average response time

5 out of 5 rating

Professionalism

5 out of 5 rating

Value

5 out of 5 rating

Flexibility

5 out of 5 rating
23 User photos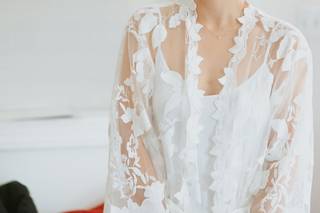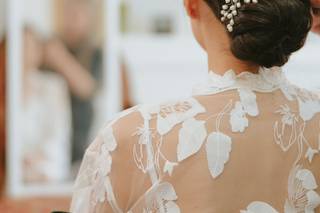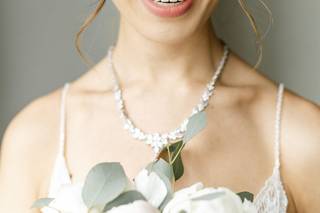 + 19

photos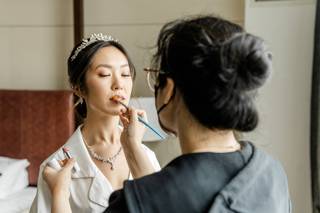 Semi J.

Married on 11/19/2022

Excellent experience!

Tina did my make up and hair for my big day and she did a phenomenal job! I received so many compliments all day. She is extremely professional and very knowledgeable makeup artist. She even gave me advice on general makeup skills and I am planning to join her makeup class. I really appreciate her work and I would highly recommend her for any event or special occasion.

Hanna L.

Married on 10/09/2022

The best!!

Tina and her team were amazing from my first email interaction through the wedding day! She was extremely responsive and helpful over email and sent a detailed schedule ahead of time. The team showed up promptly and had hair and makeup done for me, 4 bridesmaids, my mom and sister all on time. I got to know them a bit during my trial session, and they were very fun and friendly and also collaborative and open to feedback on the look they were creating. I was very pleased with the final results on the wedding day and felt beautiful! One bridesmaid commented on how impressed she was that she simply showed a photo of the hairstyle that she wanted and the artist was able to recreate it perfectly on the spot. My sister hasn't gotten professional makeup done before and was nervous, but she said she loved how it turned out. My mom was also very impressed. I highly highly recommend booking Tina and her team!!


Jennifer K.

Married on 10/08/2022

The Dream Team

Tina and her team were a dream. The right vendors really make the biggest difference. They were willing to work with me and all my indecisiveness (sorry Tina and Linda for being so annoying).
My single non-negotiable for the wedding was having a hair and make-up artist that has shown excellence working with Asian faces. I wanted to make sure we had someone that understood my bone structure, skin undertone, and hair texture. These ladies are THE PROS! And the best part is that even for my non-Asian bridesmaids, they delivered the most GORGEOUS outcomes. You can trust that Tina and her team will deliver!! My bridesmaids, my mom, MIL, aunt, and I were all so pleased with how everything turned out. And my hair and make up DID NOT BUDGE. I was bad and fell asleep with my make up on, and I woke up looking like I just had my make up done!

And some other details - Tina is so responsive. She was willing to work different timeline scenarios with me and help me settle on the team and timeline that would best achieve a smooth wedding day.

This is your dream team! I promise!

Are you interested?

Send a message

Tonia W.

Married on 09/24/2022

The BEST hair & makeup team!!!

If you've looked at Tina's portfolio, the pictures don't do her work justice! Tina and her team were absolutely amazing, truly exceptional at their craft. So grateful I booked with Tina because they were wonderful to work with - also they radiate positive vibes and calming energy. I still think about how they made me feel that day, really beautiful and taken care of. Her team arrived on time, set up quickly and was very meticulous - they make sure you're picture perfect! As someone that isn't great with hair or makeup, deciding what look I want on the big day is a very daunting and anxiety inducing task. Tina and Linda (senior hair stylist) are experts when it comes to designing looks that suit each person, you could give as much or as little direction and they would execute flawlessly (my mom is very particular and they nailed it for her, she was so happy). 100% recommend, just loved them so much. Would definitely book Tina again for other events!

Jessica

Married on 06/11/2022

Worth the investment!

Though pricing is higher than most vendors, we were very glad to have hired Tina and her team! Tina and Linda made me and my bridesmaids feel so beautiful on my wedding day. I especially felt like a princess, and neither my makeup nor hair budged at all the entire day (almost 12 hours)! With this being said, I am extremely thankful I invested in a hair and makeup trial beforehand.

Tina is incredibly skilled with her makeup work. With quick, analytic eyes, she is able to personalize all parts of the makeup to suit your face in real time, with little trial and error. Although I was happy overall with the trial, there were some components that I personally wanted to tweak for the wedding day. To my pleasant surprise, Tina was on the same page as me with my requests, and she even made some other helpful suggestions as well. She truly is an expert and really cares about her clients.

Linda styled my hair into an effortless updo that was both romantic and clean, just as I had requested. Though we had to try a few different styles at my trial to find the right fit, I was extremely pleased with my hair on the wedding day. Linda is a perfectionist in the best possible way. There wasn't a single hair out of place, and she took so much care in ensuring that I would look pristine walking down the aisle.

We also chose to do the makeup and hair touch ups for my husband. Though only a short time was blocked for each of his services, Tina and Linda still took care in making him look extra handsome and camera ready!

Overall, we are very thankful to have worked with Tina and Linda, as they are true experts in their fields and work with their clients to ensure their happiness.

+ 2

photos

Hayan K.

Married on 05/21/2022

Booked hair only, but still would recommend!

I was bummed Tina wasn't available for makeup services, but also happy she's well sought out after! I booked wedding and bridesmaid hair through Tina with Linda and I'm so grateful I did! Tina remained so responsive throughout the process and even helped me brainstorm alternatives. I'm grateful for her organization, responsiveness and for being such an amazing human. Linda was also amazing and such a sweet soul. I've had experience with both Tina and Linda as a bridesmaid and I would def would recommend for anyone looking for hair and makeup!

Jihye Y.

Married on 03/26/2022

I cannot recommend Shine Tina enough!!

From our initial emails, the trial, and to the wedding day, Tina has been so kind, professional, and helpful. I don't typically wear a lot of makeup so I wasn't exactly sure what I wanted or needed. Thankfully, Tina knew what would look good on me. She made suggestions and encouraged me to speak my mind freely, which I'm sometimes too shy to do. She really listened to me to make sure I not only looked my best, but felt my best too. From looking at her Instagram and learning about her experience, I knew I could trust her fully. She is also so personable! She made me, my bridesmaids, and moms laugh and feel so comfortable around her. She is fluent in Korean, which was great for my mothers who don't speak English very well. My hair and makeup looked great and stayed looking great even after my many tears and the crazy wind. If hair and makeup is important to you, hire Shine Tina!

Ellen Y.

Married on 03/05/2022

ShineTina is THE BEST.

Tina and Linda were the most professional, skilled, and personable make-up/hair artists. We had booked services for 8 people and everything went very smoothly! Tina is very detail oriented, takes time to make sure she understands your facial tones, and knows what shade works best with every feature! Tina is also very skilled and knowledgeable when it comes to brows!!! She really took her time to try to make my brows (and everyone else's) look as even and clean as possible! Throughout the process, she shared her knowledge and honestly wanted to make sure everyone felt beautiful and comfortable. Linda is also very detail oriented and can make your hair visions come true! She curled each piece of hair so nicely and the entire bridal party loved their look! My make-up and hair lasted throughout the night (even through all the sweat and tears) and I received so many compliments! They are very personable and I truly felt like a bride after getting my makeup and hair done :)

Ji K

Married on 12/28/2021

The best investment of all time!

Looking back on my wedding day, I don't think I could have ever envisioned my dream day without Tina and her crew! She made me feel like the most beautiful bride in the world and knew exactly what I wanted even before I did! I love that her makeup style is so personal as she analyzes your face to see what is the best type of color, shade, and style for you! Not only does she do your makeup perfectly, but she teaches you throughout the session on different products to use and how to apply makeup properly according to my face shape! I have gotten so many compliments from people after I changed how to do my makeup based on what Tina taught me! Choosing the Shine, Tina team was the best investment of my wedding day! I will never forget how beautiful I felt that day because of this amazing team! I can't recommend enough! I will definitely be seeing Tina again!

Jee Y.

Married on 11/06/2021

5 stars !! Shine Tina team really made my day SPECIAL

I see why everyone recommends Shine Tina !
First of all, she is proactive and she responds to you very quick. As soon as you give her your wedding date and time, she will send you very well organized schedule. She responds your text very quick and she tries all the best to accommodate everything for your special day.
I did my trial make up and wedding day make up ( including our parents) and we really enjoyed it. Second, She actually listens what you want and brings it up. She really respects all your comments genuinely. I'm very particular person but I had no complaints at all and stress free. Everyone loved my hair and makeup and it really turned out as I asked ( even better). She really made my day to shine and less stressful. I really enjoyed every moment with her. Thank you Tina !!

Olivia K.

Married on 10/30/2021

top notch make up artist

I first found out about Tina through Instagram. Before and after pictures were astounding. The makeups weren't overly excessive but made significant difference in amplifying one's beauty. That was exactly what I was looking for. There are many good makeup artists around but if you are looking for Korean style makeup, she is the go-to person in the DMV area. What I mean by Korean style makeup is not excessively done but still covers imperfections and promotes natural makeup style. Tina is a really talented makeup artist. She has a very personal and friendly personality as well. The whole process from booking to preparing us with the wedding day timeline was very helpful, timely and seamless. They basically bring the whole studio to the place where you are getting ready for your big day. Highly recommend!

Candice

Married on 10/16/2021

110% recommend! Hire her now!

Shine, Tina is, hands down, the best in the business. I am so glad that I went with Tina for my engagement and wedding hair/make-up. I did a lot of research and vetting of make-up artists in the DMV, carefully looking at each one's website portfolio, Instagram, and online reviews. What drew me to Tina was her artistry, precision, attention to detail, personality, and easy communication. After having done my make-up for my engagement photos and hair and make-up for my wedding, I was blown away at how she goes above and beyond for her clients. For example, I was not able to do a trial before my wedding, but I had sent Tina pictures via email. On my wedding day, I felt as though she had studied my face from my engagement make-up session and knew all of my likes/dislikes/wants by heart. That was so appreciated because I could sit back and relax on my wedding day, without feeling worried about whether she remembered what I wanted or understood my vision, and feel truly pampered! I feel that she can look at a face and already know how to bring out the best features of that person. She is so intuitive! In addition, Tina and her team also did hair and make-up for 5 of my bridesmaids, my mom, my husband's mom, and my two grandmothers. Because Tina is so organized and manages time so well, we were all finished according to our schedule! She really made sure that my wedding day would be perfect, and I can't thank Tina enough for all that she did. I would absolutely, 110% recommend her to any of my friends and family. She books up fast, so hire her now!

Nina

Married on 10/03/2021

I never felt more beautiful!!!

Look at her instagram because it's very representative of her work. If that's what you like and you can afford it, book her!!!

Price: She's expensive, but worth it especially if you have asian features. I'm a frugal person, but when I saw her work vs other people's work on asian faces, I knew I was making the right decision. Tina and her team will make you gorgeous; others might make you look like the matchmaker from Mulan. I've seen this happen too many times, which is why I was very picky about my make-up artist and chose Tina.

Make-up: Tina is just incredible at make-up in so many ways that it's impossible to list them all. My make-up stayed in place despite the humidity and the crying. I felt like me but 1000x better. Sara worked on my mom and sister and did an amazing job. I love how we look in our photos.

Hair: Linda did exactly what we wanted from the photos provided! Stayed in place the whole time. My friend was very happy with how soft and lightweight her curls looked. She was comparing her hair to previous times she got her hair done and said Linda's work was way better.

Communication: Super responsive, easy to talk to. Answered all my questions in a timely manner. Tina will make sure you and her are on the same page.

Organization: Very organized. Creates a schedule that works with you and your bridal party. Was actually ahead of schedule on my wedding day!

Trial: I did the hair/make-up trial because I wasn't sure what I wanted. Again, if this is in your budget, I highly recommend doing the trial unless you know exactly what you want.

Maggie S.

Married on 10/03/2021

Tina is amazing - hire her!

I booked Tina for makeup for me and my 6 bridesmaids. Tina is super professional, her work is beautiful, and she's really fun to talk to! She is extremely knowledgeable about makeup and beauty, and really takes the time to customize the look to what best suits you and what you want. On the day of, she even helped fix my hair a little after I confessed I didn't love how my hair looked in the front. Tina goes above and beyond!

Sally K.

Married on 09/25/2021

Tina is the best

Tina and her team accommodated myself, 9 bridesmaids, and 2 moms in one day. We stayed on schedule, and it was just such a relaxing time knowing we were in good hands. I had an earlier wedding date scheduled but had to postpone due to COVID and Tina worked with me and rebooking the date went so smoothly. Everyone looked stunning and our makeup lasted all day. I'm a crier and even after the ceremony my makeup was still flawless. When I got engaged I knew I wanted Tina and her team to do our makeup because she is knows for being able to really work on Asian features which is hard to find in the DMV area. Tina is also SO responsive which is also super important for your stress level in the wedding planning process. If you're looking for top notch MUA and Hair team, don't hesitate to book with Tina!

S K

Married on 08/14/2021

Tina and her team were AMAZING

Tina and her team were absolutely amazing, everyone commented on how wonderful and natural our makeup looked, and she managed to keep my makeup and hair from melting all night despite our outdoor August DC wedding and intense heat/humidity. She also was very responsive and professional, and greatly helped minimize the stress of wedding planning by coming up with a personalized schedule/timeline and offering her professional expertise throughout our consultation. She and her team were extremely focused on hygiene with their products, which was also a concern of mine as a Covid bride, but my bridal party and I all felt highly comfortable with their technique. She and her team were an absolute must for our day!

Monica

Married on 07/13/2021

Tina is a miracle worker!

I hired Tina for a makeup trial and then my wedding hair and makeup. On the day I had the trial, I had a trouble spot on my face that I didn't want makeup on. Tina was able to allay my concerns by finding a work around that didn't irritate it and made it invisible. I was so happy with my wedding hair and makeup. I felt like a Kdrama star! I also was very impressed that my makeup did not melt off when I was out in 90+ degree weather for multiple hours for my engagement shoot and then my outdoor wedding. In addition to her makeup skills, Tina is extremely organized, highly responsive to emails, and puts you at ease when you're in the chair. The experience was so comfortable that I felt completely confident in her abilities. I'm not a huge makeup person, but Tina has shown me how much good makeup can make an amazing difference. I can't recommend her enough. Thank you!

Nancy T.

Married on 06/19/2021

Excellent Hair Stylist

I was looking for a hair stylist for my wedding and Shine Tina was actually recommended by my personal hair stylist (who did not do weddings). Linda was the stylist for my wedding and she did my hair, my bridesmaids' hair, and my husbands hair. Everything was beautiful and she was very prompt! Every time I look at my photos, I'm reminded of how gorgeous everyone's hair turned out. I would highly recommend Shine Tina!

Matthew

Married on 06/12/2021

MUA for life

I have never felt more beautiful than I did after Tina worked her magic with me. She and her second artist were prompt, organized, kind, and most of all - talented. I wanted an artist who could enhance my features without having to do anything dramatic and that's exactly what Tina accomplished. If I ever have a special event that requires me to look and feel my best, Tina will be my go-to!

Lauren F.

Married on 05/22/2021

10/10 Amazing!

Where do I even begin? Tina and her team were an absolute dream from start to finish. Every single member of my bridal party was delighted with their hair and makeup. Tina arrived early, delicately kept us on schedule, and provided expert suggestions when needed. I would not hesitate to book Tina again in the future (and I'm not alone - several of my bridesmaids have already started brainstorming future sessions with Tina down the road)! Brides, look no further for your special day!

She is the best!

Both my husband and I were so glad that we hired her for our wedding. We both loved the makeup and hair she did for us! I recommend at least one makeup and hair trial session so that you can discuss with her what you want.

Lucy

Married on 05/08/2021

Don't look any further. Tina is the one you want

Tina is a absolutely magic! I hired her and Linda for hair and makeup for 5 bridesmaids, 1 bride, 1 groom, and 2 mothers. Our group was full of diversity from south Asian, east Asian, to Caucasian, and Tina and Linda made all of us feel soooo beautiful! Also, Tina is extremely organized and so great at what she does, I wish I can hire her every single day! Thank you, Tina and Linda! Our wedding was the most beautiful thanks to you both!

Jina

Married on 05/02/2021

Perfection!

Tina is the best!! She did such an amazing job with my wedding & crew! I had six bridesmaids, two mothers, one grandmother, flower girl, and a groom! But she was able to pull it off and move the schedule around to our preferences! Tina was also so helpful and quick during communication and during our hair and makeup trials! She had endless advice for me on makeup everyday but also for the wedding day. Everybody in my party LOVED their makeup and the experience being pampered by her crew! Our makeup stayed on all day and no smudging!! Would definitely recommend her to anybody needing their makeup and hair done for any event!

Insoon

Married on 05/01/2021

She knows what bride wants!!

Tina and her team are the best! Tina and her team set every single member of my wedding party(Bride +Groom+ 5 Bridemaids) at ease, were friendly, open, and professional.
I don't usually wear makeup, so I have no idea about my makeup. I had to ask her many questions. Tina was very responsible with all my questions. All communications were straightforward and helpful.

Thank you for helping me put my wedding day! I would 100% recommend it.

Sujin P.

Married on 04/25/2021

Highly Recommend!

From the first time I contacted Tina, the experience has been great. She responds to email very quickly and her communication is very clear. Tina and Linda arrived on time and they were professional, pleasant and easy to work with. I was a bit nervous because I didn't have a chance to do a trial session prior to the wedding, but they did an amazing job and I was very happy with my makeup and hair. My makeup lasted the whole day and looked great in photos! I highly recommend Tina and her team!
Are you interested?
Send a message