Reviews
5.0 out of 5 rating
Quality of service

5 out of 5 rating

Average response time

5 out of 5 rating

Professionalism

5 out of 5 rating

Value

4.9 out of 5 rating

Flexibility

5 out of 5 rating
100%
Recommended by couples
35 User photos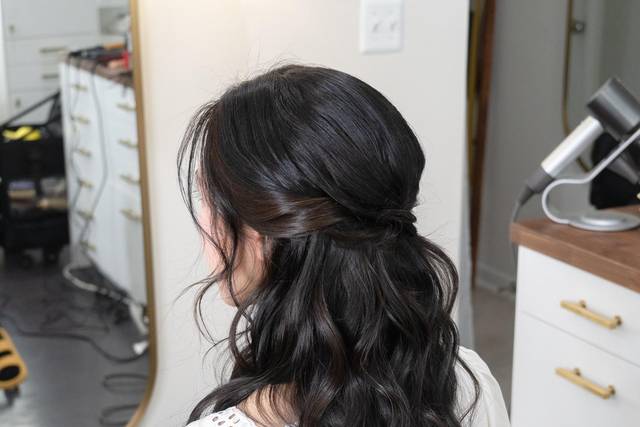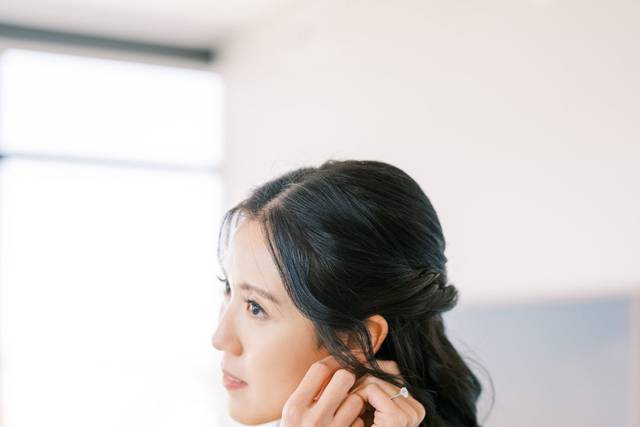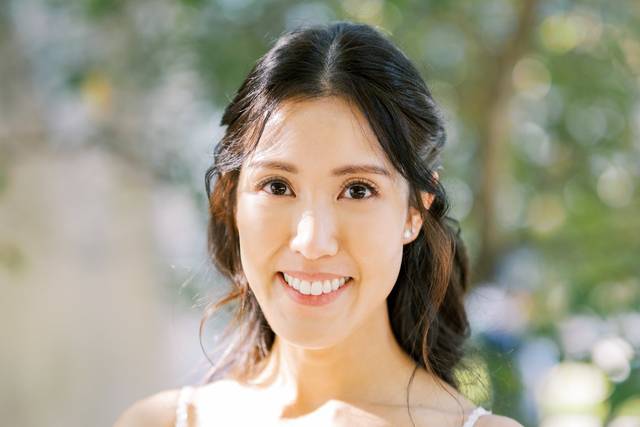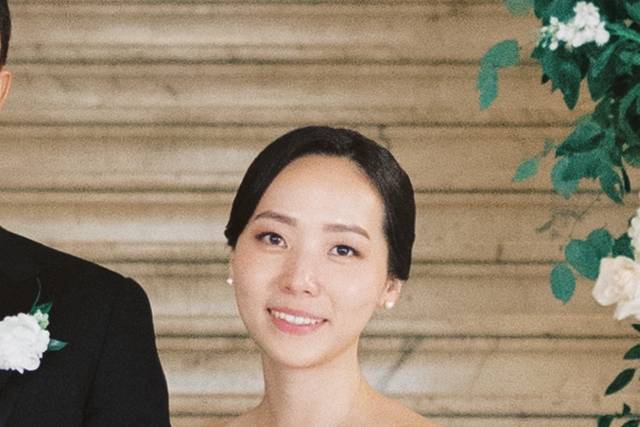 + 31

photos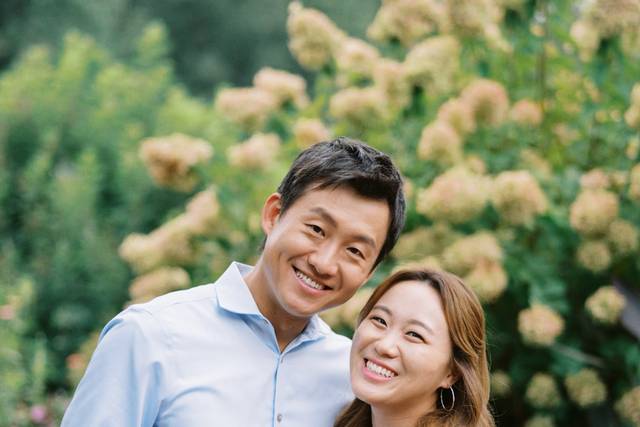 Eunice K.

Married on 10/28/2023

Best wedding hair/make up experience!

Tina and her team were absolutely amazing on my wedding day (and the trial!). Tina just knew exactly what I meant when I explained the type of hair style and make up I wanted - even when I probably wasn't even explaining it very well!! She also completely nailed my mom's make up too. She was so fun to have around getting ready too - would recommend to every bride!!

Amy K.

Married on 10/21/2023

100% Recommend

I've followed Tina's Instagram for a while and immediately knew that her team is who I wanted for my wedding day.
Tina was amazing in answering all of my questions quickly and accommodating changes to the schedule.
I was pretty clueless during the hair and makeup trial, but Tina gave some very insightful advice in color palette and hair that made the overall effect so much better.
Lyndsey was my day of artist and I cannot rave about her enough. She was at my venue early, remembered all of the changes I wanted and even was wonderful dealing with some of my difficult family members.
I 100% recommend ShineTina, Lyndsey and her team for any event you have!

Cam W.

Married on 09/30/2023

Made the entire wedding party look and feel beautiful!

Tina and her team's work is an absolute dream! Every Asian-American bride has a horror story from their childhood about a makeup look gone wrong (mine was prom), and I first found Tina via social media after looking for a hair/makeup artist who specializes in Asian features. Tina and her team went above and beyond in their delivery, not only with my bridal hair and makeup but that of the entire bridal party, the rest of whom are not of Asian descent. They were so engaging to work with and also incredibly flexible - when one of my bridesmaids dropped out due to a conflict, I was able to convert what we would have spent on her hair/makeup into bridal assistance service where Tina and her team touched up my hair/makeup even after first look photos so I looked my best for the ceremony. Our family members and friends could not stop talking about how great their work was on myself, the bridesmaids, and the mothers of the bride/groom and I can't recommend Tina and her team enough!

Are you interested?

Send a message

Connie

Married on 09/16/2023

HIGHLY recommend

Tina and her team are incredible, and I recommend her and her team with full confidence. Because of availability, we had Lyndsey perform our hair & makeup day of, and she was just the absolute best! I only have good things to say about Tina and Lyndsey, but here are some specifics of why I recommend them so highly:

- Incredible eye. Their color matching and ability to flatter features is unmatched. I was blown away! They treat makeup and hair as a true art, and it shows in the quality of their work.
- Very open to feedback. Everyone has preferences, and they were open to feedback and incorporated it so well, without any judgement. This is huge and I appreciated this so much. They are just lovely people inside and out, and want you to feel your best the day of, which was wonderful.
- Flexible and very good communicators. I was able to schedule and adjust as needed very quickly and easily.

Lyndsey was absolutely incredible with everything. That said, I had a wonderful experience with the trial (Tina and Lyndsey were both present) which I think helped hone my preferences so I highly recommend that. I also scheduled a brow session as well (Tina is a brow queen) a couple days before my wedding and loved it all!

10/10, highly recommend!

Clara&Kevin

Married on 09/16/2023

Amazing - highly recommend

Tina was amazing to work with!! From the first email, she was responsive and transparent and honest. I did a trial with her because I kind of knew what I wanted and definitely knew what I did not want, and she was able to interpret what I said and translate it into a great trial experience and an even better wedding day look! On my wedding day, Tina and Linda were on time, brought great energy, and tailored makeup and hair - not just for me, but every single bridesmaid and mom! And, as a testament to her skills, my makeup was flawless the whole night even with many (happy) tears and lots of dancing. Would highly, highly recommend!

Connie

Married on 09/16/2023

THE BEST hair & makeup artist!

I first connected with Tina and her phenomenal team as a bridesmaid in a DC wedding – their artistry left a lasting impression. Fast forward to our engagement photoshoot, and choosing Tina for our hair and makeup was a no-brainer. The bride and groom package was beyond words, and I found myself regretting not having Tina with us for our destination wedding in Italy.

Communicating with Tina's studio was a dream – clear, efficient, and accommodating. Every instruction was not only heard but flawlessly executed. The makeup was so stunning that I didn't want to part with it, even as we headed out for a celebratory dinner post-photoshoot. Tina, you're not just a makeup artist; you're a memory maker. Thank you for making every moment special and ensuring the magic lasted long after the photoshoot. 💄💖

+ 5

photos

Amazing start to finish

I stumbled upon Tina and she was the best decision I've made with my wedding. As someone who does not wear makeup or ever does her hair, Tina and her team made me feel special but still like myself. They gave me such great opinions and helped me make best decisions. My bridesmaid and mom had nothing but great things to say.

Xeniya B.

Married on 08/13/2023

10/10 would recommend Shine, Tina!

I had the most magical experience working with "Shine, Tina!" (Tina and Linda). They went above and beyond to make my wedding day perfect, not only for me but for my entire bridal party. From the first phone call, I knew I was in the right hands with Tina. Her years of experience in the industry and vast knowledge of event planning were evident as she guided me through the process. She sent me a questionnaire, asked for my vision, and even reviewed inspiration photos to get a clear understanding of my desired look.
The trial with Tina and Linda only confirmed I made the right choice. It was clear they were true artists, knowing exactly where and what to apply to create a look that was both symmetrical and stunning. They even managed to transform my fine hair into a beautiful hairstyle . Throughout the process, they provided invaluable advice for my big day, and I quickly felt comfortable with them, as though we were friends.

On the wedding day, Tina and Linda arrived not just on time but professionally early. In just 10 minutes they transformed the entire suite into a studio with dedicated makeup and hair stations. Tina's claim of being a one-stop shop was no joke; she brought absolutely everything needed to set up the stations efficiently and maximize the available space.
Everyone on the wedding party was in love with their makeup and hair, and mentioned many times about their experience with Tina and Linda and how much they loved it. Despite the scorching 98F temperature during the ceremony, my makeup and hair did not budge and stayed put the entire night.

I cannot thank Tina and Linda enough for their expertise and professionalism. They made me feel like a million bucks on my wedding day, and I would highly recommend them to any bride looking for the best in the business. They are truly the best at what they do, and you will not regret working with them.

Grace

Married on 06/24/2023

Wonderful hair & makeup team!

Tina and her team were professional, meticulous and flexible from beginning to end. We had some complications with our hotel room AC not working properly and humidity levels were >90% in our room as our wedding was in the thick of summer but Tina and her team worked tirelessly through it all to ensure everyone looked beautiful and photo ready. I especially appreciated that Tina and Linda actually listened to everyone's requests and were respectful of what they desired rather than applying the same hair/makeup techniques on everyone. They meticulously analyzed everyone's face and hair to provide recommendations that would best accentuate their features and were quick to grasp what we were looking for with little direction at times. Her team was punctual and worked until the end to do last minute touch-ups which showed they truly care about the work they put out.

Han K.

Married on 06/10/2023

Tina is the best!

Tina, Linda, and Heather were amazing and did phenomenal jobs. I absolutely loved their work and so did my bridesmaids! Tina made me look stunning for my wedding day and didn't overdo it like I wanted where it looked so natural. Tina was easy to communicate with and very responsive. She will respond so fast that it actually made my husband surprised. Tina was prompt and professional, but most importantly she is a highly skilled makeup artist. I 1000% recommend Tina without hesitation.

Shuyu S.

Married on 04/29/2023

Great experience

Tina and her team are the best ! They did my makeup and hair and my bridesmaids' and my moms' makeup. Everyone was impressed on how good and natural the makeup looks. Strongly recommend Tina and her team! Also I purchased bridel service , totally worth it , because Tina is around I eat and drink freely throughout the day without worrying about makeup and hair

Rachel L.

Married on 03/04/2023

Best choice for my big day

I used Shine, Tina's service for my wedding and it was one of the best choices I made! Booking process and communication was great. Tina was very timely and clear with her email responses, which I value so much in wedding planning. I think it was also helpful to do trial consultation prior to the wedding. It was a good chance for me to clearly communicate what I wanted for my hair and makeup as well as the makeup artists to get to know my skin complexion and hair style before the big day. On the wedding day, my mom, mother in law, a bridesmaid, I got hair and makeup. All of us really loved and appreciated the services we received. I would say that the makeup and hair stayed intact throughout the entire wedding ~ about 8 hours. While the price of the service is somewhat on the higher end, I'd still recommend Tina and Tina's team for the big day!!

Semi J.

Married on 11/19/2022

Excellent experience!

Tina did my make up and hair for my big day and she did a phenomenal job! I received so many compliments all day. She is extremely professional and very knowledgeable makeup artist. She even gave me advice on general makeup skills and I am planning to join her makeup class. I really appreciate her work and I would highly recommend her for any event or special occasion.

Hanna L.

Married on 10/09/2022

The best!!

Tina and her team were amazing from my first email interaction through the wedding day! She was extremely responsive and helpful over email and sent a detailed schedule ahead of time. The team showed up promptly and had hair and makeup done for me, 4 bridesmaids, my mom and sister all on time. I got to know them a bit during my trial session, and they were very fun and friendly and also collaborative and open to feedback on the look they were creating. I was very pleased with the final results on the wedding day and felt beautiful! One bridesmaid commented on how impressed she was that she simply showed a photo of the hairstyle that she wanted and the artist was able to recreate it perfectly on the spot. My sister hasn't gotten professional makeup done before and was nervous, but she said she loved how it turned out. My mom was also very impressed. I highly highly recommend booking Tina and her team!!


Jennifer K.

Married on 10/08/2022

The Dream Team

Tina and her team were a dream. The right vendors really make the biggest difference. They were willing to work with me and all my indecisiveness (sorry Tina and Linda for being so annoying).
My single non-negotiable for the wedding was having a hair and make-up artist that has shown excellence working with Asian faces. I wanted to make sure we had someone that understood my bone structure, skin undertone, and hair texture. These ladies are THE PROS! And the best part is that even for my non-Asian bridesmaids, they delivered the most GORGEOUS outcomes. You can trust that Tina and her team will deliver!! My bridesmaids, my mom, MIL, aunt, and I were all so pleased with how everything turned out. And my hair and make up DID NOT BUDGE. I was bad and fell asleep with my make up on, and I woke up looking like I just had my make up done!

And some other details - Tina is so responsive. She was willing to work different timeline scenarios with me and help me settle on the team and timeline that would best achieve a smooth wedding day.

This is your dream team! I promise!

Tonia W.

Married on 09/24/2022

The BEST hair & makeup team!!!

If you've looked at Tina's portfolio, the pictures don't do her work justice! Tina and her team were absolutely amazing, truly exceptional at their craft. So grateful I booked with Tina because they were wonderful to work with - also they radiate positive vibes and calming energy. I still think about how they made me feel that day, really beautiful and taken care of. Her team arrived on time, set up quickly and was very meticulous - they make sure you're picture perfect! As someone that isn't great with hair or makeup, deciding what look I want on the big day is a very daunting and anxiety inducing task. Tina and Linda (senior hair stylist) are experts when it comes to designing looks that suit each person, you could give as much or as little direction and they would execute flawlessly (my mom is very particular and they nailed it for her, she was so happy). 100% recommend, just loved them so much. Would definitely book Tina again for other events!

Jessica

Married on 06/11/2022

Worth the investment!

Though pricing is higher than most vendors, we were very glad to have hired Tina and her team! Tina and Linda made me and my bridesmaids feel so beautiful on my wedding day. I especially felt like a princess, and neither my makeup nor hair budged at all the entire day (almost 12 hours)! With this being said, I am extremely thankful I invested in a hair and makeup trial beforehand.

Tina is incredibly skilled with her makeup work. With quick, analytic eyes, she is able to personalize all parts of the makeup to suit your face in real time, with little trial and error. Although I was happy overall with the trial, there were some components that I personally wanted to tweak for the wedding day. To my pleasant surprise, Tina was on the same page as me with my requests, and she even made some other helpful suggestions as well. She truly is an expert and really cares about her clients.

Linda styled my hair into an effortless updo that was both romantic and clean, just as I had requested. Though we had to try a few different styles at my trial to find the right fit, I was extremely pleased with my hair on the wedding day. Linda is a perfectionist in the best possible way. There wasn't a single hair out of place, and she took so much care in ensuring that I would look pristine walking down the aisle.

We also chose to do the makeup and hair touch ups for my husband. Though only a short time was blocked for each of his services, Tina and Linda still took care in making him look extra handsome and camera ready!

Overall, we are very thankful to have worked with Tina and Linda, as they are true experts in their fields and work with their clients to ensure their happiness.

+ 2

photos

Hayan K.

Married on 05/21/2022

Booked hair only, but still would recommend!

I was bummed Tina wasn't available for makeup services, but also happy she's well sought out after! I booked wedding and bridesmaid hair through Tina with Linda and I'm so grateful I did! Tina remained so responsive throughout the process and even helped me brainstorm alternatives. I'm grateful for her organization, responsiveness and for being such an amazing human. Linda was also amazing and such a sweet soul. I've had experience with both Tina and Linda as a bridesmaid and I would def would recommend for anyone looking for hair and makeup!

Jihye Y.

Married on 03/26/2022

I cannot recommend Shine Tina enough!!

From our initial emails, the trial, and to the wedding day, Tina has been so kind, professional, and helpful. I don't typically wear a lot of makeup so I wasn't exactly sure what I wanted or needed. Thankfully, Tina knew what would look good on me. She made suggestions and encouraged me to speak my mind freely, which I'm sometimes too shy to do. She really listened to me to make sure I not only looked my best, but felt my best too. From looking at her Instagram and learning about her experience, I knew I could trust her fully. She is also so personable! She made me, my bridesmaids, and moms laugh and feel so comfortable around her. She is fluent in Korean, which was great for my mothers who don't speak English very well. My hair and makeup looked great and stayed looking great even after my many tears and the crazy wind. If hair and makeup is important to you, hire Shine Tina!

Ellen Y.

Married on 03/05/2022

ShineTina is THE BEST.

Tina and Linda were the most professional, skilled, and personable make-up/hair artists. We had booked services for 8 people and everything went very smoothly! Tina is very detail oriented, takes time to make sure she understands your facial tones, and knows what shade works best with every feature! Tina is also very skilled and knowledgeable when it comes to brows!!! She really took her time to try to make my brows (and everyone else's) look as even and clean as possible! Throughout the process, she shared her knowledge and honestly wanted to make sure everyone felt beautiful and comfortable. Linda is also very detail oriented and can make your hair visions come true! She curled each piece of hair so nicely and the entire bridal party loved their look! My make-up and hair lasted throughout the night (even through all the sweat and tears) and I received so many compliments! They are very personable and I truly felt like a bride after getting my makeup and hair done :)

Ji K

Married on 12/28/2021

The best investment of all time!

Looking back on my wedding day, I don't think I could have ever envisioned my dream day without Tina and her crew! She made me feel like the most beautiful bride in the world and knew exactly what I wanted even before I did! I love that her makeup style is so personal as she analyzes your face to see what is the best type of color, shade, and style for you! Not only does she do your makeup perfectly, but she teaches you throughout the session on different products to use and how to apply makeup properly according to my face shape! I have gotten so many compliments from people after I changed how to do my makeup based on what Tina taught me! Choosing the Shine, Tina team was the best investment of my wedding day! I will never forget how beautiful I felt that day because of this amazing team! I can't recommend enough! I will definitely be seeing Tina again!

Jee Y.

Married on 11/06/2021

5 stars !! Shine Tina team really made my day SPECIAL

I see why everyone recommends Shine Tina !
First of all, she is proactive and she responds to you very quick. As soon as you give her your wedding date and time, she will send you very well organized schedule. She responds your text very quick and she tries all the best to accommodate everything for your special day.
I did my trial make up and wedding day make up ( including our parents) and we really enjoyed it. Second, She actually listens what you want and brings it up. She really respects all your comments genuinely. I'm very particular person but I had no complaints at all and stress free. Everyone loved my hair and makeup and it really turned out as I asked ( even better). She really made my day to shine and less stressful. I really enjoyed every moment with her. Thank you Tina !!

Olivia K.

Married on 10/30/2021

top notch make up artist

I first found out about Tina through Instagram. Before and after pictures were astounding. The makeups weren't overly excessive but made significant difference in amplifying one's beauty. That was exactly what I was looking for. There are many good makeup artists around but if you are looking for Korean style makeup, she is the go-to person in the DMV area. What I mean by Korean style makeup is not excessively done but still covers imperfections and promotes natural makeup style. Tina is a really talented makeup artist. She has a very personal and friendly personality as well. The whole process from booking to preparing us with the wedding day timeline was very helpful, timely and seamless. They basically bring the whole studio to the place where you are getting ready for your big day. Highly recommend!

Candice

Married on 10/16/2021

110% recommend! Hire her now!

Shine, Tina is, hands down, the best in the business. I am so glad that I went with Tina for my engagement and wedding hair/make-up. I did a lot of research and vetting of make-up artists in the DMV, carefully looking at each one's website portfolio, Instagram, and online reviews. What drew me to Tina was her artistry, precision, attention to detail, personality, and easy communication. After having done my make-up for my engagement photos and hair and make-up for my wedding, I was blown away at how she goes above and beyond for her clients. For example, I was not able to do a trial before my wedding, but I had sent Tina pictures via email. On my wedding day, I felt as though she had studied my face from my engagement make-up session and knew all of my likes/dislikes/wants by heart. That was so appreciated because I could sit back and relax on my wedding day, without feeling worried about whether she remembered what I wanted or understood my vision, and feel truly pampered! I feel that she can look at a face and already know how to bring out the best features of that person. She is so intuitive! In addition, Tina and her team also did hair and make-up for 5 of my bridesmaids, my mom, my husband's mom, and my two grandmothers. Because Tina is so organized and manages time so well, we were all finished according to our schedule! She really made sure that my wedding day would be perfect, and I can't thank Tina enough for all that she did. I would absolutely, 110% recommend her to any of my friends and family. She books up fast, so hire her now!

Maggie S.

Married on 10/03/2021

Tina is amazing - hire her!

I booked Tina for makeup for me and my 6 bridesmaids. Tina is super professional, her work is beautiful, and she's really fun to talk to! She is extremely knowledgeable about makeup and beauty, and really takes the time to customize the look to what best suits you and what you want. On the day of, she even helped fix my hair a little after I confessed I didn't love how my hair looked in the front. Tina goes above and beyond!
Are you interested?
Send a message