43 Reviews
Recommended by 100% of couples
Quality of service

5 out of 5 rating

Average response time

5 out of 5 rating

Professionalism

5 out of 5 rating

Value

5 out of 5 rating

Flexibility

5 out of 5 rating
4 User photos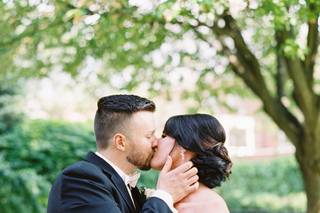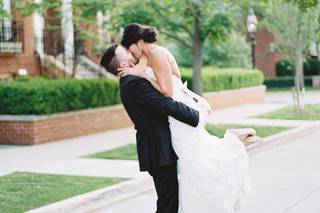 Kelly M.

Married on 01/07/2020

Flawless Photography

I think I originally found Shanell on Instagram and fell in love with her amazing pictures. After talking to her on the phone I instantly knew I could trust her to capture my wedding day. I have a family history of lost wedding photos/never receiving photos so I was very excited to hear the ways she makes sure you receive your photos efficiently and has her photos backed up throughout the day. She uses film and digital which results in so many wonderful photos. She is so natural behind the camera and knows the ins and outs of weddings. Beyond doing her job as a photographer she went above and beyond to helped me figure out a timeline, decide earrings day of, place on my veil, and helped organize my large wedding party. Her assistant also did a fabulous job. If you are looking for a photographer stop your search here :)

Sarah

Married on 09/29/2019

Professional and Easy to Work With

Shanell was the perfect choice to capture our wedding day memories. She is the utmost professional and it is apparent that she truly cares about getting the best photos for her clients. She made taking photos fun and we were beyond excited and happy when we received them. I HIGHLY recommend her to anyone who is serious about preserving their wedding day memories.

Jessica

Married on 06/08/2019

Amazing Photographer!

Shanell is an AMAZING photographer! She definitely was one of my most important vendors, and she did more than just take photos - she did the little things such as helping me put on my dress, fixing my hair, etc. She did so many things outside of the realm of photography and probably would've been lost without her on our wedding day. She definitely takes charge especially during family photos to make sure we got everything done, and she always wants the best for the bride and groom. She kept us on schedule, which made us super happy. We also did engagement photos with her and I did a boudoir shoot with her as well, and all of our photos have turned out amazing. I cannot wait to get our wedding photos back! She gave us a sneak peek photo the next day! Shanell is very nice, super easy to get a long with but also professional and is knowledgeable in her field. I would HIGHLY recommend her to anyone! My photographer was the most important detail for me, and I spent months looking for the right one and I am very happy I went with Shanell!

Are you interested?

Send a message

Sarah

Married on 07/28/2018

It has been an incredible blessing to have Shanell as our wedding photographer! :) The very first time I spoke with her on the phone, I felt like we were friends! We had our engagement photos done on a FREEZING cold yet beautiful snowy winter day and not only did she capture the most amazing photos but she was super fun & cheerful as she was outside freezing right along with us!! :) On our wedding day, Shanell and her assistant were so kind, genuine and easy-going and I know all of our photos will be absolutely stunning! Shanell shoots both film and digital and the warmth and softness in her film shots is exceptional! :) I am very grateful to be a SP Bride!!! Not only is Shanell beyond talented, but she and I also share a love for shoes, so clearly it was meant-to-be! She is a dream to work with! :)

Jennifer

Married on 06/02/2018

Shanell Photography has done my maternity photos, family photos and my sons first birthday photos. All of them turned out so beautiful. I was beyond happy with her work!

Sarah

Married on 05/26/2018

Where can I even begin? We found Shanell through a friend and we did a phone meeting with her and instantly knew she was the one who would capture our wedding day. Shanell also did our engagement shoot, which was so much fun (I remember my face hurting from laughing so much the next day) and really gave us the chance to get to know her and for her to get to know our personalities as well. Our engagement and wedding pictures are more than I could have ever imagined. She shoots digital and film which gives the photos such a soft look and romantic feel. This captured our day so perfectly. Shanell is so down to earth, funny, and personable. Shanell had several phone meetings with me to go over our day of timeline and honestly, she made sure the day ran perfectly (it was like having another day of coordinator which was so helpful!). I would highly recommend her to any friend or family member to shoot an engagement, wedding boudoir, or family session. She is simply a dream to work with.

Ashley

Married on 09/30/2017

Shanell is amazing! I am SO glad she was recommended to me by several of my friends. She's such a nice person and so talented. I've followed her on social media since booking her and have loved every single photo she's posted. We recently received our engagement pictures and we LOVE them!! Shanell made the day fun and easy. She was all for doing our sports themed pictures and capturing them exactly how we wanted them! The time flew by and she got so many great shots. We are so glad she will be doing our wedding pictures as well. It's a great feeling to not have to worry how your pictures will turn out because you trust your photographer 100%. I would recommend her to anyone!!!

Charlotte

Married on 09/22/2017

Shanell is an amazingly talented photographer! I was indecisive trying to pick someone until I came across her galleries online. I met with her in person to discuss the process and she was so helpful and sweet. Our engagement session went 10x better than I expected and I was over the moon with happiness when I got those photos back. I have no doubt that our wedding photos will be more than perfect when we get married next September. I recommend her to everyone I know!

Kimberly

Married on 08/26/2017

Working with Shanell has been amazing! Her quality of work has exceeded my expectations. She gives great direction and will make you feel comfortable in front of the camera.

Meagan

Married on 08/19/2017

I don't even know where to begin with Shanell, she was an absolute dream to work with. From day one I felt like her number one priority and she went above and beyond to make sure our day was absolutely perfect. Not only was she incredibly organized but she is an absolute ball to be around. She had to deal our rambunctious bridal party and was an absolute champ, even landing rightful punches back - haha! I just will never be able to thank Shanell enough for her time, energy and being just as excited about our day as we were. I will recommend Shanell a thousand times over, you will not be in the least bit disappointed. Thank you SO much, Shanell, you are an absolute superstar and amazing talent!

Megan

Married on 07/29/2017

Shanell was absolutely amazing. Prior to our wedding, my husband and I had never met her as I work out of town most weeks. The day of the wedding, Shanell made us feel like we'd been friends for years. Her passion and excitement for capturing your day is palpable. From the images we saw just on her camera, I cannot wait to get the images back. I'll definitely be using Shanell again for other milestones in the future!

Ashley

Married on 07/15/2017

Shanell was fantastic!! Not only was she sweet, but she was so patient with my pain in the butt groomsmen! I would highly recommend her to anyone! I absolutely love her! Thanks, Shanell!

Stephanie

Married on 07/01/2017

Shanell is great to work with and the photos are amazing!! Definitely recommend

Bianca

Married on 06/24/2017

Shanell is pure AMAZING! She made us super comfortable in front of the camera and used a great sense of humor to get our natural laughs. She goes the extra mile to get the smallest details. Her photography style says it all!!

Meghan

Married on 06/17/2017

Shanell was simply amazing and I couldn't be more pleased with my experience. It was freezing cold and windy and my pictures look like a normal fall day. She made both my fiancé and I feel comfortable and the pictures showed our personalities. I cannot wait for my wedding and to see the beautiful images Shanell captures. She is awesome!

Marichelle

Married on 06/16/2017

Shanell is an amazing photographer!! I highly recommend her and hope to work more with her in the future - maternity/family pictures/etc. She has such a gift and an eye for detail. I fell in love with her portfolio and had to book her. She met with me in person to answer my questions. She was flexible and always available - whether it was through e-mail or phone. On the day of my engagement pictures, it rained and she was super flexible and understanding with rescheduling it and my engagement pictures turned out amazing. Prior to my wedding, we discussed over the phone the details of the day to ensure a smooth day. When I got my wedding pictures, I was shocked how timely I got everything. She captured every moment perfectly - from getting ready to the ceremony to the reception. Shanell captured pictures of me holding my father and friends without me even knowing it - When I saw the pictures, I was touched. She truly has an eye for detail and lighting. Words cannot simply describe how truly wonderful she is. Thank you Shanell!

Gina

Married on 06/03/2017

Shanell is absolutely great to work with. She was so accommodating and we had so much fun on our wedding day! The photos turned out beautiful and I would not hesitate to recommend Shanell to anyone!

Gina

Married on 04/08/2017

We had so much fun during our engagement photo shoot and can't wait to see the pictures!

Denise

Married on 12/22/2016

We booked Shanell Photography for family photos. Shanell was professional and courteous. She took her time with our group and took as many different groups as we wanted. We were very pleased with our photos and we would definitely use her again!!

Nicole

Married on 12/01/2016

Shanell has worked with my family and my son and I twice, she is very caring and passionate. My son is autistic and she was very patient with him when she met him this summer. I would recommend her to anyone! I can't wait to schedule more pictures.

Janae

Married on 10/21/2016

Picking the person who is going to be responsible for taking the photographs you will treasure forever is not an easy task. Shanell was referred to us by a friend and we could not have been happier with our experience. Shanell did both our engagement photos and wedding photos. Our engagement photos were done at the beautiful Beards Hill in Kimball. With the vibrant fall colors and beautiful scenery it could not have been a more perfect location. From the very beginning Shanell made us feel very comfortable, and got so many great shots.
On our wedding day Shanell and her partner Amanda were not only the photographers but also instrumental in helping us coordinate the timing of the day. She even sent out a book prior to the wedding listing things to gather before she got there, sample timelines, first look testimonials and a list of portraits. We did a first look, which was an experience we were both hesitant about at first but ended up loving. It was so nice to have that private time together before the ceremony and the pictures from that are breathtaking. I seriously cannot say enough good things about all of our pictures, they are beautiful. You can tell when someone has passion for what they do and it is evident in Shanell's work. If you want a fun-loving and dedicated photographer who takes beautiful photographs then look no further than Shanell.

Brianna

Married on 10/01/2016

I would highly recommend Shanell Photography to any friend of family member looking for a beyond amazing wedding photographer! Shanell made us feel completely comfortable on camera (and we are definitely NOT a couple who takes pictures all the time). As for her packages she was very flexible in making a custom package for our needs :) and for the quality, quantity and variety of pictures that we got- she was worth every penny! She and Amanda also went above and beyond on our wedding day! Not only were they absolute troopers in the rain, but Shanell and Amanda felt like part of the family and did a great job interacting with our guests to get some amazing photos!!

Lichelle

Married on 09/17/2016

Wedding planning can be very stressful when you have to make so many big decisions but our easiest decision was choosing Shanell to do our pictures. Now that our wedding is over I can honestly say we made the best decision with her. Our pictures turned out better then I could imagine. I was worried trying to pose for pictures could make them awkward but shanell made them natural and by the end of our event she was more then just a photographer she was a friend. I would highly recommend her to anyone who wants beautiful pictures!

Megan

Married on 09/16/2016

I cant say enough good things about Shanell and her work! I was first turned onto Shanell when I saw her work come across my news feed from a friends wedding. The photos were stunning.. and I knew right then and there that I had to use her the next time I needed photos taken! Then the following summer, my cousin was married and Shanell did her wedding. Again, the photos were absolutely stunning. It wasn't long after that I was engaged and Shanell was the first vendor I called to book. We scheduled our engagment session right away with her for the following month and she came right out to our family farm. My now husband, isn't a big fan of photos... so this "painful" process for him was quickly overturned by Shanells quick thinking, fun personality and natural photographing abilities. Our engagement photos were amazing and we both felt really good about our session with her... it made us excited about our wedding day. We were just married this past September and Shanell made the day so smooth! She worked well with all our vendors and our wedding planner and she kept rolling with the tide as the day went on. There were times that my husband was feeling overwhelmed and uncomfortable and Shanell put him at ease and kept him distracted enough to point his focus on our day together. Our wedding photos are absolutely amazing... I haven't stopped looking through them since the day she sent them to us. I find new favorites everyday and they are treasures that we will cherish our entire lives! She captured our day so perfectly... all the details and planning that I put into our wedding day was highlighted perfectly in all our photos and our love for each other is so vibrant in what she captured. It was hands down some of the greatest money we spent on our wedding and I would do it all over again as long as she was our photographer again! We will definitely be using Shanell for all our future photo needs as a family!

Lea A.

Married on 08/18/2016

Shannel did a beautiful job on a family beach photo shoot. Lots of my friends use her as well and always happy with results .
Are you interested?
Send a message