20 Reviews
Recommended by 94% of couples
Quality of service

4.8 out of 5 rating

Average response time

4.7 out of 5 rating

Professionalism

4.7 out of 5 rating

Value

4.6 out of 5 rating

Flexibility

4.8 out of 5 rating
Awards
51 User photos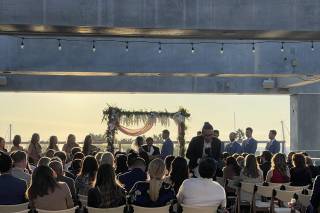 + 47

photos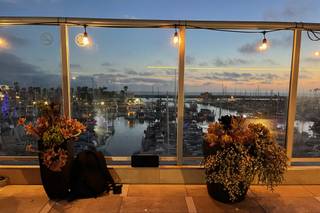 Alison R.

Married on 11/12/2022

Best Day Ever

I cannot thank Collette, Emely, and the rest of the Shade Hotel staff for making our day so special. Collette and Emely are kind, timely, professional, and organized. Collette and Emely were prompt to respond to all of my emails and I had a lot of questions as I was planning my own wedding. They made sure we were on schedule the day of the wedding. Emely made sure I was fed and hydrated the entire night. They put out my decorations and my event space beautiful. The food at Shade was delicious and the views of the marina was gorgeous. My guests cannot stop raving about how good the food and how beautiful the venue was. We also had a grilled cheese cart and churros for late night snack (highly recommend). Shade has an excellent selection of alcohol and craft beers. Collette and Emely went above and beyond to make our day the best day ever. Thank you so much Collette, Emely, and the rest of the Shade staff! I highly recommend getting married here!!!

Featured

Sharon M.

Married on 06/11/2021

Magical evening wedding at the Shade Hotel

My daughter got married at the Shade Redondo Beach on Nov 30, 2019. We had the ceremony on the outdoor "Sky Level", overlooking the harbor. Even with a few sprinkles and clouds, it was magical. The Shade team of Collette and Theresa were on top of the weather and offered to move the ceremony downstairs, but we elected to stay upstairs. The appetizers and cocktail hour were moved down to the reception area (Horizon Level) due to weather. We had our food stations, outside and it worked out great. We had seating for everyone and a large dance floor inside. Everyone had a blast enjoying delicious food, and dancing their heart outs. We were easily able to add an extra hour to the party. Collette and Theresa gave us the idea of a Sparkler exit, which we did outside on the reception level. It was so amazing and beautiful. The Shade had everything ready at the exact minute we needed it and the food was soooo yummy. Collette and Theresa do all the planning, and timelines, and keep the bride on a schedule, as she prepares the planning of the wedding. I must say, it was EASY to plan this wedding. I LOVE the Shade and highly recommend it to anyone who is getting married or just partying. Thank You, Shade TEAM.

Heidi G.

Married on 05/29/2021

Worth every penny!

Our whole wedding week end was so well done, hats off to the whole Shade staff! Our guests stayed Thursday through Monday. We had the Meet and Greet on Friday evening with a "club like" feel under the stars at the Rooftop pool. The reception on Saturday was amazing with cocktails on the upper Sky level, the reception on the Horizon level and dancing back up on the Sky level. Half the group had Brunch at the Sea Level on Sunday. Other guests soaked up the Sun at the pool on Sunday afternoon. Many took advantage of the very walkable and safe area along the beach and bike path. The Shade bikes were a great plus!

Look at the value that The Shade provides. It will look on paper like an expensive option. However, the event staff is very organized, efficient and focused on your vision for your wedding. The contract include many things that other venues charge you for. The overall staff could not be more friendly and wanting to meet your every need.

You will not regret picking The Shade to stay at as a mini vacation...or to have a major event at. This place is a true gem and worth every penny!


The Shade absolutely rolled out the red carpet for us:

- the rooms were amazing...crisp, clean, contemporary and comfortable
- the front desk and housekeeping met every need!
- the Covid Protocol went off without a hitch - everyone danced and gathered
- Meet and Greet was fun and lively under the night sky
- the bridal suite made a great "girl cave"
- the wedding reception was beautiful and enjoyed by all. The cocktails upstairs, dinner down stairs and the dancing upstairs worked out spectacularly. The food was delicious and the service outstanding!
-The Shade event staff (Collette Charlesworth and Emely Lopez) add little touches that you thought of and provided made it a perfect event..like the sparkler send off!
- Jerry helped and went the extra mile on Sunday when we all came down for Brunch and needed extra tables without a reservation (I am sure you greased the skids for us ahead of time) and then helped again when we ended up at the pool and wanted a place for pizza.

I will highly recommend The Shade ...and call out Emely and you as the key players!

You are so positive and passionate. You work with the client and figure out how to deliver the best experience and value. You are amazing!

Thank you for all the energy, creativity and effort you put into our events. Working with both of you has been a absolute pleasure

+ 16

photos

Are you interested?

Send a message

Beatriz S.

Married on 11/03/2020

Excellent Service

Every single person at the Shade Hotel from the valet parking to the reception, restaurants and catering event coordinators were extremely helpful and friendly. They were accommodating and were willing to work with us on every aspect of the event, including the budget and the maintenance of a flexible schedule. They also recommended excellent vendors who made the event a great success.

+ 3

photos

Raquel

Married on 08/08/2020

Absolute Dream Wedding

I had the wedding of my dreams at the Shade Hotel Redondo Beach on May 14, 2022. Nothing tops the ceremony on the Sky Level overlooking the marina and the reception on Horizon Level at sunset is absolutely spectacular. The venue is classy, refined, beachy and modern all at the same time. Emely and Collette are wonderful and go out of their way to make each and every part of your experience unforgettable. I am in love with my wedding and Shade Hotel!

+ 9

photos

Jen

Married on 08/31/2019

Collette is a rock star!!

We loved everything about our daughters bat mitzvah as it relates to shade. We loved the accommodations too. Collette and Leo went above and beyond for us. Food was delicious. Can't say enough. Thank you!

Jeff

Married on 07/19/2019

The most beautiful beach venue and vibe

Beautiful venue, amazing food, great staff. Collette was on top of everything and gave us a beautiful and perfect wedding.

Isabella G.

Married on 02/23/2019

February Wedding

We had a great experience planning and celebrating our wedding at Shade Hotel in Redondo Beach! Aside from the beautiful venue, what really sold us on Shade Hotel were the staff, you could tell that they genuinely cared and wanted to make sure your event was everything you wanted it to be. I 10/10 recommend this venue!

Trudi S.

Married on 02/02/2019

Best Place For An Event!!

The BEST place to throw an event! I had my 40th birthday party here (on the Horizon level), and from the very first step of planning to the minute the last guest left the building, Collette and Jenny were amazing to work with. The staff the night of the event was just as awesome!

My event went off without a hitch, and I want to throw another party just so I can have it at Shade! Thanks ladies, I truly appreciate everything!

Quirina

Married on 06/02/2018

Our experience with Shade Hotel for our wedding reception and staying at the hotel for a couple of days was phenomenal! We were so glad we met Collette Charlesworth from Shade Hotel and helped us book the place for our wedding reception. We fell in love with Shade hotel's Sky level and Horizon level floors when we took a tour. The views from both floors will take your breath away. We had a sunset wedding reception at the sky level and the weather was perfect, so we had such a great view of the boats at the marina outside, the ocean and the sunset. After the sunset, we went down to the horizon level for formal dinner and it was spacious, again we had a great view of the marina, the all glass doors were opened for fresh air and there were fire pits on the veranda that our guests also enjoyed! Shade hotel is very accommodating with the requests we had and all thanks to Jenny Cooper of Shade hotel for helping everything go smoothly. She's quick to respond to all the questions I had even though I know she's a very busy body. She was amazing coordinating with my wedding planner/coordinator about the timeline, decorations, set up and everything else. Everything literally went as planned. Can't complain about anything at all. The food they served from cocktail hour to formal dinner were all amazing! For anyone getting married and would like a stunning view of the marina, ocean, sunset and looking for a great staff service, I'd highly recommend Shade Hotel Redondo Beach. They have such delicious food at their restaurant as well. The rooms we were provided with before, on and after the wedding were spacious and had stunning views of again, the marina and the ocean. We had such a great experience with Shade and if we could, we'd do it all over again!

+ 2

photos

Sommer

Married on 04/14/2018


It was an amazing wedding weekend at Shade Redondo Beach! We had our wedding ceremony and reception (150 guests) on the Skydeck in April. The Shade event coordinators (Collette and Jenny) were very helpful in presenting options and executing our vision. The food at the dinner as well as the appetizers were delicious! The addition of a second stationary bar with signature drinks, beer, and premium wines/champagne is highly recommended. The event staff was friendly, adaptable, and efficient. Both Jenny and Collette were there throughout the event coordinating the timeline. The venue was so beautiful at sunset! The fire pits and heat lamps created the perfect ambience. Our guests had so much fun! It was convenient for them to stay at the hotel with all the amenities. Our wedding was everything we had hoped for! Many thanks to the Shade staff for making our day so memorable!




John

Married on 04/07/2018

Collette, Jenny, and the entire Shade team were absolutely fantastic! We had lots of needs, but nothing phased Team Shade and they handled everything we threw at them with tremendous Grace and Professionalism. We also had non-cooperative Weather, but even Mother Nature was no match for Team Shade, as they made every possible accommodation to ensure the comfort of our guests. Everything about the Property is Best in Class; from the Event Spaces to the Food, from the Service Level to the Staff, from the Rooms to the Location and everything in-between.

Morgan

Married on 05/20/2017

The rooms are beautiful, venue fantastic and the Event team is exceptional. Special thanks to Jolise and Tina. A Wedding team to die for.

Lindsey

Married on 10/15/2016

This review is long over-due. I had my wedding at Shade Redondo Beach and as all brides know, just planning a normal wedding is stressful; but to be the very first wedding at a venue is on another level entirely. We fell in love with Shade from the get-go and even after looking back 2 months later, could never have imagined a better wedding than what we got with them.
Overall, Shade made my dream wedding into a reality. Any hiccups that did happen (and we were not aware of any that did), they were handled by the team on their own and both my husband and l were able to enjoy every second without a worry. What made our wedding most special is that all of our guests stated that they were treated well (even when they changed their dinner choice last minute) and that it was one of the best weddings they've ever attended. Who doesn't like those bragging rights……THANK YOU SHADE REDONDO!!!! BEST WEDDING EVER!!

Rocky

Married on 07/21/2019

Perfect Location

Had a wonderful experience at the Shade Hotel in Redondo Beach recently. It was a evening birthday celebration for my wife but would be a perfect place for a wedding ceremony/party!!!
The food was excellent and the staff was especially helpful. The views from "Sky Level" were spectacular.

Jim

Married on 12/07/2018

Fantastic place to host visiting guests

I can't say enough positive things about Shade Redondo. We secured a room block for our recent wedding, and Jenny and Collette were a pleasure to work with in getting the plans set up. Upon check-in, we were very satisfied. The rooms are beautiful, the views and location are outstanding, and the amenities are plentiful (free bikes to cruise the strand, free water bottles 24/7). Best of all, the staff was so helpful and accommodating the entire stay. Everyone felt very much at home, and would be very eager to stay at Shade again.

Shade Hotel Redondo Beach's reply:

Jim - This is Collette with Shade Hotel! it was an absolute pleasure and honor having you here out of all the hotels you were able to choose from. We are thrilled you had an amazing experience with us and we cannot wait to see you here once again!!! Best Wishes, Collette & Jenny

Michaela R.

Married on 06/19/2021

Helped us have the wedding of our dreams!

Collette and her team at Shade Redondo were amazing! With COVID, they were very upfront with us about restrictions and what that would mean for our plans, but also very willing to work with us to get a new plan in place. We had plans, back up plans, and back ups for our back ups. We ended up with the wedding of our dreams, and their team worked with our planner on some last minute changes when the restrictions opened up the week before. Collette and Emely were both very professional, friendly, and lovely to work with. The food is absolutely incredible, and we will always remember our ice cream sandwich & french fry bar.

Alicia

Married on 08/05/2017

Before Shade Redondo broke ground, we already knew it would be the venue for our wedding. Once it was built, we adored the modern architecture, ambience, and most importantly, the amazing views of the marina and sunsets.

We originally met with the Sales Director and Catering Manager. Both were very personable and assured us that our day would be fabulous. We had VERY specific expectations and they were able to meet each of them throughout the planning process. Additionally, if we had a crazy idea and they knew it wasn't the best option, they gave us alternate options and vendor suggestions to make it happen.

We wanted a rooftop ceremony, a ballroom dinner, and then a reception back on the rooftop. Logistically, this was a nightmare - they didn't blink an eye and said they would make it happen even though it hadn't been done before.

The day of was absolutely perfect! The floor transition was seamless, the food and service were beyond, and we as a couple, could not have been more thrilled with the outcome! Everyone went on and on about how this "wedding" food was actually really good! (BTW-the food tasting experience they create is fantastic!)

Shade has an EXCELLENT team. Collette Charlesworth (Sales Manager) was hired on about a month prior to our actual day. This originally made us nervous, however, upon our first meeting with Collette, our minds were put at ease. She has a big background in wedding planning and a fun upbeat personality. She can also rock a pair of Valentino's up and down stairs like I've never seen before! Tina McInroy (my wedding therapist and Catering Manager) somehow always brought a sense of calm whenever the process got stressful. She is meticulous in the perfect way, always giving us a good sense of security in the crazy days leading up to the big day. Both, along with the many people on their teams and behind the scenes made our day perfect and we are forever thankful!

Mirjana

Married on 01/28/2017

This is a brand new venue in Redondo Beach. Great quality of food and service. Very trendy and modern. It right on the water with beautiful views and the ocean air.

Mina A.

Married on 10/03/2020

Do not host your wedding here, bunch of thieves

Do not host your wedding here. We were scheduled to have a 200 person wedding in October and placed a deposit for $15,000. Unfortunately with Covid, Shade Hotel wasnt able to host the wedding. They refused to give us our deposit back. They were willing to host a luncheon in the upper deck for 20-50 people and wanted to charge us the $15,000 deposit. We could not bare to spend that much money for a simple luncheon, no live music, no dancing, no socializing. We requested to host smaller dinner and appropriately price the celebration but they were not willing to negotiate and demanded we spend the whole deposit or we lose it.
The only compensation they are willing to give us is credit for their hotel for $15000.00 which is ridiculous. We spoke multiple times to their managers including Melissa and she said we should be happy we are not obligated to pay the full amount of $52,000. It saddens me that businesses like this who are supposed to support couples and marriages are not willing to work with us and refusing to give our deposit back. Look elsewhere for your wedding and save the disappointment with these thieves.
Are you interested?
Send a message