Reviews
5.0 out of 5 rating
Quality of service

5 out of 5 rating

Average response time

5 out of 5 rating

Professionalism

5 out of 5 rating

Value

5 out of 5 rating

Flexibility

5 out of 5 rating
100%
Recommended by couples
8 User photos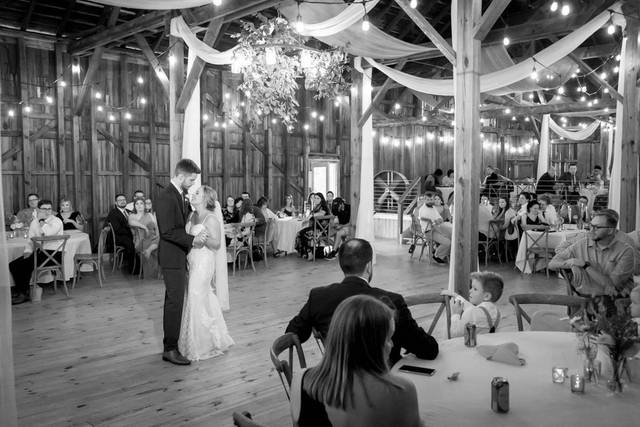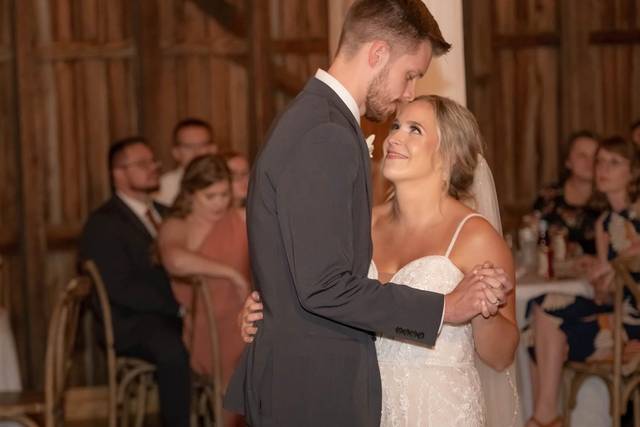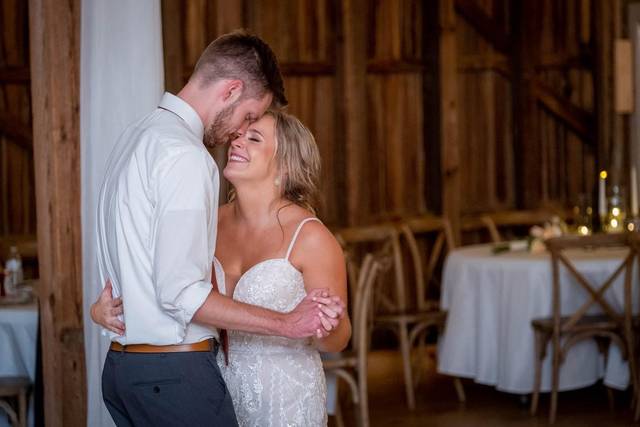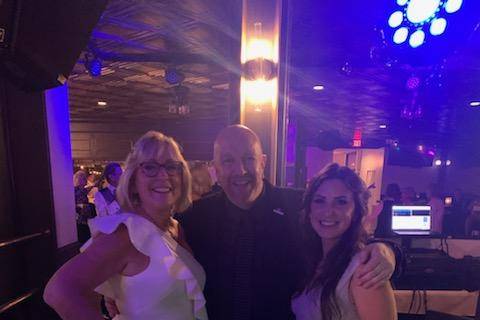 + 4

photos
Nadia M.

Married on 05/26/2023

Hire eric!

WE LOVED ERIC!!! From the time we met him on zoom we absolutely loved the energy he brought! Our DJ was so important to us because we wanted our wedding to be FUN and we wanted a DJ that understood our mission! He was such an easy vendor because after we chose him, we didn't have to have a ton of meetings until closer to the date! We gave him some ideas of songs we liked for each part of the night, and he completely understood our vibe! Also- if youre getting married in a large venue like we did (we got married at the Pennsylvanian) hire him. The Pennsylvanian is so large and has issues with sound due to the walls, but Eric had all this certain equipment just for our venue! The sounds was amazing and didnt echo at all! Also- we asked him to play some Persian music and he did and it was so fun! After the event he sent us a hand written thank you and a thumb drive and even emailed us. He is such a kind soul and I couldn't recommend him enough! Also- he has a blog on his website of every wedding he does with the list of songs he played and some photos that are actually really good! Hope this helps and I hope you choose Eric!

Zach W.

Married on 09/16/2022

So much more than a dj

Hiring Eric to DJ for our wedding was not only the greatest decision my wife and I made for our wedding but one of the greatest decisions we have ever made in our lives! From the initial meeting over Zoom, we knew that we needed Eric in our wedding. In the stress of planning our wedding, Eric provided support and guidance to make our wedding planning and wedding day run smoothly. If you make the wise decision to hire Eric, you are not only getting an incredible DJ but you are also getting a constant source of wedding advice!

Eric's sense of humor and infectious personality brightened our wedding day. He did an amazing job of providing amazing music during our ceremony and cocktail hour. Eric kept everything running smoothly and efficiently. During the reception, Eric made sure that the dance floor was always popping and he did a fantastic job of determining what songs were a hit with our crowd and which songs could quickly be skipped.

Honestly, if I could give anyone planning a wedding right now a piece of advice it would be to hire Schiemer Entertainment! Seriously, every wedding needs an Eric!

My wife and I went into this process looking for a DJ and ended up making an amazing friend (who happens to be the greatest DJ around)!

Laura H.

Married on 08/31/2021

Amazing, Eric is the Best!

I cannot say enough wonderful things about Eric. He was amazing to work with, always quick to respond and always willing to help in any way possible. He was perfect for our day and kept the dance floor full the entire night. We even had a power outage for over an hour (no fault to Eric, it was a venue issue) and Eric was only down for about 5 mins (it was so quick I didn't even know), and the party just kept on rolling. He provided us with amazing pictures and a video to remember our perfect day. He did everything like we discussed and was perfect! He is truly the best. Cannot recommend highly enough!

Are you interested?

Send a message

Donna P.

Married on 08/27/2021

The Ultimate DJ

Eric is THE BEST! He was the DJ at my daughter's wedding and was mine as well when I got married in August. He's so much more than a DJ, he's like family. His website allows you to give him the type of music that you'd like for the ceremony, cocktail hour, dinner and for the dance floor. He also takes some of the best photos and some video during the wedding. He's so positive and so much fun that it's a joy to work with him. When I say he's the best, I mean it. ❤️

Ashley L.

Married on 08/21/2021

Wedding DJ

Eric was the dj at our 8/21/21 wedding. Everything was perfect on our day. We were stumped for a lot of the songs we needed (mother/son, father/daughter, bridal party entrances etc) and he was extremely helpful and had a lot of recommendations for us. He kept people on the dance floor and everyone had an amazing time !

Cady D.

Married on 08/14/2021

Fantastic!

Did an excellent job! Easy to work with! Loved how he took pictures throughout the reception!

Nick T.

Married on 07/24/2021

Brought house down

I've literally never left a review for anything in my life (vendor, bar, restaurant, Amazon product). This needs to be my first. Eric brought the house down at our wedding. The journey was nearly as fun as the actual wedding. I'm serious. I do honestly feel bad for our videographer and photogrsiver because the DJ just went above and beyond and proceeded to take THE BEST PHOTOS AND VIDEOS ON PLANET EARTH.

Eric was an incredibly important and very special part of our very special day. He's the best.

Margaux

Married on 07/23/2021

Absolutely Perfect

Eric was amazing!!! He went above and beyond before, during, and after the wedding. He listens to what you want and follows through with exactly what you ask for! I felt so comfortable working with him and honestly could not have asked for a better experience!! I highly recommend Eric!

Rocco R.

Married on 07/16/2021

Great to work with!!

My wife and I spoke with a number of DJs while planning our wedding reception and as soon as we ended our call with Eric we knew the search was over. Eric Schiemer is a true professional who brings with him a lot of great experience, insight, and suggestions but also is completely happy to accommodate any requests/desires you may have! He was on top of every detail while planning the reception, has a great personality for interacting with guests, and coordinated very well with our other vendors to make everything run smoothly. We really can't thank Eric enough for helping to make our wedding day so great! And as an awesome bonus, he also photographs the reception, creates a slideshow to your first dance song, and captures the entire reception playlist on his website as a great memory of the day! Thanks Eric!!

Kelsey B.

Married on 07/04/2021

Hire Eric Schiemer

Eric did such an amazing job for our wedding. We were a bit clueless on what we wanted out of our wedding DJ, but he made it so easy for us. His checklist and suggestions helped us pull our big day together with ease. He brought an awesome vibe to our day. We got many compliments on our DJ and he was a pleasure to work with. He was the first vendor we booked once we picked our venue and I am so glad. Book him for your ceremony and reception - You won't regret it!

Jessica D.

Married on 06/19/2021

Best DJ ever!

Our DJ was the top compliment we received from guests during our wedding day! Eric kept the dance floor packed, kept us on time, and went with the flow of changes. We had Eric's utmost attention throughout the process and I would HIGHLY recommend Eric for any event.

Erica

Married on 06/16/2021

Eric rocks!

I highly recommend Eric to any and every bride and groom. To be blunt, I was nervous to book a DJ, because I know a great DJ can really make your wedding exceptional. I genuinely feel I made the best decision by booking Eric! He was kind, professional, thorough, and supportive throughout the planning process. He was able to help with details and overall flow of the evening. His experience really shined through during our preparatory conversations. His website and song lists were extremely helpful in choosing all of the important songs; it made the process fun instead of just a chore. His experience continued to shine on wedding day, he was able to keep pleasantly keep the evening moving timely, emceed professionally and smoothly, and was able to keep the dance floor full and fun all night long! If that wasn't enough, he provided us with beautiful photos, our entire song list, and a sweet blog post after the wedding. He was everything we could have hoped for and more!

Maci H.

Married on 06/12/2021

Everything we wanted in a DJ

Eric was amazing to work with! We couldn't have asked for a better DJ. He was everything we wanted our DJ to be. We created our own playlists, but Eric ordered the songs perfectly. He was the best combination of bringing energy to the dance floor and not being too involved. His flow of the reception was great and we loved how he took the lead but asked for our input and let us know when we were transitioning into the next thing. To top it all off, he made us an awesome slideshow from the pictures he took, which was so great to see the next day. Overall, 10/10 recommend!

Kelcy M.

Married on 06/07/2021

Best dj ever!

I cannot say enough about how AMAZING Eric is! Our guests never stopped dancing, and I had lots of people say it was the most fun wedding they've ever been to. The planning process leading up to the day of was easy and fun, too! The online planning tools were SO helpful and Eric was so quick and easy to talk to. I can't recommend Eric Schiemer enough!!!

Ron K.

Married on 05/30/2021

Simply the best DJ choice that you can make. Our first wedding reception priority was booking Eric!

Our second wedding reception with Eric spinning the tunes! The dance floor was never empty! Top notch equipment strategically placed throughout the venue to keep everyone involved and dancing ! Five Star rating for sure.

Kit

Married on 05/30/2021

Above and Beyond!

Eric DJed my sister's wedding and was so beyond fabulous that he was the first vendor we had to lock down the day after we got engaged - and, undoubtedly, he did not disappoint! Not only does he bring the party and such a positive, calming presence, but he goes above and beyond what is typically expected of a wedding DJ. From the very start, his process was nothing short of seamless - his website is user-friendly and it allows you to provide ceremony/reception details and "must play"/"maybe play"/"do not play" songs at your leisure. Eric set up a touchbase prior to the big day where we talked through specifics and then he sent through his own detailed timeline later that evening. We also had some surprises for my mom sprinkled in, and he made sure to keep those off of any timelines or emails that included her -- he was on it, and she was so surprised during the wedding! He arrived early to set up/test out some day-of lighting options we discussed and facilitate all the necessary ceremony audio connections with other vendors (videographer, venue coordinators, etc.). He kept my husband and I in the know throughout the reception and didn't move on to the next activity without making sure we were ready - something crucial when you're in the blur and excitement of a 200+ person reception! When the open dance floor started, I don't think anyone was at his/her seat for the rest of the night - it was so much fun! Eric kept the party going and incorporated fun uplighting sequences sophistically all night! At the end of the night, he packed up and stuck around to tell us how much fun he had - that wasn't the end of his services though. The next day, he shared a blog post he made about our day, an entire album of photos he captured throughout the dance floor party, and a teaser video of those photos to our first dance song. Above and beyond! But that's not all.. we went on a two-week honeymoon to the Maldives and when we returned to our non-PA residence, there was a personalized card from Eric with a flash drive of all of the photos he captured waiting for us. I can't recommend him enough - we tell everyone that the first thing to do after getting engaged is to reach out to Eric. He's the best around!

Lindsay A.

Married on 05/15/2021

Amazing!

Eric was truly the most incredible DJ we could have ever asked for on our wedding day. There was a never a day he wasn't available to help or if we needed to pick his brain for some playlist ideas, he was always just a quick phone call, email, or meeting away! His upbeat and optimistic personality made wedding planning and playlist picking fun — even during a pandemic, haha! Leading up to our big day he made sure to thoroughly run through our event and the details with us and our wedding planner to make sure everything was just how we wanted and envisioned it to be. Throughout our wedding day he checked in with both of us to make sure things were going well, we were having fun, and additionally asked if there was anything he could do for us. There was not a moment the dance floor wasn't packed! I cannot tell you enough how many compliments we received from our wedding guests and also other vendors on how much everyone enjoyed him and his services! Needless to say Eric was extremely pleasant and fun to work with from start to finish. To top it all off, we were head over heels with happiness when he emailed us photos and a slideshow/video he put together of moments he had captured throughout the wedding day. It was so fun to see those moments the next day! We simply cannot thank Eric enough for making all of our wedding dreams come true! He was such pleasure to work with!

Ashley W.

Married on 05/08/2021

Best dj ever!

Eric is AMAZING – Where do we even start with how amazing he is?! From the moment we first met Eric, we knew he had to be a part of our day. His energy and positivity are unmatched and he truly cares that his couples have an amazing reception. Throughout the planning process, Eric was extremely responsive, provided his honest opinion when asked and just made us so excited leading up to the wedding with his enthusiasm, even if we were going through hard pandemic times. He was more than happy to have multiple planning meetings with us leading up to the wedding day and really listened to what was important to us. His awesome online planning tool also made it extremely easy for us to create the timeline, decide on special dances, etc. Eric even mixed us a custom wedding song which was so special and one of our favorite parts of the day!
On the day of the wedding, he was timely, energetic, and so ready to have a great time! He was also reassuring and a positive voice in times of chaos right before our ceremony when it wasn't set up properly by the venue. He truly went above and beyond and we can't thank him enough! Our bridal party had a last-minute change to our entrances, and he quickly pivoted and accommodated, and was so happy to do so! The entire reception ran smoothly because of Eric. He was phenomenal and our dance floor was full the entire night. We had several people ask for his contact info and we have family members that have already booked him for their weddings!
One of the best things Eric does is he takes his own pictures throughout the reception, some of which are my favorite from the night! He creates a list of all of the songs played, a photo slideshow and sends all of the photos to you afterwards. It was such a great surprise to relive the night the day after through his photos!
This review doesn't even do justice to just how amazingly wonderful Eric is. He truly goes above and beyond, cares so much and is just an amazing person all around. Booking Eric was the best decision we made and I can't imagine our wedding without him!

Meghan S.

Married on 08/29/2020

Awesome Experience

He allowed us to come listen as he set up for a wedding in our venue to assure us of the sound quality since our space was a little tricky for sound.

Carlos C.

Married on 07/04/2020

Amazing and fun DJ

Eric was a great DJ for our wedding. He was flexible and able to work with us on our wedding date and the weeks leading up to it.

Karen Q.

Married on 06/27/2020

Outstanding DJ

Eric was an exceptional DJ, personable, very helpful and extremely easy to work with. He provided everything that was asked and more, kept the guests very engaged with his selections, and went well beyond what we had expected. As the mother of the bride, I knew which vendors had been chosen but did not have much input into the selection. I was so surprised by all the little extras he provided, including a montage of pictures he had taken set to their first dance music. It was so unexpected, incredibly well done and will remain a treasured keepsake for all of us. We were thrilled with our entire experience, from initial contact to several days after when we received links to his pictures and blog posts. Having a wedding is stressful, trying to have a wedding during a pandemic with constant updates and changes was even more stressful. Eric's flexibility during all of this, really showed us what type of a person, not just a businessman he is. We are so thankful that we were lucky enough to find him and can't imagine how anyone else could have done the job to his level of expertise.

Colleen Q.

Married on 06/27/2020

Amazing DJ

Eric was an outstanding DJ. I got married in June during COVID. Eric is/was extremely flexible and willing to help in any way he could especially as we considered date changes. He also really helped us plan out our reception and provided helpful guidance and suggestions. His website was great because we could rate different genres of music and put in the songs we wanted. It made it easy to give our input and reassured us that we would enjoy the music at the reception. I was concerned that the monogram light, which he provided for free with our lighting package, would look weird on the dance floor based on our venue set up. Eric assured me that he would only use it if he could find a good spot for it. He put it on the wall over the door to the cocktail hour room and it looked perfect. Throughout the night, he kept our wedding on track while also asking us if we were ready for each thing (speeches, father-daughter dance, etc.). This allowed us not to be rushed but also ensured we wouldn't miss anything. Two days after the wedding, Eric sent us his blog post and Facebook link which he'd written about our wedding. It was very touching. He also sent us the full playlist from our wedding as well as a video he created by putting pictures he had taken to our first dance song. It was an amazing memento that we did not expect! He also mailed us a flash drive with everything on it. Overall, Eric was amazing and gave us way more than we expected. We highly recommend Eric to any couple!

Colleen S.

Married on 10/26/2019

Book Eric Now!

Fantastic! My sister and very good friend both used Eric as their DJ and each wedding was an absolute blast so I knew we needed Eric from the beginning. He was hands down the kindest, most enthusiastic, and stress- relieving vendor of our entire wedding! He made us feel so at ease the whole time and helped immensely with the flow of the reception. The dance floor was packed all night long, he truly knows how to keep a party going! Most importantly, you can tell he truly enjoys himself and is so happy to share in your day. We couldn't recommend Eric enough!

Brittany N.

Married on 10/19/2019

If you don't have a DJ for your wedding yet, book Eric Schiemer!

If you are looking for an awesome DJ who will keep the party going all night, Eric Schiemer is your guy!! Eric was the DJ at my sister's wedding in May of 2018. Two weeks after her wedding we called Eric and booked him for our wedding a year and a half later. It was the easiest wedding decision to make! From the very beginning Eric was extremely easy to work with. He quickly responded to emails/calls and his planning guide online made the process seamless and stress-free! Eric allowed us to pick out specific music that we did/did not want played but reassured us that we did not need to pick enough music for the whole day. His experience allows him to take your requests and create a playlist for the vibe you are going for. He is up to date on all of popular current songs and knows exactly what to play when. The dance floor at our wedding was packed the whole night! Best night of our lives! Eric is the best and I highly recommend him to everyone!

Nick Z.

Married on 10/12/2019

Couldn't have imagined a better DJ

From our first meeting, Eric was a paragon of enthusiasm, professionalism, and class. He has a clear mastery of his craft, yet maintains true interest and connection with his clients and their choice of music.

His selection of audio equipment was superb - matching the acoustic needs of our reception perfectly. He was also extremely flexible in working with other vendors and the needs of my wife and I. On top of that, he takes beautiful photos of the reception for free.

I truly cannot recommend his services enough - both in quality and value.
Are you interested?
Send a message