168 Reviews
Recommended by 100% of couples
Quality of service

5 out of 5 rating

Average response time

5 out of 5 rating

Professionalism

5 out of 5 rating

Value

5 out of 5 rating

Flexibility

5 out of 5 rating
28 User photos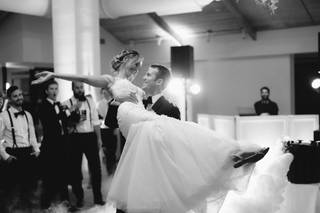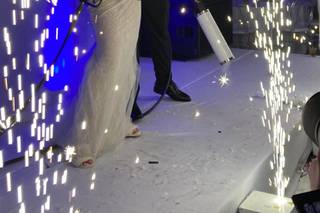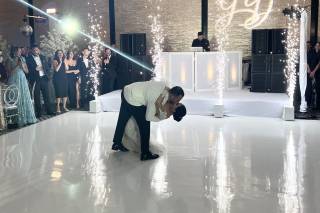 + 24

photos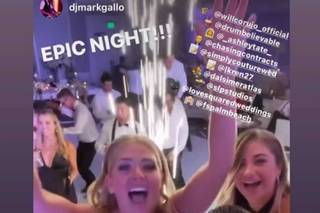 Erin

Married on 11/05/2022

If you want the night of your life

Sarz entertainment exceeded our expectations! We are 29 and 32 years old and our priority was having the best party ever and for everyone to dance, and Michael definitely made that happen! No one ever sat down!
We asked for a "Miami club vibes" and we got it! The music was remixed with traditional wedding songs and it was amazing.
In addition, Michael made it super easy to add on any special items. We added a violinist, dry ice, and spark machines last minute, as well as provided music and speakers for our ceremony and cocktail hour. It was definitely a vibe!

Photo: by Alyssa Morgan

Carolina T.

Married on 10/20/2022

Best dj ever!

So I just had my wedding 10.20.2022. I just want to say HOW AMAZING SARZ entertainment was! Michael made my wedding day & made the party the best party my guests and I have been to ever! He knew to live up the party! My guests said he turned my wedding into a club! haha I am forever grateful for Sarz & I HIGHLY recommend him for all weddings! He did our ceremony, cocktail hour & reception! HE IS THE BEST! We also got Samba girls highly recommend also! we had a BLAST!!!!!!

Heather B.

Married on 07/20/2022

Our saving grace! Such an amazing Dj!

Michael our guests are still talking about what an amazing job you did. Planning a wedding in Key Largo from New York was scary. I believe that food and Dj are the two most important things for a wedding. After previously speaking with other vendors, I was at a loss. After our first phone call, I knew I needed to book you. We are so grateful to have had such an amazing Dj for our dream wedding! You not only went above and beyond but you treated us like family! Thank you so much for your recommendations and making us laugh along the way planning our special day! So many of our guests just kept saying oh my god your Dj is absolutely amazing!! Where did you find him?? We are so happy to have gotten the pleasure to work with you and hopefully again for future events.
Love,
Heather & Nick Ponterio

Are you interested?

Send a message

Yesenia B.

Married on 07/02/2022

The best in the industry

Michael was the best money spent! Everyone was having a blast the entire night! Not to mention how well he read the room and just kept the party going all the way to the end!!!!! If i had to pay more money I would have just to have him part of my wedding team. You wont regret having him on your big day! Thank you Michael for the party of a lifetime!!!

-The Baezs

Renee D.

Married on 06/03/2022

Absolutely Fantastic 10/10 Recommend!

Michael and his team were absolutely fantastic! Everyone was on the dance floor the entire night and it was truly a nonstop party. Seriously can not recommend him enough!!

Alexandra L.

Married on 05/07/2022

Danced our Hearts Out!!

Michael Sarz is an absolute no-brainer when looking for entertainment for your wedding! Initially, we were deciding between a DJ and a band and found Sarz through our venue. His team offered us a hybrid option with a live violinist, saxophonist, and drummer which ended up being the perfect set up for us! The violin and sax provided a sweet and classy atmosphere for our ceremony and cocktail hour before letting loose with the sax and drummer after dinner. We got to play all of our favorite current and throwback music and our guests loved the interaction with the musicians. His lighting set up is exquisite, providing classy uplighting for dinner, and fun colored lights for dancing.

Michael is an incredible emcee who keeps the show moving along efficiently from introductions to speeches and finally to dancing. He was able to incorporate my family's Greek heritage and our desire to include a traditional Greek dance set in our evening.

He was always eager to hop on a zoom and talk through any details of the evening. I always dreamed of a wedding where the dance floor was packed until the very very end and he provided that experience for me. It was beyond my wildest dreams!

Victoria

Married on 03/27/2022

Amazing amazing amazing

We got married in March 2022. Michael was incredible. From the moment we first spoke with him, we knew he would be great, but he exceeded all of our expectations. Our wedding was so much fun, in large part thanks to him. Everyone was on the dance floor the entire night. We received so many compliments about how amazing the music was at our wedding, and we couldn't agree more. Michael listened to everything we wanted and delivered 100%. We are so thrilled. It was one of the best decisions we made for our wedding.

Rony H.

Married on 03/14/2022

Hands down the best experience from start to finish. We hired Sarz and Michael and Mark were absolutely flawless. The best in the business!

Michael and Mark are phenomonal at what they do, but it helps that they are amazing people with the best energy to have around. The party was incredible because of them. They should be #1 on everyones lists. We could do our wedding a million times over and Michael and Mark would be our choice each and every time. It was my wife's and mines absolute pleasure to have them part of our wedding day. Thank you! Thank you! Thank you! Wish nothing but the best for you guys!

Rony & Rania

Idelys R.

Married on 02/20/2022

Spectacular!!! From beginning to end MARK

If I can give 10 stars I would. Michael was a friend throughout my wedding process, he took his time to go to my wedding venue to check out the space without hesitation before the wedding, recommended what was needed and what was not (lighting, sound, electrical) and was just the positive energy that I needed through a stressful time (all brides know how stressful it can be) it felt really good to have someone I can count on and trust because believe me there are other vendors out there that are scary! Although I did not have Michael DJ for us I had his best Mark!!! I can't thank Mark enough, there aren't enough WORDS to say how he made my wedding day exactly what I wanted. Mark made sure all lighting was executed flawlessly during rain!!! Checked up on us during dinner to make sure we ATE before partying (ok who does that!!!) and had the crowd PARTYING non stop even with torrential downpour we did NOT want to leave that dance floor! If you want a friend and a stress free experience - HIRE THEM 10/10

Jurgen U.

Married on 01/07/2022

Amazing job! Killed it!

Everyone left my wedding saying ti was the best wedding they have been to. All my guests mentioned the amazing music. Mike feels the crowd and was relentless at the end. Everyone danced the night away. I had a great time.

Caitlin K.

Married on 10/30/2021

Amazing DJ`

We had Mark Gallo as our lead performer and can't recommend him enough. He was such a professional while planning with us - very attentive, thorough, and kind. The dance party was absolutely amazing. Our guests commented on how great the DJ was all night long and kept asking us for his contact information. Highly recommend!!

Ashley T.

Married on 10/16/2021

DJ Mark with Sarz Entertainment

I just had my wedding October 16, 2021 after two postponments and one cancellation. I reached out to Sarz less than a year in advanced and they were so helpful, accomodating and really walked me through the process of what they could do. We ended up having a fusion style (violin, drums, sax and a dj). We added sparklers, and a few other items onto our package which was extermly resonable in pricing. Let me just say, this was the best company to use for entertainment! The dance floor was never empty and had atleast 20 plus people dancing the whole night! DJ Mark talked to us hte week of the wedding, he was very calm and not pressing us for informaiton throughout the year which I appreciated since I had full trust in them to do an amazing job. We put together a playist of out must haves and from there Mark took it and ran with it. Thank you again for making our night so special! It was truly the best night!! Would recommend to anoyone who is looking for a hype dance floor who wants to party all night!

Penny M.

Married on 10/09/2021

Awesome DJ!!

Mark Gallo did such an awesome job the entire time throughout our wedding. The music was perfect, the guests were having fun the entire night and he kept the crowd going!

Sarah C.

Married on 09/09/2021

Absolutely amazing!

The moment we spoke to Michael from Sarz entertainment we knew he was the best person I wanted to work with. He was personable and listened to everything we had requested! I made a wedding playlist and he actually used so many of our favorite songs as well as remix them during the wedding! I will never forget, my husband and I were taking photos in the courtyard and as I turned around I took one glance at the building that will host our reception and was in absolute awe. Michael was in charge of our lighting and music and wow did he deliver! I heard so many brides say they never ate at their wedding or they didn't get to enjoy their wedding as much as they wish they had, but Michael had everything timed perfectly! I was able to eat! Enjoy! Talk with family! And dance allllll night! Each and every song he played was perfect! I was literally dancing the moment we were done with our first dance till the end of the night! He felt the crowd and knew what type of song to play at what time! I will never be able to thank him! He deserves all the recognition and more! If you are worried about pricing....he is worth every penny! I am so glad I splurged on Sarz entertainment because without it I don't think our wedding would have been the same!

Meg Z.

Married on 08/28/2021

Most positive vibes!

Sarz entertainment was absolutely the best choice for our wedding. Michael just has the most positive and upbeat energy; working with him is refreshing and enjoyable. He listened to what we wanted and delivered on everything agreed between us and followed the list of songs we had provided him. He felt the crowd and pumped them up and created awesome vibes for everyone. The sax, violinist and drummer also amplified the mood during cocktail hour and reception. There was a schedule for everything and he coordinated accordingly with videographer and venue to ensure everything stayed as planned so that we could enjoy our night. We danced the entire night, and not once did we feel "oh no I hate this song". Our wedding wouldn't have been the same without Sarz and we wanna thank you from the bottom of our hearts for making our night worry-free and memorable, and of course for being the BEST DJ/entertainment group.

Joseph T.

Married on 08/28/2021

Incredible vibes

Michael and his crew performed at my wedding creating a memorable experience. I would highly recommend him to anyone seeking his services.

Amy G.

Married on 05/15/2021

We love DJ Sarz!!

Michael was always responsive, accommodating, and ready to rock! He was available anytime we wanted to set up a call and we felt super secure leaving our wedding in his hands. The most admirable thing was the energy he brought into the wedding. He kept everyone on the dance floor, literally ALL night! I didn't have to give him a billion songs to figure out what we wanted, he just picked up on what should be played it was great. Highly recommend if you're looking for a party at your wedding!!

Dianna J.

Married on 05/06/2021

The Absolute BEST!!!

The reality is, I did not have high expectations. Not because I completed the paperwork 2 days before the wedding and forgot to call them to discuss the music selections. This did not stop them!!! From start to finish, it was like they had spent years with our family and knew exactly what everyone wanted to hear. From 90's hip hop and R&B to salsa & bachata; none of us have ever danced so hard. We asked the DJ to play soft jazz during dinner, however two minutes in to the reception I realize what a mistake this was. It didn't matter, the DJ recognize this as well and got the party going the minute he saw people wanted to dance, not eat. Our families are complete music snobs and he exceeded everyone's expectations. Covid may have delayed our wedding but Sarz Entertainment made it a night to remember!

Chelsea R.

Married on 05/01/2021

Best Miami Wedding DJ!

Sarz is such a nice, easy going guy who truly cares about his clients. He had the crowd going all night and had a smile on his face the whole time. You can tell he is truly passionate about his craft. Myself and my now husband felt like we became friends with him during the planning process. I would recommend him to anyone!

Natalie F.

Married on 04/24/2021

The absolute BEST!

We could not imagine our wedding day without SARZ! Without a doubt the best DJ in South Florida! From our very first phone call to the very last minute of our reception, he brought so much energy. Everyone was on the dance floor the whole time, and he captured the music we were hoping for exactly. The live musicians were a great touch as well! Wish we could go back and re-live it all over again.

Jon A.

Married on 04/17/2021

Incredible. I have no words

Michael Sarz from the getgo set the atmosphere for an incredible reception that simply did not stop from beginning to end. Many people that I have known for decades who avoid the dance floor like the plague spent the entire night on the floor from beginning to end dancing the night away. I cannot explain it, but the experience that Michael and his team were able to provide was simply incredible. He truly incorporated our unorthodox music genre requests, considering the cultural differences from the bride and grooms' families. Thank you Michael so much for everything you truly made our wedding one to remember!!!

Jenifer B.

Married on 04/16/2021

The ABSOLUTE BEST Choice for your special occasion, hands down.

SARZ entertainment was the BEST choice my husband and I could have picked for our wedding DJ!! From the big moments, down to the smallest details, it was like he literally READ MY MIND on how I wanted the night to go. I didn't have to spell out everything, he just KNEW! He created the most memorable moments for us that we will cherish for our lifetime. We got SO many compliments from our wedding guests on how phenomenal our DJ was! I want to plan another random party just to have him come DJ lol. I would 100% recommend him to anyone looking to have the time of their life with a DJ who completely gets them and sets the vibe!

Amanda

Married on 04/11/2021

Hands down Sarz is THE best!

"Professional" is selling it short. Sarz and team were perfect from beginning to end. He was our first vendor we booked, and the one we worried about the least. He is organized listens to preferences coordinates with other vendors, he prepped and confirmed pronunciation of names, our reception went from romantic ambiance during dinner to a full dance floor party.
He mixed songs so well and no one had a chance to go sit down because the next song was even better.

Ashley A.

Married on 03/27/2021

Incredible!!

We hired Sarz because we knew he was amazing and he definitely delivered! From the moment you meet him, he brings such a wonderful attitude and this energy that makes you so excited for your big day! He goes over everything and really gets to know you to customize his musical styling to your needs! On the day of, he really can captivate an audience. We knew with him he would be able to move the crowd whether with his music or when announcing. You are sure to have a spectacular time with Michael Sarysz as the DJ! I would whole heartedly recommend him and you surely will not be disappointed. He thinks of everything! From lighting, to musical styling, and ambiance he is the man for the job!

Megan S.

Married on 03/06/2021

Amazing, perfect, the absolute best! Just do it hire SARZ!

I recently got married in March 2021 and hired SARZ Entertainment for my wedding entertainment and was lucky enough to have Michael Sarysz as my DJ and MC!  Having the right music and DJ for our wedding was so very important to me and my husband.  We wanted the atmosphere and mood to be just right, fun but not cheesy, unique but recognizable. We had a very intangible vision and seemed to have more specific do-not wants than special requests.  Michael somehow took what little we were able to explain and verbalize and figured out exactly what we wanted and turned our vision into a reality.  The wedding was held at an intimate outdoor venue in Key Largo and he ensured the day flowed from ceremony to cocktail hour to reception seamlessly, each portion having its own feel even though it was all at the same place.  Michael arrived early in the day to set up and played music from when guests started arriving on property to when they left at the very end of the event. He was a huge part of our wedding day. He perfectly incorporated our requests into the event and built off of them to create the exact mood and feel we wanted. Michael has such a fun, genuine personality and he exudes confidence and passion for what he does. Planning a wedding during the pandemic was so stressful and we were constantly second guessing every decision, but after our phone meeting with Michael a few weeks out we both knew it would somehow be perfect because of him.

I don't normally put a lot of confidence in online reviews and maybe you are reading all of these reviews for SARZ Entertainment right now and thinking it must be too good to be true, but not so! SARZ really IS this good and then some! Thank you Michael for your professionalism, promptness, kindness, and impeccable attention to detail. I hope I have the opportunity to work with you and experience one of your events again in the future!
Are you interested?
Send a message