50 Reviews
Recommended by 97% of couples
Quality of service

4.9 out of 5 rating

Average response time

4.7 out of 5 rating

Professionalism

4.9 out of 5 rating

Value

4.9 out of 5 rating

Flexibility

4.9 out of 5 rating
3 User photos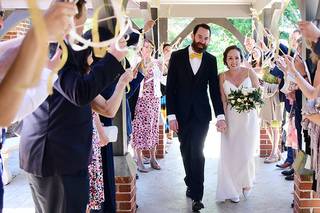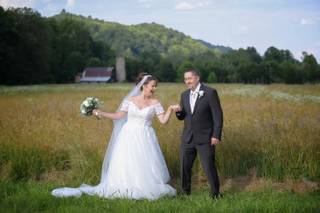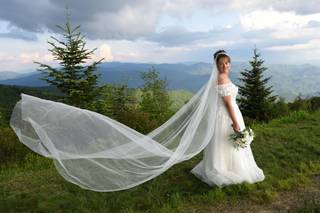 Courtney F.

Married on 05/28/2022

We would totally recommend Sarah!

Sarah photographed our May 2022 wedding in Asheville, NC. We appreciated Sarah's photo-journalistic style, and were excited to learn that she's laid back while still professional in her approach. We hired her for 4 hours to photograph the ceremony, a few family/couple portraits, and the first part of the reception. Sarah captured so many happy memories from our wedding, and all the silly faces our family and friends made along the way, which is exactly what we were hoping for. We would totally recommend her!

Kimberly V.

Married on 08/06/2021

Amazing Photographer!

I had just a small elopement to a wedding chapel due to COVID concerns but I wanted some professional photos to relive the day. Sarah was easy to communicate with via email and she was easy to pay as she offered several methods to send her deposit. She was very flexible with payment methods and let you know clearly upfront what her costs were.
She made sure to make contact shortly before the wedding to review what I was wanting and she even made a list of how it was to go with shot suggestions.
She was familiar with the area and had a great eye to take us to spots that offered amazing views and that looked great in photographs. She has a great artistic talent in finding the beauty in the simplest of settings and brings it out in her pictures. She was also easy going and made it feel like we had known her from before the big day. She was game for any idea we had for a photo. Highly recommended and I am so glad we had her to take our photos!

Kinari

Married on 06/15/2019

Amazing from beginning to end!

Sarah was AMAZING. I cannot even begin to tell you how amazing she was.
1. She was up for all of our ideas and we really loved talking to her while we figured out which of our ideas made sense and would look good. She told us about the trolley in Asheville and it was perfection! She mapped out an entire route for the several hours before the wedding and we went through downtown and through the River Arts district taking pictures with the wedding party. Plus, the trolley was super practical for taking pictures in multiple locations.
2. She had her teacher voice on when she had to get all the family together or the bridal party, or anyone for that matter- which we needed desperately. She made all the pictures quick and painless for everyone.
3. The pictures. They were so awesome! I literally cannot narrow them down right now.
4. She always responded right away. It was so helpful because I would only have little bits of time to plan but I could rely on her to get back to me whenever.

She was amazing. My maid of honor still talks about how awesome she is.

Are you interested?

Send a message

Lauren

Married on 08/11/2018

What can I say about Sadie (Sarah)? She is just the best! I planned my wedding in Asheville from Florida so I didn't actually meet her until a couple of hours before my wedding. From the very first email, I knew that I had made the right decision. Her attention to detail and commitment to capturing every beautiful moment of our day was apparent from the very beginning. And she is delightful! We now consider her not just a friend, but family. We LOVED hanging out with her on our wedding day. We LOVED that she managed to be everywhere all the time. I LOVED that she was a solid voice of reason to keep me calm when I was freaking out about being late to my own wedding. She knew the best places around the downtown Asheville area to get us some really beautiful shots and I absolutely can't wait to see them.

You get one shot (pun intended) at getting beautiful wedding photos. I haven't even seen mine yet and I know that they will be utter perfection. My husband and I paid for our own wedding and had to stick to a very strict budget, but agreed to not put a price on two things: an open bar and an amazing photographer. Her prices were incredibly reasonable and she even stayed past our designated hours because the party was still going strong. She went above and beyond in every possible way and we are so thankful for her. We love you, Sadie! Welcome to our family!


Meredith

Married on 06/16/2018

My husband Jeff and I would highly recommend Sarah Whitmeyer as a photographer. Sarah was great to work with both before and after our wedding. She made sure she delivered all of our requested shots, and went above and beyond to capture our wedding. Looking at the photos was like reliving our wedding, and even provided memories that we may have missed during the whirlwind day. We will treasure our photos forever.

Gabby

Married on 05/20/2018

Sarah did a wonderful job at our wedding. There was a thunderstorm and she was calm and collected throughout the entire process (which helped keep me calm and collected!). She was kind and upbeat and our guests frequently told us how much they enjoyed having her as a part of the wedding. She worked so hard on the day and was also very easy to communicate with before the day. I would highly recommend her!

Anna

Married on 07/08/2017

On my wedding day it rained, I got stung by bees, and all other hilarious and unexpected things happened and Sarah rolled with the punches and made me feel beautiful and just perfect. Working with Sarah was truly a dream. She was professional, calm, supportive, and put everyone around her at ease. I would recommend her and her team without reservation.

Rachel

Married on 08/06/2016

Sarah was an absolute pleasure to work with throughout the whole process! The professionalism, comfort, and fun she brought to our wedding day was perfect. Our families can be divas sometimes, but Sarah kept them on schedule while capturing all of our precious moments that day. She went above and beyond Stu and I's expectations! The open communication throughout the planning really put me at ease. I felt relaxed and confident during our photo shoot time thanks to Sarah - she even gave us a quick sneak peak of our pic while we were shooting, and AMAZING! Sarah is a true professional and any couple would be lucky to have her be a part of their big day!

Lauren

Married on 05/29/2016

Amazing to work with! We had such an amazing experience with Sarah and her team! Thanks again for making our day so special!

Janie

Married on 06/13/2015

Sarah was fabulous and so much fun to have involved in our ceremony. Lovely pictures. We also had the photo booth and it was a great addition to a fun reception!

Pixie

Married on 06/13/2015

Sarah was great to work with and is a very talented and creative photographer to boot! She was well prepared to capture our moments both posed and candid, and the photo booth we had as an add on was a terrific hit.

Mackie

Married on 05/16/2015

Obviously the photography speaks for itself but Whitmeyer Photography has a way of making you feel completely comfortable while they are shooting your wedding. Sarah and Rachael shot ours and I cannot express enough how wonderful they were! Thanks guys!!!

Ian

Married on 10/12/2014

To set the stage, I was a groom that was dreading being ordered around and having his picture taken all day. I can't express how much my fear didn't match up with the realities of the day. Sarah and her assistant Rachael were amazing. They put me at such ease and made it so I could feel normal and natural taking photos with my beautiful bride and our wedding party. They setup an amazing reveal / first look for us in a picturesque setting that made it incredibly special and intimate. They captured every part of the day beautifully, from the major moments of the ceremony to the small moments I shared with my now wife. I can't recommend Sarah enough, she certainly made our wedding a much more enjoyable experience and provided us with beautiful memories for a lifetime.

Sarah is everything positive that has been said about her on this site - to include her assistant. If you can't work with them you may wish to seek counseling. J Poland, Father of the Bride!

Meghan

Married on 09/19/2014

Sarah has to be hands down our favorite vendor! Sarah did such a wonderful job taking charge and getting the posed photos that we need but then her candid shots are perfect! Sarah's photos are breathtaking... I mean wow!

Stepfanie

Married on 01/28/2014

Sarah was in her element! She is incredibly talented and found spots to shoot our wedding pics that we never would have thought of! You will love her work. She's passionate about making your special day go smoothly, and she's committed to creating lasting memories you'll have for a lifetime. She's flexible, easy-going, and quick to find a solution when something unexpected comes up!

Elaine

Married on 10/13/2013

Sarah was awesome to work with. She was quick to email or call back whenever I needed her and she did a great job listening to me to make sure that our pictures reflected our wedding, silly and romantic. I would use her again in a heartbeat!!

Meghan

Married on 10/05/2013

I can't recommend Sarah enough! She was friendly and professional leading up to the wedding, and on the day of we couldn't have been happier with our selection. Her final work product was incredible quality with the artistic flair that we wanted. She also had a great way of dealing with people dynamics at the wedding and was fun to have present as part of our day!!

Emma

Married on 09/15/2013

Working with Sarah was a true Joy my Husband and I are so happy that she was such a big part of our wedding and captured such precious memories. I will definitely use her for any photography needs our family may have in the future.

Lauren

Married on 09/14/2013

Being a perfectionist my husband & I flew down a year before our wedding to meet with different vendors & fell in love with Sarah as a person & her photography. I was featured in a magazine spread in 2012, and the same National Magazine is featuring our September 2013 wedding-so there was pressure to find the best photographer in the Asheville area! Her prices were wonderful and what I really love is that she gives you a disk of all of your edited photos. Living in the NJ/NYC area & planning our destination wedding for over a year, Sarah was responsive & communicative via email & text & was happy to help in suggesting vendors in the area (side note if anyone needs a videographer her suggestion was WONDERFUL-Envision Event Media (Taylor Hellhake) was phenomenal!) Sarah has every couple complete a questionnaire in regards to the type of photos you are looking for and names of family members etc. a month prior to the wedding which I found very helpful & she carried out all of our requests. It means a lot to have a pleasant photographer who is easy to work with, not intrusive & makes you as well as your family members & friends comfortable-which makes it easy to capture "moments" instead of poses. A bride who paid MUCH attention to every little detail which I appreciate being captured, Sarah took it to another level by capturing loving/funny moments that are sentimental to us looking back on our special day. A few weeks after our wedding she posted a blog with about 50 photos-the final edited photos took about 8 weeks to edit & post. Upon booking we knew it would be 8 weeks-I was just a bride very anxious to see all the photos & getting very antsy, but in the end it was worth the wait & couldn't be happier with our photos & we appreciate Sarahs hard work during our wedding weekend & beyond. I am so pleased with our final photos & would recommend Sarah to any bride in search of a photographer!

Brittany

Married on 07/28/2013

Sarah and her team were EXCEPTIONAL - I seriously couldn't have asked for anything more. They captured our wedding perfectly and were there to catch every moment, from hair & makeup to our sparkler exit. I loved having two photographers so that they could get more of the wedding.

HIGHLY recommend!!

Mindy

Married on 05/11/2013

Sarah Whitmeyer was not only our photographer, she became a friend to our family. Sarah came in a took all my worries away on my wedding day. She was always early to each event with a smile on her face. It was evident that she loves her job of photography. Sarah is not only a wonderful person, she is also an amazing photographer. The images she captured will be forever in our hearts as we reflect on our special wedding day. Sarah captured moments that i didn't remember until I looked through all the photos. If you are looking for a fun, honest, reliable, caring, professional that takes amazing photos, you should have Sarah Whitmeyer as your photographer!

Kelly

Married on 04/20/2013

Sarah is a wonderful and talented photographer! We have had so many compliments on the quality of our wedding photos and how well she captured the day and all of the special elements. These pictures are a treasure and we will cherish them for the rest of our lives.

Elizabeth

Married on 02/02/2013

Sarah is awesome to work with. Couldn't have asked for a better person to keep me relaxed. She was with me from the Bridesmaid Luncheon to our final exit. Our pictures are amazing. She captured so many great moments along with all the shots we talked about. Photography was one of the most important items for me and I couldn't have been more pleased.

Erika

Married on 10/20/2012

Erin was an absolute pleasure to work with at our intimate wedding at a private home - she had great ideas for photos on the spot, was very flexible and had a gentle way about her with the kids that were present. Sarah worked with us on time and pricing given that we weren't doing a traditional big wedding which we really appreciated. Thanks so much ladies!
Are you interested?
Send a message