50 Reviews
Recommended by 100% of couples
Quality of service

5 out of 5 rating

Average response time

5 out of 5 rating

Professionalism

5 out of 5 rating

Value

5 out of 5 rating

Flexibility

5 out of 5 rating
1 User photo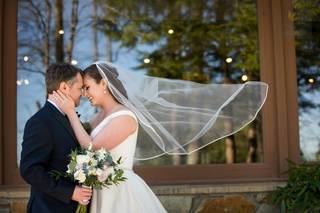 Sarah S.

Married on 03/21/2020

Amazing Photographer 12/10!

Sarah is such a skilled, amazing photographer! I loved her portfolio and knew she was the one. Sarah is always punctual, professional, and wonderful to work with! She is highly organized and an excellent communicator. Sarah prepared a very detailed photography schedule with us for the wedding day. Her vast knowledge and experience helped us decide which pictures to take on the wedding day. Sarah suggested portraits that I didn't even think of and was so glad she was there to guide us! This photography schedule was marvelous and kept us on track the entire wedding! She made taking our wedding pictures a lovely experience. I can't thank her enough. Highly recommend Sarah Slavik!

Rachel B.

Married on 02/29/2020

The best photographer in Georgia!

If you are looking for a photographer, Sarah is your person. 7 years ago I met Sarah when she was shooting my husbands cousins wedding. After seeing the pictures, I knew when I got married she was exactly who I wanted. She also did my sister-in laws wedding 5 years ago and I have never seen better pictures. When I received my pictures, I was blown away. She is very professional and even dealt with my two crazy Labrador retrievers. She was very easy to work with and really listened to what was important to me. I HIGHLY recommend and am so grateful for my amazing pictures.

Shawn

Married on 12/28/2019

You want her as your photographer

Working with Sarah has been an amazing experience. She is organized and takes time to talk to you as often as you need to. She is detailed oriented and she provides a very detailed photography schedule which really lets you know what is going to happen when. That way you get all the pictures you want and more. She even has a call list for each family member based on the group pictures you want. I highly recommend her as your photographer. The pictures came out amazing, Thank you Sarah!

Are you interested?

Send a message

Taylor H.

Married on 06/01/2019

She has it down to a science!

Sarah is an AMAZING wedding photographer. She's everywhere at the same time, yet she almost seems invisible. She was totally on point with all of her timing and stays ahead of the game months in advance. She was great with my dog, one of our ring bears, and was incredibly tolerant of our immature groomsmen. Her photos are phenomenal and she's a wizard when it comes to lighting. I couldn't be happier with how the photos turned out. I only wish we had more time to shoot more.
Thank you, Sarah! You're the best!

Lauren

Married on 06/08/2018

If you are looking for a photographer I HIGHLY recommend using Sarah Slavik! Once I met Sarah at the beginning of June I was impressed with the incredible photo books that showcased her talent as a photographer and I knew I wanted her to capture our engagement and wedding day instantly! Sarah was very accommodating and worked to get our engagement session booked around our busy schedules. My fiancé and I took our engagement photos with Sarah at the end of June and we were absolutely blown away with her talent, professionalism, and efficiency! I was at ease showing up to our engagement photos because Sarah gave us a time and address to park at which helped us tremendously in busy Atlanta! What stood out to us about Sarah is her eye for incredible lighting and unique poses. She was great at walking around and finding new locations. I was nervous going into the engagement photos because I did not know what to expect, but Sarah was phenomenal at making Jordan and I feel comfortable, helping us laugh, and capturing precious moments! Lastly, we were very impressed with Sarah's turn around time on our engagement photos because she is a very sought after photographer! We absolutely LOVE our engagement photos and cannot wait for Sarah to shoot our rehearsal dinner and wedding next June!

Monique

Married on 10/20/2017

Sarah was the most professional photographer I have ever delat with. Sarah's ability to capture the emotion in her pictures are absolutely stunning. She is very passionate, creative and amazing. My husband and I were so honored to have her as our photographer.

Tynaya

Married on 04/29/2017

Sarah is very professional and considerate. She is an amazing photographer! She has already done our engagement pictures and I cannot wait to for the wedding pictures April 2017! Sarah is creative and even willing to take requests. She really helps with the initial nervousness that goes with a camera being on you for several hours. Sarah is upbeat and personable. My fiancé and I loved learning about wedding traditions in her culture. I really love Sarah. She is even assisting with timeline and coordination of our days events from a photographers perspective.

Alina

Married on 10/01/2016

Sarah was our favorite person to work with throughout the entire wedding planning process, from our initial meeting with her through the processing of our wedding photos. Everything about her and her photography is personal, considerate, and professional. She has a genuine approach that results in amazing photos, and is such a pleasure to work with! She worked so hard on our wedding at The Fox Theatre -- an incredibly challenging venue to photograph. We knew she would do a great job, but were astounded when we got to see the photos! Her work is fantastic, she is responsive and flexible, and brings such a positive presence to any special event. Her pricing is also fair. We hope to work with Sarah again in the future and are recommending her to everyone!

Diana

Married on 05/28/2016

Sarah did an amazing job taking pictures at our wedding. We were an out-of state couple and weren't able to meet with her before booking, so instead we relied on email to communicate with her. She was very responsive, pleasant, and always very quick to respond to emails. We had a bit of a weird wedding day schedule, but she was more than happy to accommodate it and did a fantastic job. We absolutely love our pictures and can't wait to share it with our family.

Meredith

Married on 04/30/2016

Sarah is amazing to work with. She works well under pressure and knows what poses will flatter each of her unique clients. You'll enjoy working with her!

Kasey

Married on 04/09/2016

Sarah shot my wedding in April 2016. She was extremely caring and professional! She made me feel very comfortable and was extremely accommodating.

Deepika

Married on 02/20/2016

We had a small Indian wedding at the Hindu temple. It was a simple celebration with close family and friends. With no fancy decorations or attires, Sarah was still able to capture the ceremony so beautifully. Sarah was very professional and her expertise is evident through her work. It was our pleasure working with her. Hopefully we get to work with her on future events as well.

Ralna

Married on 01/30/2016

As is sometimes the case, our wedding did not go as smoothly as planned. However, there was one part of our wedding that was exceptional: our photographer. Sarah came highly recommended to us, and she certainly didn't disappoint. She really impressed us with all that she did from beginning to end to capture our special day for us. For example, she scouted our wedding and reception venues in advance for the best places to take photos, and she advised us about the best time for our ceremony so that we'd be able to take advantage of the best lighting for outdoor photos. On the day of our wedding, she was the picture of calmness and helped us both to relax and enjoy the day even during the stressful moments. Because we planned our wedding from abroad, we were not able to meet with her in person, but this wasn't an issue. Instead she was available for Skype calls and always answered our emails promptly. In short, Sarah was a dream to work with, and our photos turned out beautifully. We definitely recommend her to anyone who's looking for an exceptional photographer.

Rolanda

Married on 10/24/2015

Sarah and Slava were a pleasure to work with. After reading amazing reviews online we decided to book them for our wedding day. They ended up shooting our engagement pics as well which turned out beautiful. Sarah and Slava showed up on the day of the wedding right on time. They met us at the hotel I was staying at and got some of the most fun shots of my bridesmaids and me getting ready. The shots taken at the venue were no different. The pictures were beautiful and I felt like they really captured all of the details of the day. They werent in the way like some photographers can be. After the wedding we received previews in a week which was pretty fast. Bottom line is, if I had to choose them all over again I would. They are great photographers who have a passion for what they do and they really know what they are doing.

Vanessa

Married on 10/11/2015

I am upset I cannot rate them as a 10. If you have the option to choose Sarah and Slava as your photographers then you better not think twice. I PROMISE YOU WILL NOT BE DISAPPOINTED. I am already thinking of other special events in my future to plan ahead and book this couple just to have them around again. I cannot even think of a better word to describe them other than PERFECT….. I am fortunate to have had them photograph our engagement photos and our wedding. You can tell they truly care about their work and your happiness. They bend over backwards for their clients and are very professional with how they perform.
Thank you so much for capturing every special moment and absolutely everything else that you have done for us. You have gone above and beyond in not just our photos but with our gifts to our groomsmen as well. We will see you again soon.

Kelli

Married on 10/03/2015

Literally could not have asked for a better team to photograph my husband and I. The quality and care Sarah and Slava provided on our consultation visit, the day of activities, and the choosing photo album are best in class. My husband and I were blown away when we received the unedited photos, they were simply breathtaking. With so many great photos to choose from, Sarah has the perfect process to help the couples design their photo albums that are top of the line in terms of quality. We thoroughly enjoyed working with them and would choose them time and time again.

- Kelli + Brian Buchanan

Holly

Married on 09/19/2015

Sarah and Slava were the most amazing wedding photographers we could have asked for. Five years ago they did the photography for my brother and sister-in-laws wedding, and I knew I wanted them to do mine someday. Not only are they such a joy to be around, but they are very skilled at what they do. They were able to capture such perfect moments from my wedding day. The equipment they use produces top of line photographs, and they have such a great eye for capturing the perfect photo. I would absolutely recommend this lovely couple to anyone looking for a wedding photographer.

Daniel

Married on 09/12/2015

If you need a photographer who will work tirelessly to make sure that everything about your wedding day is perfect, strive to make sure your every need and desire for how you want things to be is met, and guarantee that you'll have a hell of a lot of fun doing all of it, look no further than Sarah and Slava Slavik. These two are absolute professionals who know the ins and outs of the photography business like nobody's business.

My sister used them for her wedding last year, and I was sold right then; even though my wife and I did plenty of due diligence looking around and seeing who the best photographer available is, we eventually came to the (relieving) conclusion that you can't do any better than Sarah and Slava.

When you're working with them, they're great at keeping you engaged, happy, and composed. They scheduled the day piece by piece with us, making sure that they were there to best document every step of the way. They also each have their own strengths and techniques, playing off each other and making everything all that much better.

And finally, and arguably most importantly, the final product was uniformly perfect. A heaping set of beautiful photos that we'll enjoy forever. We could not be happier.

Stop looking around - you've found your photographers. Thanks for everything, guys!

Terri

Married on 08/29/2015

I am the Mother of the bride and a professional photographer. Needless to say, one tough customer! Sarah & Slava are not only incredibly talented, but are perfect professionals who put their heart and soul into everything they do! I have 2 more daughters, I will absolutely call on them again!!!
Terri Dinardo

Jennifer

Married on 07/31/2015

I cannot say enough wonderful things about Sarah Slavik photography. They made the entire process so much easier and so enjoyable. Brian and I aren't that photo-taking couple. Honestly, we felt uncomfortable about the entire process, but after taking our engagement photos with the Slaviks we got a little more comfortable with the process and, heck, even enjoyed it a bit. The pictures turned out wonderful as did our wedding photos. The Slaviks are super responsive and great to work with. They give you as much or as little direction as you need. And one thing most people don't realize when booking a photographer is that most of the time you are only getting one photographer and maybe an assistant. If you book the Slaviks, you get TWO amazing photographers with both Sarah and Slava. You really cannot beat that. I would recommend them to all my friends. In fact, I have already recommended them, but my friend was too slow to book them and lost them unfortunately to people who also know how great the Slaviks are. So, my recommendation is to not wait and get on their site and check them out. You can see other reviews at their site at: http://www.sarah-slavik.com/info/reviews/. Don't wait. We loved our photos and working with the Slaviks and you will too :)

Abigail

Married on 06/27/2015

Sarah and Slava photographed our wedding in June 2015, and we could not have been happier with their services. I had been in the bridal party for two weddings that they had previously photographed, and knew that I wanted them to do my wedding photos as soon as I got engaged. My now-wife was more hesitant, until we went and met Sarah and Slava. After spending some time getting to know them, she was as set on them as I was. They helped us plan out how much time we would need for each section of our day, and scouted out the area and the lighting for the ceremony and the reception. They were easy to work with - willing to be as hands-on or hands-off as we wanted, and were easy to communicate with leading up to the wedding.

The day of our wedding, they were amazing. They were everywhere, getting pictures of all of the details, but were never in the way. When Sarah was taking the bride's portraits, it began raining, but Sarah took as many pictures as possible, getting herself soaked in the process. Slava was able to make my wife's brothers smile for the family portraits - the first time that's happened in years! They were both so excellent working with the family and the bridal party, to make everyone feel comfortable and smile. They were great at positioning everyone so that the pictures looked natural, not stilted. And they were always on the lookout for an interesting photo - asking us if we wanted to try various locations when the lighting hit just right (we got a beautiful sunset photo that was not planned beforehand).

Their turnaround time was also surprisingly quick. We got all of the edited photos back long before we expected, and they sent us a very professional looking CD and a USB drive with the photos on them. We were so happy with the photos - my wife has spent far too many hours looking over them giddily.

All in all, we couldn't recommend Sarah and Slava more.

Malisa

Married on 06/26/2015

My husband and I could not be happier with the services we received from Sarah and Slava! We hired the Slaviks to photograph our destination wedding in St. Lucia in June 2015. Initially, we planned to hire a photographer in St. Lucia our wedding planner recommended. However, after viewing the quality of the photographs online, we chose to hire a local photographer. After seeing several friend's wedding pictures, it was very important to the both of us to have high quality photographs. I was referred to Sarah and Slava by a friend/colleague who hired them for her December wedding the year prior. From the moment we met them in their studio, we knew we wanted to hire them as our photographers. Planning a destination wedding can be overwhelming at times, but Sarah and Slava helped make the entire experience smooth and enjoyable. They traveled with our family and friends to St. Lucia for the wedding, and everyone commented on how professional they were without being intrusive. They are extremely friendly, fun, and kind people. We felt like they were part of our family by the time our wedding was over. On many occasions during the week, they went above and beyond to truly make our wedding a magical experience. On the morning of our wedding, my husband and I decided to take a walk on the beach to discuss what was important for us to focus on during the ceremony/reception. While Sarah and Slava were at breakfast, they noticed us walking on the beach, so Sarah ran to her hotel room to grab her camera to take pictures. At the time, I didn't think it would be important to capture that memory, however, we decided to include one of the pictures in our album to help us remember every moment of our special day. If you are considering hiring a photographer, especially for a destination wedding, be sure to do your research. There are so many wonderful things we could say about Sarah and Slava. They are simply the best and we would gladly give them 10 stars if we could!

Claudia

Married on 06/13/2015

Sarah and Slava are great! The pictures of my daughter and son in law's wedding were amazing. They were there for the entire event and never interfered with any of the activities, but captured every moment. I can truthfully say, I do not think I have ever seen better wedding pictures. We received the initial proofs (over 900) within 2 and 1/2 weeks and the initial draft for the album shortly after. The album was put together to show the events of the day. It was wonderful! They are truly 5++++++ stars!

Erica

Married on 05/23/2015

Sarah and Slava Slavik are amazing photographers and made my wedding a day I will never forget. Before my wedding, they walked us through our wedding package at length at their beautiful studio in Kennesaw. On the day of the wedding, they had the perfect balance of being omnipresent, yet not intrusive. It was great to have a team of two photographers so that each moment was captured from different angles and perspectives. They knew our wedding venue well and knew which places were the best spots for photographs. It made the process very seamless, and did not leave our guests waiting long when my husband and I took our couple photos after the ceremony. They were also great at giving us direction for portrait poses, which made my husband and I feel very comfortable. I am so thrilled with how the photographs turned out. Sarah and Slava made each guest at our wedding look like their best selves in each photograph. If you are looking for elegant, classy, and timeless photos, then Sarah and Slava are your photographers!

Catherine

Married on 05/02/2015

Our photographers for life!! I first met Sarah and Slava as a bridesmaid at a dear friend's wedding in 2007. What impressed me most was their shooting style. They have a special way of capturing every moment without being obtrusive. When it came time for us to select photographers for our Atlanta wedding, I knew just where to turn.
From a destination engagement photo session to capturing intimate moments at our engagement party, Sarah and Slava gave us everything we could have asked for and more! Having just viewed our wedding photos, we felt as if we were experiencing our day all over again. Our friends and family loved working with them and are equally amazed by their work! We can't recommend them highly enough!! Professionals with true talent, yet sincerely humble and so sweet we wished we could have had them as guests.
Are you interested?
Send a message