29 Reviews
Recommended by 100% of couples
Quality of service

5 out of 5 rating

Average response time

5 out of 5 rating

Professionalism

5 out of 5 rating

Value

5 out of 5 rating

Flexibility

5 out of 5 rating
Awards
32 User photos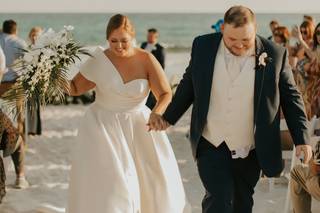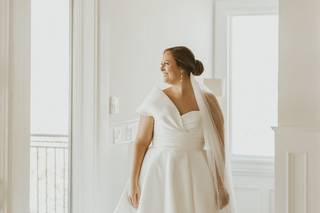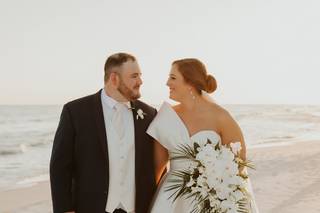 + 28

photos
Catherine S.

Married on 09/24/2022

Best wedding photographers ever!

Sarah & Paul did a phenomenal job capturing every detail of our wedding day. Sarah and her second shooter were so kind, fun, professional and efficient! They made us feel so comfortable as if they were just another family member at the wedding! They captured so many special details. As a destination bride, I did not get to meet any of our vendors in person before our big day, but I could not have chosen a better photographer. At the end of the day, when the wedding is over, all you truly have is the photos and video. We will always cherish our photos and can't wait to share them with generations for years to come. Hiring Sarah & Paul as our wedding photographer is one of the best investments we have made and worth every penny!

+ 3

photos

Sarah & Paul Photography's reply:

Thanks so much for your kind words! We truly are thankful that we had the opportunity to photograph your wedding day!

Erin K.

Married on 01/09/2022

The BEST photography team!

Sarah and Paul were a DREAM to work with! They are so sweet, accomodating and flexible the day of the wedding! They had visions and helped us get awesome shots but also listened to what we want as well. We saw some sneak peeks of the photos and they already look AMAZING! Cannot recommend them enough!

Haley V.

Married on 07/07/2021

Outstanding!

Oh my gosh I can't express enough how amazing Sarah and Paul are!! They are so flexible and amazing at what they do! They communicated with us all along the way and provided us with a survey to ensure we got the photos we wanted and to get to know us a little better! When they got there one of my bridesmaids had a wardrobe malfunction so our timeline got thrown off and didn't get to do our group photos preceremony but Sarah was outstanding at having a plan B! We got amazing photos that I didn't even think to get. Then post-ceremony we STILL got ALL the photos I wanted plus some!! Both Sarah and Paul work so efficiently. They are so personable it felt like our longtime friends were taking our photos! Additionally, their pricing is so incredibly aligned with the quality and quantity of photos you receive! We received an abundance of fully edited photos and they are all so beautiful. They captured our most special day so perfectly. In the photos you can truly see all of the emotions going on the day! They are so truly incredible I can't thank them enough. I want to get married again just so I can hire them again lol! If you are on the fence about who to hire for a photographer look no further!! They are worth every penny!! Love love love!!

+ 14

photos

Sarah & Paul Photography's reply:

Thank you so much for your kind words Haley! We truly could not be more thankful for the opportunity to document your wedding day. You and Trey were definitely a pleasure to work with, and made our job super easy. All of your friends and family were very nice and so hospitable. We are so thrilled that you guys love your photos! We wish a long and happy marriage to you guys, and all the best. Thanks again!

Are you interested?

Send a message

Agar N.

Married on 10/08/2020

Cannot recommend them enough!

We had THE BEST experience with Sarah and Paul. 5 stars don't do it justice. They are passionate, they compliment each other and work pretty good together, to the point that their good vibes got to us and we were so relaxed and confident. The atmosphere they brought with them was awesome, to the point that EVERYONE loved them and were so happy with them. We had endless compliments from our family and friends. If you are in the area do not hesitate to contact them. We really loved working with Sarah and Paul, they were prompt to answer our questions and clear our doubts too so that is an A plus. Thank you Sarah and Paul for being part of our perfect day and for making it even better! We wish you love, happiness and a very successful business for the years to come. 1,000,000% RECOMMENDED!

Sarah & Paul Photography's reply:

Thanks so much for your kind words! We really enjoyed working with you guys. It was truly a pleasure meeting your friends and family. Everyone was SO nice and hospitable. You all seemed so close with each other in a genuine way. We could have gone on for hours and days taking sunset photos of you two! :) All that to say, we are truly grateful to have had the opportunity and privilege of being a small part of your special day. Hopefully we will see you guys again soon!

Lauren G.

Married on 04/25/2020

The best team!

We absolutely loved having Sarah & Paul as our photographers! They make such a great team and were so fun to work with. Not only are they amazing at what they do, they are also extremely kind, helpful, calming, and fun. Having great pictures to look back on from our big day was one of the most important things to me—so just seeing a sneak peak of our wedding photos, I know we know we made the right choice in choosing them. I would highly recommend Sarah & Paul!

Sarah & Paul Photography's reply:

Thank you Lauren for your kind and generous words! We had a great time working with you guys. You, Matt, and all your friends and family were a joy to work with. You guys made our job so easy! We are thrilled to have had the opportunity to photograph your wedding day! Thanks again :)

Susan

Married on 10/26/2019

Wonderful Experience!

Sarah & Paul Photography were recommended to us by our planner. Our planner arranged for us to meet with Sarah. When we walked away by fiance said "I feel like we would be friends with her if we lived here." That sentiment rang true throughout our experience with Sarah. She is so friendly and makes you feel so comfortable that you almost forget you are being photographed. Which was a relief for both of us as we don't love to be photographed. An engagement session was part of the package that we bought, but opted not to do an engagement shoot. Sarah offered to shoot our rehearsal dinner instead. We did a beach bonfire so we are excited to have pictures of that unique experience with our friends and family. Sarah is a talented and professional photographer but also a genuinely kind and friendly person. If you hire her you will feel like you are being photographed by a friend and your pictures will be beautiful.

Sarah & Paul Photography's reply:

Wow! Thank you so much. You guys are such awesome people. I really appreciate your generous words! May the force be with you!! That Throne Room and End Title song was the best btw :)

Hope B.

Married on 10/05/2019

Worth every penny and pose!!!

Sarah & Paul are absolutely fantastic. Friendly, professional, cost-effective, and talented!

Sarah & Paul Photography's reply:

Thank you so much for your kind words Hope! We greatly enjoyed working with you and Jorge. The venue was so beautiful and the sunset photos with you guys were epic. All in all it was a perfect day for a wedding, and we are very thankful that we had the opportunity to capture some of it for you guys! :)

Alexandra

Married on 10/04/2019

Not enough words!

Honestly though. Sarah and Paul were absolutely the right pick for us! They were an absolute blast to work with and the photos... I mean, incredible. I could have not asked for a better experience; these two blew it out of the water as our photographers and I'm so grateful for the amazing job they did on our photos. Absolutely choose them for your next event, they will not disappoint!!!

+ 2

photos

Sarah & Paul Photography's reply:

Thank you so much for your kind words! You guys were incredible to work with as well! :) Also, you had some pretty sweet dance moves on the dance floor!! :)

Tina

Married on 05/27/2019

We love our wedding pictures!

Loved the pictures! The emotions and the story has been captured perfectly! Paul was nice to work with and was serious with his skills. We had a great time working with him as our photographer.

Sarah & Paul Photography's reply:

Thank you Tina for your kind words! I had a great time working with you guys! You guys were super easy to work with and very nice! I appreciate the opportunity to capture some of your wedding day!

Lysbeth

Married on 09/29/2018

I loved the proffesionalism of Sarah and Paul, lovely couple with an amazing talent to take the most beautiful pictures!!

Sarah & Paul Photography's reply:

Thank you so much!! Your wedding was beautiful. You guys were truly easy and fun to work with. Thank you guys so much for the opportunity to capture your story!! :)

Rebecca

Married on 06/30/2018

Sarah and Paul were awesome to work with, they help make you feel comfortable and never leave you confused with what they need you to do. I would highly recommend them. We loved having them photograph our wedding

Sarah & Paul Photography's reply:

Thanks so much for your kind words Rebecca! We were so thrilled to not only photograph your engagaement photos but your amazing wedding day as well! Thanks again!

Sioney

Married on 04/21/2018

Where do I begin?! So, we were only a few months away from our wedding day when I realized there was one major thing missing - a great photographer. After hours upon hours of research, I somehow found Sarah & Paul's storefront. After reviewing this along with the external website, something sparked within me. The pictures that I saw were a reflection of what I wanted for my day, but, I knew this was only half the battle. The other half was feeling a connection with the person behind the lens. I reached out and connected with Paul. The rest of the story is one that I would call an absolutely magnificent work experience!

My husband and I don't live in Destin, but Paul wanted to meet us face to face before the wedding, and we were only too happy to oblige. He took more than an hour getting to know us better and by the end of that meeting, I truly felt like we were friends! This experience was critical for the 3 of us to feel comfortable with one another on the big day! Paul was an awesome professional throughout the entire experience - he provided advice, but wanted to make sure that he captured what we wanted above all.

So to end this review, we want to talk directly to Sarah and Paul....
S&P, thank you so much for making our day so very special. You're the first vendors we are writing a review for, and we could hardly wait. We appreciate your warmth and professionalism just as much as we do the beautiful pictures that you've taken of us. For that, we are forever grateful and hope that many others will see through this review how special you are. From, S&P

Sarah & Paul Photography's reply:

Thank you so much for your kind words Sioney! It was honestly such a pleasure getting you know you and Patrick. You both were such a joy to be around and photograph. Your wedding day was so special, and all of your family and friends were so hospitable and nice. I definitely had a great time and feel to honored to have had the privilege of capturing the special memories from your guys' wedding day! Thanks again!

Amanda

Married on 03/27/2018

AMAZING!!!!! I seriously cannot even with Sarah. I am so grateful to her for the work she did with my wedding. She went above and beyond the call of duty and I can't even begin to put into words how grateful I am for her. She was so friendly and always had a huge smile on her face. We're not a bunch that is used to getting on camera, and she made us all feel SO comfortable. I am so glad I chose her to capture our memories. She paid attention to what I wanted and what was important to me. I highly, highly reccomend this team!!!!!!!!

Shelby

Married on 03/24/2018

They were amazing and extremely professional. We worked with Paul and he could not have been nicer or more accommodating. His pictures were amazing as well.

Sarah & Paul Photography's reply:

Thanks Shelby! So thankful I had the opportunity to capture these special memories for you guys!

-Paul

Christina

Married on 02/03/2018

Sarah and Paul were so awesome to work with! They photographed our wedding in Pensacola. They made the whole process easy and fun. I love the style of their photos, it is exactly what I envisioned!

Sarah & Paul Photography's reply:

Thank you so much Christina! That means so much to us. We really enjoyed photographing your wedding!

Shannon

Married on 09/03/2017

My husband and I got married over Labor Day Weekend in Miramar Beach (which we had never been since we are from Iowa). As soon as I saw Sarah and Paul's style I knew I had to have them. They were so prompt with their responses and I could tell they were passionate about their work right away. They made our wedding day even more laid back and never awkward. Not to mention they were rock stars with all of the kiddos in our wedding!! It was so great to work with such a sweet, genuine, funny couple. I would recommend them over and over again!

Sarah & Paul Photography's reply:

Thank you Shannon so much for your kind words! We had a great time meeting you guys, and were so excited to be a small part of your wedding day. :)

Will

Married on 06/10/2017

From the time I contacted Paul he was utmost respectful and responsive, not to mention genuinely excited to capture such a special moment in my fiancé's and my life. He was incredibly flexible and able to work with the exact image I had in my mind for the surprise proposal. The photos blew both of our expectations away and we couldn't be happier to have these for the rest of our lives. If we had to do it all over again, we would do it the exact same way and go with Sarah & Paul Photography.

Caryn

Married on 03/18/2017

Sarah & Paul are simply the best! They make you feel so comfortable around them. My Husband hates taking pictures but, he didn't mind doing it because Sarah and Paul were so good at what they do.They did our Engagement session and they did our wedding and they just did a fantastic job! I wouldn't want it any other way and I was so pleased with everything. I would so recommend you book with them. You don't want to miss out on good photos!

Kristina

Married on 02/04/2017

My husband and I found Sarah & Paul through a Google search and instantly fell in love with their style. They were prompt in their replies and so open to working within our budget – we were SO thrilled!

A few months before the wedding, we had a chance to meet with them in person over coffee. After chatting with them, my husband and I both had the same thought – we couldn't have picked a better photography team! They are so genuine and kind and so easy to talk to. We knew they were sincerely interested in us and fully invested in making our day spectacular.

For the day of, Sarah & Paul seriously made us feel like rock stars! My husband and I are usually pretty awkward taking photos, but they made us feel super comfortable. They knew exactly what to say and how to guide us. They have such a positive energy and kept the environment fun and upbeat. I was getting comments left and right about how enjoyable they were!

Sarah & Paul are simply phenomenal. Their work is stunning! Not only are they amazing visionaries, they are such beautiful people. We have no doubt we made the best decision with Sarah & Paul. They were absolutely perfect and we are so blessed to have found them. We couldn't have been happier with our photos and our experience with them! They will always be our photographer of choice!

Hannah

Married on 10/01/2016

Sarah and Paul were fantastic! They were super easy to work with and made my husband and I feel comfortable and relaxed on our wedding day. We adore our photos and couldn't have asked for better photographers!

I highly recommend Sarah and Paul. They were very accommodating and flexible. My husband and I are both very shy and introverted but Sarah and Paul made us feel very comfortable in front of the camera. They are creative, have many wonderful ideas for unique photos, and are also open to new ideas should you have any. The photos are absolutely breathtaking. Really, really breathtaking. I would hire them again and again without a second thought - really amazing couple, really amazing photographers.

Sadie

Married on 08/22/2015

Sarah lyn made the day! Her positive spirit and joy calmed the atmosphere. She made me feel like a million bucks.
She was always snapping photos and had very creative ideas. I would highly recommend her and Paul for their A+ work ! Very very talented!!!!!!!!

Andrea

Married on 08/15/2015

I was really nervous about finding a good photographer for our wedding, for me it was the most important piece of our day! After looking at the blogs and portfolios of countless photographers, we decided that we liked Sarah Lyn's style the best. We were able to get our engagement photos done with her when we visited in advance of our destination wedding, and we loved all the photos. Everyone that we showed them to thought they were awesome. In fact, I referred one of my friends who was looking for someone to do family photos while they were on vacation to Seaside to Sarah, and they were very happy with their photos as well!

Sarah is very friendly and easy to work with. She makes people feel really comfortable during photos that would otherwise be awkward. I love her candid style, we really wanted someone who would capture all the little moments of the day and also get the formal portraits. We're so glad we chose her to take photos of our big day and we can't wait to get the finished results!

Thuan A.

Married on 05/23/2015

Sarah Lyn and husband Paul are really down to earth, easy going, and great to work with during our reception. They were able to cover all the photo shoots we requested, so we are really pleased. We had a lot of compliments on great choices for our photographer, and we would recommend Sarah Lyn Photography to anyone who will have a wedding in Destin, FL.

Haley

Married on 05/16/2015

Sarah and her husband, Paul, were amazing to work with!!! I have never felt more comfortable and relaxed in front of the camera than I did on our wedding day. They both bring such a positive, upbeat vibe from the moment they arrive. My family is still talking about how they were all over the place getting tons of candid shots. They really know what they are doing! We are from New Orleans, LA and travel to the Destin area quite often... so I cannot wait to take family pictures with her in the future!!!!
Are you interested?
Send a message