53 Reviews
Recommended by 99% of couples
Quality of service

5 out of 5 rating

Average response time

5 out of 5 rating

Professionalism

5 out of 5 rating

Value

5 out of 5 rating

Flexibility

5 out of 5 rating
41 User photos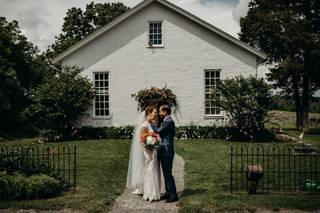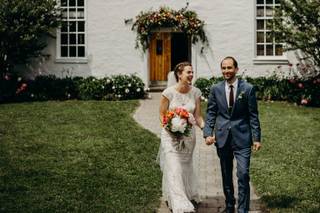 + 37

photos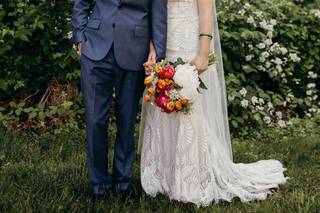 Sarah C.

Married on 10/08/2022

Stunning photos, great experience

When planning our wedding, I knew that one of my top priorities would be to find an amazing photographer. Sarah was recommended to us by the person who designed our wedding invitations (so I knew that I would probably like her since we had similar taste!) Once I checked out Sarah's website and we first met over zoom, I knew that I wanted her to be a part of our day. I appreciated how transparent and simple her pricing is. She also has a very calming presence that I knew would put my husband and I at ease during a busy wedding day. During the wedding day, Sarah was extremely organized and helpful at directing family and friends. At other weddings, I often notice that the videographer and photographers because the flashes and running around can get pretty distracting, but Sarah somehow managed to get all the shots while remaining unobtrusive! We recently got our wedding photos back and are just thrilled with how they turned out! Receiving the flash drive with all the files in a beautiful box with several gorgeous prints was a real treat and surprise! Many of our friends and family have commented on how artistic and beautiful the shots are. I love her use of light and the thoughtfulness of the composition. We were also super impressed by the number and variety of shots she got of the day with just one photographer! My husband and I are still reminiscing about how perfect our wedding day was. If we could do it all again just to re-live the day, we would and we would definitely book Sarah again.

Jane P.

Married on 05/28/2022

Absolutely gorgeous photos!

Having seen samplings of Sarah's work, we knew her style of photography was how we wanted to remember our wedding day. But we were still blown away when we received our album of photos (a speedy ten weeks after our wedding day, even though it was the height of her busy season!!) The photos are glowing, capturing the character of the church, the wedding venue, and the feeling of the day. Most important to us were having photos that felt unposed (and lots of true candids of ourselves and our guests!) and Sarah's eye truly shines here - we relished seeing the moments we had missed as our guests celebrated, saw old friends, held new babies, shared personal moments, and joined with us in our joy. She captured all the precious moments of the day, from the friends in the middle of cooking over the fire, to sweet candid moments with our parents, siblings, and nieces, to dazzling moments on the dance floor. Our couples pictures were gorgeous, and Sarah directed us through that session efficiently and kindly - helping us feel comfortable and giving us beautiful pictures that feel as dreamy and romantic as the day itself. She also captured so many candid moments of sincere emotion between us, which may be our most favorite photos of the day. Sarah was also an extremely discreet presence during the wedding ceremony and reception. You hardly felt her presence (outside the formal photography moments), and yet she managed to capture the perfect moments from the perfect angle. At the same time, she did a fantastic job managing our large family during the formal portraits session, making it brief, efficient, and producing simply charming, human, yet traditonal photos we will treasure for years. We already look forward to reliving the day with our children and grandchildren, and are so grateful that we will Sarah's pictures to give them such a true window into our special day. We are so happy we chose Sarah to photograph our wedding and recommend her to absolutely everyone. Thank you, Sarah, for sharing your exquisite eye, your wise guidance, and your talent with us!!

+ 3

photos

Anna C.

Married on 05/14/2022

Sarah is a dream to work with!

Sarah facilitated the most relaxed, creative, inspiring and grounded experience when she photographed our wedding. She is a total joy to have at any event and WOW are her photos gorgeous! She really listened to each and every preference that we communicated beforehand, and made everything work efficiently, professionally and beautifully throughout the entire process.

Are you interested?

Send a message

Courtney P.

Married on 09/04/2021

LOVED everything about working with Sarah!

Sarah photographed my rehearsal and wedding in Chestertown, MD. She was so sweet and helpful throughout the planning process, amazing on the day-of, and turned around the photos in reasonable timing. I absolutely loved our wedding pictures, and I cannot believe how much coverage we got from the day without a second shooter...she did us right! I highly, highly recommend Sarah - would not have changed a thing ❤️

+ 2

photos

Maire

Married on 09/19/2020

Documenting Dream - Spectacular Photos

Sarah did a phenomenal job at documenting our wedding! Her flexibility, kindness, and consideration were outstanding. I am absolutely obsessed with our photos (we only have the preview) and cannot wait to see the rest! She is a magician with lighting – the pictures seriously look like they came straight out of my dreams. Furthermore, doing anything during COVID is a challenge. Sarah was able to accommodate two date changes, and facilitated us being able to gather safely with 1/10 our original guest list. Thank you Sarah!

Jessica S.

Married on 11/17/2019

Absolute joy

It took me almost 2 years to write this review! I was going through our pictures for our upcoming anniversary and still amazed how each moment was captured beautifully as if time just stopped. Im soooo happy we found Sarah for our wedding, from the start to finish, she was there and gave us tips on how to pose (we were quite awkward when it comes to posing in front of camera) the way she worked w natural lights to bring each photo alive. At the end, she sent us a keepsake glassbox w few of our favorite pics and more and it was just beautiful and thoughtful. Thank you and thank you again

Sharon S.

Married on 10/26/2019

Absolutely Phenomenal

If you have the opportunity to work with Sarah, you must take it! Sarah was absolutely incredible to work with and we could not have asked for more beautiful photos. She worked with us beforehand to get an understanding of what we were looking for and then produced photos that truly captured the spirit of our wedding and our guests. We could not be happier and could not recommend her more.

+ 2

photos

Sarah

Married on 08/04/2018

Absolute joy and incredibly beautiful work!

Sarah was incredible to work with!! I feel so lucky to have been able to book her as my photographer for my wedding day. I discovered her beautiful work through a friend and immediately reached out to her for an inquiry. She was very quick to respond, and upon meeting, my husband and I felt very comfortable with her being our photographer. Sarah is one of the kindest and gentlest souls. On the day of our wedding, she made me feel super calm and at ease. I felt with Sarah around, all my worries melted away. When we got the preview of our photos, I was blown away by the beauty of her work. She captured our day so intimately. I loved her art direction for our first look photos, and it was so fun for my husband and I to relive the moments captured by Sarah. When we got the final set of our photos, I was beaming with so much joy and excitement. They were amazing. We were absolutely in love with our photos. We immediately shared our photos with family and friends and they were all praising how amazing the photos were. Sarah has such a beautiful artistic style and just such a great person to work with. We're so happy to have these for the rest of our lives. I highly recommend Sarah!!

Janene N.

Married on 05/08/2018

Sarah captures so much emotion of the day in her photography

Sarah is hands down the best photographer in the DMV area. We used her for our engagement, private church ceremony as well as our big reception for all of our friends and family and the pure emotion she is able to capture transports us back to that day every time we look at our photos! I found her after one of my friends had used her for their wedding. I love the little moments that she captures, many that I didn't even see that day, but now have to remember forever in her photos. Her point of view is so thoughtful. She takes the ordinary and makes it extraordinary and that's why I love her style so much. She so creative, taking us into the woods capturing some incredible shots. I love working with her and have even used her for some other professional projects. That's how great she is! If you have found Sarah here, look no further and book her immediately!

+ 5

photos

Kelli

Married on 10/07/2017

I'm so grateful that we were able to have Sarah as our wedding photographer! She is INCREDIBLY talented and so gifted at capturing special moments that are beautiful and artful without feeling contrived or forced which was extremely important to me. And just as notable, she is a pleasure to work with. We planned our wedding on VERY short notice (it was one of the great miracles of our wedding that she was even able to make herself available) and we had a extremely tight timeline for taking photos before the ceremony. Through all of that, Sarah's kindness and calming presence helped me and my husband relax and enjoy what could have been a stressful 45 minutes. As a result, I have fond memories of that portion of time because we were able to have fun and it definitely shows in the photos ... it's hard to hide stress from the camera! Lastly, while she's sure to cover your list of must-have photos, she also has great intuition and found ways to capture intimate or subtle moments with people that have a special place in our hearts. Some of my favorite photos were candid shots of my 4-year old niece and my husband who have begun their own love affair (it makes me melt!) and me with my 90 year old grandmother who almost couldn't make it to the wedding.

So if you have the opportunity to have Sarah as your photographer, DON'T HESITATE... I wouldn't have wanted anyone else capturing our memories on such an important day and it's her I'll be going back to for other milestones in our lives!

+ 7

photos

Sarah's photography was simply one of the best investments we made for our wedding. She's friendly and calm and professional, made us feel at ease when neither of us have any experience being photographed, and seemed almost invisible during our ceremony (in a good way!). Our wedding photos captured every emotion and so many thoughtful angles that it was nearly impossible to try to narrow down our favorites to frame or include in an album. They are beautiful and perfect. I really can't describe enough how meaningful her photography was to remembering our day, or how lucky I feel that she was able to work with us.

Emily

Married on 10/08/2016

Sarah was phenomenal. She made myself as well as the rest of the wedding party/guests feel at ease and relaxed. our wedding day consisted of clouds and rain but Sarah did such a great job that wouldn't even know it was a gloomy day from the pictures. Sarah had amazing ideas of how to make our pictures turn out perfect and I couldn't have asked for a better photographer.

Abbey

Married on 06/18/2016

Sarah is a professional photographer in every definition available. Her poise, demeanor, assurance, and confidence made me and my FH relaxed and able to enjoy the whole wedding day experience. She was responsive, and listened to our wishes. She even scoped out our location the day before for great shots. I knew the pics would be amazing, but honestly they were better than amazing. Each picture she took shows the joy and personality of ourselves, our guests and she somehow captured all these emotions in a picture. Her photos bring an instant smile to my face and brings me right back to the day. She is absolutely the best and you will not be disappointed in even one picture that she takes. She is truly gifted!

Angela

Married on 05/15/2016

We cannot praise Sarah enough. She photographed our wedding in May and we are absolutely in love with her work. From our first meeting, she was incredibly professional and organized. She was a calming influence throughout our planning process and on our wedding day. Our family and friends are still talking about how beautiful our photos are. She captured so much of the love and joy that we felt on our day. Her work is magical. We can't help but smile each time we look at the photos. We are incredibly grateful to have worked with her.

Sarah photographed our intimate courthouse wedding and the pictures are absolutely stunning!!! We chose Sarah based on a few Pinterest photos we saw, and asked her to be our photographer immediately. When we changed our wedding date, she changed her schedule to accommodate us. She captured every moment of our wedding beautifully. She carefully coordinated our arrival at the courthouse so that she could photograph our very first moments and even scouted out a blooming tree a few blocks from the ceremony that she knew would be essential for a romantic photo set. It was a magical day and we feel it was more special with Sarah photographing it.

Nicole

Married on 02/04/2016

Sarah did a spectacular job of bringing our courthouse wedding to life.

Sarah photographed our October 2015 wedding at Howard County Conservancy in Maryland.

We had already ended a contact with another photographer who photographed our engagement shoot before we found Sarah. Unlike many other wedding photographers who insist on posting your photos everywhere as a means of advertising their services, Sarah was incredibly respectful of our desire for privacy and allowed us to keep our photos to ourselves. She also took the time to really inquire about which poses and angles we didn't feel as comfortable with, to make sure that we loved the photos she captured.

On our wedding day, having Sarah around was like having an old friend nearby. She helped troubleshoot some dress issues I had on the day of, was thoughtful and attentive to our timeline, and captured images that were just...stunning. We had numerous inquiries after our wedding as to who took the photos, because of the way that Sarah just always seemed to be able to capture an image of people that really demonstrated their spirit and joy. It was such a wonderful day, and I'm so glad that we have these beautiful photographs to remember it by. Thank-you, Sarah!!

Mariam

Married on 09/26/2015

I first learned of Sarah's amazing photography talent when she shot my cousin's wedding a few years back at the Meadowlark Botanical Gardens in Vienna, VA. I remember her taking these interesting candid shots, focusing on the smaller details and embracing the realness of moments rather than ones that were posed for or staged. I could see, even then, that she had a wonderful eye. Needless to say, when I got engaged I knew she had to be our wedding photographer. I sat down with my cousin that following weekend and once again looked over all of her wedding photos. They looked so full of life and just overall completely stunning. I demanded her contact info, which my cousin happily handed over. Over the many months of wedding planning we talked back and forth several times and she was sure to ask me several important questions about the big day. From specific shots we wanted, to figuring out how many group shots we needed, she was incredibly professional and easy to work with. When the big day finally arrived she was flawless. As soon as she arrived she jumped right into it, taking wonderful candid shots as well as several gorgeous staged shots. She was very gracious when asking to step in a take some shots while I was getting ready, and made everyone feel very comfortable. Later on she was able to take several wonderful shots of the ceremony and looking back many people wondered how she was even able to get such full and perfect views! They all came out beautifully. Throughout the rest of the night she pulled us away for several artistic shots that came out amazing, some of those are my absolute favorites. All in all her work speaks for itself. She has such a wonderful talent and really knows what she's doing. We put a lot of trust in her, not giving her too many ideas of what shots to take and she delivered what we wanted and so much more!

Ana

Married on 09/12/2015

I waited to review Sarah only because I wanted to be able to fully communicate how amazing she is. Her photos are just stunning -- and neither my husband or I are at all comfortable in front of the camera. But her photos are natural and beautiful and totally captured our day in a way that brought back all of the emotion in an amazing way. Everyone I have showed says they are among the best quality they have ever seen and I agree. It's definitely photojournalistic but thats what makes them so great.
Beyond that -- she is just a consummate professional. It rained on my wedding day and she stayed calm and supportive and in command. You wouldn't know from the photos that anything had gone awry. She made everyone feel comfortable and melted into the background during the event. I just don't know how I can express how much she just made my wedding day. I really would not hesitate to hire her again and would just be grateful that she was available.

Only the highest praise for Sarah. Biggest thing that sets her apart is that her photos are art- not just your regular wedding pictures. Amazing use of outdoor light. She captured countless candids that were beautiful. During the wedding she was like a ninja, we never noticed her but she got shots of everything. She was flexible with her time, staying an extra hour which really helped us out. And her email communication was always timely. She's on the higher end on for price. But when comparing my pics to other friends who have recently gotten married, they all say they wished they had gone more high-end and artistic with someone like Sarah instead of mid-range and average. Highly recommend.

Elizabeth

Married on 06/20/2015

I cannot speak more highly of Sarah and her beautiful photographs. I honestly believe her work is the kind you might see in a photography exhibit- such beautiful, stunning images that capture the heart and soul of the moment. Sarah's photos are breathtaking and she made me feel so calm and assured from the moment my fiancé and I met with her on our first meeting. Finding the right photographer was so important to me seeing as this would be the only physical piece from our wedding we would have to remember it by and I know from the moment we met that Sarah could be trusted with such an important and deeply personal task. She was so professional and responsive and got our photos back in a very timely manner. I can't recommended her services enough - for those who are able to book her- count yourself extremely lucky!

Bridgitte

Married on 01/09/2015

Sarah is amazing! I really can't speak highly enough about her -- she is extremely talented and very easy to work with! People tell us constantly that they have never seen wedding photos like ours -- which is exactly what we wanted. She was like an angel you never caught a glimpse of on the wedding day but that managed to capture a ton of fun, happy, and sentimental images. I love her work and can't wait to hire her again (and refer a ton of people to her)!

Caitlin

Married on 07/24/2014

PERFECT! We hired Sarah to photograph our courthouse wedding in Washington, DC. She was everything you could ask for in a photographer at a special event -- punctual, polite, funny, informed, ready with instruction (but not bossy). She did a phenomenal job of capturing the feeling of our ceremony but without intruding even the slightest bit. Our portrait session was a breeze with Sarah helping us with our posing. We are so happy with how the photos turned out -- she has a fabulous creative eye! Even after the event, she was attentive and went above and beyond. I made an error when ordering prints and she quickly emailed me to bring the issue to my attention and correct it. Professional, pleasant, responsive and reasonably priced and with great results -- I would absolutely recommend her!

Libby

Married on 07/12/2014

Sarah is WONDERFUL! You will be stunned at how beautiful your photographs are, I highly recommend her. Our family and friends are all raving. What makes Sarah unique is her ability to really capture the "feeling" of your wedding in a way I haven't seen many other photographers do. Looking through our photos is like being transported back to that night. We didn't have a videographer and honestly I don't feel like we needed one simply because Sarah did such a great job capturing all the moments. She also does a great job of being very respectful during the ceremony, fading into the background and being very unobtrusive, while still capturing great shots. I love that my photos capture both my reactions and joy, but also the joy from our guests. Sarah captured all the important people in our lives so well.

Sarah was absolutely fantastic. My husband and I were nervous about the whole wedding photo thing, as we're not very used to being in front of a camera. Sarah made us incredibly comfortable, both during our engagement shoot and the wedding photography. Everyone was so impressed with her photos, and how she worked to get pictures of everyone relaxed and enjoying themselves. Her photos weren't overly filtered and are just beautifully composed. She captured the ambiance of the farm we were married on perfectly. She was incredibly friendly and professional, and helped me with figuring out my timeline when I called her panicking! I would absolutely recommend Sarah to everyone for any photography service that you might need.
Are you interested?
Send a message