107 Reviews
Recommended by 100% of couples
Quality of service

5 out of 5 rating

Average response time

5 out of 5 rating

Professionalism

5 out of 5 rating

Value

5 out of 5 rating

Flexibility

5 out of 5 rating
34 User photos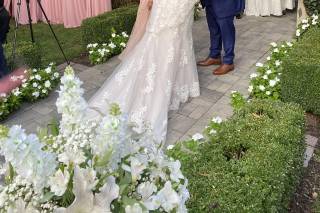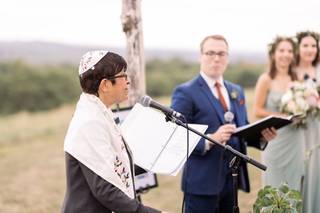 + 30

photos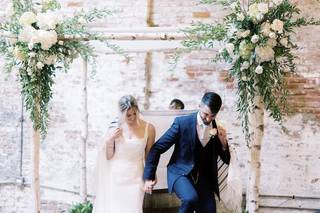 Featured

Alexis R.

Married on 09/18/2022

Best officiant evvver!

Rabbi Sara Shonfeld is a wedding GURU!! Her personality and cheerfulness throughout the entire wedding process has made me feel the most excited about our Jewish ceremony! She is so kind, caring, thoughtful and light-hearted! Her professionalism and attention to detail was immaculate in every way. Our guests RAVED about how beautiful and intimate our ceremony was and the highlight being Rabbi Shonfeld! She made us laugh, cry and gave us the ceremony of our dreams :). One of my favorite moments was during the Ketubah signing where she sang beautiful and fun traditional Jewish songs where we laughed and danced. She also kept in touch with us after the wedding and now we are close friends! I can't wait to include her for all our future endeavors as she is truly a blessed and special person. Thank you Rabbi for all that you have done for us! WE LOVE YOU!! Love, The Rubin's

Mallory M.

Married on 10/08/2022

A dream to work with!

Rabbi Sara made the entire interfaith marriage ceremony process both effortless and incredibly meaningful. She was so easy to work with, prompt to respond, and helpful in making the ceremony perfectly us. I would recommend Rabbi Sara for ANY ceremony, but she was particularly wonderful for our Jewish/Catholic interfaith coofficiated wedding. My husband and I loved working with her and our guests could not stop raving over what an amazing job she did creating a sense of welcoming for all. THANK YOU, RABBI SARA!!!

Kate A.

Married on 09/17/2022

Rabbi Sara is amazing!

Rabbi Sara was phenomenal! She made our ceremony so special and personal. She was so easy to work with and customized our ceremony to exactly what we wanted. We had so many friends and family come up to us at our wedding to say what an amazing job Rabbi Sara did with our ceremony!

Are you interested?

Send a message

Sara T.

Married on 09/03/2022

A one-of-a-kind officiant who makes everyone feel like family!

Rabbi Sara is the kindest & warmest person that you will ever meet!
She lights up every space she's in and shines sunlight into your ceremony.

About four years ago, I was a bridesmaid in my friend's wedding out in LI.
I knew nothing about Rabbi Sara, but by the end of the ceremony, I knew that I wanted her for my own wedding one day.
Fast forward to this year, she blew it out of the ballpark.
She had everyone smiling and laughing the entire time, and she works hard to ensure that everyone in the audience feels included.

As a guest, you're not an observer, you're a participant when Rabbi Sara is officiating.

Rabbi Sara is also incredibly flexible. She will make any adjustments you want to the ceremony so it matches the feel of the couple.
I'm a reform/spiritual Jew who was brought up in a reform household, and my Husband is an Atheist who was raised Catholic.

We requested to have the english translations removed from the ceremony to make my Husband more comfortable. On top of that, we had a good friend of ours co-officiate so he could tell our story. Rabbi Sara went with the flow the whole time.
She's incredible to communicate with, she's clear in her instructions, she's timely in her preparation and when she shows up to the venue.
Most importantly, she made the ceremony about us and our love for one another.

When you hire Rabbi Sara, you're getting a friend for life who loves to remain in touch.
Thank you Rabbi Sara! You're truly one-of-a-kind and a very special person!



Kara

Married on 09/02/2022

Best ceremony we could have ever hoped for!

Thank you so very much for making our wedding day so special!!!! The ceremony was intimate, fun, meaningful and very personable. The amount of compliments we received was overwhelming and it was all because of YOU!!!! Thank you again for truly making our day the best day of our lives. We will never forget it!

Rachel H.

Married on 07/10/2022

Fantastic and wonderful

We couldn't think of anyone better to officiate our wedding. When we saw Sara officiate our friends wedding we knew we wanted her to marry us. She was very kind and we loved how she let us build our ceremony. My husband and I were having a nerdy wedding and she added may the force be with you in English and in herbrew at the end. We were thrilled to have her be a part of our day

Casey

Married on 06/26/2022

Wonderful wedding officiant!!

Rabbi Sara was wonderful. She met with us to understand our traditions and what was most important to us for our special day. She was flexible when we had changes to our plan and did a wonderful job leading the ceremony!

Mark O.

Married on 05/06/2022

Beyond amazing!!

Rabbi Sara was fantastic! She did an amazing job at explaining the process to us, as well as our guests who were unfamiliar with the Jewish wedding ceremony. I personally had family from Israel who wanted to let her know what a fantastic job she did. We couldn't be happier with the choice we made to go with Rabbi Sara!

Debbie K.

Married on 04/05/2022

Wonderful, Authentic Service

Rabbi Shonfeld officiated at my daughter's service two days ago .... we could not be happier with how the service was conducted and the positive energy that was felt throughout the room. Theirs is an inter-faith marriage although at our request, such things as a Jewish Ketubah signing and breaking of the glass were included. Most importantly, Rabbi Shonfeld made the service feel very personal. She mentioned that names of grandparents that we were missing and described my daughter/son-in-law first meeting. Everyone at our 70-person wedding complimented us on the service, with several saying it was the nicest service they had ever been to. I attirbute all of it to Rabbi Shonfeld who gives off such a positive, warm energy. We could not be happier with how the service was conducted. It set a wonderful vibe for the rest of the wedding.

Chris P.

Married on 01/22/2022

Amazing experience

Rabbi Shonfled performed a genuine and touching service for my husband and myself (we are a gay couple) and she focused on the important aspects of our religions (we are also an interfaith couple) and it felt like she knew us. Frankly we expected someone to come in and "go through the motions" but Rabbi Sara did SO MUCH MORE. So thrilled we have this lovely memory of our ceremony. Thank you!!

Steven N.

Married on 01/22/2022

Awesome Rabbi

Rabbi Shonfeld exceeded our expectations. She made us feel very comfortable like we already knew her. I would highly recommend her!

Elena C.

Married on 11/27/2021

Wedding ceremony

Rabbi Shonfeld was the most amazing officiant. Our ceremony was unique and our guests could not stop raving. I would 100% recommend her!

Drew

Married on 11/27/2021

Beautiful and touching service

Rabbi Sara took the time to get to know both of us and it was such an incredible pleasure and honor to be married by her on our wedding day. Not only was she professional, but incredibly entertaining. Our guests LOVED her, as well.

Don't think twice.

Chanel D.

Married on 09/26/2021

Warm, approachable, inclusive, funny, friendly Rabbii

I can't say enough great things about Rabbi Sara. We are an interfaith couple and wanted someone to tell our story in a way that highlighted our love for each other and our families. Rabbi Sara's ceremony was one of the highlights of the night. She tailored the ceremony to include traditions of both faiths (Jewish and Catholic) which our families appreciated. She also made it about us, which was very important to us. She delivered a humorous and lighthearted ceremony that made us feel so comfortable in the moment. I completely trusted her to deliver, and she exceeded all expectations. Our families can't stop talking about how beautiful it was. Thank you Rabbi Sara for telling our story

Nicole S.

Married on 09/24/2021

Absolutely the Best!

Rabbi Sara,

David and I just wanted to let you know how thankful we are that you did our ceremony. You did an excellent job and made it so comfortable and able to understand and personal to us and everyone that attended our ceremony. My family was especially grateful for you because you made us feel that our savta and sabba were present. My sister and uncle Ronny and aba and myself were so overwhelmed with emotion because you sounded so much like our savta and their mother. Thank you for everything! You are absolutely wonderful 🙂

Thank you,
Nicole and David Stark

Marisa

Married on 09/19/2021

Beautiful ceremony

Rabbi Sara was wonderful throughout the entire process of our wedding planning. She made us feel comfortable as an interfaith couple and was so patient and flexible when we had to postpone our wedding 3 times due to covid. The ceremony was perfect and our guests loved her!!

Amanda A.

Married on 09/12/2021

Wonderfully intimate, personable & fun ty

Rabbi Sara Shonfeld was an engaging and heartfelt Officant.From first meeting Rabbi Shonfeld , she was very personable and very professional. My fiancé)now husband) new right after that first talk she was the one who had to marry us.Rabbi Shonfeld made us feel at ease, as if we have known her our entire lives! The whole experience felt special and she put me and my (now husband) at ease. She was able to handle and direct the crowd as well as my husband in a way that never felt harsh or rehearsed. She has this magical sensibility to put everyone in her presence at ease.She made the ceremony absolutely perfect! It was snd always will be a day we will never forget!
She was fun, proficient and carefree, but at the same time completely prepared for anything.
Ty Again Rabbi Shonfeld, for a ceremony me, my husband, my family & friends will never forget!

Marina M.

Married on 09/03/2021

Most beautiful, personalized, and meaningful wedding ceremony!

My husband and I are so happy with Rabbi Shonfeld's wedding services. Our search for a wedding officiant was long and tedious, but the moment we spoke to Rabbi Shonfeld we knew she would be perfect. She instantly made us feel at ease. She was open to our ideas and made sure our ceremony was personalized and reflected who we are as a couple. She was caring and understanding, and really listened. She made the wedding ceremony process super easy and was very responsive with our questions.

Rabbi Sara Shonfeld gave us a beautiful, meaningful Jewish ceremony that we'll remember for the rest of our lives. We received tons of compliments from friends and family about Rabbi Shonfeld and the way she conducted our ceremony.

Todd S.

Married on 06/11/2021

Everything was great

We hired Sara along with Rev Deb Viola since we heard they worked well as a team. They performed an amazing ceremony that touched a little bit on both of our religions and then about our lives so far together. Everything went flawless and We would relive that day every day if we could.

Lindsay

Married on 06/04/2021

Amazing!

Rabbi Sara truly is such an amazing person! From the second we reached out to her, she was SO approachable and professional. I am Jewish (not raised religious), and my husband is catholic. From the beginning, she was willing to work with my husband's family priest (out of town) and made the entire outline for our ceremony including both religious aspects equally. My husband is a Filipino Catholic and we found ways to incorporate every tradition into our ceremony. The way she delivered her portion, with a little bit of light humor, was so incredible. Everything was so organized and Rabbi Sara really took the time to get to know us as a couple. She made our ceremony extremely special and unique. We got so many compliments about her and everyone still talks about how well everything was integrated to fit us. Our ceremony was so perfect and Rabbi Sara is absolutely phenomenal!

Samantha B.

Married on 10/10/2020

Rabbi Sara is Amazing!

We cannot recommend Rabbi Sara enough. After our initial meeting, my husband (Catholic) and I (Jewish) immediately knew we wanted her to officiate our wedding. She is funny, thoughtful, and has an unmistakable presence. We enjoyed working with her to craft a ceremony that represented both of our traditions and she delivered! Guests from both sides came up to us after the ceremony to rave about Rabbi Sara; one friend even asked for her information. The ceremony is my favorite memory from the day and I cannot thank Rabbi Sara enough.

Trevor H.

Married on 05/17/2020

Last minute addition saved the day

My wife (Christian) and I (Jewish) had a rabbi booked for our date, but it got moved twice due to the pandemic. I thought we had booked him, and a month out he informed me there was a conflict. Panic mode set in. I searched for interfaith rabbi and rabbi sara was the first to come up.

I contacted her and we all immediately hit it off. The chemist was great and she was very calm and reassuring. The best free video chats were rapid fire but still great. She handled everything with our priest who was a first time interfaith officiant. Very great.

Once things were settled and the big sat came, rabbi sara has everything under control and it went so smoothly. We couldn't thank her enough.

Highly highly recommended.

Ryan

Married on 12/14/2019

All Heart and Soul

Rabbi Sara has become more like family over the years. We were blessed to have her co-officiate our interfaith wedding ceremony. Our guests still rave about the warmth and humor she brought to our nuptials. She took the time to get to know us and our family dynamics before eloquently orchestrating a traditional celebration of both faiths. We stayed in touch on social media through the years and when our daughter was born, there was no question who I would ask to help us bless her with a traditional baby naming. We spoke on countless occasions and she put my mind at ease as rain threatened our outdoor Covid-friendly ceremony. Not only did she make our baby naming just as memorable as our wedding ceremony, but she came injured and didn't skip a beat. She even brought my daughter the rainbow I had been wishing for from above in the form of a beautiful crystal. She is thoughtful, lovely and so genuine. To work with Rabbi Sara is magical, but to know Rabbi Sara is a true blessing.

Victoria E.

Married on 11/17/2019

Unforgettable Service with Rabbi Sara

My husband is Sufi Muslim and I'm Jewish. Rabbi Sara performed a beautiful Jewish service for us. She took the time to learn about us, and how our lives came together, and was able to elegantly incorporate the essence of our relationship into the service. Rabbi Sara was amazing. Our guests couldn't stop talking about her. She exudes love and joy, and we could not have chosen a better officiant. She made our guests feel comfortable, even though many of them had never been to a Jewish wedding ceremony. We were honored that she allowed us to use her beautiful tallit from Israel. Rabbi Sara is one of those special people that you don't meet very often, but when you do, you feel truly blessed. We will never forget her, and the beautiful ceremony she created for us.

Jake B.

Married on 11/02/2019

The most beautiful ceremony

My husband and I found Sara Shonfeld on wedding wire when we were looking for an officiant for our wedding. As soon as we met with Sara in person, we knew that we would want her to officiate our wedding. She was kind so kind, easy to talk to, and comfortable to be with and we knew she would be a great addition to our ceremony. She had sent us over a list of question that we answered which she then added to the draft of the ceremony, which we were able to edit along the way. She personalized our ceremony to exactly what we wanted. She conducted the most beautiful ceremony we have ever witnessed. She gave such a loving and caring touch to the ceremony and truly made it our own. She had many beautiful touches to the ceremony to make it feel so special. We have received an infinite amount of compliments regarding our ceremony that Sara had led. We would highly recommend Sara to anyone!!!! Thank you so much Sara!!
Are you interested?
Send a message