37 Reviews
Recommended by 99% of couples
Quality of service

4.9 out of 5 rating

Average response time

5 out of 5 rating

Professionalism

4.9 out of 5 rating

Value

5 out of 5 rating

Flexibility

5 out of 5 rating
2 User photos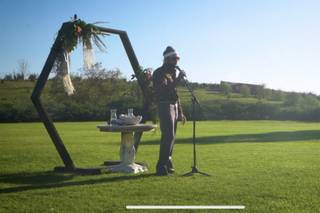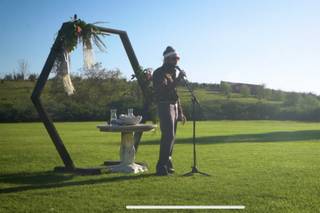 Andrew J.

Married on 10/24/2021

Dj greg will rock you

Long story short DJ Greg was not only a phenomenal DJ but a trusted advisor for our wedding. Leading up to the event is what really made working with Greg all the difference. He listened to our ideas, gave recommendations of how to throw the best party for our guests and worked with/amplified some of our must have moments. The best example was our entrance to the reception. We wanted "We Will Rock You" playing as we ran onto the dance floor… but Greg's enthusiasm got the crowd so pumped up we could feel the rumble of the clapping from outside the room and the music was drowned out by the energy- kicking off an electric dance party. When a friend asked if the DJ was actually one of our friends, we knew everyone was feeling the vibe. Greg played music that was true to our taste (and our friends) while keeping the rest of the multigenerational guests engaged and on the dance floor. Greg knew us as a couple and was able to deliver a memorable night. And more on a technical side, with an outdoor ceremony , we were a concerned with acoustics but everything was heard crystal clear without any disruptions or crackling etc. We could not recommend working with DJ Greg enough. He delivered everything we wanted and made the planning and day of stress free. With Greg's ear and touch, our event was vibrating with love and light. Thank you Greg!! Rock and Rock

Paige D.

Married on 08/27/2021

Greg is iconic

I honestly couldn't imagine our wedding without Greg and SD Party Time. When first connecting with Greg on our intro call, my now husband and I knew immediately that he was our DJ. He was funny, engaging and his passion for music bled through the phone. We loved hearing about his favorite moments at past weddings and his incredibly impressive experience speaks for itself. As a music-loving couple, we had very specific requests for our wedding playlist and were SO PLEASED to know Greg was already a huge fan of most of our favorite artists, making our connection even stronger. Knowing that Greg loved our most memorable wedding songs made the moments that much more special. And where do I even begin with the dance music?! We had COUNTLESS wedding guests tell us Greg was the best DJ they've ever heard at a wedding. In all honesty, I think his playlist for our party was one of the most memorable aspects of the evening. Everyone was on the dance floor as soon as they were invited and stayed there until our very last song. We wanted nothing more than for our wedding to be a party and Greg sure did make that wish happen. We couldn't recommend him more!


Liz P.

Married on 02/22/2020

Greg For The Win

Greg was unbelievable! He read the crowd perfectly, he timed and synced up our first dance songs, his equipment was quality, and we got tons of compliments after the wedding of how great the music was. Not only that, but he's extremely communicative, helpful, and his payment system is very user friendly!

Are you interested?

Send a message

Kenna D.

Married on 07/13/2019

Greg knew how to work the crowd!

Greg was awesome from the first phone call I ever had with him. He is so upbeat and has great energy - it's no wonder he's a stellar DJ! We had him at our wedding at Green Gables and we barely needed to do any type of coordination with him. He knew exactly what he was doing, needed no direction, and really helped make the day run smoothly. He did our ceremony, cocktail hour and reception. When we told our coordinators we had hired him they were so excited for us - and now we really understand why!

We had originally requested tons of hip hop music (as that's what my husband and I like), but at the beginning of the night it was clear that's not what was working for some of our older crowd. Thankfully Greg could see what was happening and adjusted our music accordingly. He doesn't keep playing music if nobody's dancing - he makes sure to play things that are a hit with the crowd! Later in the night once the alcohol was flowing, he transitioned back to more of our hip hop playlist and we got to enjoy the evening with our friends.

He also did a great job at announcing our bridal party for a grand entrance! Got all the names right, and even recommended we use a different song for their entrance (as the one we initially requested was full of foul language :) ).

Greg was super important to our evening and we're SO glad we had him! I would just recommend contacting him early as he tends to book quickly!


Jessica R.

Married on 06/04/2019

Phenomenal!!!!

Greg did a phenomenal job at our wedding! He was so responsive, and nailed our music style and requests. The dance floor was full the entire wedding!! We absolutely loved our experience with him.

Tim G.

Married on 03/22/2019

Hire dj greg

Thank you DJ Greg for being the best DJ ever!

Booking DJ Greg for our wedding was the best decision we made!

If you don't like to have fun and don't like good music, don't book DJ Greg. That's all he's about which is reflected in his energy and overall vibe and awesome personality.

He is extremely easy to work with and he put my wife and I at ease by essentially saying, "you guys don't need to worry, I've got this and I'm going to see it through that this is the best night of your life!"

My wife and I being music people, were worried about the selection of a DJ since that seems to be one of the first talked about things with friends and family the day after a wedding. While it doesn't ruin a wedding, it most certainly sets the tone and overall experience for the night. We can honestly say that DJ Greg was one of the first talked about things the morning after and in all positive ways. We honestly felt like he was the best DJ we had experienced at a wedding and our comments were echoed from our friends which was a huge relief since like most of us, we are all opinionated in our music selections.

He not only catered to our music tastes and age of friends but he perfectly crafted songs to play that every generation in attendance could enjoy. Making sure your family and family friends in attendance are happy with the music selection is probably an overlooked importance and he most certainly made them feel included with an equal balance of music genres for everyone.

My only regret of the night is that my wife and I didn't get a picture with DJ Greg to hold onto and cherish forever since he was an integral part of our big day.

We love you DJ Greg!

Tim and Nichole


Halie

Married on 02/15/2019

Wedding Entertainment

Greg was amazing and kept the party going!

Dmitri S.

Married on 12/29/2018

Wedding DJ review

Greg was wonderful at our wedding.
In our initial meetings, he was knowledgeable, helpful, confident and fun. He worked with us in preparations to make sure everything would be just right with music, microphones, video playback and crowd energy.

If you need a DJ for your event, save yourself the trouble and go with Greg. He is fantastic!

Ryan M.

Married on 12/14/2018

Want to Dance?

If you want every guest on the dance floor, Greg is your guy! Easy to work with and very professional. Would highly recommend!

Austin

Married on 12/08/2018

No Party Like a DJ Greg Party

We had Greg as our DJ on December 8 at Twin Oaks and couldn't be happier with him throughout the whole process. If this is all you read, go with DJ Greg. He was awesome and we have zero complaints!

During our initial phone call, Greg talked us through all of his equipment, options and overall style, and we peppered him with questions for over an hour. We were looking at a few other DJs at the time and we got the best vibe from Greg. He also offered the best value as an added bonus. We booked Greg after the phone call, communicated over email plenty of times and met with him in person about a month before our wedding.

Greg has a very easy to navigate online form for submitting song choices. There were a lot of things (processional, recessional, entrance songs, etc.) that we had not thought of before planning our wedding, so the online form helped us realize all of the song choices that go into a wedding. If you're worried about picking so many songs, or have a million other planning things on your mind like we did, Greg does a great job of figuring out the vibe you want and then developing a mix that matches it. We did not choose any particular songs for cocktail hour but after meeting with us, Greg said he could put together a playlist for us that fits what we were envisioning.

My wife LOVES to dance and wanted a fun party with everyone dancing. Greg promised the dance floor would be full all night. On the day of the wedding, Greg lived up to the hype. He was warm and friendly with all of our guests and packed the dance floor the whole night as promised. One of the first things our guests bring up to us post-wedding is that our wedding was the best dancing participation they've ever seen at a wedding.

Thank you Greg for all of your help throughout the process and for making our wedding so fun. I will be very excited if I attend someone else's wedding and see you up there as the DJ.

Richard

Married on 03/17/2018

Greg was Awesome!!! We booked him for our wedding, and the entire process was seamless. From selecting songs, to providing our itinerary, and to coordinating the final details, Greg was cooperative. During the reception, he played to the crowd's energy and definitely helped make it a night to remember for everyone.

Jessica

Married on 10/21/2017

Greg DJed our wedding at the San Diego Firehouse Museum. He was amazing to work with before the wedding, accommodating and super responsive! He had great recommendations but was go with the flow and good with whatever we wanted. We didn't have much of a preference on the general music, just wanted people to be dancing the whole time and he did NOT disappoint! There was a crowd on the dance floor the WHOLE time! Would definitely recommend Greg for an event DJ!

Bridgette

Married on 08/05/2017

GREG is the perfect DJ! He kept us laughing, dancing and celebrating during our wedding. Loved his attire and amazing personality!

Sarah

Married on 07/06/2017

Greg is an amazing wonderful person and an extremely talented DJ! He is super organized and responsive. My groom and I were dancing so much throughout our wedding that we didn't even eat. He made our wedding an unforgettable party! We've had numerous guests say that it was the most fun wedding they've ever been to and we know that it's because Greg knocked it out of the park! He had everyone young and old on the dance floor! Even my 85 year old grandpa was busting a move!

Bethany

Married on 03/18/2017

Can't say enough about Greg! He's awesome. We hired him for our Wedding at Ethereal Open Air Resort and h
e definitely kept the party going!!

Megan

Married on 04/01/2016

Greg Gomez is an unbelievable DJ. The first thing all of our guests comment on is how fantastic our music was, and we agree! Greg was so open to different ideas, and we wanted movie themes and scores as the background music instead of traditional instrumental music. He NAILED it. Our guests all started playing the game of "guess that song" during cocktail hour and dinner, and it was a blast!

Greg was so enthusiastic all the way through the planning process, and he was no different on the day of the wedding. He's a great MC - he's present enough that people know what's going on but also doesn't talk all the time. Everyone was dancing the whole night!

Music is really what can make or break a wedding, and we're so lucky that he is as amazing as we hoped.

Greg was our DJ for our wedding last December at Twin Oaks. He was so personable and so much fun! The planning tool online made it so easy for us to share our favorite songs and timeline of events with Greg which made the day of our wedding so seamless! Would definitely recommend Greg!

Kristin

Married on 05/01/2015

We had Greg as the DJ for our wedding and he was awesome! He had a really easy planning form for leading up to the wedding, and he kept everyone dancing all night!

April

Married on 09/27/2014

Greg has super high energy and he was great at DJing and MCing our wedding. I really like that he knows his music, and was able to provide us with suggestions. For example I was telling him I really like an Instrumental Group that plays pop music, the Piano Guys, and he was able to suggest other groups similar to that. He was also to accomodate our eclectic tastes in music from Classical to Country to Hip Hop to Salsa. He can do it all and he's really great at rolling with the punches, when we make last min changes on him. I would high recommend him if music is your thing!

Kelly

Married on 03/16/2013

Greg with SD Party Time DJS was awesome!!!!! He truly did an amazing job!!! All of the music we wanted to be played we got to submit online! Super easy!! He kept the crowd going all night, was an awesome MC, and overall, a wonderful person to work with! He has great energy and really loves what he does!! He set up all of our ceremony music and reception at AKC. Fun tip--on our wedding invitation, we had our guests write down their favorite song to dance to, which made our job easier when trying to decide what music to select! Overall, I would recommend SD Party Time to anyone!!!

Boo

Married on 04/14/2012

Greg was our DJ and he sure knew how to rock the crowd!! He got everyone involved including the older adults to join in on the dancing and games!!!

Lots of energy, electric personality and I absolutely love how you can put in all your information, requests, and music selection on their website. By far, the most advance in technology compared to other DJ's that we had a consultation with! Would be glad to be a referral if you have any questions you can email me! bootiquechic@gmail.com

Thanks San Diego Party Time DJ's for making our Wedding ridiculously fun!! we are still getting word how it was the funnest wedding anyone has ever been to!

Avril

Married on 03/30/2012

After researching DJs on the internet I was lucky enough to happen upon San Diego Partytime DJs. The website has a planner and really helps organize everything from the music to the toasts.Greg kept in touch throughout the planning stages, got our song list, and did an awesome job announcing and playing the music. He helped keep the schedule moving. Our flowers were delivered late, it was so nice of Greg to help pin the boutonnieres.

Megan

Married on 03/04/2012

I stumbled on Partytime DJs when I met Gregory Gomez at my venue Twin Oaks Garden Estate while he was setting up for another wedding. I got his information, looked through their website and liked what I saw so I set up a meeting. Honestly, my husband and I just loved Greg and all the stuff you could do on their website to choose your songs. I'm not one to jump into anything so I did my research went to a bridal fair and spoke with many other djs but San Diego Partytime DJs continued to be my favorite, it had good prices and I loved the computer program they used. Greg was GREAT the night of our wedding. I had become quite scattered brained in the days leading up to my wedding and he was SO flexible. I literally had a staff member go to him and tell him a song for our grand entrance (because I forgot to put one) and he was ready with it and always so easy going and friendly. I recommend San Diego Partytime DJs to all my friends!!

Diana

Married on 10/15/2011

San Diego Partytime DJ's rocked. Greg did a fabulous job with the music selection. Once the dance floor got going, he did a great job keeping everyone out and on their feet dancing. It's been a long time since I've been to wedding where everyone danced all night! Additionally, he did a great job making announcements and keeping the flow of the wedding going. In terms of value I would rank him way above a 5! If you are looking for THE DJ, then Greg is definitely your man.

Sarah

Married on 10/09/2011

Greg did an amazing job at are wedding!!!! All my guest kept telling us all night long how they loved are DJ. He played great music !!!!
Are you interested?
Send a message