Reviews
4.7 out of 5 rating
Quality of service

4.7 out of 5 rating

Average response time

4.8 out of 5 rating

Professionalism

4.7 out of 5 rating

Value

4.7 out of 5 rating

Flexibility

4.7 out of 5 rating
95%
Recommended by couples
119 User photos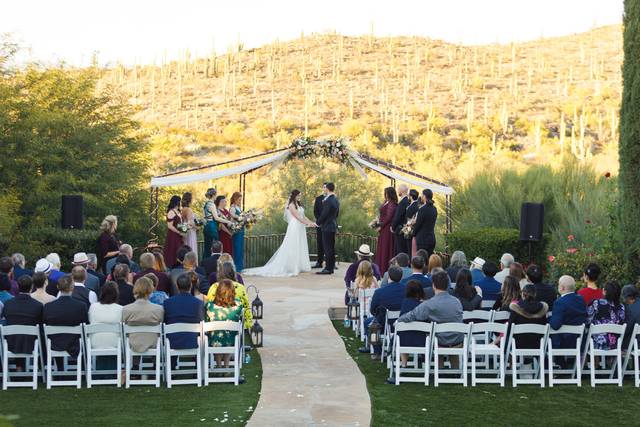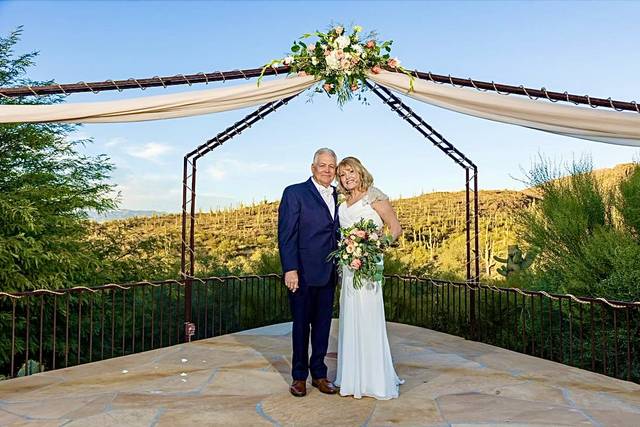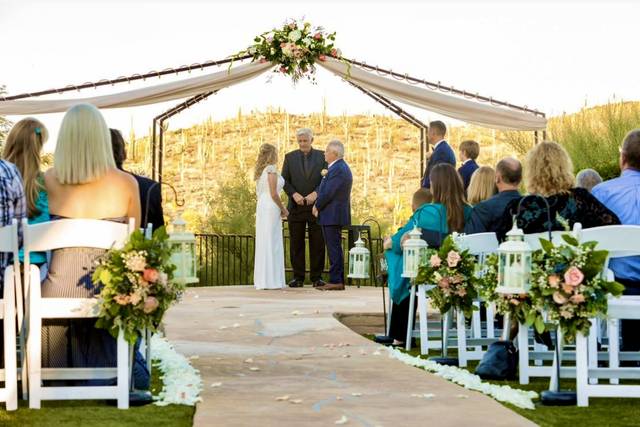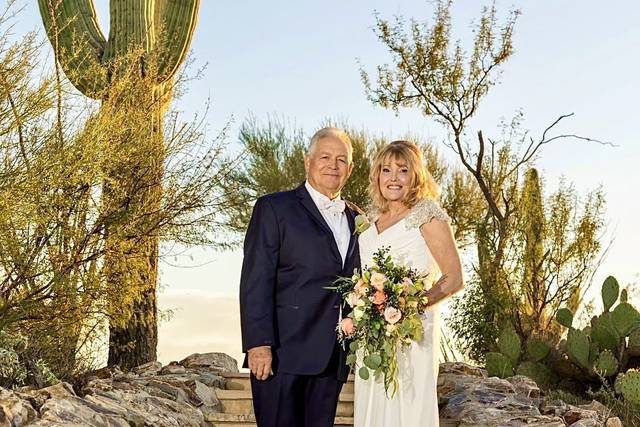 + 115

photos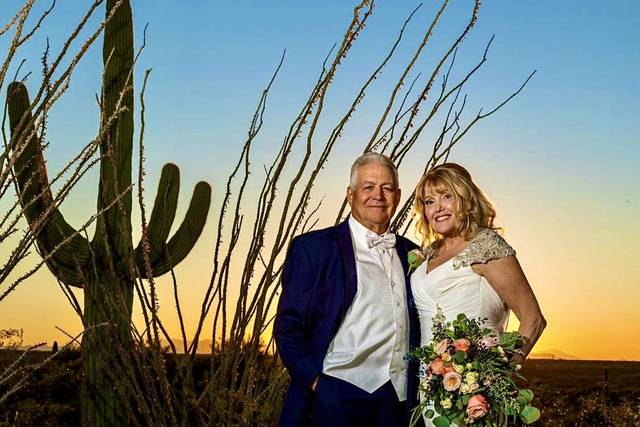 Featured

Joanne

Married on 04/11/2022

Above and beyond

With the pandemic, a lot of things were up in the air and Saguaro Buttes worked with us through the choas and uncertainties we had with guest count etc. The day of, we had a few mishaps, and specifically the night manager went ABOVE AND BEYOND helping me fix my dress, find my great grandmother's broche that fell in the desert during our photo shoot. Everyone at Saguaro Buttes truly cares about making your wedding special.

Saguaro Buttes's reply:

Thank you so much for entrusting us with your wedding, Joanne! We are glad we were able to be of service in the small mishap with your dress. Congratulations on this new chapter in your life!

Samantha W.

Married on 03/26/2023

Wonderful!!!

Our wedding day was perfect and everything went smooth. Saguaro buttes was accommodating without being too strict with rules. Absolutely wonderful experience

Charles Z.

Married on 03/25/2023

Great venue, officiant and value!

Cant say enough about how great Dave, CeCe and JJ were to work with. The venue was beautifully prepared and our guests didn't want for anything!

I highly recommend going and taking a look!

Are you interested?

Send a message

Lily V.

Married on 03/01/2023

Can't go wrong with Saguaro Buttes!

We highly recommend Saguaro Buttes for your wedding venue! Our wedding was in March, and we selected to have our ceremony and reception both outdoors on the Saguaro Buttes property. The mountains and desert backdrop make for a beautiful and natural setting for you and your guests to enjoy! The staff is extremely friendly, and they are very organized. They have all the wedding details, both planning and day-of, down to a T!

Jason G.

Married on 02/04/2023

Beautiful Spot

Saguaro Buttes is a very beautiful location and the venue is constantly adding more amenities. The wedding coordinators are very helpful and quick to respond.

Lorraine

Married on 11/06/2022

Absolutely the best wedding venue!

Our wedding at Saguaro Buttes was a fairy tail come true.
Beautiful scenery, delicious food, gracious staff working there! Top notch all around.
I should mention that we are an older couple and I am very picky with that being said I really loved everything about Saguaro Buttes!


Olena S.

Married on 10/11/2022

Best please!

Best please for big day! We were very happy to make our best day on this please! Thank you!

Allaysha M.

Married on 10/10/2022

Amazing! Wonderful group of people!

Saguaro Buttes did such an amazing job taking care of my needs on our wedding day! I love how helpful everyone was and I couldn't have asked for more. It was a very emotional day overall and they handled it so well! Couldn't have picked a better place!

Kyra M.

Married on 10/02/2022

Everything Under One Roof

This venue had everything under one roof. They provided amazing vendors and the staff was incredible with helping our wedding vision come to realty.

Deidre R.

Married on 08/21/2022

Over all the best decision we made for our venue

I am so grateful that we chose saguaro buttes because they made our day less stressful and more about us and our day, all we did was show up and everything was taken care of. It was definitely a beautiful place and very perfessional.

Dulce I.

Married on 06/25/2022

Amazing overall

Staff was amazing, very patient, helpful and flexible. They truly made this wedding perfect. I love that they have packages that includes everything and make this experience less stressful. Dave was awesome, it was easy to talk to him, he made the ceremony very special to us and our guests. Thank you very much.

+ 3

photos

Maxine H.

Married on 06/21/2022

Lovely venue

Had a beautiful ceremony and the staff was very very lovely and professional. Couldn't have asked for anything else, the day turned out great. Thank you, thank you.

Connie I.

Married on 06/19/2022

Wonderful place for our 35th Vow Renewal

All Staff at Saguaro Buttes is incredible. Incredible night, beautiful location!! Highly recommend them!

+ 2

photos

Sarah E.

Married on 02/22/2022

Amazing Grace

We had a great time with SB. They responded promptly too every question, concern, and mini freak out. Their staff are always kind and professional. Exceptional price and value. I was a little disappointed: they recently changed DJs and our music was not perfect despite a lot of tedious planning. Overall our day was great. We highly recommend SB, their food is to die for, and there's no place we would have rather been married.

Saguaro Buttes's reply:

Thank you so much for your review, Sarah! We appreciate you entrusting us with planning of your wedding. We wish you well on this new chapter of your life!

Monique F.

Married on 11/13/2021

What a wonderful experience!

I couldn't have asked for a better venue for our wedding! The grounds are beautiful and the staff was amazing!

Saguaro Buttes's reply:

Monique, congratulations on your marriage. Thank You for choosing Saguaro Buttes as your venue.It was a pleasure working with you!

Leah J.

Married on 11/05/2021

Very professional and helpful

They made our day extra special! Appreciate all their hard work! They made the process very friendly and stress free. The venue captures the beauty of the desert!

Shana G.

Married on 10/17/2021

Absolutely Amazing!!

This venue is so beautiful and the team really helped to make our day perfect! Because of all their hard work, everything went so smoothly!

Julie W.

Married on 10/14/2021

Great venue for a party

We had a great experience with this group. Everyone we dealt with was helpful and professional, from the bartender, the DJ and all the folks in the office. The venue is beautiful, with gorgeous views from every direction. We had a 50th wedding anniversary party here and could not have been happier.

Olivia W.

Married on 10/04/2021

Amazing experience!

We ended up last minute having to change plans in order to have a local wedding. We chose SB because they offered all-inclusive and reasonably priced packages. This is perfect for anyone looking to have pretty much everything coordinated for you. The ladies we worked with and Pastor Dave were amazing. The photographer (we selected Solaris Photography from their options), bartender and DJ were everything we were looking for. We also really enjoyed Ryan the night manager. The cake gal was very nice, but unfortunately we ended up with a leaning tower of Pisa cake 😕 I provided the flower lady with an image of the flowers that I wanted and unfortunately the were not what I was looking for. Of course this is not SB's fault, but hopefully they can offer multiple options for those vendors. Overall it was a beautiful night and everything we hoped for!

Saguaro Buttes's reply:

Thank you for your comments, your wedding was beautiful. I'm sorry about your cake, this is very unusual, the photos we have it looks great. So, I am not sure what time of the night it started to lean? If you would like photos of the cake, let us know we can send you a digital copy. We wish you the best in your future.

Noelia Y.

Married on 07/18/2021

Everything is set up for you

What we liked about our experience with Saguaro Butte was that so much of the setup was done by the staff. Setting up the tables, dealing with catering, setting up the ceremony site (the archway flowers were done by Flower Bee). They have a variety of decorations and colors to choose from and they even held onto our personal decorations and items and set them up for us.
If there was something that could have been better, I think it would be arranging signs to direct traffic to the front door. There are three parking areas, the top where the front door is, the middle where the office and ceremony site are, and the bottom where there is the largest amount of parking. Since the top was blocked off and traffic was directed to the mid-parking lot, a lot of people saw the sign for the office and the sign to the ceremony site to the right, no indication of taking the stairs to the left to get to the front door. Because of that, a lot of people missed the welcome area that had our "no photos/videos please" sign. In hindsight, the DJ announced it and people used their phones anyway, so maybe it doesnt matter? We were a bit miffed that we saw phones instead of faces to look at as we walked down and exited the aisle, but that was no fault of the venue's.
The staff was very courteous and our evening manager, Ryan, even saran-wrapped the hell out of our wedding cake for us when we had no way to get it home in a box. He also helped us out with some unexpected changes, so thank you Ryan.

Glenda R.

Married on 06/11/2021

The experience was wonderful, no problems or delays.

Everything came out so nice, food and service was exceptional. You made my event even more memorable! Thank you!

Saguaro Buttes's reply:

Hello Glenda! Thank you for such a lovely review! It was a pleasure working with you and your family while planning this event. The pictures turned out gorgeous and we are so happy that you were pleased with everything!

Starr R.

Married on 05/24/2021

Dream come true

The venue was beautiful. The staff was wonderful by making everything perfect and stress free

Saguaro Buttes's reply:

Hello Starr! We just wanted to say congratulations and thank you for the great review! We are so happy for you and thrilled that you had an amazing day!

Maricela G.

Married on 05/22/2021

A Big Thank You

I just wanted to reach out to you all. To let you know what an amazing job you all do and everyone at Saguaro Buttes made our Wedding planning smooth and enjoyable. Trying to plan a wedding out of state is challenging and you all made it wonderful. From the beginning with David helping show us around to all the staff that helped and showed understanding goes along way. We had something's we changed and loved the advice and recommendations you all gave us! The staff on sight when we dropped off alcohol and decorations couldn't be more nicer! Ryan the night manager was amazing! The DJ was amazing with last minute changes the games we did! Bre Cakes amazing with changes we needed done to fit our budget! Solaris photography amazing working with our group and with our budget !! Picture me photobooth amazing!! Bartender amazing!! So many go things to say about our wedding day on May 22, 2021 that we want you to know that we appreciate your work and all you did for us and made the experience and our wedding day so memorable! Can't wait to see the photos to come.

Thank you!!!

Maricela and Tobias Davis!!


+ 5

photos

Saguaro Buttes's reply:

Hello Maricela! Wow what an amazing review! Thank you so much for your kind words. We couldn't be more thrilled that you had such an amazing day! You were wonderful to work with and had so many fun ideas. Congrats to you and Tobias!!

Paige B.

Married on 05/06/2021

Absolutely perfect.

My husband and I got married here and I would do it all over again. The staff made the whole process easy and absolutely perfect. The day of the wedding went so smooth and the staff again was on top of their game and we couldn't have asked for a better place or group of people to help us with everything. They worked so well with everything we needed and executed the whole event perfectly. I could not have been happier. Thank you guys so much.

Saguaro Buttes's reply:

Hello Paige! We are so thrilled that you had such an amazing day! You were so lovely to work with and we couldn't be happier for you and Nathan!

Tanya W.

Married on 04/22/2021

My dream wedding!

I highly recommend Saguaro Buttes! Gorgeous venue, breathtaking views and wonderful service. Everyone commented what a beautiful wedding it was. Thank you!
Are you interested?
Send a message