49 Reviews
Recommended by 87% of couples
Quality of service

4.3 out of 5 rating

Average response time

4.3 out of 5 rating

Professionalism

4.2 out of 5 rating

Value

4.5 out of 5 rating

Flexibility

4.4 out of 5 rating
Awards
39 User photos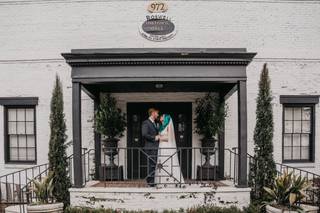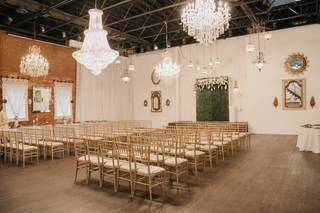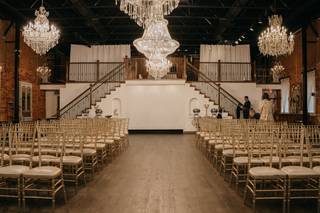 + 35

photos
Benjamin M.

Married on 01/13/2023

A Beautiful Evening Without A Care In The World

My wife and I were engaged in May of 2022 and decided that we wanted a short engagement and to be married in January 2023. A bit quick to plan an entire wedding, especially with our busy schedules. We found Roswell Historic Hall while looking for spacious indoor venues and decided to take a visit. From the outside, the venue looks like a quaint little white building, but inside is this beautifully elegant space that feels comfortable. The primary reason we chose Roswell Historic Hall aside from the gorgeous interior was due to the venue owner, Mahi.
When we first met Mahi, we were taken by her professionalism, friendliness, and her candor with us; she was very attentive to what we wanted, and when we told her that we wanted to do as little of the planning ourselves, she took charge of everything.
We are not the kind of people who need to approve every single detail, and we trusted Mahi to deliver us an evening we would never forget and boy did she deliver. From the food to the decorations to the DJ, she took our preferences and turned them into the most beautiful wedding we could ask for.
If anyone is ever looking for an event venue where the owner will listen to what you want and ensure that you don't worry about a single thing, Mahi and the Roswell Historic Hall should definitely be on your radar.

+ 2

photos

Roza K.

Married on 12/13/2022

Birthday party

My friends surprised me by celebrating my 40th birthday party at Roswell Historic Hall and I absolutely LOVED every part of it. Even though I had visited the venue many times, I was still blown away by the venue and decorations, food, and Mahi's hospitality. Thank you Mahi and the entire Roswell Historic Hall team for making my birthday one I will never forget:)❤️❤️💐💐

Yasmine S.

Married on 12/03/2022

Simply Perfect

My now husband and I had our wedding here last weekend and we are still speechless and in awe of how beautifully everything went. In truth, when we discovered this venue, we were so confused and exhausted from trying to figure out all the details of wedding planning and juggling the multitude of vendors. This venue is a one-stop-shop and at first sounded too good to be true. The venue-owner, Miss Mahi, truly handles every last detail. She has contracts with the most exquisite vendors in the city and somehow has the ability to bring any wedding vision to life. She is personable, artistic and a truly competent and expert manager. We had a unique wedding in that we wanted to bring elements from both of our cultures and had a fusion type menu and she seamlessly made this happen. As a bride, I especially appreciated her firm approach and leadership when it came to the schedule, guests (and overbearing parents). She literally ran to my aid multiple times throughout the evening and handled unexpected circumstances with such grace so we wouldn't have to stress. We felt good in that we were supporting a woman-owned business who employs so many expert local women from photographers to decorator to photo booth expert and baker. Thank you, Mahi joon for saving the day and being such a pleasure to work with! We could not have asked for a better wedding and it's all thanks to you.

Are you interested?

Send a message

Farnoosh

Married on 10/08/2022

Amazing experience

It was an absolutely amazing day. Everything was well planned out. The flower and decorations were beyond exceptional. Mahi is lovely to work with and she does everything to make sure you have your dream wedding. I definitely recommend Roswell Historic Cottage and Mahi. It will be a beautiful, magical and stress free event.

Aisan K.

Married on 09/17/2022

My dream came true

To all the brides out there, if you want to have a smooth wedding night and if you want everything to go as you wish and as you want, you need to go to Roswell Historic Hall and work with Mahi. The venue is absolutely beautiful, great location, and on top of that the way Mahi designs the venue for your special night, is just another level. Mahi is also a great and patient person to work with and plan your wedding with. She is extremely supportive, has lots of options for you, helps you decide, and at the end makes everything happen the way you want it. I was a picky bride (I confess it) and our wedding was a big wedding, but literally everything, absolutely everything, went the way I wanted that night (including all the details that I had asked her). Also… I have to mention that the food was amazing and lots of our guests mentioned it was the best wedding food they ever had. I really recommend Roswell Historic Hall and Mahi if you want your dreams come true for your wedding night.

Joey S.

Married on 09/04/2022

Look nowhere else but here!

Our wedding on 9/4 was exceptional. The food was perfect. We will never forget how great Mahi was to work with.

Misty H.

Married on 06/25/2022

Mahi is amazing!

My daughter held her wedding at the Roswell Historic Cottage last weekend 6/25/22. It was everything we dreamed it would be and more. Mahi did a great job coordinating everything including flowers, cake, catering, dj. The tables, flowers and decor were absolutely beautiful. We also held our rehearsal dinner there the night before and it was also amazing. It allowed us to have our rehearsal the evening before and enjoy a beautiful dinner. I can't say enough about Mahi and the venue and since she does everything for you there isn't as much stress. Highly recommend!

Mahsa S.

Married on 06/04/2022

Amazing and dreamy wedding

By writing this review, I wanted to thank the manager and owners of Rosewell historic cottage for organizing such a beautiful, amazing, memorable, and dreamy wedding for us. I really appreciate your effort and good job in creating a wonderful and perfect wedding event for us.
Everything from the delicious food, beautiful designed appetizers, and delicious pastry to the eye-catching and wonderful flower decorations, new gold tables and the bride and groom stage design were perfect.
I love purple theme and you decorated everything in a beautiful purple tone combination which were more than I expected.
All guests loved the way you organized our wedding and I have received so many compliments for the beautiful party you organized for us.
Thank you so much! For sure, I recommend Roswell Historic Cottage and its manager Mahi to every couple who wants to celebrate their wedding party in a wonderful manner.

+ 3

photos

Socorro B.

Married on 05/28/2022

Literally the best decision for my wedding!

We just had our wedding this last weekend here, and we loved every aspect of it! Mahi is so helpful with really any request, and she will work with you to make your wedding all that you hoped it will be. It is a beautiful two story venue with high ceilings, a rustic get ready room, and a beautiful bar area located under the stairs. The day of the wedding, Mahi and all of her staff were all so friendly and helpful. We actually ran out of tequila and they so kindly went and got some for us. My wedding day went by so so so smoothly I truly couldn't have asked for more. Mahi offers everything. I did however bring some outside vendors, and she was so helpful and kind to them as well. I can't recommend this place enough. Booking this venue was the best decision I could have ever made for my wedding!

Nilaab M.

Married on 10/10/2021

So Much For Your Money!

This place is everything you need in planning a wedding/event. The cottage is the perfect blend of rustic but still modern in the services and surrounding town. Mahi coordinates everything from flowers to food. It's really a one-stop place for all your wedding needs! Mahi also was a great help on the day of the wedding, making sure my husband and I had been fed, helping us to stick to our time schedule, and even dancing with us! I personally wanted the venue to be covered in baby's breath (gypsophila), which was my wedding flower, and she really delivered! It was on the staircases, chandelier, tables, everywhere! It was more then I could have ever hoped for:)

+ 3

photos

Roswell Historic Hall's reply:

Hi Nilaab ,
It was a pleasure working with you as well thank you for review look forward to seeing you again.
Truly,
Mahi

Lindsey W.

Married on 08/14/2021

Wonderful wedding experience

I had my wedding at Roswell Historic Cottage and I don't think I could have had a better experience. Mahi was wonderful to work with and made planning almost stress-free. I didn't have a lot of opinions about decor and flowers, so I decided to trust her expertise and she really came through for me. The venue was absolutely beautiful, the food was great and everyone had a an amazing time. If I had to do it all over, I would choose Roswell Historic Cottage again and again. Thank you, Mahi!

Nastaran R.

Married on 06/06/2021

It was perfect

Mahrokh was very helpful and knowledgeable.
She really brought both of us vision in life.
We got so many compliments from our guess about the decorations .

April I.

Married on 06/12/2020

Wedding at Roswell Historic Cottage

My wedding was this past weekend June 12, 2021. I could not have picked a better venue. It was so me! Mahi is the best she listened to everything I envisioned and was there with me every step of the way. She was always accommodating and did many extra things for us. She lead the way and gave great advice. My guest love the uniqueness of the venue as well. We will never forget Mahi!

Katy D.

Married on 10/19/2019

Wonderful personalized service!

Amir and the whole team at RHC are absolutely amazing. We were able to meet with them frequently to go over every part of our wedding and reception, and it was extra easy as we went with the package option, so all of our vendors were booked by them. We were able to customize so much of our day, and they had great suggestions for logistics. The day of the wedding was completely perfect, despite bad weather. Our planned outdoor cocktail hour had to be moved to the loft, which wasn't a problem at all, but Amir still brought in extra decorations to make up for it, and was even out on the roof himself when there was a slight leak (which was completely fixed right away). Literally every single thing went so smoothly that no one in the party had to worry about a single thing. They are absolutely worth it!

Sascha

Married on 04/28/2019

Dream Come True!!

I COULDN'T HAVE CHOSEN A MORE PERFECT VENUE!

Amir was a wonderful coordinator. There were a few times I got so nervous/anxious because I was experiencing fear of the unknown and when he told, "I got it"....HE GOT IT! Everything was so beautifully executed at my wedding. I had both the ceremony and reception at RHC. I had the ceremony on the 1st floor, cocktail hour on the 2nd floor and the reception on the first floor. All the decorations, centerpieces, linens, etc were so perfect. Everything, and I mean EVERYTHING was exactly how I envisioned.

Another cool part was since the venue is on Canton Street, I chose to walk around with my bridal party and photographer and we were celebrated by all the people along Canton Street. It was so nice that random people took part in my special day.

A big plus with choosing RHC was the vendor list. No, not a preferred vendor list...it's a list of all the people the venue uses so it's a one stop shop (for lack of a better word/phrase). I didn't have to look up additional vendors and keep track of it. Amir was in charge of the vendors and they were there, on time, if not early.

DJ Bluue - was great! So easy to work with, very responsive and showed up early. I preferred he didn't take requests from guests and he listened very well to my request. I'd highly recommend him.

MomoLuxe (photographer) - did a great job with the photographs I wanted to capture. She was so excited for my big day and that showed and felt very nice. I cannot wait to see the final photos, because the few I previewed from her camera were magical!

Hamilton Flowers - did the centerpieces and Irina did a perfect job with capturing the feel/vibe. I loved the floating candles and the gold vases, along with the baby's breath flowers. Beautiful.

Bebe's Catering - NAILED IT!!! I'm not a huge meat eater, but I wanted seconds (and even thirds). We splurged for the beef medallions (so glad we did). They were cooked perfectly. Absolutely delicious. We also chose the Lemon Picata Chicken - and that was THE best chicken I've ever had. My family agreed, too. The sides were delicious and seasoned very well, without being too salty. I'm still craving the food.

I had an absolutely magical, romantic, fairy-tale wedding and it was because of everyone involved. I highly recommend RHC, Amir, and all his vendors! Well done and I will forever have this amazing memory.

+ 5

photos

Terrice

Married on 04/13/2018

As an event planner, this venue has such much personality. I am always looking for great and unique venues and this one doesn't disappoint. I've hosted several weddings here and will continue to expose Roswell's hidden secret in this venue. The price is reasonable which makes it that much more attractive. A special thanks to Amir and his team.

Misty

Married on 11/26/2016

This was the perfect venue. We wanted a rustic feel and thats just what this place is. Exposed brick and wood beams make it absolutely beautiful. The owner Mahi was amazing to work with. She always answered when i called or email and was more than helpful with everything. If you are looking for a wedding venue this is it. Also being able to use our own vendors made it even more to our liking ??

Mahi was very helpful. She would respond pretty quickly with any questions I had. The venue is breathtaking too!

Autumn

Married on 06/10/2016

Mahi and Roswell Historic Cottage provided the canvas for us to create the wedding of our dreams! Mahi was always welcoming, responsive to my silly questions, and open to my ideas! We were able to customize our wedding as we wanted and enjoyed the help of her in-house bartender Erin as well as the valet. The space is stunning and our guests loved it! We highly recommend RHC for brides who want to create the wedding of their dreams and choose their own vendors. Our deposit was promptly returned and our experience was wonderful.

Jennifer

Married on 03/19/2016

We are absolutely in love with this venue!! It was the first one we went to see and my fiance did not want to tour any others after this one. Beautiful space, lots of added amenities, and a great value for a very classy venue!!

Priyanla

Married on 11/05/2015

Beautiful venue & our event was beautiful

This is a beautiful venue. We had our daughter's 3rd birthday here.Mahi did an amazing job bringing my Vision to life. She is so delightful to work with. She made sure to do everything as i wanted. Decor, food , cake & service everything was perfect. We are extremely happy that we decided to do our little girl's birthday at this venue. This venue is extremely beautiful without any decor even & decorations added cherry on cake. We can't wait to do more of our life events at this place. I would recommend roswell cottage hall & Mahi to all my friends & family to celebrate their events.

Sabrina

Married on 08/28/2015

Miah was very professional. The venue was exactly what we were looking for. The theme for our wedding, rustic and romantic, meshed well with the rustic feel of the venue! Everyone loved the feel of the wedding venue and I would definitely recommend it to other engaged couples!!!!

Fate

Married on 08/14/2015

Loved it! Mrs. Mahrokh was very kind and helpful. She recommended lots of vendors, and made our experience fun!

Mahi was so helpful and accommodating during our wedding!

The venue is SO beautiful and she was so flexible in letting us decorate/do what we wanted.

She was always available to talk on the phone even if we called asking the silliest questions.

The venue is absolutely gorgeous and Mahi came by at the end of the wedding and personally congratulated us.

She was the best!

Molly

Married on 04/11/2015

I can't say enough about Roswell Historic Cottage and Mahi (the owner). It is such a gorgeous venue and Mahi was beyond accommodating and extremely easy and pleasant to work with. I got married over a month ago and people still tell me how gorgeous the venue was. It's located right behind Canton Street in downtown Roswell so it's really close to restaurants, bars, shops, etc which is a nice option for guests after the reception. I would definitely recommend Roswell Historic Cottage to anyone getting married in Roswell.

Thanks for everything, Mahi!
Are you interested?
Send a message