70 Reviews
Recommended by 100% of couples
Quality of service

5 out of 5 rating

Average response time

5 out of 5 rating

Professionalism

5 out of 5 rating

Value

5 out of 5 rating

Flexibility

5 out of 5 rating
6 User photos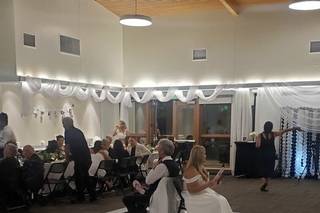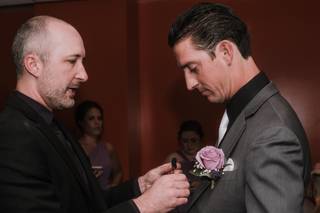 + 2

photos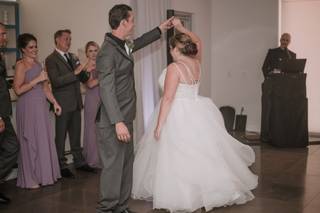 Kellen S.

Married on 10/22/2022

Professional and Supportive

Budd was great at keeping the party on schedule. At each meeting before the wedding he was professional and made us feel comfortable that he would be able to handle the wedding day so we would have no worries. He was receptive and adaptive to last minute changes I requested on the wedding day.

Tracy K.

Married on 09/02/2022

A MUST have on your Wedding Day!

RoseBud Entertainment is a must at your wedding!! If you are looking for class, elegance, professionalism, time management, and personal.
If you're looking to change up your reception and get your guest up and having fun, hire Rose Bud Entertainment.
I am so happy, Budd was a part of my day, and he made it even more special than I could have ever imagined.
Thank you so much, Budd!!


Perenise T.

Married on 11/14/2020

A1, amazing, incredible, outstanding, top rank, the absolute best!

If you're looking to hire a DJ, Budd is the person you want...Budd elevated our wedding day and made it more than we could've ever hoped it could be, aside from our kids being born it was truly the best day of our lives, without question...collectively, our entire vendor team made magic happen- but Budd set the tone and the vibe for the evening, we can't thank him enough...his communication was A1, his ability to work the crowd the way he did, the reception intros, the games, his readiness with the on the spot adjustments (i accidentally switched the order of 2 things on our timeline), the creativity he displayed with the first dance, front to back and everything in between, Budd was OUTSTANDING!! His DJ skills were great too!! Each transition from one song into the next, the blending of tempos, everything was so smooth, everyone was loving it!! My wife and i are so incredibly happy that he agreed to work with us, from the bottom of our hearts we're extremely thankful...there's no combination of words that can capture the happiness my wife and i have, the memories will be cherished for a lifetime and Budd will forever be remembered as the man who orchestrated the sountrack to our happy life...thank you again Budd...such an amazing person with such an easy going personality, super easy to work with and so much fun too, Budd is truly the best!! On behalf of my wife, many thanks, much love and gratitude...do yourself a favor and hire Budd, you won't be disappointed

Are you interested?

Send a message

Hana P.

Married on 09/20/2020

Most amazing DJ ever

Budd was the most amazing DJ we could have asked for. He put so much time into prepping for the wedding, including meeting up with us a few times and a FaceTime call just before the wedding. Our guests all raved about how awesome he was, and how he kept the energy strong all night long! He also spliced interviews we did about each other into our first dance song, which made it SO special. We would highly recommend Budd!!

Kathryn K.

Married on 06/29/2019

Truly Amazing from Start to Finish!!

I met Bud when he was the DJ at my sisters wedding 4 years ago and I knew I wanted him at mine. He did an amazing job at our June 2019 wedding! From day one he helped to understand what we wanted from our wedding and planned the entertainment to match it. When ever we had a question, Bud always responded quickly and would find a solution. He did all the uplighting and sound system for both the ceremony and reception in two different rooms without an issue. Throughout the wedding, our guests all raved about how great the music and entertainment was. I would highly recommend RoseBud Entertainment!

Cindy F.

Married on 04/05/2019

Consummate Professional

Bud was the Emcee for my daughter's wedding last weekend, and he is amazing! He mic'd up the ceremony on the 2nd hole of the golf course, provided the music for the ceremony, and had the music going for the cocktail hour, and still had all of the reception music and games all set and everything went off without a hitch! He even provided a special edit to their first dance, their voices talking about each other during parts of the song! He kept the party going until he had to dismiss everyone from the dance floor so we could clean up at the end of the night, lots stayed to dance to his tunes. He is so fun and friendly, so in tuned with helping manage the microphone for speeches in line with the bride and groom's wishes, he is simply a pro at this, and so much more than a DJ, he truly is the Master of Ceremonies. I highly recommend booking him for your wedding, you will get so much more than you pay for with Bud.

RoseBud Entertainment's reply:

Thank you so much for taking the time to write this. I enjoyed celebrating with your family and being a part of such a wonderful day. Your family made me feel so welcome.

Edward

Married on 06/23/2018

I am going to keep this short. My sister married one of my good friends and used this guy. I am only writing this review because he was really that good at what he does. You are not just paying for a DJ. He sent a whole schedule of his part in the wedding and helps bring the couples envision to life. I was the best man for the wedding. Once he got there, I felt like the true wedding coordinator arrived. He gets everyone involved; truly showing you how important the DJ's role can be. I am definitely using his service for my future wedding!

In conclusion, Do NOT go cheap on hiring a DJ.

RoseBud Entertainment's reply:

This is such a great surprise. Thanks EJ for taking the time to write this review. Is your girlfriend expecting... cough... expecting you to propose soon? Lol.

Erin

Married on 11/18/2017

Budd was an amazing DJ. From the first phone call to the wedding day he really got to know my husband and I. We had a few in person meetings with him where we started to feel more like friends. He is super down to earth and really listens to what we wanted for the music and entertainment for our wedding day. When we started to run a little behind during our reception Budd jumped in and made sure we got all the activities- cake cutting, bouquet toss and garter toss all in. I would HIGHLY recommend Budd and hope to use his services again one day!

Bianca

Married on 08/26/2017

Budd is awesome!!!!! Of all of our great vendors I️ think he was the best. He made the wedding with the great games and awesome music, and his ability to read the room and get people dancing was top notch. We had so many people tell us what a great DJ and MC he was, and we couldn't agree more. We were so impressed by his entire planning process, and he made it so easy on us. He was very responsive to any questions we had, and he was so polite in reminding us of the tasks we still needed to complete. He has a very intuitive website where you can choose your songs for each part of the wedding on your own time, and he has the ability to cut and edit songs to make them exactly how you want them (shorter, longer, joining songs, etc.). He also has all the equipment to make your wedding look great without the nickel and diming that most wedding vendors partake in. Booking with Budd not only included all the sound equipment for the ceremony and reception, but it included uplights, cake spot lighting, and custom monogram projected onto the wall. To sum it up, Budd is an awesome DJ/MC who will be there every step of the way to guide you and help customize your wedding exactly how you want it. I will definitely be recommnending Budd to everyone I know!

Tori

Married on 07/13/2017

Budd Moyer was the reason why my wedding day was a success! His amazing personality and spirit was just what my husband and I needed on our wedding day. From day 1 he because more than a DJ. He became a friend! He truly cared for my husband and I. When planning a wedding a lot of things will go wrong, but let me tell you...entertainment won't be one of those things to go wrong with Budd Moyer. He even got my Grandpa dancing! My Grandpa had multiple spinal surgeries and Budd played the right mix of songs that got my Grandpa out of his seat willingly and was the star of the show! Watching my Grandpa dance to his favorite songs made my day even more special! Budd was the right choice for our wedding! Thank you Budd for making our rehearsal and wedding day the best days of our lives.

Lexi

Married on 04/29/2017

Bud was the best DJ we could have ever asked for. I was shocked during our first meeting with the questions he was asking because his interest showed how well he was going to do. It sounded like he would definitely keep the night on track and interesting, in which he did. He has great ideas for games and entertainment, rather than just playing music all night. My guests were blown away and very entertained. I would recommend him to anyone!

Kim

Married on 04/28/2017

This was a hands-down easy review as Bud is the best, a very talented Master of Ceremonies and DJ! We got SO many compliments about him after the wedding and reception, he was simply awesome! He knows exactly what he is doing, knows how to read people and work with other vendors, is super flexible and knowledgeable, came up with so many unique ideas and really knows his stuff! He has state-of-the-art equipment and stays on top of everything new... he can do anything from a music standpoint to pinpointing the cake. Truly one of those rare people you hire and know don't have to worry about a thing! We are super-grateful for having found him and although we don't plan to do this again (ha ha) we would hire him for other events in a heart beat. You will be glad and pleased with yourselves for hiring Bud.

Johanne

Married on 12/18/2016

Budd is an amazing DJ and you would be hard pressed to find someone like him. We were randomly searching for DJ's online and came across his company name "Rosebud Entertainment" which has a special meaning for my husband and I. We decided to meet with him and were blown away by his personality and the way he envisioned the wedding. He encouraged us to talk and meet with other DJ's to see if we really did want to go with him before we made our decision. We took his advice and met with other DJ's but they did not have the same passion and vision that Budd had. We certainly made the right choice when we decided to go with Budd.

He is very supportive and easy to get a hold of when we had any questions. He made the planning process a breeze and it was a lot of fun meeting up with him and talking about what we had in mind for the big day. He is professional but not afraid to have a lot of fun. He is easy to get along with and has a great personality. Everything a talented DJ needs.

What makes Budd stand apart from other DJ's in his profession is that he makes everything memorable. He is able to include everyone in the celebration and each part of the reception kept every guest engaged. He truly did tell and express our Love Story and made the day amazing. He was not the type of DJ that just stood there and played songs at the right times. He was our Master of Ceremonies who was able to piece everything together and make it special. Every memory stood out and was unforgettable!

If you are trying to decide about which DJ to go with, look no further! Budd will help make your big day an event that you and your guests will never forget.

Budd, thank you so much for all of your help! You really did make a big difference in our special day and we will always be keeping you in mind for any future events that we will have. Thank you again!

RoseBud Entertainment's reply:

Johanne, you and Geoff are so much fun. You made it easy to be your DJ and MC. I look forward to seeing how your life unfolds. Thank you for letting me share in this part of it.

Tami

Event on: 12/16/2016

I cannot say enough about Budd he was professional attentive, seem to know what to do when without even asking. He did not hesitate to ask questions.

He also came an hour early without any question.

I would use him again and again.

Taiwah

Married on 12/14/2016

We hired Budd and he was great right from the beginning, unfortunately life events hindered us from being able to move forward with him; and while he could have just said figure out your next steps yourselves he not only referred a new rep he took the time to get us connected. He is an amazing person, if you get the opportunity to work with him..... do so!

Rebecca

Married on 11/19/2016

Budd was absolutely AMAZING! He was the partner in crime with my fiancée (now husband). We all just clicked. He was one of the best part of our wedding. He went above and beyond. So energetic and made everything we wanted happen with out any problems. All our guests loved him! He was very helpful with suggestions if necessary. Look no further, Budd is your guy!

RoseBud Entertainment's reply:

Thank you Rebecca for taking the time to write this review. It was a pleasure to be a part of your wedding. You and Chris were so much fun and your love story is so unique. I don't think I'll ever forget what some of your guests yelled out during the reading of it. I still laugh when I think of it. I wish you and Chris all of the best together.

Laci

Married on 10/29/2016

From start to finish, Bud was excellent. He knows what he is doing and knows how to work a crowd! He is extremely organized and really listens to what you want. He has great ideas and will customize your wedding exactly how you want and see fit. I, along with my guests had the time of our lives on the dance floor. I had comments all night about how amazing Bud was. He kept the guests interested and engaged the entire time. I was so impressed with his client event planning site that allows you to create the ultimate playlist and organize the ceremony/reception just the way you want it. If you're looking for a DJ that listens, truly cares and will add an extra "oomph" to your special day, Bud is it!

RoseBud Entertainment's reply:

Thank you so much for these kind words. You and Keven are so great together and your guests were there to party. I enjoyed learning about the two of you and being a part of such a special day.

Jaime

Married on 10/13/2016

Budd was absolutely amazing. He was one of the best part of our wedding. He went above and beyond. So energetic and made everything we wanted happen with out any problems. All night my guest kept telling me how awesome my dj was. He was spot on with everything. Will miss him now the wedding is over, but hope to use him again

RoseBud Entertainment's reply:

Thank you so much for the kind words. You and Patrick were so much fun to celebrate with. It was also great to see Patrick get to dance until the very end!!!

Budd was an absolutely amazing wedding DJ. Not only did he play great music the entire reception but he organized, coordinated, and had several original ideas that we used throughout the ceremony/reception. Our wedding was the greatest night of our lives and Budd deserves a lot of the credit for making the magic happen. If you're looking for a wedding DJ, you can stop now. Call Budd, give him a general idea of what you want, he will take care of everything, leaving you able to enjoy your day with no stress. I can not recommend Budd higher.

Tiffany

Married on 09/30/2016

Budd was the best DJ/MC we could have hoped for. He is friendly and very laid back, but professional all at the same time! He was super flexible with our budget as well which was a huge help. I truly believe he was one of the reasons our wedding went so well. He made our ceremony everything I had dreamed of because of the music he helped us choose. Our reception was so entertaining, not just with the music, but the games as well. We started the evening with the kissing game, then after dinner we played the shoe game. My husband wanted to remove my garter in private, so Budd suggested a garter replacement with my sister and her boyfriend, which was absolutely hilarious. We loved him, our guests loved him, and the music was perfect all evening long. I will be recommending him to all my friends getting married in the future!! Love you Budd!!

RoseBud Entertainment's reply:

Hi Tiffany. You are amazing and so is Aaron. I loved your first dance and even with the wardrobe malfunction, it was beautiful. I've officially restocked my safety pins with extra :)

Mikaila

Married on 06/17/2016

Bud was amazing he really took the time to get to know my husband and I.

RoseBud Entertainment's reply:

Thank you for the review. The two of you are so cute together and your story was so touching. I wish you both all of the best!

Jessica

Married on 04/30/2016

From our first meeting, my husband and I knew we were in good hands with Bud! He truly wanted to get to know us and find out what our vision for our wedding was. Bud provided music and sound for our ceremony, cocktail hour and reception, as well as uplighting and a custom monogram for the reception that really added a special touch. We had multiple meeting both in person and over the phone to ensure our day would go perfectly. The day of our wedding he kept the whole event running smoothly and according to our timeline. He was so great to work with and even wrote a funny and endearing speech about our love story for our entrance into the reception. Bud had all of our guests up and dancing the entire time! After the wedding our guest raved about how good the music was. We couldn't have asked to work with a better DJ!

Diana

Married on 04/18/2016

BOOK ROSEBUD RIGHT NOW!!!

I'm not going to lie, my fiance was the one who wanted to book RoseBud, I wanted to book someone else. We met with RoseBud anyways because that's how much my fiance seemed to like him and after meeting him, I knew we had to have him be our DJ because 1) my fiance honestly thought he was like the best ever 2) he seemed genuinely interested in us, why we were together, and what we liked. 3) he did something called a "Love Story" at our wedding, which made it more personable and allowed guests to know a bit about us as a couple in ways they hadn't before (fun ways, not embarrassing ways).

Look, any Dj can play music when he's supposed to and any DJ can play a song that you request, but not any DJ is going to treat you the way RoseBud will. He not only served as our DJ, but almost like our Day of Organizer! We made a timeline together and he kept everything going smoothly and on time. He was a storyteller when telling our Love Story and was very attentive to our odd request (we had a lightsaber battle followed by our first dance--try having a flawless transition, RoseBud did).

RoseBud is worth all the money. EVERY.SINGLE.PENNY. He's not just a DJ, he's a defender of your ideas for one of the most important and best days of your life. Honestly, message him, meet up with him (he'll come to you). You're going to love him and choose him for your wedding!

RoseBud Entertainment's reply:

You absolutely floored me with your review.
I was honored to be a part of your wedding and reception. It was so much fun and I'll remember your lightsaber battle for years, as well as, how you saved your new husband. I'm so glad Eric pushed for us to meet.

Budd is an awesome DJ. He goes above and beyond his expected duties. He is professional and courteous. He anticipated and met many of our needs before we even realized what they were! We will most definitely be using RoseBud Entertainment again!

Evan

Married on 04/02/2016

Budd Moyer of Rosebud Entertainment was nothing short of phenomenal from the initial meeting up through our entire wedding day. Budd was recommended by a friend, and we are so thankful for that reference. My fiancé and I set up an initial meeting with Budd months before our wedding. We thought we were simply looking for a DJ who would play great music, but we walked away knowing we had found something so much more than that with Rosebud Entertainment. Bud was professional, detail oriented, well spoken, humorous and most importantly made us feel comfortable right from the start. By the end of our discussion we felt like we were long time friends with Budd -- in fact, we concluded our meeting with hugs instead of a handshakes.
My fiancé and I did not hire a wedding planner, yet we feel like Budd helped fill valuable portions of that role. He helped us with planning not only the reception, but parts of the ceremony as well. He partnered extremely well with our venue to make sure every loose end was tied up. He was in my corner with my best man and groomsmen moments before the ceremony to show his support. Suffice it to say that our ceremony and reception went perfectly as planned and we owe all the credit to Budd and his organization. His hard work exceeded all of our expectations going into our big day. Budd had everyone out of the dance floor and was even getting high five's throughout the night. Everybody loved him!
No request was too much for Budd. No text or phone call ever went unanswered. Budd met every challenge we put in front of him with a positive "can-do" attitude. I rarely take the time to sit down and write a review, but the top notch service we received from Buddy Moyer and Rosebud Entertainment was definitely worthy of such. Rosebud Entertainment gets our highest recommendation. We encourage any prospective couple to meet with Budd for their wedding needs. After just one meeting, you will walk away with unparalleled confidence knowin

RoseBud Entertainment's reply:

Thank you for the review. I think your grand entrance will go down as one of the best bride and groom entrances of all time. The amount of energy coming from your guests as the two of you danced into the room still gets me amped up.
Are you interested?
Send a message