11 Reviews
Recommended by 100% of couples
Quality of service

5 out of 5 rating

Average response time

5 out of 5 rating

Professionalism

5 out of 5 rating

Value

5 out of 5 rating

Flexibility

5 out of 5 rating
Awards
3 User photos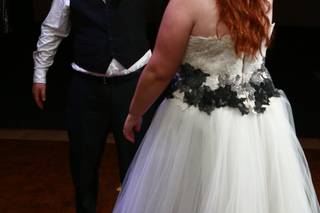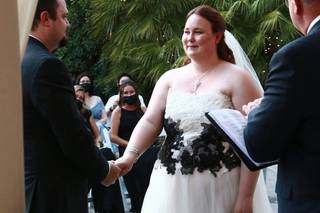 Charla

Married on 09/06/2020

Best decision for my wedding

Rose is seriously like my fairy godmother! I could not have imagined a better experience with my custom wedding dress. From the first phone call Rose makes it so obvious how much she cares about each and every one of her clients, she was so friendly and willing to work her creative magic to make your dream a reality. She has gone above and beyond at every step to make sure I look my best in my beautiful dress. She advised slight alterations to my initial design thoughts based on what would best fit my body shape and my features, as well as my personality. The hand craftsmanship she added to my dress is unbelievable, from hand dying lace and tulle to the appropriate color (with a gradient!) to hand stitching the lace on the bodice! Since my wedding is happening during the great pandemic of 2020, Rose was even kind enough to send me home with some of the scrap pieces of lace and tulle so I could fancy up a mask to match my dress perfectly!
I seriously could not have imagined a better experience, Rose made me feel like a princess for my big day!

Dana

Married on 08/13/2016

Wow! Where do I start...? First of all, my dress was gorgeous and perfect.

I found Cinderella's Closet after searching for over 8 months of trying on, what seems like a million gowns and none of them working out. My MOH suggested I have one custom made, so I started Googling custom wedding dress designers and searching on Pinterest. Rose DeSimone's name kept popping up, so gave her a call.

She was so charming, right from the start, and I could tell she has a lot of passion for what she does. She spent over an hour with me on the phone walking me through the process and asking detailed questions about what I was looking for. I felt as though she really listened and got me, so I scheduled an appointment for our first consultation (I live in Long Beach and her studio is in Carlsbad, San Diego so she worked around my schedule and drive times, which was very nice)

Rose has great reviews and awards all over Yelp and other websites, so I was expecting great things and I was not disappointed! She was a true professional and knows her craft. I hired her to design my wedding gown that day. She took my measurements and talked about any concerns I had with my body (I did, who doesn't, LOL), so she could make sure the fit of my dress worked for my figure. I never really had thought much about that, before, but it made all the difference in the world because I looked so great in my dress! It fit perfectly.

I have to say, I was a bit nervous having my wedding dress custom made, but after experiencing true couture, I can highly recommend Rose DeSimone to design your gown, but just relax and let her take care of you. Tell her all your expectations and then just step back, let her do her thing, and watch the magic happen! Everyone absolutely loved my gown and I felt so happy!


Bethany

Married on 06/07/2014

Rose is a true expert at what she does. Not only does she create beautiful gowns, but she also brings deep insight and care into the process. She strikes a balance between guiding the design based on her own expertise and tuning in to the client's vision. She is extremely intuitive and sensitive and understands how to nurture each step of the process. The experience of having a custom-designed gown--knowing that every detail, every angle and curve is designed for you by an expert--is truly priceless.

Rose DeSimone Bridal's reply:

Thank you so much for such kind words! It was my pleasure working with you, as well! You are such a beautiful woman...physically, as well as spiritually and looked so beautiful on your wedding day! It was so nice to meet your mom and MOH, both of whom were such a fantastic support system for you and I could tell loved you to pieces!
I wish you and your new man all the best and if I may help you or your friends, in the furure, just let me know. Hugs! -Rose


Are you interested?

Send a message

Russetta

Event on: 12/07/2013

Rose is an incredible designer and gets to know each individual's personality when designing. I'd absolutely recommend Rose and will use her exclusively as my special occasion designer!!!

Paula

Married on 10/26/2013

I wanted a wedding dress that was unique in that I wanted it in a sage green color. Rose hunted for and found exactly the color that I was hoping for and created a beautiful wedding dress for me! Although the dress design that I wanted was simple, Rose came up with creative little touches that made the dress extra special.

Justine

Married on 05/10/2013

I wouldn't exchange this part of the wedding planning experience for anything. The gift of being able to have a dress that you dream of, with the functionality that you imagine, and the fit that is only yours…it's really special and it should be.
I had a destination wedding in Mexico and I knew how hot and humid it would be. During my dress search I saw many beautiful designer dresses but they just weren't me. They weren't functional in the heat and sand and they didn't reflect the mood of the wedding my now husband and I were planning. I toyed with the idea of having my dress designed and I thought I should at least speak to someone about it. That's when I found Rose. Pretty immediately I knew she was going to give me what I was looking for.
I especially appreciated two things about her: She is straight forward and most importantly she knows how to build a dress. There was no dancing around any aspect of this process. There's a lot at stake for both parties and I never questioned, even for an instant, that I put my trust in the right place. That trust comes from the confidence that she knows she will give you the dress you are looking for. In her background is architecture and it's apparent in how she sees the process of executing your ideas. It's a remarkable thing to see and to be a part of. I felt so grateful in the end when I picked up my dress. It was a perfect fit and the materials were quality. She paid as much attention to the small, unseen, interior details as she did to the exterior. She ensured the exact and strategic placement of small embellishments based on the my desires from our fitting. Those details are the difference between amateur and professional, factory made and custom designed.
I highly recommend the experience of having your own dress made and I highly recommend Rose.

Carol

Married on 08/09/2012

When looking for my perfect wedding dress, I found that I liked various aspects of many different dresses and wished I could put them all together to create the one just-right dress for me. Even if I HAD found that elusive perfect dress, it would have needed alterations due to my petite stature, so having a custom dress seemed the obvious solution.
Rose DeSimone Bridal made this dream come true - the perfect dress AND the perfect fit ! A one-of-a-kind creation, unique and special just like my wedding day.
Rose "got" what it was that I wanted and seemed to "get" me and my personality and wedding style and created a professionally finished beautiful gown that is better than any off-the-rack gown out there. The value was exceptional as well, so even on a tight budget, I was able to have what I wanted. Just alterations alone can be costly, so having a finished dress that needed NO alterations was wonderful.
I suggest you gather up all those images of all the dresses you like the feel and look of and have her create the ONE dress that is everything you dreamed of AND fits you perfectly in every way.
Highly recommended !

Jenna

Married on 10/15/2011

I had so many compliments on how beautiful my gown was!

I don't have a cookie cutter figure, (I'm 5'2", D cup and a size 2), so having a wedding dress custom made was my only option. I started asking around and looking online for a designer and found Rose DeSimone in Carlsbad, I live in Los Angeles, but figured it wasn't too far, especially after I found out she has brides flying in from other states! When I met Rose, after chatting with her for about an hour on the phone going over what I had in mind, I was impressed with how casual, yet professional she was. She wasn't one of those stuck up, self important fashion designers you hear about. We had a great time and I felt very confident she could create what I wanted. Rose has a gift for seeing what our best features are with our bodies and showcasing those in the gown. When I picked up my gown it fit perfectly and I felt stunning in it!

I recommend Rose DeSimone to any bride looking to have a custom wedding dress made. She worked with my budget, came through with the perfect design, and completed everything as promised. Which made my mom and fiance happy because they were tired of hearing about my not being able to find a dress of the rack. lol

Rose DeSimone Bridal's reply:

Thanks, Jenna! I am so glad you were happy with my services. I wish you all the best with your new husband and if I may be of help to you or your friends in the future please let me know.

PS. Let me know when your baby's due and I'll send you a little something from "Aunt" Rose! :)

Rose created a beautiful gown based on a design I had seen in a magazine. She also selected the appropriate fabrics that went with the design and climate of my destination wedding. She finished my gown, fittings and all 6 months before my wedding since I was moving away from San Diego.

Jaime

Married on 07/29/2006

I would recommend Cinderella's Closet to any bride to be! Imagine having your very own, unique wedding gown, made to your exact specifications! Rose was my dream come true. I contacted her with less than 2 months until my wedding and she designed the wedding dress of my dreams! The value was phenominal, I was amazed at the quality of the fabric and detail that she put into my wedding gown. Everyone loved my dress! People are still raving about how beautiful it was, thank you Rose!

Kayla

Married on 05/23/2009

Rose made exactly the dress I had dreamed of, and it fit me like a glove. She was spunky, energetic, easy to work with, and she insisted on working only within my budget.