Reviews
4.7 out of 5 rating
Quality of service

4.8 out of 5 rating

Average response time

4.6 out of 5 rating

Professionalism

4.7 out of 5 rating

Value

4.7 out of 5 rating

Flexibility

4.8 out of 5 rating
95%
Recommended by couples
Awards
3 User photos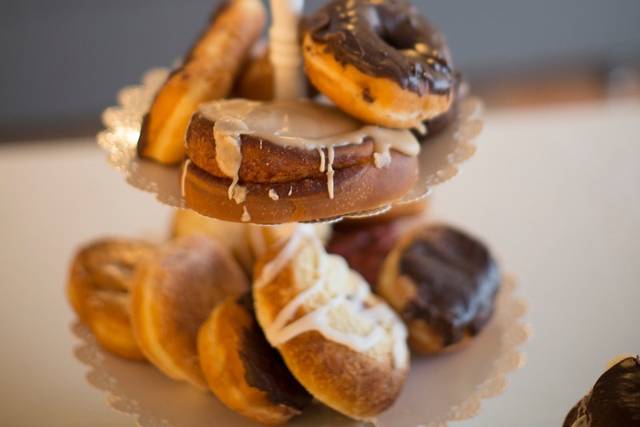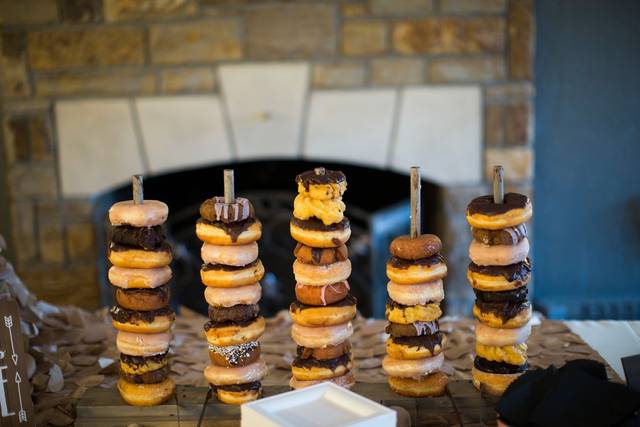 Featured

Andrew

Married on 02/25/2017

We were married in February 2017 and chose to use the Gourmet Kitchen as the caterer for our wedding in Estes Park. We are located in Illinois so we were planning this as a destination event and had limited opportunities to travel to Colorado prior to the event. We reviewed the 4 caterers that the venue allowed and had tastings at each. The Gourmet Kitchen had by far the best food we tasted. That being said, it was their flexibility that ultimiately led us to choose them. Madhoo(Chef and Owner) met with us at our tasting, understood what we were looking for and ended up creating a unique custom menu for us. She accomodated Gluten Free, Vegan, and Dairy Free requirements while still making exceptional food for the majority of the guests without limitations. If you are looking for unique excellent food, then I cannot more strongly recommend The Gourmet Caterer. Another example of their flexibility is that they allowed us to fly in our favorite Ice Cream from Illinois and set up an amazing ice cream bar as part of the event.

The day of the event, Madhoo attended and was extremely attentive. They brought a plate of each of the appetizers and set it at the head table so my wife and I were able to try everything. They also made up several plates of food for us to take back to our room to eat following the event. Madhoo attended us and the guests without being invasive and genuinely seeme to care about making our day amazing.

I would choose The Gourmet Kitchen again in a heartbeat.

Stephanie

Married on 06/28/2019

Reliable service

The Gourmet Kitchen was nicely organized. The food was delicious. Our courses were herb chicken, mashed potatoes and roasted carrots. Ours was buffet style. Everything was displayed nicely.

Elyse

Married on 10/08/2017

Madhoo and her team were incredible. From the first contact, Madhoo was prompt and accommodating. Madhoo took time and care in coming up with a special brunch menu and made as many changes as we asked for without hesitation to help us stay within our budget and keep our overall vision. Our tasting was so incredible we knew we had to have the Gourmet Kitchen for our wedding and rehearsal dinner too (with a greatly appreciated discount for booking both). The food was unique and displayed beautifully to fit the theme of our wedding. The Gourmet Kitchen was the most outstanding vendor of our entire wedding weekend.

Are you interested?

Send a message

Claire

Married on 08/13/2016

We used The Gourmet Kitchen for our wedding and our rehearsal dinner. They offered 50% off the food for the rehearsal dinner since we booked our wedding with them, which was great! Madhoo herself worked both events, and made sure to come talk to me during the events to ask how everything was going, and if we needed anything. The food was great, and they were super flexible with all my (many) changes to the estimates/food choices/numbers throughout the entire process. Vipul was very responsive leading up to the events, and was also very nice in responding to my emails in a timely manner, and answering all my questions. They were very reasonably priced (and I got estimates from ~10 caterers), and were very flexible, customizing the menus to exactly what we wanted. They can make pretty much anything, so you just have to tell them what you have in mind. Definitely recommend them, they will put you at ease on your wedding day knowing they will take care of all the food/bar/service.

Roots Catering's reply:

Thank you so much for your kind words, Claire! It makes us so happy to know we played a part in making your big day perfect. Cheers to the happy couple!

Patty

Married on 08/13/2016

In August 2016, my daughter's wedding and reception was held at Copper Leaf Gardens and Event Center with The Gourmet Kitchen catering the event. One of the reasons we chose The Gourmet Kitchen to cater was because they are housed in the same venue as Copperleaf, where we had ceremony, and reception. As such, our event greatly benefitted from the food being brought up straight from the kitchens, with no transporting between kitchen and venue. As mother of the bride I am so happy we made that decision. Vipul and Madhoo Seth were wonderful to work with. They were flexible in working with us with drink options for guests (and even set aside a particular bottle of wine for the bride). Rather than pushing a particular menu on us, they helped us create the perfect meal for my daughter's big day. They went so far as to help create a brunch menu for the mid-morning affair that included "build your own" hash brown bar. Everything was cooked perfectly and our guests raved about the food (we highly recommend the bacon-wrapped dates). Additionally, I had the opportunity to peek into the kitchen while delivering the wedding cake (we brought in our own) and was very happy to find a clean kitchen and polite staff. We were delighted with the The Gourmet Kitchen, and absolutely recommend them to future brides (regardless of whether you have your event at Copperleaf or not).

Sabrina

Married on 08/16/2015

Madhoo and her team were amazing! We want a unique experience that would be remembered. She was willing and excited to do a family style dinner (something most caterers are not up for) and when I said I wanted authentic Chinese food complete with chicken feet, they were all on board. The food was delicious and she always took time to understand what we wanted and even spoke with my grandfather at the wedding. Thank you Madhoo and Gourmet Kitchen! Everyone who attended is still talking about how good the food was.

Marcie

Married on 07/04/2015

I had the Gourmet Kitchen cater my wedding on July 4th at Hudson Gardens and it was a GREAT success! Kris who was the lead and bartender truly went out of his way multiple times to make sure that we were satisfied and had everything we needed! But here is the part that is truly exceptional. When you are planning a wedding, most of the work is done beforehand. Multiple meetings, time lines, pickup, drop off, and the list goes on. Mahdoo, the owner, made sure that our communication was truly a pleasure. The planning process was fun and I felt very spoiled on our special day due to some of the extras that she made sure were there for my husband and I. When you are picking a caterer the money and the food are very important yes, but equally as important is the customer service you are given. The Gourmet Kitchen excels in all three!

Anu

Married on 05/30/2015

Madhoo and her staff just helped us host a huge Indian wedding for our daughter. It was a major event and they catered twice for us. One was preplanned and the other was almost unplanned. We were suppose to have the indian wedding at home however due to weather we had to move to Copper Leaf Event Center abruptly. Madhoo and her staff helped us immensely and made every thing just beautiful along with delicious food.

All of our guests were treated with respect and lots of smile. Service was amazing. Food presentation was great as well. I do not have enough words to give praises to The Gourmet Kitchen Management and Staff. Food Indian and western were both amazing.

The care and warmth that went in towards our guests along with planning and executing both events were amazing, we highly recommend Madhu and her team for any event and specially for the important ones as the wedding.


Madhoo and her team were amazing! We found Gourmet Kitchen at a vendor preview at Boettcher Mansion. Immediately, we were impressed. When we contacted Madhoo, she worked with us to create a menu within our price range and arranged a private tasting. We went with prime rib, mashed potatoes, asparagus, pasta primavera, and caesar salad. We loved the food & people at Gourmet Kitchen. Throughout the planning process, I felt like Madhoo went above and beyond. She helped us plan our timeline, room set up, colors, place settings, and decorations. On the day of the event, we were very happy with the service provided. The room was set up beautifully, and the staff were professional. The servers brought my husband and I appetizers while we took pictures. We so appreciated that! We were really hungry by then! We received many comments about the food & saw many people walking back to the buffet for seconds. At the end of our event, we received our full deposit back from the venue, so Gourmet Kitchen must have done a fabulous job cleaning up as well. They even packed up the left overs for us.

In summary, we had a great first impression of Gourmet Kitchen, experienced great service throughout the planning process, and had a great 'day of' experience. I would highly recommend Gourmet Kitchen!

Eliberto

Event on: 09/25/2014

The Gourmet Kitchen was professional, helpful, and just a wonderful caterer to work with, and on top of that the food was amazing.

Janet

Event on: 09/25/2014

The food that Gourmet Kitchen provided was the best catering I have ever had. It was a great mix of food types and fresh. It was absolutely delicious! Everyone at the event was raving about it! They are wonderful people and provided top notch service

Jessica

Married on 08/10/2014

The Gourmet Kitchen was the first catering company we visited. We were so impressed with the food and the price that we sealed the deal that day. Madoo owns and manages the business and she is amazing. I had my wedding at the Evergreen Lake house and they have a small kitchen and a lot of rules to follow on clean up and exact time to be out ect. Madoo was familiar with the venue and told me not to worry about a thing she would take care of it. I needed to make a couple changes throughout the process and everyone at the Gourmet Kitchen were very accommodating. Madoo worked out a payment plan for us that fit our budget and allowed us to give our guest the fantastic dinner we wanted. Leading up to the wedding day she was in touch, ensuring we were on the same page. Madoo always got back to me quickly either through and email or by phone. We used the Gourmet Kitchen for our rehearsal dinner too. All of my family and guests went on about how fantastic the BBQ pulled pork was. The day of the wedding Madoo and her team were there on time and hard at work. My wedding turned out more beautiful then I could have imagined. The food was perfect and the service was spot on. As promised she took care of everything. I give them 5 stars and would recommend them for any event needing amazing food!

Jacquie

Married on 08/02/2014

The Gourmet Kitchen Catering is a wonderful company to work with. Madhoo Seth is so professional and went out of her way to answer our questions and provide guidance in our selections for the type of wedding we were having. Our guests had wonderful comments about how delicious the food was. Our venue was not the ordinary venue to cater. It had many challenges for Madhoo and her staff, however they worked hard together and provided excellent service. Madhoo's prices were reasonable, which is hard to find when you say, "Wedding". When we had our tasting, she and a staff member came to our house and set up a beautiful presentation for our family, and the portions were so generous that we were stuffed.
Madhoo is a beautiful person and we are very happy to have meant her and had her cater our daughter's wedding.

Danielle

Married on 07/11/2014

Where do we even begin to thank Madhoo and her team for catering our wedding at Hudson Gardens? Colter and I thank you all from the bottom of our hearts for everything you did to make our wedding day perfect!!! All of Madhoo's staff were so kind, patient, helpful and professional. Our wedding was everything we ever wanted and more. Madhoo went above and beyond on all of our expectations, not only as our caterer but as our friend! We had homemade brownies and cookies in our room as we all got ready. Then as we were taking pictures one of Madhoo's staff brought us cocktails and drinks. We just loved all of the extra special touches she made to our night. Madhoo we just love you so much! Thank you again for everything you did for Colter and I. We are so lucky to have had you there on our special day! I remember being so nervous about everything coming together the right way and Madhoo you were my best reassurance! You are an amazingly hard working woman! We can not wait to work with you again in the future! I highly recommend this caterer for any kind of event! SIMPLY AMAZING CATERER!!! We are forever grateful for having The Gourmet Kitchen cater our Wedding!


Megan

Married on 05/31/2014

I had worked with Madhoo and her team several times prior to planning my wedding. When we decided to set a date for our wedding; The Gourmet Kitchen was our obvious choice. They're food is second to none, they are responsive and incredibly professional. My venue did not have any coordinators on staff - so Madhoo took it upon herself to assist me with my rentals, dinnerware, linens, etc. She really allowed me to enjoy the process without worrying about all of the little details. I cannot thank her and her team enough for how beautifully my wedding turned out. The entire process was made so much simpler with her part of it.. and the food was to die for!

Debbie

Married on 05/02/2014

Madhoo and her staff were very professional and courteous. Everything was provided as contracted plus some!! The food was delicious and everyone had a fabulous time and nothing but raves. Thank you.

Tabitha

Married on 04/18/2014

The Gourmet Kitchen was amazing in all aspects of my wedding! Madhoo is so personable, professional, and knowledgeable of her specialty. She was always on top of things, even from the first phone call. She went ABOVE AND BEYOND to make our day the most amazing and stress free day! Of course there are wedding jitters, but those were my emotions to deal with. I had the utmost confidence in Madhoo's ability to run the show smoothly. She made sure the groom and I had appetizers, so that we didn't pass out before dinner! She sought us out to make sure we ate! Her staff was extremely courteous and professional, making sure every detail was perfect!
Madhoo was so pro-active, when more guests showed up than had rsvp'd. Madhoo immediately took over the situation and none of the guests were aware! She threw in extra's for us, like homemade Chai (that I fell in love with) in my dressing room as I got ready. She made virgin margarita's that were off the charts!
I cannot say enough about this amazing lady. I would recommend her services for ANY event!

Aaren

Married on 09/17/2012

If you want a caterer who goes above and beyond the call of duty then the gourmet kitchen is the caterer for you! Not only did Madhoo host a tasting for my mother (who flew into town) and myself she also picked up my donuts (we did not do wedding cake) the day of the wedding. She also set up everything for the dessert bar and suggested all these things for me to do to help make the event beautiful! I was extremely stressed out the day of the wedding because i planned everything by myself and finally made it to my breaking point, to calm me down Madhoo brought in the most delicious bread and gave me the most sincere hug anyone can give someone to help calm their nerves. Not only did I get comments from my photographer who my wedding was his 22nd wedding that summer about how amazing the food was but my guests did not go hungry all night. We had prime rib, chicken marsala and grilled peach salad with peach vinagrette and delicious mashers. It was amazing, not dry like most caterers it was moist and had the best savory flavor. I would recommend Madhoo above any caterer out there and I did search around and tasted a bunch of food. You will not find a more diligent and amazing caterer then The Gourmet Kitchen!!!


Aaren 09/15/12
The Dove House at Lionsgate Center

Amber

Married on 04/21/2012

"Madhoo and her catering team at The Gourmet Kitchen did an amazing job. From the beginning, they blew the competition out of the water. She treated us like we were members of her family instead of just another customer. I told Madhoo about my style and she created a beautiful, creative, and amazingly delicious menu that our wedding guests are still talking about. I felt as if she could read my mind! Our best decision for our wedding was working with The Gourmet Kitchen. My husband and I were constantly amazed at the kindness, special touches, and over-the-top quality of their service. She even had a henna artist decorate our cake to match my elaborate and detailed personality. I would recommend The Gourmet Kitchen to anyone who wants the PERFECT menu for their special day. The quality and the service were superior in every way, and the cost was better than any of the other catering quotes we received. Must taste to believe!!"

~Amber Storms Baird

Jenny

Married on 06/30/2007

They were wonderful! The food was fabulous, the value was unsurpassed. We would highly recommend them!!

Madhoo was very professional and personable through the entire process of choosing our menu. She had a calm demeanor and warm, gentle spirit that made the catering part of planning the wedding feel so easy. She always answered her phone, which made her feel very available to our needs! We loved that she could cook both Indian and American style food (and many other styles too!). The food was fantastic! Her staff was very helpful setting up tables last minute right when the rain cleared up. I couldn't have done it without her! Thank you!

Stephen

Married on 07/11/2015

Our daughter was married at Copper Leaf Events Center about a week and a half ago. The event was catered by the Gourmet Kitchen. We also had the rehearsal and the rehearsal dinner there the evening before.

Overall, we were very pleased with the center and the catering. Everyone liked the food and there was plenty of it. That was true for both the main meals and the appetizers.

The staff were very helpful and courteous. They did a good job of making sure that things flowed smoothly. Our contract included cake, DJ, and photographers. The cake was lovely and delicious. The DJ kept things flowing smoothly, and the sound levels during the ceremony were good. (It was outside.) We haven't seen the photos yet, so we can't comment on the quality of the pictures. The photographers showed up on time, and one of them stayed later than the contract time. There were three photographers. They took charge before and after the ceremony. They were efficient and courteous.

The one area that could be improved is that I wish we had had someone to guide the timetable of events better. This was our first wedding and there wasn't really anyone in charge of getting one event to flow into the next. At one point we were 35 minutes behind schedule! The DJ did well once an event started, but we didn't have a lot of guidance on flowing from one event on the timetable to the next. This included the wedding rehearsal. It would have been helpful to have someone give us a little guidance in getting started and give us ideas on things we needed to consider since some of us had never had to rehearse for a wedding before or had not been in a wedding in a long time. However, all ended well and we had a fantastic time.

Over the next week friends and family commented on how well the wedding went, how great the food was and what a lovely event center we had chosen. I cannot agree more.

Alison

Married on 07/11/2015

My wedding was held at Copper Leaf Event Center and catered by the Gourmet Kitchen. The event center is beautiful and the grounds are lovely. The ceremony was held outdoors in front of a charming white gazebo, the reception was held indoors, and there are lots of spots for taking photos. The bridal suite, groom's suite, and lobby area were very spacious and suited my needs perfectly. The food by the Gourmet Kitchen was fabulous and some of the best I've tasted!

The owner, Madhoo, was easy to work with and very accommodating. She responded to emails and phone calls quickly and was extremely helpful and attentive during the rehearsal dinner and the day of the wedding. Madhoo set us up with other wedding businesses (DJ, cake, photographer), which was extremely helpful, as it cut down searching and planning on my part. I do wish I had had more help and advice in planning the timeline for the wedding day from the event center. However, the wedding day still ran smoothly and was great! I am quite satisfied that I had my wedding at Copper Leaf, and I certainly recommend it to others getting married.

Sarah

Married on 12/27/2014

Madhoo was wonderful to work with! She responded to me within 24 hours of emailing her a quote request, which I truly appreciated as everybody else waited days, sometimes weeks to get back to me. She was so friendly when we first met her at our tasting and the food was absolutely delicious and right within the budget we gave her. I also messed up one of our meetings and she was willing to come last minute- her customer service is some of the best I've ever experienced. The day of the wedding, the food wasn't quite as good as at our tasting, but that's to be expected when you are serving 70 instead of 4. Overall I would highly recommend her as the food was great and her service even better!

We were all very Happy with the food and the service all went very well!!
Are you interested?
Send a message