Reviews
5.0 out of 5 rating
Quality of service

5 out of 5 rating

Average response time

5 out of 5 rating

Professionalism

5 out of 5 rating

Value

5 out of 5 rating

Flexibility

5 out of 5 rating
100%
Recommended by couples
55 User photos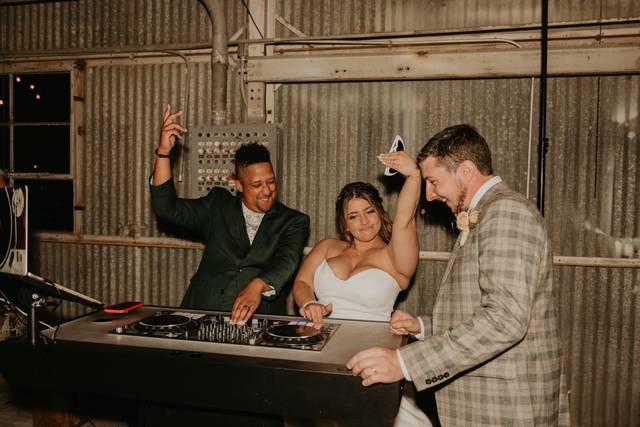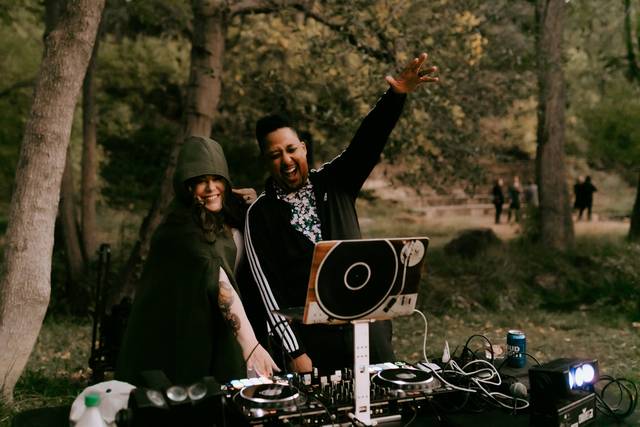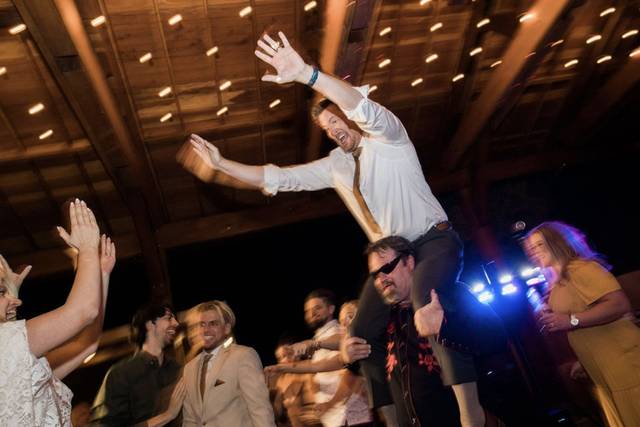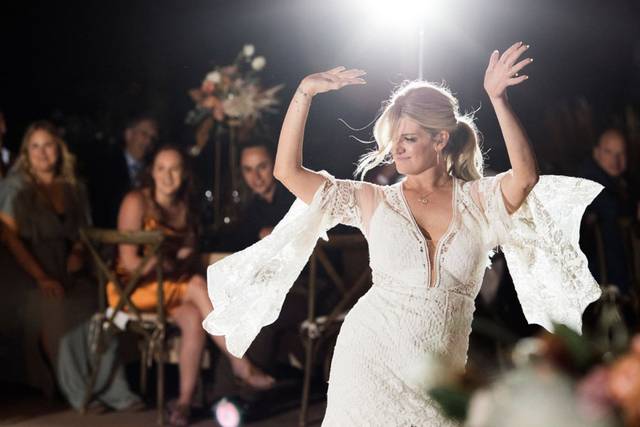 + 51

photos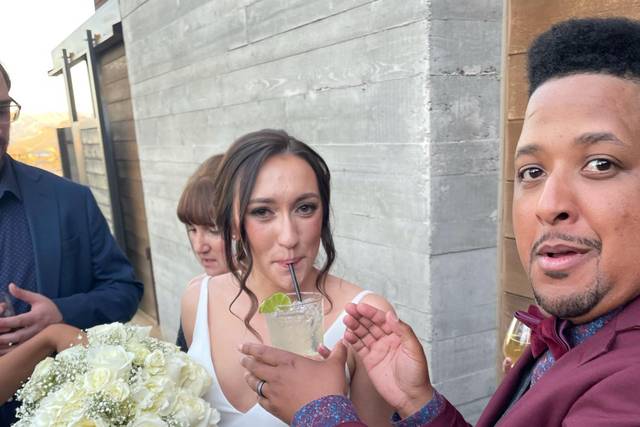 Allie S.

Married on 04/01/2023

The ABSOLUTE best wedding DJ ever

We are so lucky that our wedding planner introduced us to JJ. He not only was the best wedding DJ, MC, hype man, but he became family to us! JJ even ended up coming to our post wedding brunch as a guest - that is how close we got! He took our vision and ran with it. He understood our music and style and then intertwined it from the vibe he got from our guests. SO many people complimented us on our DJ - which is so uncommon! We are so lucky!!!

Katie R.

Married on 03/24/2023

JJ is the freaking best

How do I even start…Jermaine is the freaking man. From the first time we met him to the end of our reception he was hilarious, kind, and extremely responsive! He knows how to get people on the dance floor, and also just gets the flow of the day and knew exactly what we wanted/didn't want. We told him the vibe we were looking for, and he nailed it. All of my guests were raving about how awesome he was, and I wish my husband and I were getting married again next year so we could hire him again. 15/10 do not hesitate, text him now, he's the best.

Reyes S.

Married on 03/04/2023

Do you want your wedding to be fun?! Hire RYE!

Professional, fun, kept guests entertained while getting food, kept the dance floor going! I would definitely recommend Rock You Entertainment and Jermaine!

Are you interested?

Send a message

Katelyn J.

Married on 02/25/2023

We love jj!

We highly recommend Rock You Entertainment for a DJ. JJ made our day incredible. Our guests are still raving about him. He checked on us as a married couple, had fun with our guests, and danced the night away with us. He responds quickly and is truly amazing!!!

Taylor

Married on 01/28/2023

So So Many Compliments for the DJ!

We hired Rock You Entertainment from a Photog Vendor recommendation and it was one of the best choices we made. Andre (DJ Wyzeman) was our Host, DJ, Emcee, Man in Charge for the night and it was amazing. He hyped the crowd, he read the crowd, he kept things on track, he interacted with guests and vendors as needed. We got so many compliments and notes about how amazing our DJ was on the night itself and after the weekend was over. He played everything we wanted, kept the party going despite the cold weather and half the crowd not being big dancers. We have no complaints for the night. One of the things that stuck out the most was how attentive to us as a couple he was on the day, he was constantly making sure we had everything we needed, truly above and beyond his "DJ duties". Would highly recommend Andre and Rock You Entertainment to anyone looking for a AZ DJ.

Ashley S.

Married on 12/30/2022

If you really want to party

JJ absolutely KILLED it on our wedding day. Guests were constantly on the dance floor and the party never stopped. He played hit after hit while taking into account our requests. Don't miss out!'

Kylie W.

Married on 11/20/2022

Wedding DJ

JJ at Rock You Entertainment was ABSOLUTELY AMAZING. He provided the best timeline and flow of the night! He brought the fun and helped the night of fun continue! We would definitely recommend him and the team to help your dream night come to life!

Mike L.

Married on 10/29/2022

The perfect balance of professional and fun

Jermaine was simply the best possible person we could have had to DJ our wedding! We live in Chicago and were planning our Sedona wedding from across the country. It was so reassuring to have someone as attentive, communicative, and organized as Jermaine to help us throughout the planning process. He made sure to provide his professional insights, guidance, and input in a way that really helped us understand the best way to structure the flow of the event.

Honestly, this dude knows how to throw a party. On our wedding day, he hit all the right notes at exactly the right time during the ceremony. We had an outdoor wedding and his sound setup was spectacular - filling up the space with music, but not overpowering. There were a number of musicians in attendance who fully agreed that Jermaine's quality of sound was perfect for the space. This quality of sound was particularly entrancing during our first dance - we truly felt like the only two people in the world.

As the evening progressed and the drinks flowed, Jermaine did such a great job of fostering a fun party atmosphere. When I say people HIT that dance floor, they absolutely HIT IT. He did a great job of gauging the crowd and finding those perfect songs to get everyone hyped and having fun. We created so many fun memories dancing with our friends to songs from our childhood (Mr. Brightside anyone!?).

If you're planning a wedding (or any other event that needs a DJ for that matter), I cannot recommend Rock You Entertainment enough. Jermaine is such a great person and will absolutely make the planning process a breeze, then set the stage for you to have the best night of your life. Thank you, Jermaine!!

Rachel L.

Married on 10/27/2022

Absolute perfection

Hire Jermaine Johnson for all of your events now! He is hands down the best DJ around! He was so personable, quickly responds to texts/emails, SO fun, and the best hype man! He made sure that my husband and I always had a drink in our hand! He made all of our wedding dreams come true!

Taryn M.

Married on 10/21/2022

Best DJ!! Highlly Recommended!!

OMG!! Rock You Entertainment is the best DJ!! We had Andre DJ at our wedding, and he was absolutely amazing! He made sure to get everyone up and dancing. He also managed to fit everything I wanted to do in the night, and managed to get everything done early so we could all focus on socializing and dancing the night away!! I would highly recommend them for your wedding. You won't regret! :)

Randi K.

Married on 10/14/2022

Barrow/Krol Wedding DJ Review

Wow! Seriously no words can express how thankful we are that we went with JJ and Rock You Entertainment for our wedding DJ. We were a hard couple to please when it came to music, but he delivered. We had aunts and uncles dancing (who normally don't) and friends who danced like they were at the club. He brought the vibe and energy. Even when the dance floor needed a break, he still kept the energy up. He interacted with all our guests, made sure the bride and groom were taken care of… he even helped resolve an issue with transportation (way outside of his scope - but so appreciated). His set up is perfect for any venue. He also is equipped with a 360 photo booth. When I tell you this was the HIT of our wedding, that would be an understatement. The line for the booth was always bumpin. The videos are priceless!!

Outside of the wedding day, JJ still rocks. He met with us before booking and allowed us to ask all the questions. He was incredibly responsive. He makes the "picking songs" task SO simple. He was a rockstar from the very beginning.

HIGHLY recommend. 10/10.

Caitlin S.

Married on 05/15/2022

Great DJ, great night

He was very responsive and understanding with all the wedding chaos, we appreciated that he even has an app to let us pick what songs and when to play them during certain moments of the night. That was honestly the coolest part as it streamlined the whole thing, but yeah I would totally recommend using him he's phenomenal.

Nathanael B.

Married on 05/13/2022

Easy to work with and professional.

JJ did an incredible job at my wedding, and had really great energy throughout the whole day, and made sure to check on not just us if we needed anything, but our wedding party as well, and even took time to grab some drinks for us which is a really nice gesture and he didn't have to do that but we appreciated that he did. Any recommendations for songs last minute, he would do them right away which was amazing. A lot of the people we invited had a kick out of him, and praises his sense of humor and work ethic and told me that he was a really big contribution to the wedding. The best part is how easy it is to communicate with him, and the app he recommends is super easy to add songs you want for certain events you want throughout your wedding. Would highly recommend JJ to any of my friends that get married someday for sure.

Courtney P.

Married on 05/13/2022

Book with them

I got married a few weeks ago, and JJ absolutely KILLED it at my wedding. He was incredibly easy to get in contact with, very transparent and honest if I ever had any questions, and made sure everyone was dancing and partying. Many of my guests came up and told me how much fun they had dancing at my reception. He truly was an absolute dream to work with and I cannot recommend him enough!

Alexis W.

Married on 04/29/2022

The BEST there ever was.

We are still hearing from our guests that our dancefloor was the best they've ever seen, thanks to JJ! He is iconic. Number one: he is an incredible communicator, from the jump he was available for us to speak with and willing to answer any questions. Number two: he's very well organized. We loved his questionnaire and it really helped us to think about what we wanted and what we didn't want. Number three: he's FUN. He really got our people out on the dancefloor and I cannot think of a single time that the dancefloor was not simply, packed. Our people partied and the music fit the mood perfectly. JJ is the best in the business and we'd recommend him to absolutely anyone looking to ensure that their big day is nothing less than incredible.

Marrisa V.

Married on 04/23/2022

Rock you entertainment

Amazing DJ! We had Andre and I couldn't have been more pleased. He was incredible! All my friends wanted him at their wedding too! Highly recommend.

Calvin C.

Married on 04/09/2022

Best wedding dj!

We were so lucky to have JJ as our DJ! He brought incredible energy, expertise, knowledge and ensured that everything about our day was perfect. We have gotten rave reviews from all of our attendees. We are so thankful for JJ and all that he and his team did to make our day perfect!

Mariel A.

Married on 03/12/2022

We give Andre ALL the stars!!

Andre was absolutely fantastic! The dance floor was full the whole night - we even had some karaoke moments. He listened to what we wanted and delivered more than we expected. Thank you, Andre!!

Ashley B.

Married on 02/26/2022

Best. Dj. Ever

IF YOU WANT THE PERFECT WEDDING THAN YOU NEED JJ TO BE YOUR DJ.

We can't thank him enough for being the BEST DJ ever! In all seriousness our wedding would not have been what it was without him. He brought so much energy and had, literally, every single person on the dance floor.

He set up our lighting perfectly, he never let anyone in the bridal party walk around without a drink in their hand, and was a huge reason why our wedding was so special.

You NEED to have him be part of your special day because I promise there is no one better than him.

Jamin B.

Married on 02/25/2022

Rock You Is phenomenal

Jermaine did an amazing job. We consistently heard rave reviews about his mix during the wedding. Everyone loved the energy he brought!

Alli B.

Married on 02/19/2022

Best Wedding DJ

Jermaine is the absolute best! If we had to do it all over we would absolutely book him again. He is so approachable & organized. He has an app that easily allows you to pick music for your ceremony and reception. He is timely & great at his job. Our big thing we wanted was a packed dance floor all night and we definitely got that! Jermaine was great at reading the crowd & we never had a lull-it was literally packed all night long! Our guests are still raving about him and his energy! He made sure to check on not just us, but our wedding party throughout dinner & none of us had to get up for a drink during the reception. He definitely went above & beyond for us and our guests! If my husband or I wanted a song, he played it right away. He was out there dancing along with us and our guests several times throughout the night. He is the best DJ we have seen & our family and friends think so too :) our guests were chanting for more at the end of the wedding, he is really that good. He made our wedding an incredible one. Thank you Jermaine!!

Ashley

Married on 02/12/2022

A Blast!!!

Dj JJ (Jermaine) was hands down, THE BEST. Our guests are still raving about how awesome he was - weeks after our wedding! He had everyone dancing all night long, so much so no one wanted the night to end. Rock You Entertainment has all of their couples download the app Vibo which enables you to upload songs or help them understand the vibe of music you want at the ceremony, cocktail hour, reception, etc. which I loved being a part of that process!!

JJ was great at capturing our audience & keeping them energized throughout the evening. He didn't feel like just any vendor, but truly like a good friend there to make our day everything we dreamed of! Which he absolutely did!

I highly, HIGHLY, recommend Rock You Entertainment…. And Jermaine specifically!!!

Taylor L.

Married on 02/12/2022

Highly Recommend!

JERMAINE WAS AMAZING!! Our wedding truly would not have been as great as it was without him. He was timely and played exactly the music we asked when we asked him too. I also forgot to send a list of tables to release for dinner so he improvised and played a game that our guests loved! While everyone was paying attention to the game it gave us a chance to actually sit back and enjoy our food. The app he uses made the process of submitting our songs and timeline very seamless. If you need a wedding DJ, or a DJ for any event, Jermaine is the right choice! I would give 10 stars to RockYou Entertainment if I could.

Mariah A.

Married on 02/11/2022

Best dj company!

JJ was an incredible DJ for our wedding! Played music you could actually dance to, entertained the guests the whole night, and kept the good vibes going all night long, despite power outages! It was such a memorable and wonderful night and I couldn't recommend a better company and DJ to keep the good times rolling!

Caitlin G.

Married on 01/29/2022

Rock You Entertainment is EPIC!

Rock You Entertainment was absolutely amazing! They were so organized leading up to the event with a timelines of music selections. Andre made the night Epic and brought so much fun & vibrant energy! He knows how to get the crowd going and people engaged. He ran the show and helped run the night perfectly! We can't thank Rock You Entertainments enough for making it a night we will always remember and one our guests will always talk about!
Are you interested?
Send a message