Reviews
5.0 out of 5 rating
Quality of service

5 out of 5 rating

Average response time

5 out of 5 rating

Professionalism

5 out of 5 rating

Value

5 out of 5 rating

Flexibility

5 out of 5 rating
100%
Recommended by couples
52 User photos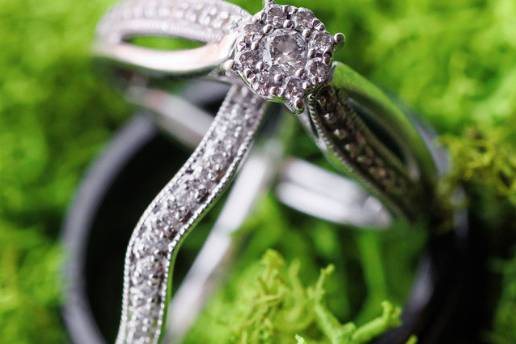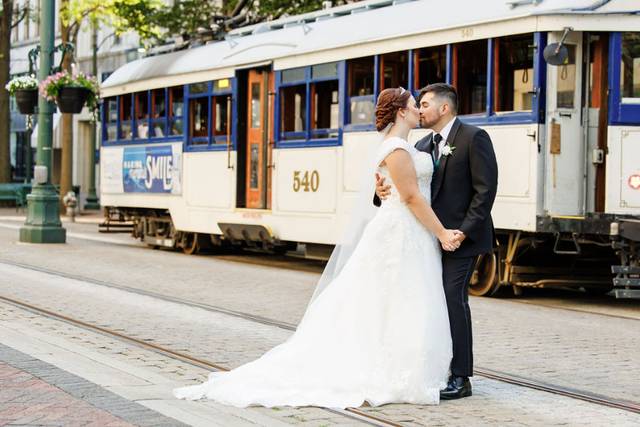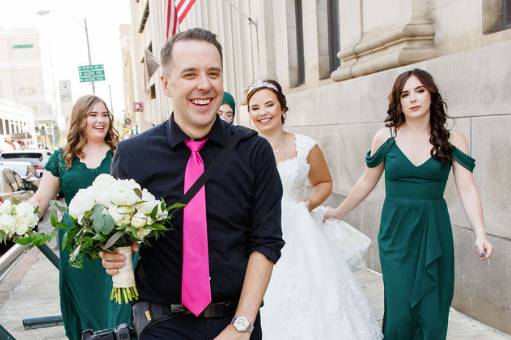 + 48

photos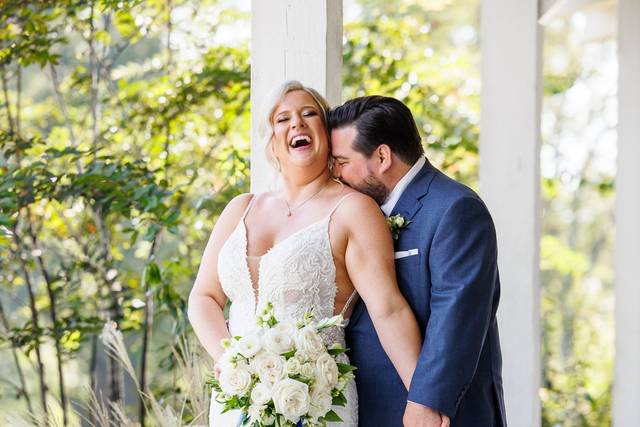 Jose B.

Married on 06/03/2023

The BEST Photographers EVER!!!!

Rob and Deanna were an absolute delight to deal with before, during and after our wedding! They made the day so much fun and all the photos they took turned out so amazing. 11/10 would recommend!!!

Lauren

Married on 12/10/2022

Best Wedding Decision I Made

If you are shopping wedding photographers, your search is officially over. If you want beautiful and timeless photos you will love forever, Rob and Deanna are the photographers for you. We had both an engagement session and wedding day photos with them. My fiancée (now husband) and I had so much fun working with them. We felt completely at ease with this sweet couple. Our engagement photos unsurprisingly were BEAUTIFUL! They have an incredible eye for the perfect shots. We cannot wait to see our wedding day album!

David L.

Married on 11/05/2022

Outstanding

Rob & Deanna were fantastic. They took their time to make everyone feel comfortable. They were engaging & creative. I would absolutely recommend them.

Are you interested?

Send a message

Shannon L.

Married on 11/05/2022

Rob & Deanna Are the BEST

As a professional photographer myself I had pretty high expectations. Rob and Deanna blew us away!! Not only are they super fun to work with, the creativity and quality of their images cannot be beat. They are truly one of the best wedding photographers in the industry - anywhere.

Taylor N.

Married on 09/17/2022

Hands down, the best decision I ever made

I have been delaying writing this review, because I don't know if I can do Rob & Deanna justice for the amazing job they did for my wedding in September 2022.
They were, without a doubt, two of the best wedding professionals that I got to work with during the planning process and the wedding day itself!
There was not a single person- friend, family, or guest of our 200-person wedding- that did not have a kind word to say about the two of them. They were a dynamic duo on our wedding day. Capturing every moment (even ones you didn't even think of to ask for) all while making you feel super comfortable in the process.
There's nothing quite like walking around in the August heat in Tennessee, in a wedding gown, in full hair in make-up, while trying to get your bridal portraits done. But somehow they made me look flawless. And helped me through the photos while we did it. They helped me get through the awkward phase of posing without someone there. How to hold my bouquet. Making me laugh and feel so comfortable.
They were very responsive with quick emails and texts any time we had questions and sent so many examples of their work! They were super flexible and nice about rescheduling when my hairstylist had an emergency the week of our engagement session. They made me feel very comfortable at every photoshoot, Rob even put my veil in for me on my wedding day.
Every single photo I got back from them was amazing. They captured moments I never wanted to forget. These are moments that you can't get back and thanks to them I get to remember them forever.
I think there is truly something to be said about photographers that can make ANYONE and EVERYONE look radiant and spectacular. My husband and I (while obviously I am bias and think we are total smokeshows) are not your typical 6 foot 120 pound model types. When looking for a wedding photographer, I noticed only picture perfect people on a lot of photographers' instagrams and profiles. Not that they weren't beautiful, but they all looked the same. And none of them looked like us. I wanted a wedding photographer who could use regular people like us and make us look like THE BEST VERSION OF OURSELVES! Which they totally did! And then some.
They are seriously the best investment I made for our wedding. I would absolutely recommend them to anyone who wants 2 of the best photographers to shoot your wedding!
I went with the "wedding singer" package and added on a rehearsal dinner and bridal portrait shoot, and honestly, my only regret is not bumping up the package. Now that the holidays are coming up I want to get everyone prints of these amazing photos as gifts! Truly, go with these two and you won't regret it!

+ 6

photos

Emma S.

Married on 04/29/2022

Shape Wedding 4/29/22

Rob and Deanna are phenomenal photographers!! They captured ever detail of our wedding and truly left us speechless with the quality of our gallery with HUNDREDS of photos that were all absolutely beautiful. I know we will cherish our photos for years to come. We are so grateful for these two.

Michelle S.

Married on 05/23/2021

Beyond Fabulous

Spectacular images. Rob and Deanna were everywhere for the entire 12 hour day. They captured every emotion from numerous angles; they moved quickly and kept us on the timeline. We have soooo many fabulous photos to chose from. We think Rob and Deanna hung the moon!
timeline

Katie

Married on 09/26/2020

Love love LOVE Rob + Deanna!

Rob and Deanna were everything we were hoping to get out of our wedding photographers and a whole lot more!! They had everything down to a system on the wedding day, which took the stress off of our shoulders! I even had people come up to me saying how impressive our wedding photographers were because of how structured they were when trying to get all both of our families together for photos!! That whole process went so smoothly thanks to them! Our sneak peek photos are WONDERFUL! We had picked Rob and Deanna through a Facebook group page that my photographer friend made a post that we were looking for a photographer for our wedding (normally when hiring a wedding photographer it's just a photographer with a helper.. with Rob and Deanna, they're husband and wife so we got TWO photographers... SCORE!) In the middle of the pandemic, they were still very communicative with us about our needs. We highly recommend Rob and Deanna!!

+ 12

photos

Lindsay S.

Married on 09/05/2020

Personable, professional, creative, and fun!

We used Rob and Deanna for both our engagement photos, and they captured our entire wedding day! They did a flawless job with both, and were so fun to work with! It is so important to have a bond with the people taking photos of you - and I can proudly say they made that happen with ease! We are so thankful for them and would hire them again in a heartbeat!

Brenda C.

Married on 08/15/2020

Talented photographers with gorgeous pictures

I would definitely recommend Rob + Deanna Photography to anyone. They are both very talented and their work is incredible. My daughter chose them for her wedding and they were so easy to work with. When I asked for extra pictures the day of the wedding, they did not mind at all. They said "We are here all day... we can take any pictures that you want." I appreciate all they did to make my daughter's wedding day be a day to be remembered forever. Their photos were simply stunning and I will treasure their work forever.

Allison J.

Married on 11/02/2019

Amazing photographers!!!!

Rob and Deanna did an AMAZING job capturing all the wonderful moments of my son and new daughter in-law's wedding! We just got the photos back and they are FANTASTIC!!! Not one thing was missed! I couldn't be more pleased! And they were so much fun!! Great personalities- made you feel so at ease. They would photograph anything you asked- so easy to work with! Thanks guys for capturing all the wonderful moments of the rehearsal dinner and wedding!!! Y'all are the best!!!!

Rob + Deanna's reply:

Allison,

Thank you for such kind words! We absolutely LOVED being a part of Taylor & Phillip's amazing wedding weekend! We had the best time with both of your families... definitely a highlight of 2022 for us!

❤️ Rob + Deanna

Grace

Married on 07/13/2019

Rob and Deanna are the BEST!

All I can say is PERFECT PERFECT PERFECT! Rob and Deanna are not only SO talented with their work, but they are some of the most incredible people you'll ever meet! From the moment I met them, I knew they would be the perfect people to photograph our wedding! If you're looking for high quality photos, along with high quality people, that's Rob and Deanna! You won't regret it!! I'm happy to say that we are 100% satisfied and we were able to make some friends along the way!

Laurie S.

Married on 03/23/2019

Great Choice for Photographers

Rob And Deanna did a great job for our wedding capturing all of the highlights and details that we will remember and treasure through their photographs for years to come. I would not hesitate to recommend them as a first choice for a wedding photographer. A sidenote is that they are two of the nicest and easiest people to work with… Which makes any event that much better. Five Star Photography!!!

Audrey W.

Married on 11/17/2018

ROB + DEANNA: the best in the biz

When searching for a wedding photographer, I was overwhelmed by the number of different ones the Memphis area had to offer. However, upon searching Rob and Deanna's web page, my decision became very clear and easy! I was truly mesmerized by their creative eye and talent... two things that I felt set them apart from the rest. My decision was only validated when I met them and came to find they are two of the most kindhearted and genuine people you will ever encounter. I felt like I had known them long before actually meeting them (Rob did a great job of making me feel this way as he was my initial point of contact and was so conversational and easygoing via email). Then, I really got to see their talent in action on our engagement session. Neither my husband nor I knew what to expect - we were even a little nervous! The nerves were quickly eliminated as Rob and Deanna took the time to communicate their vision to us. Within minutes, Cameron and I were laughing and visibly comfortable. We enjoyed every minute because Rob and Deanna made it so fun!! It was so neat to have that opportunity to get to know them as individuals and see their passion for photography shine through them. Fast forward to wedding weekend... there are no words that will ever come close to expressing my gratitude for these two on wedding day. They played such an integral part in my wedding day, not just because they captured it but they were physically there in the most intimate moments (i.e. my first look with my husband, my mother helping me get ready, etc). They saw to it that every detail was given due attention and that completely set me at ease. I remember taking pictures with the wedding party before the ceremony and feeling overwhelmed and pressed for time. Rob stopped to let me see one of the photos he had just taken and my jaw dropped at how absolutely stunning it was - prior to editing!! I knew in that moment that no matter how chaotic the day would feel, Rob and Deanna would capture pictures that would make it appear as if time stood still. As if their unparalleled talent wasn't enough, I felt so loved on and supported by them throughout the day. They listened to me and handled EVERYTHING. They went far and beyond anything I would expect of wedding photographers. If you are searching for outrageously talented and creative photographers who will love and support you on your wedding day and the days leading up to it, CHOOSE ROB + DEANNA. I promise it'll be one of the best decisions you will make while wedding planning.

Hannah H.

Married on 11/10/2018

We love Rob+ Deanna

Rob and Deanna are the absolute best of the best. We are so thankful that we found them. Not only are they incredibly talented, they are also kind, supportive, and encouraging. My husband and I would highly recommend them to anyone because they go above and beyond to make you comfortable and at ease on what can be a stressful day. Rob is very outgoing and gets you laughing and Deanna has a very calming nature. Their presence enriched our wedding day experience. Evan and I are so in love with our pictures from our engagement session and wedding. Rob and Deanna are so talented at catching special candid moments. I can't stop looking at our photos! Thanks Rob and Deanna!

Ashleigh

Married on 10/11/2018

Amazing , talented and professional

Our experience was absolutely perfect. They are the real deal and know what they are doing. They did a great job of keeping us calm and reminding us of the reason we were there that day. The pictures didn't feel posed or fake they were catching real life moments and our photos are amazing. Magazine worthy amazing! Rob & Deanna work so well together as a team and do everything they can to make your special day even better.

Hannah

Married on 10/06/2018

Best Photographers Ever!

I cannot say enough about Rob and Deanna. They were amazing to work with. The engagement pictures went so smoothly. The pictures came back so perfect. The pictures are all over our home. When the wedding day came, they helped keep our schedule going. After the ceremony, the family pictures went by so quickly and efficiently. They caught every little moment throughout the entire day. I could not have asked for better pictures or better photographers. They strive to show couples love story and they went beyond that. I hope to do more photography sessions in the future!

Photo Cred: Rob+Deanna Photography
https://www.robanddeanna.com/

Gerhild B.

Married on 08/18/2018

Feel as the most important couple

When you decide to have Rob and Deanna as your photographer team, you ´ve made the best decision! They are an amazing couple who love their job and pass this feeling on to you. You feel loved, confident about yourself, and "you" are the centre of their attention (all the time).
They choose very carefully the setting, light, posture to make sure that every picture will turn out as the perfect one. They took pictures of us twice already and shot our engangement as well as our wedding and we couldn ´t be happier about it. The pictures are beyond STUNNING! Every time we look at these pictures they bring back the sweetest memories, the love and this pure happiness.

Courtney B.

Married on 06/16/2018

Couldn't be happier

I honestly can't imagine our wedding day without Rob and Deanna by our sides. They were so much more than photographers to us. That day, I had full confidence they were getting all the shots I had dreamed of and their work did not disappoint. They brought laughter, joy, and a sense of calm to my day and I can honestly say I would book them again in a heartbeat. Rob and Deanna are true artists and they gave us a tremendous gift with our images. My expectations were exceeded and I am so grateful. They complement each other perfectly and our images speak to both of their strengths. I highly recommend them!

Stephanie

Married on 06/16/2018

Rob & Deanna are amazing! They made our daughter's wedding day so wonderful and special! Their passion is contagious! They are wonderful photographers, who put each of us immediately at ease. They have a knack for being everywhere, taking every shot, without being intrusive. They exude sincerity and authenticity of caring in a way that made us feel like family, not just another client. Rob and Deanna both display a calm and confident demeanor, offering expertise and an experience that far exceeded our expectations. We highly recommend them and wish them all the best!

Kimberley B.

Married on 04/20/2018

Simply The Best!

Rob and Deanna were absolutely perfect. They are so kind and patient and made our day perfect. I was so nervous about pictures and would have been happy with just a few good ones but I am so in love with every one, both engagement and wedding photos! They have such a unique style and know how to many anyone look and feel beautiful :) You can't go wrong with them!

Melanie

Married on 04/07/2018

I have always thought they were the best at what they do, and after our session with them, I can honestly say, they are without a doubt the BEST at what they do! I trust them completely and I can't wait to see our photos! They have this wonderful ability to make everyone look like a celebrity and to bring out the true spirit of the bond between couples!

Karly

Married on 12/31/2017

I got married on New Years Eve 2017 in Memphis. Rob & Deanna did a fantastic job and made our wedding day so magical. They were a great team to work with planning the schedule and leading up to the day. Then on the day of the wedding, they worked around a difficult weather situation and stayed conspicuous during the reception. I couldn't be happier! Plus- they are fun and full of energy! Just what you want on your wedding day. I got the "Same Day Edit" and it was really cool. They put together a slideshow of pictures from throughout the day and show it to your friends and family at the reception! I highly recommend them.

Tea

Married on 11/04/2017

Words can not express what a blessing Rob and Deanna were to our wedding. They were able to beautifully and creatively capture moments which left me speechless and which will allow us to remember the happiest day of our lives through the art of their lens. We couldn't have asked for more talented photographers and we are so grateful not only for their work but for them… their professionalism, their never-ending energy, and their kind spirits. Thank you Rob and Deanna!

Elizabeth

Married on 10/22/2017

If you're looking for a photographer, do yourself a huge favor and go with Rob + Deanna Photography. Seriously. My husband and I do NOT enjoy taking pictures, but these two not only put us at ease but made it fun! Not to mention, the quality of their work is AMAZING! They're not your average "cookie-cutter" photographers. These two have their skills down to an art form. Each and every shot from our wedding was phenomenal, despite rain and a power outage. Rob and Deanna exceeded our expectations, giving us so much more than we could have asked to capture memories that will last a lifetime! I will be forever grateful that they captured the beauty and emotions of our day so wonderfully! That's an incredible gift.
Are you interested?
Send a message