76 Reviews
Recommended by 100% of couples
Quality of service

5 out of 5 rating

Average response time

5 out of 5 rating

Professionalism

5 out of 5 rating

Value

4.9 out of 5 rating

Flexibility

5 out of 5 rating
11 User photos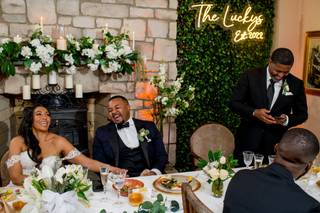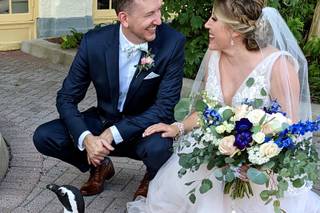 + 7

photos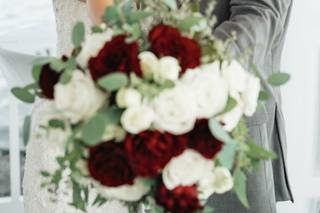 Brian B.

Married on 09/24/2022

Incredible!

Rivion did an incredible job! We are so glad we picked them to be the videographer for our wedding. Their team was so great to work with throughout the night, and they captured every moment perfectly. The production quality of the videos they made for us are also so good! They perfectly capture the emotions of the day and make us feel like we are experiencing the wedding in person again whenever we watch. They knew exactly what we wanted from a videographer and got it just perfectly. They provided us with many different videos for all of the highlights of the night, as well as all of the unedited footage. Their website makes it super easy to see our collection of videos and download them any time. We also can't say enough about how friendly the team was on the day of our wedding. Thank you so much for being such a great part of our special day!

Jessica D.

Married on 09/17/2022

Captured every important moment!

A little more than a month before our wedding, we decided to book a videographer. As I frantically researched videographers and had phone calls with several who still had availability on our wedding day, I was immediately out at ease when speaking with Kevin. He didn't try to oversell us, and he was very upfront about what would best fit our needs. Lydia was our videographer for the day, and both my husband and I found her to be such a pleasure to work with! She put us at ease, respected our photographer's space and collaborated with her, and had great ideas for shots. They were very communicative with us when they needed an additional week or two to finalize our video. Additionally, our photographer turned out to be a bit disappointing and missed some pretty important shots. I emailed Rivion asking if it was possible to get stills of those specific moments, and Emily sent over a dozen beautiful stills along with our video. We couldn't be more thrilled with our video, it exceeded our expectations and captured our love and story from start to finish of our wedding day. You won't regret hiring them! They're everything you could want and more ♥️

Valerie N.

Married on 09/17/2022

Amazing video!!

Rivion did an amazing job on our wedding video!! They really listened to everything we said and matched the style we wanted perfectly. We have no experience on camera really so I was nervous we would look awkward but they really do a great job of directing you and getting great candid shots too. They were recommended by our photographer because they also work really well with them and make sure they're not getting in the way of the photos. They also get amazing shots while really letting you enjoy the night. And afterwards we got our wedding video so fast- it took less than 3 weeks! Would highly recommend them!

Are you interested?

Send a message

Emily

Married on 09/10/2022

Great company

Rivion helped us beautifully capture the memories of our wedding day!

They were super responsive, worked with me far in advance to obtain a license for certain music we requested, showed up on time, and delivered a beautiful product.

In full disclosure we had some things about our first draft video that we didn't like/wanted changed. Rivion worked with us to perfect the video and make all the changes we requested. Their work is truly beautiful at such a competitive price. We definitely recommend Rivion!

Katie B.

Married on 08/27/2022

Everything you could want and more!

I cannot speak highly enough of our experience working with Nathan on the Rivion team! He and our photographer worked so incredibly well together (they'd worked together previously) which made the day seamless! Their cadence and the way they assisted and flowed with each other was great! I had a large wedding party of 11 girls so blending with us amidst the chaos was going to be a task and Nathan fit right in, would joke around, ask us questions for the video and really just became a part of the group. Not only that, but the footage he got was incredible and they had it back to us so quickly! Ugly cried all over again on our honeymoon watching :D Now we can re-watch the best day of our lives over and over. Thank you so much to Nathan and the Rivion team!

Amber Y.

Married on 08/20/2022

Videographer

Best experience ever!!!!! Claude was the absolute best!!!!!!!! I couldn't be happier with our video! I highly recommend!!!!!!!!!!!!!!!!

Lindsay K.

Married on 06/11/2022

Great Job!

Rivion NAILED it. Rivion was very communicative and professional in all of the weeks leading up to the wedding. They made sure that they knew exactly what style of video we wanted. Sebastian came to film our wedding and did an awesome job. He was fun to be around and super enthusiastic. He did a great job of working with our photographer to make sure they both captured all of the big moments. We are so thrilled with the end product! Every piece of the end highlight video is perfect. We also loved that we get to watch the raw footage and everything was sent to us in a timely manor. THANK YOU so much for capturing our favorite day. This is a video we will treasure for the rest of our lives.

Rachel H.

Married on 06/04/2022

Excellent videographer

We just received our final product, and can now relive this day over and over again with the unedited clips included too. We're so happy that we chose Rivion to capture our special day with our family and friends. This was so worth the wait! Everyone enjoyed working with Claude on our day and he made it so easy and natural with posing throughout the day. He was so funny too! Would definitely recommend Rivion for your wedding videographer!

Logan F.

Married on 05/28/2022

Amazing wedding videographer

Working with Rivion was such a seamless process, and they delivered a beautiful video in the exact style I envisioned even sooner than the contracted allotted time. The whole team was professional and flexible when it came to moving dates due to COVID, and the videographers on the wedding day were very easy to work with! Highly recommend them!!

Vince E.

Married on 05/22/2022

Incredible Service, Incredible Talent, and Incredible People

Our experience was top notch and truly felt special. They went the extra mile from the beginning during an introductory phone call they had with us. The entire process was explained in detail, and the representative was so patient with all of our questions.

When the wedding day came, the videographer they sent out was personable, timely, and put in the effort to get special shots rather than just filming "home video" style. When it came to the ceremony, he was able to quickly mic the groom. The audio in the video from this microphone was very clear and balanced. The ceremony was filmed from two different angles. The rest of the wedding was filmed, but it didn't feel like the videographer was in the way - not that we'd have minded. We later learned exactly how much he was able to capture without being a distraction! He got some really great moments on camera!

Rivion returned our videos in a timely manner (by the end of the next month). Our package included all of the raw footage, a teaser, the isolated ceremony (from two angles) and a highlight video. Not only that, but we had our guests leave recorded messages for us; Rivion was able to place that audio over our highlight video! The quality, angles, and moments they captured made it feel like we were watching a movie! They did such an amazing job! They were also able to make any adjustments we requested, and they did so with a VERY quick turnaround time.

I don't have anything negative to say! They turned our special day into a very special memory. We're so grateful we found them!

Jackeline J.

Married on 05/21/2022

Recommend 100%!!! The most amazing and professional team to work with!

Rivion Weddings was a vendor I found through an acquaintance who had referred them after having them at her wedding, and the referral did not disappoint in the least bit!

It was such a great pleasure working with the Rivion Team. They were so professional and made us feel comfortable and stress free throughout the entire process so that leading up to our big day, there'd be no loose ends. The videos produced were absolutely magical and I am so grateful to have them to relive our most special day by. We can't thank them enough and would 100% recommend to and newly engaged couples planning their wedding. Thank you again to the Rivion team! :)

Samantha

Married on 05/14/2022

Excellent Experience

We LOVED working with Rivion on our wedding day. Claude was professional, fun and had a great attitude the entire day. Our wedding party loved him! Additionally, our wedding video was exactly what we wanted, if not better! Highly recommend this team.

Lee C.

Married on 05/07/2022

Stop your search and hire Rivion!

We hired Rivion for our May 2022 wedding and are SO happy we did. From the first few minutes of our initial call with Rivion, we knew they were the perfect fit for us. They truly care about each wedding they capture, which is evident in how easy they were to work with, how accommodating and flexible they are, and how amazing the final film turned out! We've watched the highlight video over and over and cry each time -- we love it so much, especially because it's the perfect balance of sweet and fun. We also love that we have the raw footage to relive the most important moments of the day. Claude was our day-of videographer and he was such a fun and calming presence. He helped take any stress out of the day and made everything so much fun. Everyone at Rivion has been awesome to work with - Joe, Abby, Michael, Emily, Kevin, Claude - thank you all so much! We recommend Rivion 100%

Lauren A.

Married on 05/07/2022

Hire them!

What an amazing experience (I'm leaving this review everywhere because I was so impressed). We got married on 5/7/22 and had our footage, edited and unedited, back to us in less than two weeks. The team works like a well-oiled machine, and we're so happy with our wedding video. Each employee responded to emails promptly and thoroughly, our videographer Lydia was on time and incredibly sweet. Pricing was reasonable and the product was worth every penny. We will cherish these memories for years to come. Thank you to Joe, Michael, Kevin, Abby, Emily, and Lydia (again)!

Caroline B.

Married on 03/25/2022

Fun & Professional Videographers!

Claude and Phil were AMAZING to work with! They came into the room day of with a calm yet excited energy that took (some of) my pre ceremony jitters away. We got to see some of the shots they took and I have no words for how beautiful it looked! We seriously cannot wait for the video to come out!! They were professional and worked seamlessly with our photographer (we've all heard the horror stories of the videographer messing up the photographer's shots-- that wasn't something I had to worry about at all. ) We are so happy with Claude and cannot recommend him and Rivion Films highly enough!

Paul

Married on 03/19/2022

We love our wedding video!

We were so happy with Rivion's work on our wedding video. They captured so many of our special moments throughout the day, and our highlight video beautifully tells the story of our wedding day. On the day of, Sebastian was really personable and made us feel comfortable in front of the camera. The team was so friendly and easy to work with from start to finish, and we couldn't be happier.

Melissa M.

Married on 02/14/2022

Look no further!!

Rivion was recommended to me by a family friend/ former wedding planner at a high-end waterfront venue, and I'm SO glad I took her advice! The team was extremely friendly and responsive during the planning process, and our videographer Nate arrived on time, knew what to do, and was a pleasure to work with. Our film was delivered way ahead of schedule and everyone loved it... thank you Rivion for capturing our magical day!!

Katie C.

Married on 11/14/2021

You Should Hire Rivion!

Rivion did such an amazing job filming our wedding! They made us feel so comfortable while shooting and created a fabulous wedding video that we will treasure for the rest of our lives! I would 100% recommend hiring Rivion for your wedding video needs!

Mackenzie M.

Married on 10/23/2021

BEST Videographer!!!

Rivion was absolutely AMAZING! Every person I spoke to was very nice, personable, and friendly. They made everything so easy from the first call, to sending the final video. I was able to look at many videos on their instagram page to see their work. They were very reasonably priced which was a bonus. Our video turned out absolutely perfect! Would 10000% recommend using Rivion for your wedding!!

Sarah M.

Married on 10/10/2021

Wedding Videography

We had a great experience and loved our wedding video! Everyone was very professional and accommodating! Would highly recommend.

Jenny H.

Married on 10/09/2021

The BEST Videographer

I had been on the fence about whether a videographer was even really necessary for our wedding but I am SO HAPPY we decided to work with Rivion! I seriously can't get over how amazing it was to work with them. From our very first conversation with Kevin we knew we were in good hands. They took into consideration all of our requests and our vision for the wedding and created this master piece that completely captured our love, family and an all around amazing wedding. My favorite part was working with Claude who was actually on-site filming the wedding. He was so much fun, so great at prompting us so we didn't look/feel silly, and did such an excellent job staying behind the scenes while we were enjoying the reception (so we didn't feel like we had a camera in our face the whole night). It was really important to us to not feel like our guests were watching my husband and I dancing to our first dance +4 other videographers/photographers sharing that moment with us lol.
And finally I want to say how incredible it was that they used one of our favorite songs (and others that were perfect tempo/mood) and were able to overlay bits of the speeches/vows so perfectly. We love Rivion! Thank you for your amazing work!

Anna D.

Married on 09/24/2021

It was so easy. I just hired them and they did everything.

This was the easiest vendor for my whole wedding! They took care of everything seamlessly and created an unforgettable video for me.

Jamie H.

Married on 09/11/2021

Rivion Wedding Films is the best!

Rivion captured our day perfectly! Michael, Kevin, Joe and the rest of the team provide high quality service and are wonderful to work with. They make sure the video is customized to your wishes and it includes everything that you want! From start to finish, they are very professional and take the time to meet with you to explain the entire process, discuss different package options and get to know you! We can't thank Rivion enough and I highly recommend them!! Thank you Rivion Wedding Films for capturing our day! We love our video!

Alyssa W.

Married on 08/28/2021

Outstanding communication & beautiful video work!

Rivion was recommended to us by our wedding planners and after speaking with Kevin, we knew we were working with the best in the business. He heard what we were hoping for and his team delivered! Nate, our videographer for the day, was incredibly respectful when in our getting ready space and throughout our event. It was a wonderful whirlwind and Nate captured the details and moments we were worried we'd miss or not get to fully absorb. He didn't miss a single one of of our must-have moments either. The teaser, highlight, and documentary edit were so beautifully done and have been so special in getting to relive our wedding day. If you want to relive yours, hire a videographer and look no further than Rivion!

Laura S.

Married on 08/28/2021

Rivion is the best videographer in existence!!!

We had the best experience working with Rivion to capture our wedding ceremony and reception. Nevin was our videographer and he was super easy-going and also knew exactly when to capture epic moments- and captured them so well. Our wedding video is so beautiful and we can't stop watching it. We also have the footage from the day, so we can watch our wedding day anytime we wish. Rivion is professional and highly skilled, and are literal magicians at turning raw footage into beautiful wedding highlight videos. You will not regret hiring Rivion for your videography needs!!!
Are you interested?
Send a message