Reviews
4.7 out of 5 rating
Quality of service

4.8 out of 5 rating

Average response time

4.7 out of 5 rating

Professionalism

4.8 out of 5 rating

Value

4.6 out of 5 rating

Flexibility

4.5 out of 5 rating
94%
Recommended by couples
11 User photos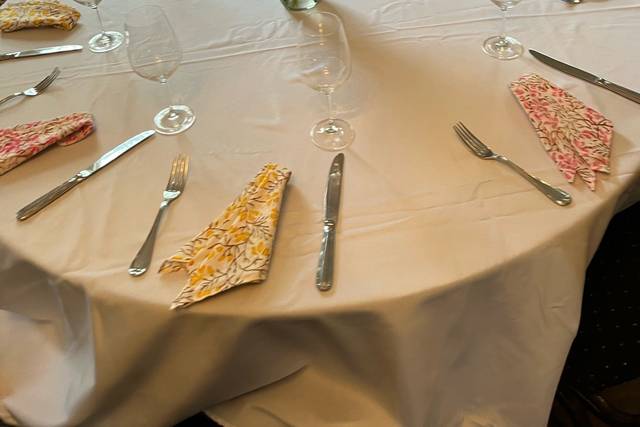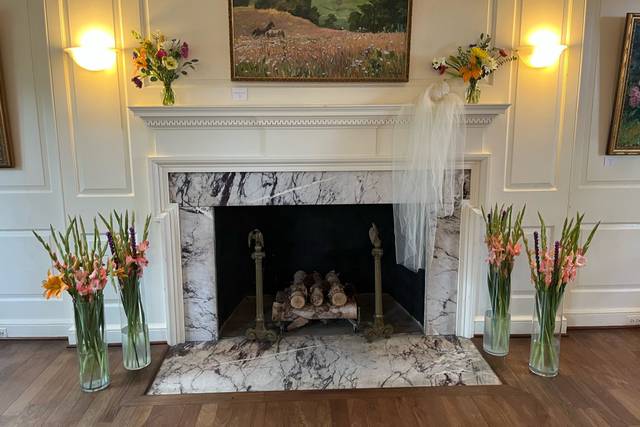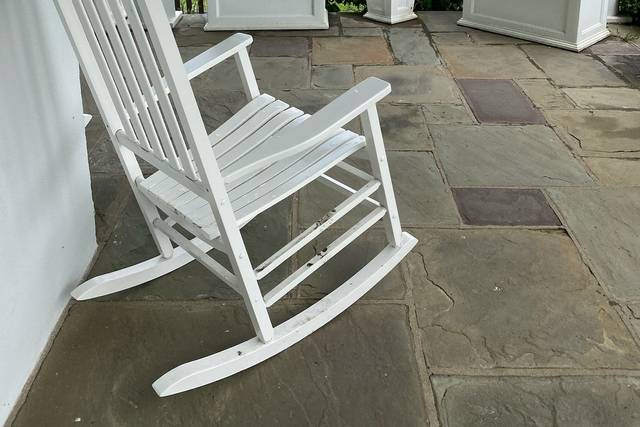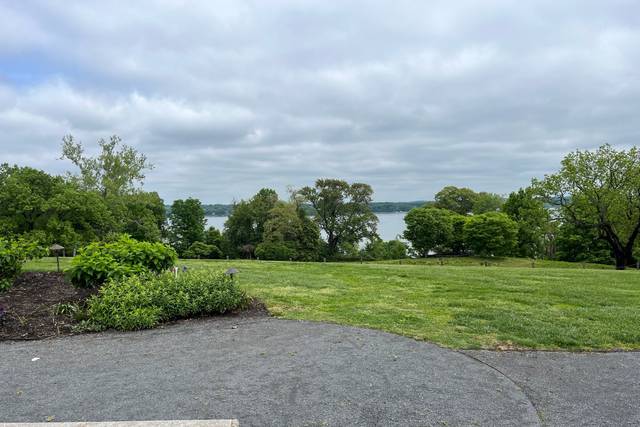 + 7

photos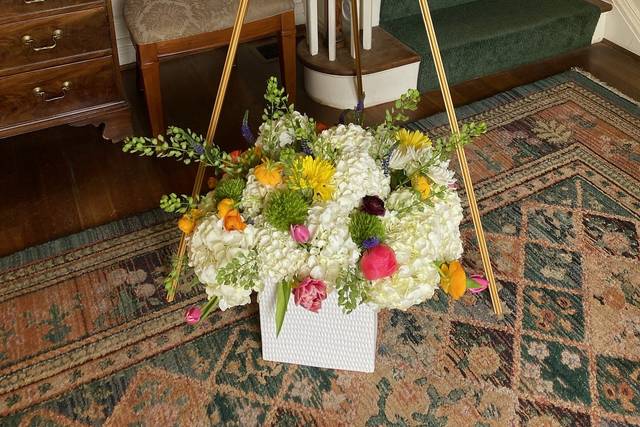 Featured

Tina K.

Married on 04/01/2022

Gorgeous Venue, Enthusiastic Service

River Farm is a historic home set on acres and acres of gorgeous gardens with so much natural beauty that our florist hardly had to do anything. The rentals manager, Leslie, has so much genuine enthusiasm for what she does and where she does it that our nerves were instantly calmed every time we talked to her. My daughter was concerned about Covid impacting the wedding, but Leslie was flexible and understanding, which was very reassuring - not all venues are willing to be flexible even with pandemic uncertainty. The grounds and gardens looked lovely even though it was still early spring, and their tent comes with elegant draping and crystal chandeliers. The bridal room was small but had access to a private bathroom which was helpful. All in all it was a perfect planning experience as well as a perfect day for my daughter and her new husband.

Linda B.

Married on 09/30/2023

Bridal Shower

I hosted my daughter's bridal shower at River Farm. The setting set the tone for a perfect event. Being the end of April, the landscape was lush green with blossoming plants as far as the eye could see and the Potomac River as the backdrop. It rained the day before. It was too cold and wet to be outside. I was pleased with River Farm's flexibility to allow for last minute decisions such as having the event indoors in the ballroom or outdoors under their tented patio. The ballroom with its colorful paintings by local artists was ideal. The room seated 30 people comfortably and would have been fine for more guests. We decorated the marble fireplace and mantle with flowers. It was the perfect backdrop for photos. I rented their tables and chairs which was more cost effective than the caterer. The foyer, living room and parlor were a pretty space for drinks and hors d'hoeuvres. The beauty and history of River Farm will make any special event even more special.

+ 3

photos

River Farm - American Horticultural Society's reply:

Thank you so much, Linda! It was a pleasure to work with you and to create such a special bridal shower!

Latisha

Married on 10/16/2022

Lovely gardens, draped tent, historic home

In spite of the threat of rain, the gardens at River Farm were lovely, the draped tent was gorgeous and having the ballroom as a Plan B was exactly what we needed. Our manager Leslie was reassuring and had lots of ideas about how to handle the weather. The house is historic from the 1700s and still has a historic feel to it. It's also on the Potomac River and the views are amazing. And the vendors Leslie suggested were excellent. Our wedding was perfect!

Are you interested?

Send a message

Katie

Married on 10/15/2022

History, gardens and great staff

River Farm has the most beautiful gardens and grounds!! And Leslie, the manager, was a great resource! She is enthusiastic but in a steadying and calming way that kept me and my husband excited and kept my parents calm. Glenna was there on our wedding day and she was organized and kind. There's lots of free parking, garden and river views, and a totally zen vibe that made our day perfect.

Anya

Married on 06/05/2022

Garden celebration with beautiful tent

River Farm has lovely, well tended gardens and huge tent with crystal chandeliers and white draping. They let us work with the specialized caterer my Aunt and Uncle wanted. This was an anniversary party, not a wedding, but with the breadth and scope of the celebration, it was treated like a wedding. We had 9 hours which included all the setting up and cleaning up time. If my Aunt and Uncle had been younger, it might have been inconvenient to need to be out by 9pm on a Sunday but given that most of the guests are senior citizens, it was perfect. The staff was really helpful and welcoming. Leslie was the manager who worked with them from the beginning and was knowledgeable, patient, and warm. Glena was the staff person who stayed until the end of the event and she was organized and helpful. My Aunt and Uncle were so happy, and everyone had a wonderful time.

Ann

Married on 05/01/2022

So helpful, and gorgeous venue

Our wedding at River Farm was truly our dream wedding. Not only is River Farm a gorgeous venue with river views and amazing gardens, but the staff there was incredibly helpful. Leslie, the Rentals Manager, is enthusiastic and had so many great suggestions to help us! She was also really flexible with our vendors which everyone appreciated. Glenna also helped during our wedding and was great about keeping us on track.

Garden Wedding with River view

Even though we got married in March, the venue rental manager Leslie promised that everything would be beautiful and it was. It was too cold for too many plants and flowers to be blooming yet but there was still color (mostly white and purple which were our colors anyway). The tent isn't heated but we were able to rent heaters and it worked fine. The tent walls have "windows" of clear material so we still got the outside feeling and we had our ceremony under the really huge osage orange tree that's over 250 years old. Leslie (the manager) clearly loves her job and does a great job making everyone feel welcome and confident. Our wedding was perfect.

Mother T.

Married on 10/24/2020

Perfect Wedding Venue

River Farm is a beautiful property once owned by George Washington and currently owned and operated by the American Horticultural Society. It overlooks the Potomac River and is the perfect wedding venue for a couple who loves gardens and historic mansions. This wedding happened in the middle of the COVID global pandemic. Leslie, who was in charge of rentals, was extremely helpful when we had to deal with these unexpected challenges The grounds were absolutely beautiful for a fall wedding. We were blessed with glorious weather and were able to have the ceremony in the garden under the pergola. The outdoor tent area was elegant, required no extra decoration other than flowers for the tables and was perfect for the reception. Both settings, being outdoors, allowed for increased "social distancing" and safety without losing a sense of togetherness and celebration. The house is stately and has a small but nice area on the second floor for the bride and a nice parlor area on the first floor usually used by the groom. Given the small size of the wedding due to safety concerns with COVID, we just had couple's dance, father/daughter and mother/son dances in the ballroom which is small but very elegant. We had a videographer do a livestream of the wedding for guests who couldn't come to the wedding. Everyone, including the "virtual" guests loved the venue and gave rave reviews. It was truly a wonderful place to have a wedding!

Meredith

Married on 10/26/2018

The Perfect Wedding Setting

River Farm was the very first place we looked at for our October wedding. It is truly a gem! And even more wonderful is Janet who serves as the lead for all weddings and events. Janet is hilarious, warm and genuinely wants to help couples on their special day. The grounds are beautiful and make for a wonderful backdrop for your vows. The new and improved tent is incredibly lovely and can be heated or cooled in case of inclement weather. It rained on our wedding day, but we were dry and warm inside that beautiful tent, which by the way, has 2 incredible chandeliers. Our guests are still raving about River Farm!!!!

Elizabeth

Married on 10/05/2018

If you are looking for a gorgeous venue who knows what they are talking about when it comes to hosting events, look no further! They made everything effortless when we were setting up for our wedding. Janet is so knowledgeable and helpful. The location is to die for. We heard all night how much everyone loved our venue and how gorgeous it was! Dancing must be in the ballroom because River Farm is in a neighborhood and there are noise ordinances. I was a bit worried having it slightly separate from the dining area just outside, but I had guests say how much they loved this, because if they wanted to talk, they could go outside and they didn't have to yell at eachother over music. Highly recommend!

Jennifer

Married on 09/02/2017

My now husband and I fell in love the second we visited River Farm. It has everything you could ask for- multiple ceremony options (including an inside option if it rains, which we needed!), views of the river, a spacious reception tent with lighting (INCLUDED!), lush garden spaces, and of course the beautiful historic home itself. Even on our very rainy wedding day, the property looked stunning and provided a lot of options for great photos. Janet helped us throughout the planning process, and was exceedingly professional and warm. She was happy to answer any questions that arose and worked well with our caterer to make a seamless transition to our "plan B" when it became apparent our outside ceremony wouldn't be feasible. This spot truly is a hidden gem, and its price is extraordinarily reasonable for the amount of time you get at the venue (including the option to drop of items the evening before), the incredible support Janet provides, and the sheer beauty of the venue itself.

Madiha

Married on 08/03/2017

The team at River Farm truly care about their patrons and want them to have the best event possible. We couldn't express more how much we LOVED having our event there. Everything from the beautiful scenery to the historical home was magical. Our guests are still talking about the venue and amazed they've lived in DC for years without ever knowing about it. River Farm is a hidden gem that everyone should experience. I hope everyone is lucky enough to have or attend at least one event there!

Courtney

Married on 09/24/2016

As soon as we saw River Farm, we knew it would be the perfect place for our venue. The grounds are gorgeous and we loved having one location for both the ceremony and the reception. There are so many different areas and options for the ceremony, cocktail hour, pictures, etc. Janet was a joy to work with and a true bright spot in our wedding planning. She was always helpful and responsive. Another great thing about this venue - a tent is on site in season and included in the venue fee. Everyone commented on the beauty of River Farm and many local guests were surprised they had never heard of it - hidden gem!

Katrin

Married on 03/12/2016

The Staff at River Farm is incredible helpful and will go out of their way to make your day super special! The venue is stunning with its historic background! We had about 85 guests at our March wedding and would recommend this venue to everyone!

Amy

Married on 03/12/2016

River Farm was a perfect venue for our wedding! The staff was so great to work with. They always answered my emails promptly and they were full of great suggestions and ideas. The gardens were a beautiful backdrop for our wedding portraits, and the interior of the house is beautiful too! The upstairs "bride room" was perfect for peeking out the window to watch your guests arriving. If I could do it all over again I'd choose River Farm for sure!

Kayla

Married on 09/05/2015

We worked with Janet and had nothing but pleasant experiences. She was quick to respond to emails and offered us her office to store our supplies for the wedding the night before (booze and decorations). The property itself is just amazing and they've been doing a bunch of work over the past year to improve the house and grounds. They were very flexible to our needs and requests and it was overall just a pleasant experience. The only minor hiccup we had was in regards to our rehearsal - something was lost in communication and there was an event starting when we were going to have our rehearsal. They were very apologetic and worked quickly to help find a different time that worked for us.

I CANNOT say enough about this great venue! The wedding I attended was FLAWless--due in large part to this beautiful setting. The tented patio (great when there were a few unexpected raindrops!) overlooked the Potomac, and the Manor house was so homey and comfortable. They even had a place to hang and display family pictures, and a ballroom that was perfect for dancing! The property was historically interesting--once belonging to George Washington himself! But even all THAT paled in comparison to the STUNNING grounds--beautiful fragrant flowers and rolling greens. I wanted to move in! I will recommend this fabulous venue to every prospective bride I know--and I hope I get another invitation soon :-)

Elizabeth

Married on 04/18/2015

I grew up in the Mount Vernon area so River Farm has always had a special place in my heart. However, our wedding at River Farm was above and beyond my dreams. Janet was so easy to work with and very responsive. While it is clear that she and her team have a lot of experience in hosting weddings, they are still able to create a unique wedding experience for each couple. We lucked out with the most beautiful spring day and the venue was just breathtaking. It is important to note that they have great inclement weather back-up policies in place. I loved that our guests were able to wander throughout the venue, and that we were able to create separate event areas for the ceremony, cocktail hour, and reception. We were also able to accommodate a live band in the ballroom for the reception and even with a packed dance floor, it did not feel cramped. I can't say enough wonderful things about River Farm as our wedding venue!

River Farm is a great location that offered not only the outside for our use, but the inside which made the decision the right one. It's beautiful in the summer time in the gardens and has a great view of the river. We were even able to see fireworks in MD/DC.

Natalie

Married on 06/14/2014

My husband and I searched high and low around Northern Virginia for the perfect location that would be historical, outdoors, beautiful, convenient and most importantly, in our budget. River Farm was all of these and more! We were lucky to have perfect weather on our wedding day and every single guest commented to me about how beautiful the property was. Our pictures turned out AMAZING and everything was just the way we pictured it. Janet, the event coordinator, was extremely helpful and always responded to any questions we had within the same day. I highly recommend River Farm!!!

Kate

Married on 10/26/2013

River Farm is an amazing place to get married. Because it is maintained by the American Horticultural Society, it is stunning. The event manager there is very friendly, extremely responsive to email and easy to work with. She was very accommodating - letting us bring things in early when no other event had booked the space. They even provide you with an excellent recommended vendors list. Practically everyone we used came from that list and all were great. You can definitely trust River Farm to provide great recommendations and a beautiful place for an event.

When my husband and I got engaged, we knew we wanted our wedding to be in the fall, and outdoors. River Farm was the perfect backdrop for celebrating coming together as one. It has acres of beautiful gardens and old trees (this was part of George Washington's farm!) and the house is just magnificent! River Farm offers multiple locations for the actual wedding ceremony, as well as the tent for the reception; additionally, the ballroom of the house is just footsteps away, which we utilized for the cake and dancing. Aaron and Janet were awesome to work with and offered advice to assist in making the behind the scenes go smoothly. Our wedding was beautiful and the guests really enjoyed touring the beautiful landscape!

Bonnie

Married on 06/01/2013

We absolutely LOVED using River Farm for our wedding! It was by far the most beautiful, outdoor setting in the Virginia area. The staff, especially Janet, were lovely to work with; they helped us put together our dream wedding and worked hard to accommodate our needs. The property does have some restrictions around noise (no outdoor music) and certain fixtures (no candle flames on tables), but that didn't impact our day at all. We have friends who are who still come up to us and tell us how fantastic our big day was! Also, compared to other venues, it is priced reasonably. You do have to bring in all your own equipment (tables, chairs, etc.) but when you work with the right caterer this should not be a problem. I highly recommend this venue if you want an beautiful, outdoor wedding. The gardens and landscape is so nice that you barely need to spend money on decorations! We just loved it!

Franziska

Married on 09/18/2011

River Farm was such a beautiful venue to have our ceremony/reception. I closely worked with Susan, who was very accommodating and responsive to any of my inquires/emails.
We had the ceremony in the garden, which is simply magnificent and the reception in the tent, which is set up between April and October and included in the rental price. Dancing was in the ball room, which a lot of our guests loved, because those who weren't necessarily into dancing, could stay in the tent/garden area and would not be bothered by the music. My husband and I especially liked that we were able to bring our own liquor and any other vendors (we didn't have to choose from their preferred vendor list). The venue is simply gorgeous.
Only negative point is that in case of rain, sides for the tent will need to get rented (not included in rental price).


Gail

Married on 07/24/2010

What a magical place for a wedding. Overlooking the Potomac, high up on a hill, rich with American history.

You rent the entire estate and boy is it worth it. You have the house, the land, the gardens maintained by none other than the American Horticultural Society, a huge tent, and just one of the most spectacular settings in all of Washington DC.

The staff at George Washington's River Farm are incredibly helpful, immediately answering any question and very accommodating to requests. Janet Daniels was so very nice to work with. We can not sing her praises enough.

All our guests said from the moment they drove up the drive they knew this would be something special. Our guests were there from 4 to 10 and so many commented how the time flew by. They so enjoyed walking in the gardens, touring the house, sitting on the lawn or under the tent, dancing in the ballroom. We even had a beautiful full moon to boot!

It was an enchanted day at GW River Farm for the bride, groom, their parents and all our guests.


Are you interested?
Send a message