69 Reviews
Recommended by 99% of couples
Quality of service

5 out of 5 rating

Average response time

5 out of 5 rating

Professionalism

5 out of 5 rating

Value

5 out of 5 rating

Flexibility

5 out of 5 rating
3 User photos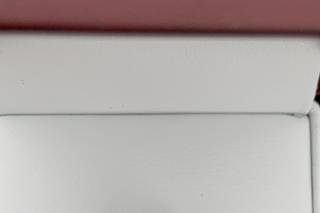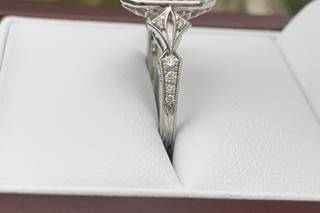 Brad

Getting married on 10/24/2027

Very patient and caring staff and owners!

We visited every jewelry store in central KY and also a couple in Louisville and Cincinnati in search of the perfect engagement ring for my fiancé. Some stores had a decent collection of diamonds and rings but none of them understood the importance of knowing the buyer and knowing their merchandise. Rivard jewelry knew both of those things and many more. They didn't try to use any smoke and mirror tactics. They just spent time with us to find out what we were looking for. They ended up ordering a ring for us to look at as well as the center stone that we requested. They have earned my business for the rest of my life!! On top of it all they are a locally owned "mom and pop" store. The owners still work with the customers as well as their son. I feel great knowing my money went to support a local family.

Zach W.

Married on 10/06/2022

The best and most caring staff and best overall experience!

Brandon and his staff are second to none when it comes to their care and consideration for each customer. They take their time in explaining each object and work to make sure you understand your purchase. They do not rush you into any purchase and help in every avenue. We will be back!

Kathie K.

Married on 12/10/2021

Engagement ring!

Brandon and his staff are absolutely wonderful. Brandon is not only very knowledgeable and professional but, caring,patient and friendly. He helped us design the perfect ring without being pushy in the least.
We plan on getting all our fine jewelry at Rivards. We highly recommend them!!

Are you interested?

Send a message

Deangelia S.

Married on 10/23/2021

Customized Engagement Ring

We went to several jewelers throughout Lexington, Louisville, and Cincinnati before deciding to purchase my engagement ring at Rivard. Margaret truly listened to what we were looking for and helped us to customize my engagement ring, from finding the perfect diamond to designing the band. The end result was perfect!

Jordan A.

Married on 10/07/2021

Brandon Rivard was phenomenal when looking for engagement rings

Brandon Rivard was professional when it came to me purchasing an engagement ring. I knew very little coming into the process and Brandon went very slow to explain everything I would need to know about a diamond ring. He found the perfect diamond that I was looking for and the turnaround time was fantastic, even during COVID-19. I would recommend Rivard Fine Jewelry to everyone!

Shawn F.

Married on 08/22/2020

Great Experience

Brandon and his team was nothing but friendly and willing to help with me to find the perfect setting and diamond. We had a choice of three diamonds that met all the criteria I was looking for and Brandon advised me for the best looking and quality diamond overall which was the cheapest of the three. My fiance loved the setting and the way the diamond sends that fire out! Definitely go see Brandon and his team as they have the knowledge, experience, and go the extra mile to help you find that perfect ring.

Anthony K.

Married on 06/11/2020

Fantastic service and jewelry

Damon was extremely helpful. He is extremely knowledgeable and helped me find the perfect ring. He ordered the ring and it was in ahead of schedule.

Terri S.

Married on 12/07/2019

Excellent service.

I have had rings repaired here a couple of times. They did an excellent job and the prices were very reasonable. The employees are very courteous. I would recommend this jeweler for any needs you have. They are top notch. I drive from Winchester, Ky to go to this jeweler.

Andrew

Married on 10/05/2019

I had an excellent experience with Rivard. They took the time to educate about diamonds and bands which led to purchasing a nice diamond ring which my fiancee loves.

Laurel T.

Married on 06/12/2019

Engagement Ring Purchase

This was our first experience with Rivard Fine Jewelry but it definitely won't be our last! They were so helpful while helping us choose an engagement ring. Margaret was incredibly patient and had so much great advice. She quickly learned my style and was able to suggest some great options! She kept us updated at each step when it came to ordering the ring and having the diamond set. After only meeting us once she remembered us each time we came in the store. They have the best selection! Don't go anywhere else to look for your jewelry!

Shawn

Married on 12/15/2018

I shopped around at many places looking for the exact ring I had in mind, but when I finally found Rivards everything made sense. Mike and Brandon are very upstanding guys and will do anything they can to help you. They listen to what you want and then they go above and beyond working on exactly that. Great store, great people and will be back again!

Aubrey

Married on 10/06/2018

What a great place! I was not the purchaser, but Rivard's was very helpful to my fiance and family in picking out the perfect ring for me. The ring is absolutely beautiful, and we will definitely be using them in the future for wedding bands and other purchases.

Shawn

Married on 06/23/2018

Had a Great Experience using Rivard. They had a vast selection and were very helpful in narrowing options. Each employee I encountered answered any question I had in a way that was easy to understand. Made the buying experience simple and enjoyable!!!

Dwight

Married on 04/28/2018

I purchased an engagement ring and had a great experience! We are definitely going back to get our wedding bands!

Jill

Married on 04/07/2018

My fiance' found the staff at Rivard Jewelry to be friendly and extremely helpful! He was referred by a friend and they did not disappoint. The staff was excited to show him a variety of options and helped him choose the most wonderful engagement ring that I love! Thanks, Rivard!

Connor

Married on 03/10/2018

My experience at Rivard was excellent. The time that Brandon spent educating me on diamonds was extremely helpful. I never once felt like he tried to upsell me or rush me in any way. Awesome staff and jewelry. My fiancée loves it!

Stacia

Married on 12/02/2017

Buying an engagement ring at Rivard was a wonderful experience. They have a huge selection of styles to try on in store. Margaret educated us on diamonds and we were able to look at and choose the perfect diamond for my ring. Mr. Rivard even helped my fiancé in making a surprise proposal.

William

Married on 11/18/2017

Brandon over at Rivard Jewelry went out of his way to make sure we were happy. He went over a ton of options and helped me go through my (now) fiance's Pinterest account and pick out exactly what she wanted. She was blown away. We got a great value and the service was impeccable.

Brad

Married on 10/28/2017

Super super pleased with the quality of service and quality of products they offer. The staff themselves are very professional yet very personal and really care about getting you the right piece of jewelry for whatever your occasion is. I dealt with Mr. Mike Rivard himself and we spent around a total of 45 min to an hour together picking something out for my needs (engagement ring). Only 10-15 min of that time was spent talking about the actual piece of of jewelry. The other 30-40 min we talked on a personal level so he really got to know me and my situation and I got to know him as well. This is what made this jeweler stick out more than any other jeweler I visited. That was because Mr. Rivard did not care about just selling me a piece of jewelry and he didn't push me to buy the most expensive thing in the store or something I couldn't afford. He wanted to know me as a customer and then go from there on what best fits my needs. I believe that goes a long way when shopping for special things such as an engagement ring which is what I came in for. Again I was very very pleased with my purchase and the service I received. I will definitely be returning for all my jewelry needs in the future. I would give it 10 stars if it let me.

Nick

Married on 10/07/2017

I kid you not, they are amazing! So incredibly patient. They'll let you go back and forth, they'll ship some diamonds in for you if you need to, and they work with you with price matching. They made it so much less stressful picking an engagement ring, they made it fun.

Austin

Married on 07/22/2017

Once you first walk into Rivard Fine Jewelry and meet those who work there, you will not want to go anywhere else. Their contagious personalities and competitive prices makes Rivard stand alone in their profession. They have a wide variety of jewelry and jewelers, and offer beautiful, single stones at wholesale price. I'm very thankful to have had Mike and his family assist me in my journey to marry my best friend!

Nicholas

Married on 07/03/2017

I would highly recommend Rivard and encourage anyone to visit their store when shopping for engagement rings, wedding bands etc. Over the last several months, my fiance and I finished the process of selecting an engagement ring and our wedding bands. The staff at their store are extremely helpful and were very patient with me since I can be indecisive and was not particularly knowledgeable of diamonds and jewelry. They took the time to explain every step of the process and exactly how diamonds are rated and how to mix and match. This was very important to me, as was the fact that they do not push you to spend more than you are comfortable with and help you make a selection based on your budget. They don't talk down to you, and they have a great sense of humor and keep the mood light and very personable. Even the owner himself works the counter also, which I doubt you would see at most other stores. Lastly, they take the time to recommend certain insurance coverage policies and the store themselves have excellent warranty coverage and repair. Their store may seem smaller or have less selection than some other chain stores, but the customer service and flexibility definitely puts them at the top of the list.

Bryan

Married on 06/24/2017

I went to Rivard Fine Jewelry in the summer of 2015 after making the decision to propose to my fiance with her best friend to assist me in finding a ring. Mike was so professional, patient, and willing to talk through every ring in the entire store with me. As most guys will know, the first time going to look at rings is very overwhelming but Mike put me at ease and walked me through everything. His knowledge was extensive and he was able to help me with the many questions that I had. That first visit I found a ring that I would compare every other ring to as I looked at different places over the next few weeks. I came back to Rivards twice just to look at that ring again and to get advice from Mike including his ability to assist me in getting her ring size since it was a surprise engagement. Throughout the visits I met Brandon and some other staff and they all were very responsive and professional every discussion I had. Once I decided to purchase the ring that Mike helped me fine on that first visit he then continued to walk me through the process of picking out the main diamond and taught me quite a bit about diamonds while getting me the best possible price he could. I felt comfortable in telling him my budget and him not forcing me to go over my budget. Every decision was made by me and I couldn't be happier. My fiance and I got engaged on 9/11/15 and to this day I still look at her ring in aww of the beauty of it and think about the experience I had with Mike. The value of my experience was priceless in my opinion because regardless of if we move out of Lexington, Rivards will have a customer for life. Thanks to Mike, Brandon and the whole staff at Rivards for such a wonderful experience.

Nina

Married on 10/28/2016

My husband and I went to Rivards to shop for my engagement ring. They were extremely friendly and helpful. We picked out a new setting for the diamond we already had and they were very patient answering our questions. The ring turned out to be gorgeous! They also gave us papers valuing the ring as well as information for insurance. I have been back several times to have my ring cleaned and inspected and everyone is always friendly and eager to help! We were extremely pleased with the small family owned business and highly recommend!

Joshua

Married on 10/15/2016

I cannot express how grateful I am with Rivard's. So pleased with everything that they did for me. Even though I'm not their only customer, when I was in there, they made me feel that way. Wonderful experience and will go back again. Thank you so much to Brandon and the staff at RIvard's. You have a new customer for life.
Are you interested?
Send a message