67 Reviews
Recommended by 100% of couples
Quality of service

5 out of 5 rating

Average response time

4.9 out of 5 rating

Professionalism

5 out of 5 rating

Value

5 out of 5 rating

Flexibility

5 out of 5 rating
51 User photos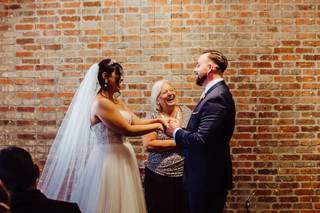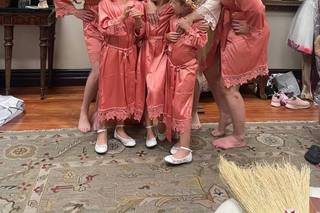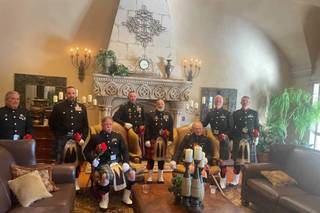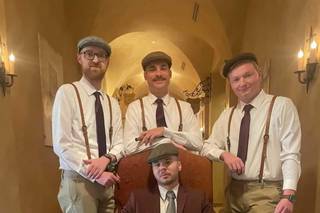 + 47

photos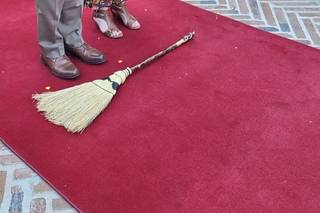 Featured

Lucia R.

Married on 10/26/2022

Outstanding officiant

Pam was amazing. She personalized our script, helped us in our writing, had long conversations over the phone and offered genuine advice and interest.
She took what she learned of us and wove it into the script. She put our religious preferences in the speech while keeping in mind the beliefs of our guests.
She had some good humor points and took care to include our children in a sweet way.
She came dressed well and with a smile.
Pam also was a great sport as we had her include over 5 non-traditional elements and adapted at the last minute with verbiage and party changes.
Pam had a few experiences before ours with unexpected unfortunate events where couples lost photos or things of meaning during or after the wedding. So she made sure to go out of her way to capture some behind the scenes moments just in case so we'd have at least a few strong photos to remember if we too had any unfortunate happenings.
Lastly, my husband's parents had been quietly married only a month before us, so she performed a small moment for them as well. It was so kind of a gesture that I didn't even find out about until the next day.
Hugging her after the ceremony felt like family. My husband said as we left that he felt "as if he'd known her for 20 years, she was so comforting". She was so relaxed and comforting and reassuring.
I hope you enjoyed our traditional scottish wedding handfasting!

Small shutouts to the perfect wedding dream team:
Wedding dream team:
MUA: dolled up luxe
Venue: villa sienna
Officant: rites of celebration (pamela)
Dj & photo booth & lights: SKM, DJ Dave
Photo: studio 3
Hair: Vaya Salon inside Crowne Plaza Chandler Hotel

+ 11

photos

Rites of Celebration's reply:

It was an honor to be your officiant and to personalize your ceremony to reflect the two of you. Each element added to the love and dedication that was easily felt between you. And I learned a couple new Scottish traditions and words!

Ashley C.

Married on 11/12/2022

The Absolute Best !!

Pamela made everything so easy for us, she sent us different vow options to choose from. She made everyone cry and made our wedding super memorable. She is so great and willing to work with you and include anything you ask her to.

Floyd

Married on 10/15/2022

She made this day very special

Pamela is a beautiful lady that completed our day so beautifully. We loved her from the time she stepped into our lives. Professional, Loving and showed so much attention to all our family.

Rites of Celebration's reply:

What a pleasure it was to get your officiant and get to meet your amazing family. Thank you for including me in this magical day of love.

Are you interested?

Send a message

Kelsey D.

Married on 10/01/2022

A Great Experience!

Pam was extremely nice and pleasant to work with! We appreciated her ability to make us feel comfortable and she had some great suggestions to help us put special touches on our big day! We had a great experience!

Rites of Celebration's reply:

You choose such a beautiful setting and I was so happy to see that your doggy flower girls/ring bearers were so excited to be part of your special day. Thank you for letting me be your officiant.

Doug W.

Married on 07/20/2022

Better than we ever expected

We approached Pamala with very short notice and very specific needs and requests. She jumped on board with fun and enthusiasm and turned us all into friends while delivering a professional service we will never forget. Thank you!

Nicholas J.

Married on 07/03/2022

Simple but Perfect

We were looking for a simple, small ceremony with our witnesses and us. Pam did an excellent job of making that simple ceremony so meaningful. She is a very genuine woman that communicates the meaning of marriage so well. It was a wonderful and memorable experience, and I would highly recommend her to anyone.

Kaysea M.

Married on 04/01/2022

She was a support system I didn't know I needed and she made my beautiful day more magical than I ever imagined!

She did everything we asked and more. She drove 2 hours up to Prescott to officiate our wedding. She scheduled phone calls with us to make sure we were on the same page. She was helpful every step of the way and wasn't pushy about getting our vows on time and made sure we got exactly the type of ceremony we wanted. She rolled with our punches and made the ceremony comfortable and beautiful. Our families went on about how beautiful our ceremony was. She did a combination of Christian ceremony and a Celtic hand fasting and it was beautiful! We also had a family joining ceremony that included my new stepson and it meant the world to us. She took pictures so we could get nice pictures of our marriage the next day so I could have some to post (I included some to show off) ☺️. She made my special day more magical than I ever dreamed! Thank you Pam!

+ 2

photos

Will

Married on 03/18/2022

The Pretty's

Pam what exactly who and what we were looking for when it came to our wedding. She helped us to create an intimate and meaningful ceremony that captured the essence of our relationship. She took the time to get to know who we are as individuals, and most importantly as a couple. Pam ingratiated herself with our guests as if she'd know them for years. We have the upmost respect and appreciate for her professionalism and willingness to walk us through the legal process. Our location was a bit further out of the Phoenix metro area, we were so grateful she was happy to accommodate without any hesitation. We consider ourselves blessed to have had Pam be the person that started our journey as husband and wife.

Rites of Celebration's reply:

Thank you for selecting me to be your officiant, it was my pleasure and I enjoyed getting to know your families. What a loving, supportive group of people to share your lives and bless your union.



Irene

Married on 03/06/2022

Amazing Lesbian Wedding

Pam Schuler was amazing to work with and made our simple ideas more than special. Pam's kindness and loving care really helped to make the day magically. She found ways to include our family, which added a joining we didn't think about.
Thanks for making our day more than we could ask for Pam.

Rites of Celebration's reply:

You picked such a lovely location and the weather really cooperated. It was my pleasure to announce two beautiful people to be wife and wife. Thanks for choosing me

Ashley M.

Married on 02/22/2022

Made my wedding ceremony extra special!!

I can not say enough wonderful things about Pam! She responded very quickly to our request to have her marry my husband and I. I loved all of the unconventional ceremonial things she adds into the ceremony. She included not only our children into the ceremony, but also our parents. She is so sweet and down to earth. I was a bit nervous before the ceremony but she did a great job at reassuring me that everything would be fine. It was as a pleasure having Pam be our marriage officiant! I couldn't imagine having anyone else do a better job.

Rites of Celebration's reply:

Thank you. It was my pleasure and I loved having your ceremony on 2/22/22 at 2:22! Having your children as a part of the celebration was extra special and the day cooperated so nicely for the lakeside ceremony.


Escamillio D.

Married on 12/18/2021

Fantastic !!!

Pamela was flexible, experienced, professional, with a peaceful demeanor. She brought humor to the ceremony and joy to the occasion. If we ever renew our vows we know who we want as our officiant.

Chris T.

Married on 12/04/2021

Very sweet, professional, and easy to work with!

My now husband and I really enjoyed Pam's service. She was very responsive and incredibly easy to work with. We needed to do a quick, short-notice elopement ceremony and she was very reasonable for picking a location and time.

Rites of Celebration's reply:

It was my pleasure to be your officiant and now I have even another nice setting to recommend to other couples! Congratulations

Denise

Married on 11/19/2021

Pam is wonderful!

Pam made our day so special! She always made herself available for any questions and offered assistance throughout the whole process. She is very professional and kind and all of our guests were very impressed with the ceremony. Thanks Pam!

Rites of Celebration's reply:

It was definitely my pleasure to be your officiant. You planned such a beautiful celebration and you were surrounded by a great gathering of love. I wish you all the best.

Andrew D.

Married on 09/18/2021

Pam was wonderful!

We felt an immediate connection with Pam. She was responsive, providing suggestions for the script, and worked with us to get exactly what we wanted. She helped make our wedding amazing, and added her personal touch too. Thank you Pam!

Rites of Celebration's reply:

The weather made a threat of rain but it didn't happen. Nothing happened to make your handfasting wedding anything less than magical. I'm sure folks here would love to see the beautiful cord you had made for the binding (please attach a picture).
I was thrilled to be your officiant and being able to make this ceremony sacred ( and comfortable to your non-pagan friends and family) felt like an added blessing to your relationship and future Thank you for selecting me.

Giselle L.

Married on 09/16/2021

Simply beautiful Love you Pam💜

I recently got married and Pam was my wedding officiant and she made the experience so amazing she will forever have a place in our hearts ❤️ She's so patient so warm hearted and she makes you feel so comfortable and that's what I loved about her, she was part of the family instantly thank you once again Pam for your beautiful heart

Rites of Celebration's reply:

Your backyard wedding was beautiful. The love shared by your friends and family as you spoke your heart-felt vows was so affirming of your union. It was my pleasure to be your officiant. And thank you for including me in your reception. The fresh prepared street tacos were amazing! Congratulations

Jocelyn H.

Married on 08/21/2021

Wedding ceremony

I hired Pamela for my wedding and she was amazing very loving and professional!

Rites of Celebration's reply:

It was my pleasure and to be able to bring your tradition of the lasso and arras into the ceremony made it very special for me. Thank you

Tanya H.

Married on 08/11/2021

Pam is amazing!

We got married 11 years ago just my husband and I. I had this vision of renewing our vows, but this time with our family there. The night before on August 10 I called Pam to see if she could help me make this vision of our renewing of our vows come true. Less than 24 hour notice and on August 11th on our 11 year anniversary she helped us make this vision come true. I can not thank her enough for making our day that much more meaningful and special. Thank you Pam.

Rites of Celebration's reply:

Thank you for letting be a part of this special celebration. It was so amazing to hear that your spirit animals appeared to bless your day and then to be gifted the wedding themed music from strangers across the lake was even more affirmation. Congratulations on making this beautiful day a reality and I wish for you many more years of marriage happiness and success.

Donella G.

Married on 05/29/2021

Very Special

There really are no words to describe the level of comfort Pam at Rites of Celebration made my now husband and I feel at the time the wedding was going on because it was definitely hectic as all weddings are no matter how small or big and no matter where the weddings are located weddings are a vey special day for everyone and Pam made Ours very special..!! Thanks for everything!! Chris & Donella

Rites of Celebration's reply:

Thank you, it was my pleasure to be your officiant and I'm very happy to have been able to celebrate with you.


Mykala S.

Married on 05/28/2021

Wonderful experience

My husband an I had the most wonderful experience with Pam, she not only helped with all the paper work and finding a location, but she took the time to get to know us both as people, and listened to both of our desires for how we wanted our big day to go. She was wonderfully flexible when helping us write our vows, even taking into account our word choices when there was a certain word or words we wanted to omit or add, and what kind of ceremony we wanted to do. All around we highly reccomend Pam, she helped make our wedding the most memorable day! She also took some AMAZING photos!!

Rites of Celebration's reply:

I love how you included family traditions and worked so hard to have the computer streaming to bring everyone to your wedding. Thank you for letting me be your officiant. It was my pleasure.


Kristen D.

Married on 05/08/2021

Short and sweet

Pam was perfect for our little wedding. It was short and exactly what we wanted.

Rites of Celebration's reply:

Thank you for selecting me for your officiant. It was my pleasure and your venue at the Castle Hot Springs was such a beautiful setting. I was so relieved that the wildfire in the area did not affect your special day. Best wishes.

Matt L.

Married on 04/24/2021

A special day forever

Pam was able to schedule our ceremony on very short notice and gave us the most beautiful service I could have hope for! Pam brought the most important part of the service to life which was love. Everyone was so moved by the beautiful words and ceremony. I will remember this forever!
She helped us through every stage of planning once our marriage license was in our hands. We are so grateful to Pam and would recommend her for your most treasured events!

Rites of Celebration's reply:

Thank you for letting me be your officiant. It truly was an honor and my privilege. Congratulations

Melinda S.

Married on 02/14/2021

Great service, very wonderful officiant

Pam was very proffesional, caring and amazing. Her performance goes above and beyond a job title. She genuinely cares about other people and their wants, needs and feelings. Such a magnetic personality on a woman.

Kayla

Married on 02/14/2021

Pam is Amazing!

She was very flexible and helped us through the entire process! She even let me wear her coverup when my zipper broke! Super sweet lady.

Rites of Celebration's reply:

Thank you for letting me be your officiant. It was a beautiful day and you're a wonderful couple and it was my pleasure

Emerald R.

Married on 11/11/2020

Lovely Experience

Pamela was very lovely! I am so happy that I found her. Even though it was sort of last minute she was still very flexible, professionally, kind and caring to every detail. I would recommend using her to anyone!

Lin M.

Married on 11/07/2020

Wedding on 11/07/20

Pamela was amazing! We are so happy we found her. Her suggestions were appreciated. When she talks to you, your anxieties disappear. She makes you feel like this is going to be the best day of your life, regardless of what may happen, and she was right!

Rites of Celebration's reply:

Thank you for the kind review. It was my pleasure. I was glad you decided to add some of your special cultural elements into the ceremony, and including Behma as the Best Dog/ring bearer made it a whole family affair.
Are you interested?
Send a message