48 Reviews
Recommended by 100% of couples
Quality of service

5 out of 5 rating

Average response time

5 out of 5 rating

Professionalism

5 out of 5 rating

Value

5 out of 5 rating

Flexibility

5 out of 5 rating
Awards
4 User photos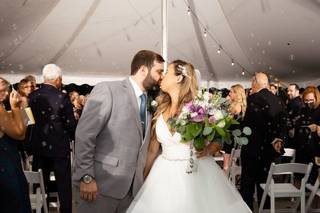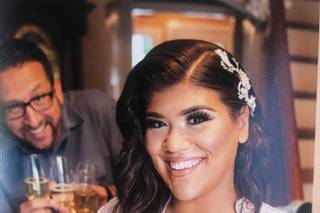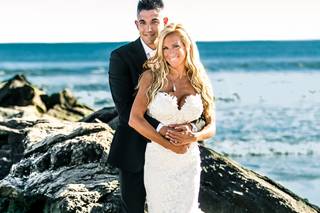 Alexa T.

Married on 09/18/2022

Look no further and book with RF Films

I never write reviews for anything but for RF Films I felt I had to share what a wonderful experience we had. We used RF Films for photo and video for our wedding in September 2022 and I cannot say enough great things about Russell and his team. In the early process of booking our vendors we actually found RF Films while visiting our wedding venue. After doing some research on what the company offered, packages, looking at previous work they've done, it wasn't until we got on the phone with Russell that we knew we wanted to book with RF Films. A very friendly voice, made us feel at ease, laid back attitude but with a dedication to bringing our wedding vision to life. What more could we ask for. At this point he was one of the best vendors we have worked with and our wedding date hadn't even come yet.

Weeks leading up to our wedding, Russell and his team were very organized and attentive in making sure we had a schedule in place for the day of and a list of photos that we wanted captured. Russell even double checked the schedule with me just in case anything changed with hair and makeup or our venue.

Fast forward to our wedding day, the team arrived on time and if not a bit earlier than scheduled and started getting content right away. Our wedding venue did not give me a bridal attendant, but Russell and his team were helping us the whole time, he even ran to grab my lipstick for me when I needed to reapply. (AMAZING!! THANK YOU) The additional photographer and videographer were so friendly and professional they knew how to liven up the room and get the mood going for photos. Even for the groomsmen who needed an extra push at times to smile for the camera. The team was keeping track of the time and ensured we stayed on schedule before our ceremony and even after cocktail hour to grab some more solo shots of us before heading to reception.

It makes it that much more comforting and was able to put my mind at ease especially on a hectic day like your wedding day when you know you have great people working with you and I can honestly say RF Films were amazing and knocked it out of the park. They even had such a quick turnaround for our wedding photos and trailer video. Our wedding was September 18th and my photos came in on October 14th ! The quality of the photos and our trailer video were breathtaking and the way they captured the whole day will make it truly unforgettable. You must book with RF films for your wedding for photo and video. You will NOT be disappointed !

Love,
A very very happy bride !!


Cassie A.

Married on 08/27/2022

Thank you RF Films!!

Russel and his team were amazing on my wedding day. They arrived on time, prepared and filled with so much energy. Russel is so personable and makes everyone around him laugh, he had myself and my bridesmaids cracking up all morning. Everyone is so talented and you can tell they genuinely love their jobs. I am so thankful I found RF Films because they truly alleviated a lot stress during the wedding day, Russell was even vacuuming up confetti for my mom lol!! We received our wedding trailer video and it was so beautiful, everyone I speak to says they tear up. I can not recommend them enough, hire them you will not regret it!!!


Alexandra M.

Married on 08/21/2022

Thank you RF Films!

RF Films did a great job without our wedding photos and video. Russell and this team were professional, talented, punctual, and made working with them fun!! Russell was always available and generous in sharing tips to ensure the day was smooth and successful! We could not be more pleased with our experience.

Are you interested?

Send a message

Stephanie

Married on 07/17/2022

I love RF Films!!!

RF films did an amazing job with our photos for our engagement and wedding. We are so happy!! Russel and his team (Monica and Brooke) were such a pleasure to work with! They were professional, curteous, punctual, and so fun to work. They took such beautiful pictures!!! We love them! We would definately recommend them for weddings and any event!! Most importantly, they were so nice and we built a connection with them. They made us feel so comfortable when taking the pictures. We love them! 100% recommended!!! Please don't hesitate, book them! I can guarantee you that you will love your photos!!!

Kerry W.

Married on 06/17/2022

The absolute BEST!

We made the correct decision in choosing RF films to capture our special day. From the initial conversation I had with Russ until my wedding day, I knew I was in good hands. Their work is not only amazing, but Russ and his team's personalities added to the excitement, getting not only myself and my husband more excited but also our bridal party. They are so enthusiastic and work so seamlessly! Throughout the day Russ ensured we were having a good time and had a smile on our faces, making us feel relaxed and calm. Russ is more than just a videographer, he truly becomes your friend throughout the day. There was never a time in the day that I felt like anything was being forced, it was all natural, and the team gave great direction. I could not recommend RF Films more! Our video was absolutely AMAZING! The amount of comments and feedback we received from friends and family has re-assured we made the right decision in choosing RF Films. The video brought us right back to our wedding day and we cannot stop watching it. There is no one else I would have chosen to capture our wedding day other than RF Films. You will not be disappointed in choosing Russ and his team to capture your wedding day!

Natalie

Married on 06/11/2022

Incredible!!!!!

Russ and team were incredible to work with from the very beginning!! Russ was extremely responsive and easy to work with, which was so helpful in what was a somewhat stressful wedding planning process. Russ was super enthusiastic in every one of our discussions, which made us so excited. On the actual wedding day, Russ and team were SO MUCH fun. He added another layer of energy in the best way possible. We had such a blast! He was always making sure we had so much fun and a smile on our faces. I would choose Russ 1,000x over again. In terms of the actual production, the video was incredible! Every one of our family members is always begging us to play the video for them. The footage is incredible! So excited to keep watching it for the rest of our lives! You absolutely must have Russ and team capture your wedding day!!!

Tim F.

Married on 05/29/2022

Why You Need RF Films At Your Wedding

It is honestly hard to put into words the feelings we have about the work RF Films did for our wedding. I'll start with the prep. Our wedding was postponed due to Covid so keeping our vendors was of the utmost importance to us. Russ was extremely accommodating and sympathetic with the situation we were in. For me, it was the excitement I heard in his voice every time we spoke on the phone. He seemed almost as excited about our wedding as we were every time. During what was an extremely stressful time, he kept that spark of excitement going.

The days leading up to the wedding we spoke about timing and how to handle each aspect of the day. He gave his honest professional opinion based on his considerable experience and although my wife and I leaned another way he was very easy going and leaned in with us. His ability to adapt to changing environment and ideas makes him and his crew best in show. I work in television so I understand the behind the scenes technical and social aspects of production. Russ and his crew are better than you will find anywhere.

The day of was nothing short of perfect. Russ' personality is infectious. His crews' creativity and direction were perfection. They worked so well around what we were doing, it never felt like we were held up or keeping them. It just flowed which is all we could ask for in our cinematographer. They were funny, energetic, and such welcome guests on our day.

Now to the product. Wow. That is all we could say. Our jaws were open from the open to the close. Each minute built on the last and we felt like were watching a full length movie on the big screen. Their storytelling ability threw us right back into the day. I felt like I was in the front row watching the wedding in third person. They're cutting and pacing were exceptional. Nothing dragged and nothing was too short. Everything and especially everyone got their moment. The dancing part of the video captured every person and we had 200+ people. We saw moments we didn't even know happened thanks to them. But most importantly they captured the love my bride and I shared that day. The jokes, the embraces, the tears were all captured so beautifully. We constantly go back and watch it. We cannot thank RF Films enough for the work they did.

Last minute points:
- pricing is very fair. Do not settle for a company that won't give you what RF Films can. Trust me.
- turnaround time was honestly shockingly fast. We got our trailer a month out from the wedding which flew by with the honeymoon in between.
- GET THE DRONE!!

Thank you to Russ and his entire crew. We could not have asked for anything more.

Krystie Z.

Married on 04/06/2022

Fun, spontaneous, talented, creative

Russ and his crew were fun, spontaneous, respectful and a pleasure to work with. They are very talented and have a creative eye. They helped our day run smoothly and captured each special moment. I would highly recommend them for capturing any special event.

Christina J.

Married on 10/22/2021

The best there is!

We couldn't be happier that we picked RF Films and photography to capture our big day. Russel and his team are not only extremely talented but have such great personalities that helped to add a fun and lightheartedness to what could be nerve wracking moments! Russel and his team perfectly captured every detail of our day and truly created a video for us that perfectly represents exactly how the day went and how we remember it in our heads. You can't beat the level of service and attention to detail. You'll be so happy you went with them and you are guaranteed to make your family and friends cry with the amazing work they do!

Steve M.

Married on 10/09/2021

Far exceeded my expectation

Couldn't ask for a more professional and outstanding service

Melissa F.

Married on 09/17/2021

Best photgrapher!

WOW!!! Just WOW! I want to thank Russell, Monica, and the RF Films group for such an amazing experience.  When we signed with them, we all had a connection.  We did our engagement shoot with them and we were just amazed how every single picture came out. I was so excited for our big day.  We told Russ how we pictured our big day, that we wanted to enjoy every moment of it since we waited so many years for this. We wanted our pictures to show that we were owning our day and nothing can take those moments away, and guess what, Russ, Monica and the RF group did that for us. They seriously went above and beyond because of course our catering hall didn't have anyone working and they were so sweet, that they were our bridal attendees and our everything that day, and we couldn't thank them enough.  They didn't take long at all to get us back our pictures that were just OUT OF THIS WORLD! Our wedding teaser and trailer that they made for us is AMAZING.  We love it so much that we just keep watching it over and over again (because it's just that good)...

I would recommend RF Films over and over again. They are attentive, caring, and generous with their services.


Nicole

Married on 09/04/2021

Book RF Films - you won't regret it!!!

Russ is not only an extremely talented videographer but he has become a friend through our wedding planning process. It was important to my husband and I that we hired vendors who we were 100% confident in and who we felt totally comfortable around because we knew they'd be by our sides on the most important day of our life. After viewing his work and having just one conversation with Russ, the decision was made - easy! On the day of our wedding, Russ and his team arrived early to set up and they brought such positive energy to everyone getting ready. Russ had everyone laughing and brushing off the nerves! They were so professional, friendly, and personable from start to finish. The level of detail and skill that Russ and his team brings is TRULY amazing and unique. They captured every beautiful, fun, and special moment of the day... it's perfectly us! We are in love with our video, and I know we'll cherish it forever. I will be recommending RF Films to everyone I know!!!

Caitlin R.

Married on 08/20/2021

Best in the Business

Russell Fisher and RF Films is officially our "family videographer." Russell filmed the weddings of three other family members, and we are so grateful that we were able to hire him for ours!

Russell is incredibly talented and has an eye for capturing all of the important moments during a wedding day. We are so in love with the trailer video and we have already received countless compliments. We never felt anything other than full confidence in choosing RF Films for our wedding day.

Russell and his team were a vital part in making August 20, 2021 the wedding day of our dreams. Russell's energy and humor helped to put us and our bridal party at ease. We are so grateful for the care and attentiveness that the team put into our day. We have received nothing but compliments from our family, friends, and guests about their presence and their work.

It was an absolute pleasure working with RF Films leading up to our wedding day as well. All questions and concerns during the planning process were answered thoroughly. We are particularly grateful for the flexibility provided when it came to our Covid postponement. We are so glad we were able to keep all of our original vendors on board.

You would be remiss to not hire Russell and RF Films for your event.

Melissa R.

Married on 09/05/2020

Russ was a great and critical addition to our Wedding

To the point:

Hire him! The video is worth the money in capturing the day. You almost forget the moments! I hired Russ and his team for their services after a friends recommendation. I purchased "All eyes on Me" because hey it's my wedding!!! Check out my trailer which is currently on his website. Comparing other vendors, RF films was fairly priced and produces beautiful footage. I was married 9/5/2020.

For those who want a bit more dets:

I might be lucky here, but Russ and my photographer hit it off! The energy, creativity, the vibes just WORKED in my favor on capturing the magic of my wedding day I was married in the middle of Covid which added stress before, during, and after. Russ made the day "fun" for me and everyone closely involved in my wedding. I didn't have many "requests" and He took charge to capture everything. He's the professional and you don't want to stress about these details during or after. That being said, he is also open to direction and feedback which ultimately landed me a beautiful wedding video- not many can even say that and other vendors were MORE expensive.

RF FILM | PHOTOGRAPHY's reply:

Thank you for the great recommendation. We had such a great day and it shows in your videos and pictures. Thank you again for the amazing review.

Telly D.

Married on 05/22/2020

A+ for an amazing experience

We weren't originally going to have a videographer, but since we decided to get married during the COVID-19 pandemic we thought it would be a good addition. Russel not only took incredible video of our intimate event, but he also coordinated our zoom event so people could view it live from the safety of their home.

Erica W.

Married on 02/22/2020

Memorable!

Russell was awesome! He captured some really special moments for my grandmothers 95th birthday that we would have never been able to do with just our phones! He made the scheduling process so easy and I knew I could trust him even without never meeting him before. He is super friendly and personable and although I don't live in New York, my family can't wait to use him again for upcoming events! Thank you so much for making my grandmothers 95th birthday a memorable one!

Andrea M.

Married on 12/31/2019

RF Films -- the best!

RF Films were incredible to work with. They were prompt, helpful and the final product was absolutely phenomenal. I couldn't have asked for better. They really went above and beyond for us.

Ashley M.

Married on 09/06/2019

Truly Amazing!

First off, I want to express how incredibly amazing Russ and his team are. They filmed our special day in the most beautiful way and captured every single detail from start to finish. There is ABSOLUTELY no one I would have rather had capture our day than R.F. Films and I was picky when it came to choosing a videographer to say the least! Also, Russ was with us every step of the way and truly saw our vision. He regularly checked up on my husband and I and helped us feel at ease with not only his talent, but also with the entire wedding process as a whole. The day of the wedding he kept us calm and in the best of spirits. Russ and his team went above and beyond to get the best shots and made us feel so comfortable. In all, Russ is more than just a videographer, he is amazing at what he does and truly cares about the couples he works with and it shows it his work. I promise you won't be disappointed hiring him for your special day! 💕

Joe + Ashley

Wedding video link below!

https://vimeo.com/371383083


Joshua G.

Married on 07/10/2019

We Couldn't Imagine Our Day Portrayed in Any Other Way.

Russ and his team have been amazing. The entire narrative of our wedding day was exactly what we wanted and then some. They integrated into the flow very well and set up great shots while not being invasive. We've received lots of compliments and are extremely happy that we went with an expanded package. We originally didn't plan on doing video either, but now we can't imagine having not done it. Thank you Russ!!

Bernadette

Married on 01/19/2019

Excellent!!!!

Russ and his team were beyond excellent. From start to finish they were there to answer all our questions. They called us before our engagement shoot and our wedding day to ask us if we had any ideas of what type of pictures we wanted to take. They were there to walk us through every step of our wedding day:)

Lauren

Married on 10/13/2018

Beautiful Cinematography!

Russ and his team were amazing to work with from day one! I was referred by two family members who had previously used Russ for their weddings and they did not let me down! RF Films genuinely cares about your wedding day and will go the extra mile to ensure everything goes according to plan! Not only was Russ available and helpful during the planning process, he was amazing to work with day of and after our wedding as well! He listened to me as I explained what I wanted to see in our wedding trailer and video and accommodated my requests! Russ and his team are worth every penny!

Liana

Married on 09/15/2018

Best Videographer Ever!!!!!

Russell and his team were absolutely amazing. I had seen his work first hand from a previous wedding I was in and I knew I wanted to use him when I got married. I have views many other videographers work and his is by far the best! On the day of our wedding he was absolutely amazing and felt like part of the family. Anyone getting married should absolutely use RF Films.

Carolann

Married on 11/17/2017

My wedding was on November 17th 2017, the church was in Brooklyn and the reception was at Milleridge Inn in Jericho. We had two photographers, two videographers with one assistant. We absolutely loved working with Russ and his team! His prices are very reasonable and worth every penny! Everyone was on time and worked independently, knowing exactly what I wanted and needed. I was late coming back from hair and makeup, but his videographer and photographer were already set up in my house without a problem. The traffic from Brooklyn to Long Island was terrible, but they still they made it there and made sure we had the time to get all the photos and video we wanted. Russ is so attentive to detail and take his advice on what he suggests, he's always been right. He truly cares about what the couple wants for the day and he makes it happen, with also managing expectations. RF Films was definitely our favorite vendor we used.

Melissa

Married on 09/23/2017

Out of all the videographers, we had to choose from, we are so happy we choose you for our wedding.

Russell Fisher, you and your team (Gary) far exceeded our expectations. You not only are an amazing videographer, your editorial skills are far superior. You have a niche in the industry and can transform moments to make it like no other. Thank you for leaving us with these magical film of us that we will get to enjoy forever!

Feel free to email me and I will send you my wedding trailer. I wasn't able to upload it here. My email is melissanovak128@gmail.com


Michelle

Married on 06/04/2017

After reviewing many videographers we decided to use RF Film|Photography because of the quality of their work. I watched many of their video trailers on Vimeo and was completely blown away!

They were a pleasure to work with and captured every detail of our wedding. When I first saw our finished wedding trailer I could not believe how awesome it came out. I felt like I was watching a movie! Little things that I forgot about (because the day goes so, so fast!) came rushing back to me and it was amazing. We almost skipped out on getting video for our wedding to save money but I am so glad we didn't! Nothing brings back the emotion and details of your day like video. I have a lot of friends whos biggest regret is not spending the money on a videographer-- and now they only have still photos to remember it all which is equally important, but not the same. I'm telling you, I'm obsessed with watching my video and reliving the magic of the day!

I would highly recommend Russ and his team to capture your special day! They are super professional and have lots of wedding experience!
Are you interested?
Send a message