43 Reviews
Recommended by 100% of couples
Quality of service

5 out of 5 rating

Average response time

5 out of 5 rating

Professionalism

5 out of 5 rating

Value

5 out of 5 rating

Flexibility

5 out of 5 rating
11 User photos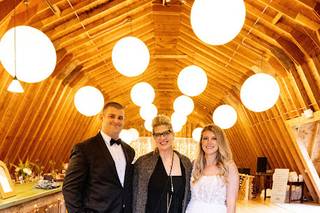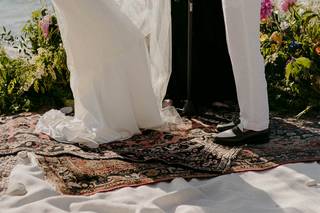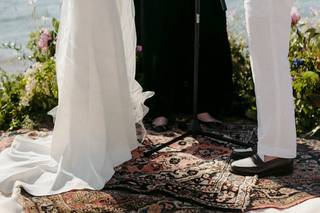 + 7

photos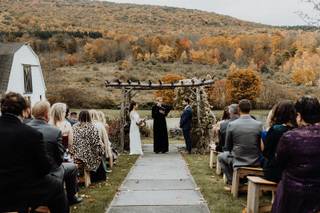 Katharine O.

Married on 10/15/2022

5 stars are not enough

Sandra was the PERFECT officiant for our wedding!! She helped us create an incredibly special ceremony that felt unique to us, balancing heartfelt, emotional moments with joy and celebration. Our families absolutely LOVED Sandra and so many of our guests have repeatedly told us how beautiful and personal our ceremony was. I am not exaggerating when I say our family and friends are still telling us how amazing Sandra is. Our wedding day was going to be incredible no matter what, but Sandra helped make it beyond perfect.
At first, we were a bit anxious about finding an officiant – I was a little hesitant to work with someone new to both of us. But Sandra was recommended to us by the owner of The Inn at West Settlement, and we are extremely glad that she was. We knew immediately during our first consultation that we wanted to work with Sandra because of her palpable warm, welcoming energy. Sandra took the time to get to know us as individuals and as a couple (which is not easy through a computer screen!). Sandra guided us through the process of determining what we envisioned for our ceremony to make sure it was exactly what we wanted. It was effortless and we completely trusted her guidance as we collaborated with her.
Sandra was such an integral part of our day, and we are so grateful to her. I specifically was extremely touched by her grace and empathy. I experienced a tremendous amount of personal loss this year and it was important to me to acknowledge and honor my family while also celebrate the beginning of our new family. She provided such a comforting and enthusiastic presence on our special day. It was a pleasure to work with Sandra and we would give her 10 stars if we could!!!!

Jenna S.

Married on 06/18/2022

A ceremony that was truly us!

Sandra was a wonderful officiant for our wedding ceremony this year. Her energy from the first time we spoke matched exactly what we were looking for. Sandra helped us craft a ceremony that was just what we were looknig for - a balance of funny and serious, reflected our love of nature and the mountains , and even found a way to to incoporate our dog who we sadly had to leave at home. Her presence on site was a positive vibe we very much appreciated in the midst of a rainy/icy cold day in the middle of June!

Reverend Sandra Bargman's reply:

Thank you so much, J & D! It was great day - despite the cold and rain! - and I was thrilled be a part of it. Continued happiness, laughter and strength on your journey together. xoxoS

Caitie G.

Married on 06/11/2022

Forever grateful to have had Sandra as our officiant

We initially met Sandra in 2020, when we decided to have a small, immediate family-only wedding during the pandemic on our originally chosen date in September 2020. After first thinking that we would have our small ceremony in New York City, where we live, we started doing some searching for officiants and came across Sandra. We communicated by email, set up a time to talk over Zoom, and immediately felt so comfortable and at ease in Sandra's warm, supportive, and honest presence. A few weeks into planning our ceremony together, we decided that we actually wanted to do this upstate in the Catskills, an area that is dear to us after having spent a lot of time camping there on weekends together. We asked if Sandra would mind driving a few hours out of the city to accommodate us and, as it turns out, we all love that area and it worked out.

Sandra helped us plan an intimate, special ceremony in 2020 that included beautiful readings, Sandra's reflections on marriage, and our vows. We got married under a maple tree in Olivebridge, NY with Sandra officiating and only our siblings and parents present with us. It was beautiful and sacred and something that we will always remember. Sandra helped guide the way for us in terms of highlighting what was most important to us in this ceremony and speaking from the heart. Our families absolutely loved this ceremony and had so many wonderful things to say about how Sandra led the ceremony and married us.

We wanted to celebrate with all of our friends and family as initially planned pre-pandemic and we pushed back our bigger wedding until June 2022; we had the incredible good fortune of being able to work with Sandra again during this time to craft a renewal of vows ceremony. The whole process of working together leading up to our renewal ceremony was so inspiring and rewarding. Sandra took the time to meet with us many times again over Zoom and we filled out a detailed reflection/questionnaire that Sandra has developed for her couples with so many thoughtful questions that helped us learn more about what our marriage means to us and also helped Sandra better understand us. We thought about readings, the flow of the ceremony, the tone, religious traditions, and so many other important details together. Sandra had so many creative ideas about symbolic rituals and readings to incorporate and she helped us learn about aspects of ceremonies which were new to us. Sandra was always easily reachable throughout the whole process and we always felt supported both in planning and in our pre-marital reflections.

On the day of our June 2022 vow renewal and marriage celebration, our ceremony was so beautiful. From the readings that the three of us had selected together to Sandra's thoughtful words throughout, it all felt so meaningful, true, and personal to us. Every guest who we talked to was in awe of Sandra in terms of her tone, delivery, messages, and connection with us and our friends and family. We will always remember this ceremony as it truly was so meaningful and special to us.

Meeting Sandra has been a gift. Sandra crafted two beautiful wedding ceremonies for us that were moving, personal, and important to us in terms of what matters most to us in our marriage. Sandra is a wonderful person and we're so grateful to have all met one another. Clearly, we recommend working with Sandra wholeheartedly if you ever have the opportunity to do so!

Reverend Sandra Bargman's reply:

I thank you for these gracious and kind words. Much love to you both...and to your families, whom I loved meeting. Looking forward to seeing you SOON! xoxo


Are you interested?

Send a message

Caroline B.

Married on 06/04/2022

Ceremony of our dreams!

Hiring Rev. Sandra was by far the best decision my husband and I made throughout our wedding planning process! The ceremony was very important to us and we had a specific vision for how we wanted it to be - meaningful but still succinct, spiritual without being overly religious, humorous but still keeping with the gravity of the moment, and most of all thoughtful and personal to who we are as a couple. Rev. Sandra checked all of those boxes, and then some! She took the time to really get to know us over lengthy (and fun!) zoom calls and ended up writing us the ceremony we always wanted. She effortlessly got to the core of who we are, both individually and to each other, and turned that into a ceremony that really spoke to us and all of our guests. There wasn't a dry eye in the house! Her delivery and presence were impeccable and it was a true joy to stand up there and be married by her. We absolutely adore her.

Lori H.

Married on 11/08/2021

Simply the best

Why are there so many 5-star reviews for Rev. Sandra on The Knot? Because she's that good. I've known "Sandy," as I call her, since college where she was a major talent… and still is. A beautiful person inside and out, she's highly creative, deeply sensitive, wicked smart, thoughtful, kind and funny. She's a consummate professional able to use her considerable organizational and directorial skills to make memorable events a reality. She has vision. She's warm. She's caring. Her's is a calming, reassuring presence. Because of coronavirus, my partner and I wanted a simple civil/legal ceremony on ZOOM; and, of course, Rev. Sandra knew all about how to make that happen. Her advice and counsel guided us before, during and after. Once this terrible virus is beyond us, we plan to have an in-person, spiritual ceremony surrounded by family and friends. We wouldn't dream of having anyone other than Rev. Sandra officiate. What a blessing to be in the hands of the best!

Reverend Sandra Bargman's reply:

I always forget to respond to these...and here I am with yours. Thank you for your kindness. I was honored to witness you both and will look forward to the next ceremony and celebration. Much love and many blessings, S.

Sabrina C.

Married on 10/09/2021

The best of the best

If there was an option to add more stars I would..! Sandra is an absolute gem. We have family members still raving about our ceremony. Their words "I have been to a lot of weddings and that was the most special ceremony I have witnessed".
Sandra was so personable and really got to know me and my husband as a couple. We zoomed and filled thought out questionnaires about our love story. She created such a beautiful ceremony so uniquely specific to us. It was perfect! She has so much experience and speaks so eloquently. Sandra will listen to your ideas and bring thoughtful ones of her own. I would recommend Sandra to ANY couple!!!

Jon M.

Married on 10/02/2021

Perfection

Sandra is nothing short of extraordinary. Her eloquence, powerful presence, and dedication to our ceremony were more than we could have imagined. She customized our ceremony to our specific wants and needs while adding a plethora of thoughtful and unique touches that only someone with years of experience could offer. Sandra was also extremely easy to work with; fun and celebratory every step of the way. She accommodated our busy schedules and when we were running behind schedule, she kept us on track.

Even when hiccups arose during our ceremony, Sandra smoothed them over with ease. Sandra truly has a way of calming and perfecting even the most chaotic moments. We would be remiss to not mention Sandra's inherent adaptability to execute last minute changes on the fly, big or small.

We are so thankful to have had Sandra officiate at our wedding, she was adored by all of our guests and as the officiant, she made our celebration an outstanding and elegant event. She truly is a step above the rest and we could not have chosen better.

Cat

Married on 07/08/2021

Personalized Service from an Experienced, Supportive Heart

Rev Sandra Bargman is a remarkable officiant, and human being. Our wedding was anything but typical - my husband and I had been together for 16 years before we "tied the knot" and then we did it virtually, on Zoom. Our witnesses were in different homes, our parents in other states, and the groom didn't want a ring. Did any of this stump Rev. Sandra? Not for a moment. We talked on the phone, met on zoom, exchanged ideas for the ceremony. She listened carefully to what we had to say, and even to what we didn't say ("I didn't hear you mention X - do you want to consider that at all?") She sent sample 'scripts' and we tailored it for our tastes. Just a perfect interaction to what could have been a very stressful time. Rev. Sandra is a compassionate, non-fru-fru officiant. She works with you to make the ceremony fit your needs, in a supportive and exciting way. We highly recommend her!

Reverend Sandra Bargman's reply:

Ahhh. I thank you for these kind and gracious words. Thank you, Cat, and love and great good wishes to you both. XO

Ashish M.

Married on 06/12/2021

Unique ceremony from the heart

Rev Sandra is a master at capturing heartfelt moments. She worked closely with my husband and I to create a beautifully unique ceremony that was nothing short of "us." There was nothing frivolous, every ritual and reading had profound meaning to the two of us.

My husband is from India and I am from upstate NY. Sandra diligently explored the possibilities on how we could create a ceremony that was fun, modern, and heartfelt and simultaneously incorporate Hindu and Christian elements. After the ceremony, guests from both sides commented on how well Sandra captured and blended rituals in a way remained authentic to the diverse traditions. We loved how on top of that, she designed a ceremony that highlighted my husband and I as two unique people with our own special love story. I can't possibly imagine anyone else leading us on our happy day.

Carl D.

Married on 06/10/2021

Look no further

This is the kindest, gentlest, most sensitive minister you will meet. (And I have a long history of working for churches and synagogues!) Her templates for services were written from her heart and soul and they were perfect for our needs. The service was magic and spiritual and she hosted our guest as if they were her most intimate friends. Look no further.

Reverend Sandra Bargman's reply:

Dear Carl and Co.
I always forget to respond to these uploads on line - I know what you've shared with me, personally. All those who read this though, I am ever grateful to this group of people for choosing me as their officiant. Thank you ever so much, love to you.

Chris S.

Married on 02/06/2021

Thoughtful, Flexible, Heartfelt!

Initially we had planned to have our wedding ceremony at city hall, yet due to the pandemic we pivoted and decided on a zoom wedding ceremony for our closest family and friends. In the search for an officiant, we wanted someone who could create something that felt personal, was spiritual, and was flexible to working with technology and officiating our ceremony virtually. Sandra was all of those things and so much more. She took the time to understand us as a couple and what we were looking for over many calls and emails. She spent time crafting a ceremony that was exactly what we wanted - spiritual and heartfelt - with room for our families to deliver readings and space for us to deliver our own vows. She even set up a beautiful background in her home that looked great on the zoom call and was thoughtful enough to ask us what we thought she should wear. Her attention to these to details made our day seem that more special. Sandra delivered our ceremony, it's foundation, prayers, vow and ring exchanges with emotion that was authentic and vigor that added life and momentum despite our physical separation. We are so pleased with our choice and we would recommend Sandra in a heartbeat! Thank you Sandra for making our wedding so special!

Reverend Sandra Bargman's reply:

Thank you both so very much for choosing me! I loved our time together! I was so moved by your family, and their involvement in what was one of the many very firsts of Zoom weddings. It was such a special gathering. Thank you for choosing ME!

Francesca B.

Married on 12/09/2020

Heartfelt Elopement in the Time of Covid 19

"We were so lucky to find Sandra to be the officiant for our elopement. We initially wanted a big wedding in Brooklyn, but due to Covid we had to down-size significantly. Then we decided on a simple in-person elopement, and even though it was just us and our photographer as a witness, Sandra delivered a heartfelt, meaningful ceremony for us. We even failed to fill out the ceremony license, not once, but twice! Sandra stayed calm and solved the issue for us on the spot. We are so grateful, and so happy for her officiating.."
-FB and BB

Reverend Sandra Bargman's reply:

Thank you, both! It all worked out so well! It's always good to be flexible at the end of the day! Remember, the ceremony will always be more important than what you wore! xoxo (I know you get that!) Much love and blessings...

Arina A.

Married on 10/24/2020

Sandra Knows How to Curate A Special Moment

We eloped, and we could not have asked for a better officiant than Sandra. She really captured what we wanted in our small intimate ceremony. Furthermore, she was very responsive and adaptable when planning the ceremony. She shared a poem and gave us a heartfelt toast! Can't thank her enough!!

Melissa S.

Married on 09/26/2020

Amazing ceremony!

Sandra was so kind and helpful throughout the whole process of changing plans for our pandemic wedding. We cant thank her enough for her patience and help navigating us leading up to our special day. Our ceremony went very smoothly and it was one we will remember forever!

Reverend Sandra Bargman's reply:

Thank you, Melissa!! It was a gorgeous day and a memorable ceremony, indeed! Much love and many blessings to you and Jakub!

Ronna F.

Married on 08/30/2020

Perfect ceremony

Sandra is the best. She makes the ceremony personal to your situation.

Reverend Sandra Bargman's reply:

This my fav review. 5 Star! Thank you...for choosing me. XO What a glorious trip down memory lane. So very happy for you both!

Ann H.

Married on 05/16/2020

For our ceremony(ies), there was no other choice but Rev. Sandra Bargman.

We have been working with Sandra to prepare our ceremony for our joyous May 2020 wedding with friends and family. As COVID-19 unfolded and we made the responsible but difficult decision to postpone our large ceremony, we felt compelled to retain some magic and celebration on our original May date.
Sandra met our desire head on by designing a beautifully unique, physically-distant/virtual ceremony. Sandra in all her creative power executed a day that, despite our major shift in plans, photos with gloves and face masks, and a novel virus transmitting across the globe, simply, could not have been more perfect, precious, or us. To top it off, she incorporated multiple elements into our May ceremony that will be expanded upon when we can safely celebrate with all friends and family.
Sandra is passionate, immensely creative, and a deep listener who reflects keenly on couples' wishes to deliver exactly what she promises: ceremonies that are unique and heartfelt.


Reverend Sandra Bargman's reply:

I am so grateful for you both in my life. Thank you for choosing ME! We will CONTINUE! And celebrate much more, and in person. But trust that what you you asked for - and we created - has set a new standard. I feel much HONOR.

Daniel

Married on 10/25/2019

A memorable ceremony

Sandra created a ceremony for us that thoughtfully integrated elements of our histories and beliefs important to both of us as individuals and jointly. She is creative, organized, and has a great sense of humor. She brought all these qualities to bear to create a beautiful, meaningful, and memorable ceremony.

Reverend Sandra Bargman's reply:

Thank you, Daniel and Tie...
Sending my continued best wishes and celebrations to you both...
Thank you for choosing me.


Michael C.

Married on 10/19/2019

Beautiful ceremony

Reverend Sandra Bargman was absolutely amazing. She was there for my wife and I every step of the way. She was very helpful and we highly recommend

Alison

Married on 10/05/2019

An unforgettable personalized ceremony!

Sandra was absolutely wonderful to work with! She really took the time to get to know us and make a personalized ceremony.

One of the best things she had us complete was a pre-wedding questionnaire. All of the questions were thoughtful and she used our answers to personalize our ceremony.

The day of the wedding, she was a calming presence. She came to visit both of us and gave us confidence that she had everything under control. The ceremony was everything we could have asked for and more. All of our guests absolutely loved her and said that we had the most memorable ceremony they had ever witnessed!

Reverend Sandra Bargman's reply:

Thank you, Alison and Tony! I absolutely loved working with you and meeting your family and friends!

Scott H.

Married on 05/11/2019

The highest praises!

My husband and I had known Sandra personally for years and knew that we wanted her to officiate our wedding years before we got engaged. While we were already aware of her warmth and creativity, we were pleasantly surprised by how thoughtful and prepared she was both during the planning process and on the day of our wedding. First, she helped us organize our thoughts (and feelings) with a thorough questionnaire that we reviewed all together as a group. She later helped us craft the structure of our ceremony drawing on her experience dealing with couples of different faiths and backgrounds. Ultimately, we were most grateful for how safe she made us feel throughout the day. Her presence was calming and reassuring in the midst of a lot of stimulus. We cannot recommend her more highly. 

Linda

Married on 10/21/2018

Capture your story perfectly with Rev Sandra!

This wonderful minister became such an integral part of our recent wedding. We LOVED her!! Rev Sandra carefully listened to our story, our ideas and the vision for our ceremony. She really helped guide us through it all with so much patience, experience AND HUMOR! She thought of all the little things we hadn't which made the event go so smoothly and made us feel comfortable and relaxed. Everyone told us afterwards that the ceremony really captured the two of us perfectly (and Rev Sandra had so much to do with that!). Ever grateful. Thank you again!!!

Samantha

Married on 10/20/2018

Exceptional

We could not be happier with Reverend Sandra! She was everything we could ask for and more. Her ability to weave personal details into our ceremony was perfect. Her suggestions for readings really catered to our diverse group of guests and left everyone full of love and happiness. You can really trust Sandra to take the reins and deliver a beautiful experience.

Michelle

Married on 10/06/2018

The best decision you'll make!!

I really cannot say enough good things about Reverend Sandra. It's extremely rare to find someone who is genuinely interested in getting to know you holistically - what you love, what you hate, what inspires you, etc. Meeting Sandra truly was the very best thing about our planning process. She not only became a very fast friend, she took our vision and created a ceremony that was completely shaped around who we were, as individuals and as a couple. She is fast to make suggestions, and comfortable with incorporating your feedback. At the end of our wedding, all the rave reviews were about the ceremony - I had friends and family telling me that it was "the most beautiful, unique ceremony" they had ever attended. All couples should have the chance to work with Sandra - it's a complete dream!

Brytanie T.

Married on 09/30/2018

SHE is the BEST!!!!!!

If you're looking for someone to capture who you are as a person, and as a couple, look no further! Sandra was more than we could have imagined. She took meticulous effort to make sure my husband and I were well represented on every front. We both come from different spiritual and religious backgrounds, and Sandra was able to weave together a ceremony that made everyone feel honored. She brought an authenticity and intimacy to the ceremony, that I'm certain no one else could have delivered. She is respectful, kind and has a heart of gold. She is there to make certain your day is yours; beautiful ,remarkable, and something you will never forget. A true God send. Thank you for joining our two souls together in such an unforgettable way.

Amanda

Married on 09/28/2018

One of a kind!

Rev Sandra was a total DREAM. She was recommended to us by our venue when we asked about an officiant who was deeply spiritual and in touch with The Universe, held power and reverence, and able to tailor a ceremony to our unique bohemian/hippy style. We loved that she had so much experience in many different types of ceremonies (religious and non), so she brought this very spiritual and commanding quality to her work that we really felt safe with. Sandra listened to ALL of our many, many... MANY needs, ideas, concerns, specific word changes, etc and was patient and kind through the whole process. She allowed us a lot of freedom to come up with wording we felt more connected to, but also helped guide us when we needed her experience to know what would work best. Many guests commented on how much they loved her and asked WHO WAS THAT WOMAN??? SHE IS AMAZING! We definitely think so too. :) Sandra: Thank you for making our ceremony so personal and special. Thank you for opening your heart to us and being so generous with your time and skills. Thank you for being the vendor (above ALL our other vendors) who was always there for us, always available, always ready to listen and guide us, always thinking ahead, always ready to jump in and make things work (even more beautifully than planned). We are SO SO grateful to have found you and will treasure the memories of planning and celebrating our wedding with you and your wonderful husband. If you're reading this and looking for an officiant who will respect YOUR views, vision, and heart - Sandra is the one.
Are you interested?
Send a message