118 Reviews
Recommended by 99% of couples
Quality of service

4.9 out of 5 rating

Average response time

4.9 out of 5 rating

Professionalism

4.9 out of 5 rating

Value

5 out of 5 rating

Flexibility

4.9 out of 5 rating
13 User photos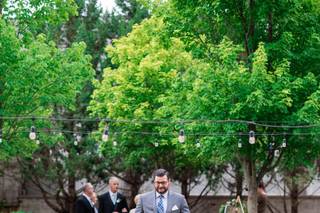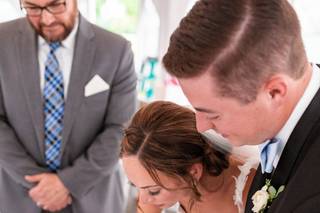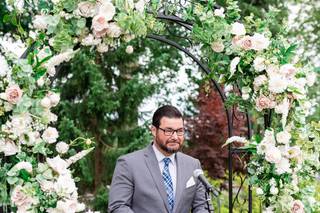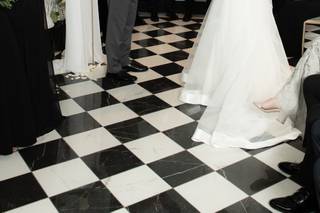 + 9

photos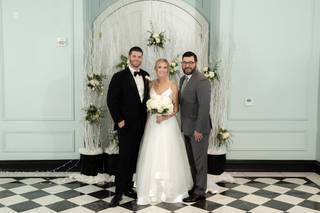 Gaby

Married on 11/22/2022

Best service ever

I'm so glad of choosing Matt as our reverend. An absolutely beautiful ceremony. His voice is so calming. Absolutely recommended.

Laura M.

Married on 07/02/2022

We had a fantastic experience working with Pastor Matt!

We are so glad that we had Pastor Matt officiate our wedding! From the very beginning, he was professional, kind, and knowledgeable. We chose to do four pre-marital counseling sessions with Pastor Matt prior to our wedding. He made us feel comfortable as we discussed our relationship, marriage, and future.

We also chose to have Pastor Matt attend our wedding rehearsal. During the walk-through, he took charge and did an excellent job of explaining everything and helping it to run smoothly. He paid careful attention to detail, even telling the groomsmen how to position their hands and the bridesmaids where to hold their bouquets.

On the day of the wedding Pastor Matt was a calming voice and again helped to ensure that everything ran smoothly. He was well-spoken during the ceremony, and we received so many compliments from our guests on what a nice job he did!

Erika E.

Married on 01/08/2022

Amazing experience!

Pastor Matt was so great to work with!! My husband Scott and I did the premarital counseling with him over zoom as we live out of state and he was so flexible with the time change and our schedules. We loved working with him and getting to know him (and allowing him to get to know us) before our big day. He also came to and ran our rehearsal at the venue as well. He was extremely helpful with the ceremony process and helped us create the ceremony of our dreams. All in all, we would highly recommend Pastor Matt! He made us feel comfortable (even went along with our jokes and goofiness), was always punctual, professional, extremely helpful and considerate. Amazing experience working with him and we hope to keep in touch! Thank you, Pastor Matt!!!

Rev. Matt Skiles's reply:

Thanks Erika! I appreciate your kind words and sentiments. Give my best to Scott and of course Hank and God bless you both!

Are you interested?

Send a message

Ivana H.

Married on 12/18/2021

better than i could have imagined

when looking online to find someone to marry us, i thought, "oh no this is gonna be weird". but matt from our first meeting made us feel reassured and supported. we also did a four session premarital counseling which was laid back but also made us think about a few things we hadnt thought of before. the day of the wedding matt was prepared, professional, fun and really just a participant of the wedding. we were very pleased and formed a great relationship along the way.

Rev. Matt Skiles's reply:

Thanks Ivana. It was great working with you and Dillon. Blessings to you both and thanks again for your kind words.

Chelsea H.

Married on 11/26/2021

Absolutely Perfect

My husband and I were doing a simple vow renewal just us, our kids and my parents. Pastor Skiles made it better than our first wedding. My husband and I both were in tears, the ceremony he wrote for us was so personable and fit us so perfectly, it was inclusive, romantic and just so genuine it was so much better than I could have asked for. I only wish I knew about him the first time we got married because he is so much better than perfect!

Rev. Matt Skiles's reply:

Thank you for such a wonderful review and for your kind words. Blessings to you and Jason and your famliy.

Katie S.

Married on 10/23/2021

Great Officiant!

We hired Pastor Matt for our October 2021 wedding, and are so thankful for the time we spent getting to know him! We chose to do the pre-marital counseling, and Matt was easy to schedule with and very flexible with our schedule. He had great communication leading up to our big day, and executed our ceremony perfectly. We are thankful we chose to go with Pastor Matt and highly recommend any couple looking for an officiant to use him!

Rev. Matt Skiles's reply:

Thank you so much Katie! It was a pleasure working with you and Tyler. Blessings to you both in 2022.

Leanne N.

Married on 09/17/2021

Pastor Matt

Pastor Matt did an excellent job with our wedding ceremony. He also was a great resource and teacher as we prepared for our marriage. My wife and I highly recommend Pastor Matt. Throughout the entire experience, Pastor Matt was professional, energetic, and truly cares to make a couple's day special!

Rev. Matt Skiles's reply:

Thank you John and Leanne! I so appreciate your kind words. It was a blessing to be a part of your special day. God bless you both!

Monica E.

Married on 06/25/2021

Perfect Officiant

Rev. Matt Skiles was the prefect wedding officiant. Rev. Matt listened to all our ideas and helped us design our ideal wedding ceremony. Highly recommend!


Rev. Matt Skiles's reply:

Thanks Monica. It was a real pleasure to join you and Sam in marriage and getting to marry both you and your twin brother was a truly wonderful privilege for me. From one twin to another. God bless.

Matt

Married on 06/13/2021

Best Day Ever

Matt was phenomenal to work with. He brings a thoughtful, methodical approach and with his experience, no detail is overlooked.

He was open and willing to give us creative control with a truly customized ceremony and he was a great fit with the rest of our wedding team.

He came recommended and in true small-world fashion, he happened to be the officiant for one of our neighbors too. He was the perfect fit for us and I'm confident he'll be the right choice for others as well.


Rev. Matt Skiles's reply:

Thanks Matt. It was truly an honor to be a part of your and Jamie's special day. Best wishes to you both and your wonderful family.

Spencer P.

Married on 06/05/2021

Great Officiant!

Working with Pastor Matt for our wedding was one of the best choices my husband and I made! He was very professional, fairly priced, and offered great advice and guidance. We chose to use his premarital counseling services leading up to the wedding as well, and we are so happy with that choice. My husband and I gained a lot of knowledge about each other through the counseling sessions, and we got to know Pastor Matt before our wedding day so it felt more personal having him marry us. He also offers templates to help you choose your wedding vows which was very helpful as that can be pretty overwhelming. He did an amazing job with our ceremony and we even had guests complimenting how well spoken he was. He also gave a beautiful blessing before dinner. If we had to do it all over again, we would choose Pastor Matt in a heartbeat!

Alissa G.

Married on 10/16/2020

Just the guy we were looking for!

Since neither my husband nor I had a church we were both members of, we needed both a pastor and a marriage councelor for our wedding. Matt was very flexible for both our meeting places and times for our counceling sessions. He asks the hard questions to be sure your relationship is built on a strong foundation. Matt also has plenty of experience with multicultural weddings and is more than willing to work with you to make your ceremony unique to the both of you. His positive outlook on life and down to earth mentality made him just the kind of person we wanted to work with for our wedding. Pastor Matt is a great guy with plenty of great stories to tell, and I would absolutely recommend him to anyone who needs a wedding officiant!

Kyle H.

Married on 10/03/2020

We love Pastor Skiles!

Pastor Skiles was very warm and welcoming! We did our premarital counseling with him as well and benefited greatly! He was able to bring humor and lightness into some tough topics. He was quick with responses and accommodating with our wacky family and special requests! We would highly recommend to family and friends!

Adrienne

Married on 09/23/2020

Perfect for our family!

Perfect for our intimate ceremony in Hamilton County during the pandemic! Flexible, great communication, and personable.

Rev. Matt Skiles's reply:

Thanks Adrienne and it was an honor to join you and Ron in marriage. It was a beautiful day and a wonderful ceremony in a beautiful setting with all of the natural beauty around us. God bless you and Ron and your wonderful family.

Lauren M.

Married on 01/04/2020

Don't look any further - He's your guy!

Pastor Matt was amazing to work with! We crafted our ceremony exactly to our specifications and Pastor Matt had over 20+ examples to pull from. We ultimately created the ceremony of our dreams and Pastor Matt delivered it perfectly! He was very responsive and super friendly to work with, as almost we had always known him! Everything at the ceremony and day of went exactly as planned and our ceremony was one that I will never forget. We highly recommend Pastor Matt!

Gwynne

Married on 08/31/2019

Awesome!!!

He did an amazing job at our wedding rehearsal and ceremony! He was very kind and professional the entire time! We're so glad we found him!!!

Carley C.

Married on 07/11/2019

Well prepared and Personable :)

Pastor Skiles was very personable and made an attempt to get to know us as a couple prior to performing our ceremony. He had several templates for the ceremony and vows that made it simple for us to organize our day.

We highly recommend him!

Megan

Married on 06/15/2019

Humble with a great sense of humor

I cannot express enough how thankful we were to find Rev. Matt Skiles to officiate our wedding. The first time we met with Matt he was very easy to talk with and made us feel comfortable with his humble spirit and great sense of humor. He was very easy to work with and supported us in any way he could. I highly recommend Matt Skiles for anyone who is getting married. He is one of a kind!

Deyshawn B.

Married on 05/24/2019

Amazing and Very Professional

We had the most wonderful time getting to know Rev. Skiles. He took the time to get to know us as individuals and as a couple. The marriage counseling was included with the total price and he was always prepared and helped us begin to understand each other by asking questions and telling us stories about his marriage and life experiences. Rev. Skiles was very fun to be around and our families told us that he did an amazing job!

Makayla

Married on 05/04/2019

Absolutely Amazing

Pastor Matt was INCREDIBLE and I cannot say enough amazing things about him. He was so helpful in coming up with our ceremony and making sure that we included everything we wanted. Both of our families said so many nice things about him. His pre-marital counseling sessions were extremely beneficial and definitely helped my husband and I look at our marriage differently. Thank you again Pastor Matt for everything!

Keri

Married on 11/10/2018

Happier than words could ever say!

Pastor Matt made us feel extremely comfortable and at ease from the very beginning. It felt as if Pastor Matt had known as our entire lives. He is an extremely kind and jovial man. He genuinely cares about the union of your marriage and making sure he performs a ceremony that is exactly what you want and a celebration of the two of you. He was extremely helpful in the ceremony process and sent over several scripted examples of how the ceremony could go. Both sides of our family just love Pastor Matt. He is such a wonderful man and did a fantastic job, I'll never be able to thank him enough for it!

Kylie H.

Married on 11/03/2018

Great officiant!

We loved Matt! He was so fun to work with and really captured our vision for the ceremony. We could really tell that he went over our ceremony and came early to the rehearsal and ceremony. I would highly recommend him to anyone looking for an officiant!

Alex

Married on 10/20/2018

Wonderful Wedding Officiant

Pastor Matt was wonderful to work with - very flexible to meet with and my husband and I also did premarital counseling with him! We both felt very comfortable with choosing him to officiate the wedding and he was able to make our ceremony personalized to us and how we wanted our wedding to be. Would highly recommend to anyone looking for an officiant!!

Olivia

Married on 09/08/2018

Matt was amazing for our wedding! He made a great connection with us and our families and made the process run through SO smoothly! Highly recommend :)

Sean

Married on 08/25/2018

Rev. Matt Skills was absolutely the best when it came down to the wedding. He was quick to response to us when we need a officiator. Even though we didn't know him before he made us feel welcome and comfortable through out the whole process. Both my family and her family love him and thought he was the best. I would recommend him to anyone! I don't write reviews that much but Rev. Matt deserves alot of credit for making our big day special!

Rev. Matt Skiles's reply:

Thanks Sean. It was a pleasure and an honor to join you and Kamrene in marriage. You are a wonderful couple and your ceremony was so heartfelt and special. Blessings to you both.

Gretchen

Married on 06/30/2018

Matt was absolutely fantastic to work with. He was easy to talk to and really took an interest in getting to know us as a couple. We felt so comfortable with him. We couldn't have asked for anyone better to share with us on our special day. So thankful to have found himself. Highly recommend his services to anyone!
Are you interested?
Send a message