141 Reviews
Recommended by 100% of couples
Quality of service

5 out of 5 rating

Average response time

5 out of 5 rating

Professionalism

5 out of 5 rating

Value

5 out of 5 rating

Flexibility

5 out of 5 rating
13 User photos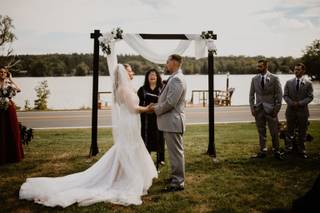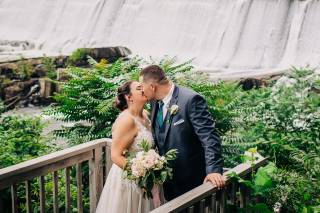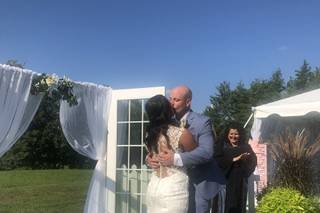 + 9

photos
Krista F.

Married on 11/04/2022

Amazing ceremony

Jude did an amazing job as our officiant. Her process is amazing and she works hard to get to know the couples she is working with. She was very attentive to exactly the type of ceremony we were looking for. Overall, you will have a great experience and wedding ceremony if you choose her!

Michele C.

Married on 10/22/2022

A Perfect Day!

My wife and I have been together for thirty years and wanted our marriage to reflect the relationship we have developed. The minister was, for us, the most important decision we had to make, and we chose carefully. Finding Rev. Jude was a blessing in so many ways. Her expansive compassion and love offered us peace of mind that she was the right minister for our situation. Her long-term experience and her spiritual consciousness helped her to tune in to us, our wishes, and needs. We worked together to create our unique wedding. She made suggestions that we hadn't considered and our wedding day turned out to be the most perfect day – beyond what we had initially imagined. Thank you, Rev. Jude!

Kathy

Married on 09/24/2022

Best decision

The minute we spoke with Jude, we knew immediately we wanted her to officiate our wedding. She has such a warming and calming personality, she made our special day truly exceptional. During our virtual meetings she discussed all the details of our ceremony, made sure all our questions were answered, she gave great suggestions. She is truly an amazing, extremally kind, very knowledgeable person, she knew exactly how to make our wedding ceremony beautiful and unforgettable.

Are you interested?

Send a message

Tomas R.

Married on 09/24/2022

Our guide into marriage

My wife Ali and I had a terrific experience with Reverend Jude! Ali and I moved things along pretty quickly, where we booked Jude even before we got engaged. Jude accommodated our tight timeline and gave us the structure, compassion, and attention we needed to feel excited and present during our wedding as opposed to weepy messes :). Throughout our process with Jude, she asked us to explore what made our relationship and each other special and we're so happy she did, because she gave us insights about each other we still talk about today. We had such a special day, and Jude was a really big part of that.

Jenny R.

Married on 09/11/2022

Genuinely special!

Reverend Jude was first our wedding officiant…she offers such genuine, personalized, heartfelt ceremonies. We loved her so much that we asked her to bless our first daughter. That day was so magical, organized, and just beautiful! Four years later, when it was time for our second daughter to be blessed, there was none better to ask than Jude! We were honored to recently have her bless our second daughter. Again, Jude delivered with such a special, unique, touching ceremony! She is an excellent communicator, professional…yet feels so connected, like family. She is one of a kind!!

Samantha R.

Married on 09/10/2022

Call her!!

You will not be disappointed working with Jude. She is warm, welcoming, and thorough. If you are looking for someone who spends time and effort on making your ceremony one of a kind, Jude is the one for you.

Mariah

Married on 08/06/2022

An incredibly talented Minister

Jude was truly outstanding and the best minister we could have asked for. Not only did Jude truly take the time to get to know each of us for who we are, she used all she learned about us over the course of a year to create a ceremony that touched not only our hearts but the hearts of all our family members and friends. She created a magical and warm presence and allowed my husband and I to feel as though it was only the two of us in that very intimate and beautiful moment. Jude always allowed us to full heartedly be US which created a ceremony fit for exactly what we envisioned. She is truly remarkable and would make any wedding a truly magical experience.

Colleen K.

Married on 05/14/2022

Wonderful!!!!

Jude Smith officiated our wedding May 14th 2022 at the Poughkeepsie Grand Hotel. From the beginning since we booked with her, she was so communicative with our responses, met our needs of what we wanted at our wedding ceremony, and was very knowledgeable. Guests were telling us after the ceremony how beautiful it was and what a great job she did! We are so happy with how wonderful and special our ceremony was thanks to Jude.

Jesse

Married on 04/09/2022

Rev. Jude is perfect!

After 2 LONG years of covid craziness and wedding pushbacks Jude feels more like family than a hired vendor! Hah she is incredibly professional and an true master of her craft. My wife and I can't sing her praises enough! She so masterfully wove a ceremony for us that nailed our every desire & dream of what our ceremony would be like. She helped us both with stage fright nerves & she has the voice of an angel!
We truly can't express how grateful we are to Jude

Stephania S.

Married on 11/13/2021

Exceptional Officiant!

You can't go wrong with Reverend Jude Smith. She is professional, thoughtful, and deeply gracious. Her words and spirit will make your ceremony a memorable one.

Dc85Cd56Ecf078970C6Ccf3Ad9Cbcf34Bab38E14

Married on 11/13/2021

Rev Jude is Amazing!!

Jude is an absolute delight to work with! From our very first initial call, we knew we needed her to perform our wedding ceremony! She was so friendly and calming during an otherwise stressful process. At every point whenever she checked in we instantly felt calm and excited for our big day. She spends time getting to know the couple she works with, honestly we felt such a connection to her after working with her for so long! The ceremony she made for us was absolutely beautiful, all of our guests loved it. She has such a great connection with her couples and your guests will be able to feel it. Her presence and energy are exactly what we wanted for our officiant. She took the time to go through our ceremony with us and made sure that it was exactly what we wanted. She truly is an amazing individual and we are so so lucky that she was able to be our officiant! I honestly think she was beyond perfect for us and we cannot thank her enough for being a part of this journey and being there for us.

Courtney O.

Married on 10/02/2021

The Absolute Best Decision

I cannot say enough wonderful things about Reverend Jude Smith. She was professional, patient and kind. We had multiple meetings prior to the ceremony and it was customized to reflect us as a couple, including our history. She provided tools to assist in writing our own vows. She delivered a flawless speech and moved everyone to tears (which is what I wanted lol). She is also certified in NYC and is able to actually marry you the day of, this was also very important to me and special. If you are unsure who to pick, I promise you. Promise. You will not regret choosing her. Thank you again Jude!!!!!!

Kayleigh G.

Married on 09/09/2021

A wonderful experience

Jude was a consummate professional and gave us so much confidence, from the first meeting through to our wedding day. She collaborated with us generously, and wrote a personal and meaningful secular ceremony that incorporated elements of Judaism in a beautiful way. Any couple would be so lucky to work with her!

Hala

Married on 09/04/2021

Outstanding

Reverend Jude has performed an outstanding ceremony at our wedding! Her professional warm - hearted demeanor made it a memorable experience.
We'd pick more than five stars if we could! It was an incredible adventure! Friends and relatives have complimented us on how well-planned and presented the wedding was.

Beatrice W.

Married on 08/29/2021

Backyard Wedding

Jude was so wonderful—she was involved with nearly every step and detail of the ceremony, leading up to the day, extremely helpful and kind, and created such a warm, loving, authentic atmosphere on the day of our wedding. Couldn't be happier.
- Beatrice

Lauren W.

Married on 08/21/2021

8.21.21 Wedding- LOVE LOVE Jude

Our wedding was every bit of magic, a big part of that is thanks to Jude and how she crafts her ceremonies for each couple. All of our friends and family raved about her and said how "so us" it was. It was such a fun process and Jude makes you feel comfortable and easy!
Would recommend to any one looking for a truly unique and personalized ceremony.

Thank you so very much

8.21.21 Bride

Carole G.

Married on 08/21/2021

Rev. Jude Smith

Due to the pandemic, my daughter and son-in-law not only had the great pleasure and honor of having Rev. Jude Smith preside over their wedding once, but twice! Last year's wedding was downsized to 15 guests, whereas they had a larger celebration/vow renewal just last week! The time leading up to both occasions was fraught with the usual and the unusual variety of stressors. Rev. Jude surrounded all of us with her warmth and calming presence, which helped greatly to ease the tensions and bring out the joy and excitement. Prior to the events, I know the time she spent with my daughter and her husband was helpful and supportive, as she assisted them to craft their ceremonies. She was also absolutely successful in assisting them to each interject their individual beliefs into the content of what each said during the ceremonies. I wholeheartedly recommend Rev. Jude Smith!

Andrew W.

Married on 08/21/2021

The absolute best!

Jude was amazing to work with! She took the time to get to know us both and really tailored a personalized ceremony. Our day was magical because we started with the positive and loving environment that Jude created with her ceremony. She worked with the venue and the DJ and everything went seamlessly because of her hard work. Can't thank her enough for everything!

Sophie

Married on 08/14/2021

Amazing experience

Jude is incredible to work with. She is professional and genuine. We had to postpone our big wedding to next year and had a small back yard wedding this year and she made sure she checked in on us, made sure we were excited even though it wasn't as we imagined. It was so fun creating our ceremony, which was the beyond beautiful. I will always cherish our ceremony. There was so much love and happiness within this ceremony. All of our family raved about Jude and how friendly she was along with her incredible talent of putting together such a beautiful ceremony. We can't say enough good things about Jude!

Patricia S.

Married on 07/30/2021

Everything you could dream of!

We knew from the moment we first spoke to her that she just fit exactly what we were looking for in a wedding officiant. She honestly felt like someone we had known for years. Every single guest in our wedding including some of our vendors asked if we personally knew the officiant since our wedding felt so tailored and personalized to us. We explained how we found her on our recommended vendors list from our venue, the FEAST at Roundhill. We explained how much work Jude put in to get to know us from having us fill out questionnaires about us individually and as a couple. We even had a getting to know each other zoom session where we discussed our hopes and dreams for the wedding. From there Jude provided us with handfuls of suggested prayers, readings, vows, etc. She even guided us in writing our own vows. From there, we had 2-3 more sessions with her as we built and then went through our entire ceremony. That is exactly how we ended up with such an intimate, personalized ceremony because of the amount of work Jude put in. Our other experience with the two other officiants we interviewed was tell me a little bit about yourselves and then we will see you the day of. No one else compares to Jude. Hire her and you will see your personalized ceremony come to life!

Cara H.

Married on 07/14/2021

Worth Every Penny!

Let me tell you, the only thing my guests rave more about than the food that was at my wedding, is the officiant that was at my wedding! To this day they still comment about how great she was. You definitely get what you pay for, and she is worth it. She made me feel very much at ease by having the ceremony all set before the wedding and running through it. I will say that I wish the rehearsal dinner run through was included in her price but unfortunately that is an extra cost with her which is good to know up front. I'd still choose her again :)

Diane J.

Married on 06/05/2021

Jude made our day we could not have done it without her!

Jude made our day we could not have done it without her!

Steph A.

Married on 11/06/2020

Delivers!!!!

Rev. Jude is a quality officiant! She delivered exactly what she promised. We felt prepared for our ceremony because of our meetings with Jude. All of our guests were impressed with her delivery! Thank you.

Nicole P.

Married on 09/18/2020

Incredible

Jude is fantastic. When my husband and I decided on a wedding date, I was researching officiants for our big day and came across Jude Smith on the knot. I reached out to her and we had a phone conversation that lasted about an hour and a half. We told her our story and she asked us questions about our relationship and life. We had an amazing connection and we knew she was the perfect person for us. We met with her in person and she personalized our ceremony to us, to who we are as a couple and as individuals. We are spiritual and not religious and she brought in our love for the outdoors, hobbys, our relationship and life together into the ceremony. We couldn't be more happy, and then the pandemic hit in March. We initially scheduled a wedding for May 2020, but it got postponed to September 2020. Jude was so flexible and worked with us with all of the restrictions and regulations of the current times and assured us she will be with us every step of the way. She also reached out to me personally, knowing I was a nurse working on the frontlines during this time and checking in to see if I was ok. That's just who she is, personable, caring and truly cares about her couples in every aspect of their lives. I would highly recommend her for future weddings, big or small.

Will R.

Married on 09/12/2020

Jude is truly special

Jude is so aware of every aspect of her role in the ceremony, so much so that it allowed my wife and I to reconsider our own thoughts and vows in an incredibly deep and thoughtful way. We knew Jude was good, but after talking to her we realized that she's uniquely extraordinary, giving the right touch to every piece of our ceremony to help guide us and support us in a way that we would have never been able to do on our own, and we're forever grateful for her help and vision on our wedding day.
Are you interested?
Send a message