3,327 Reviews
Recommended by 99% of couples
Quality of service

5 out of 5 rating

Average response time

5 out of 5 rating

Professionalism

5 out of 5 rating

Value

4.9 out of 5 rating

Flexibility

4.9 out of 5 rating
446 User photos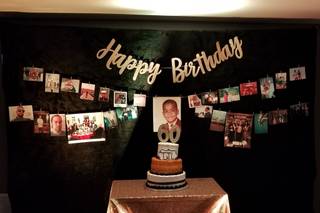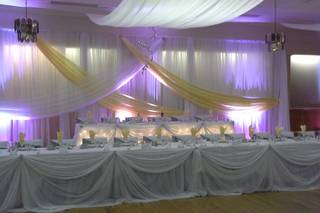 + 442

photos
Rebecca

Getting married on 07/11/2051

Rented some battery powered uprights to supplement my equipment for a very large event in the Sierra Mountains. The clients were blown away with the package we were able to deliver with the help of Rent My Wedding. Thanks guys and I won't hesitate in the future to use you in the future.
Dj Derik

Rent My Wedding's reply:

Hi Rebecca & Derek - thank you so much for using us again for your latest wedding! You have been such loyal customers for years, and we truly appreciate it! So happy to hear that your latest event went great with the uplighting. Sounds like it was an amazing wedding in the mountains. Can't wait to work with you again soon!

Michelle B.

Getting married on 05/06/2026

Great Experience

Great experience, rented black lights for a pep rally, it really lit up our high school gym. Will rent again for future needs!! Customer service was top notch!

Rent My Wedding's reply:

Thanks for your order, Michelle! Love that you use the black lights for a pep rally. What a great idea, I'm sure the students loved the glow-in-the-dark!

Thank you so much for renting with us, and we hope to work with you on another school event in the future.

Melanie L.

Getting married on 01/10/2025

Affordable Elegance

Hosted a 60th birthday party for my husband in our home and wanted to transform his mancave into a party venue and Rent My Wedding offered exactly what was needed. The spandex chair covers were the perfect touch for my theme. The uplighting really made the cake and backdrop the focal point in the room. Thank you for helping me pull of this milestone event.

Rent My Wedding's reply:

Wow - you really transformed that man cave, Melanie!

Thanks for sharing photos. Love how you used the chair covers, uplighting, and backdrop to makeover your room. Looks like it was an awesome party!

Thank you so much for renting with us, we truly appreciate it.

Are you interested?

Send a message

Jeremy L.

Getting married on 03/07/2024

Perfect for a tent wedding

We had a backyard wedding with a tent. Wanted to add lighting, and rentmywedding turned out to be a great option. We went with the lighting package that came with the uplights and monogram. It turned out awesome! Definitely a good value.

Nancy B.

Getting married on 11/10/2023

So Pretty Venue

Awesome lights. As a decorator for the past 10 years, I had never rented lights that could come right to my door step. This gave me one less thing to get organized for the wedding I was doing. The bride appreciated it as well and how the venue looked with the lights. We BOTH have been recommending this. Thank you so much. Will do it again in the future.

Catherine L.

Getting married on 07/01/2023

Blacklight Rental for a dance

We rented 4 lights for a blacklight dance in a high school gym. Combined with blue uplights we have on campus and some smaller blacklights we purchased for the DJ area it worked really well. Rent My Wedding was very easy to work with- we received the lights a few days earlier than expected and had two days to package them back up to drop at FedEx. Easy!

Brian

Getting married on 05/12/2023

Air bnb wedding

Rented an air bnb for our wedding. Got string lights delivered. Worked out great! Was perfect for backyard.

Melissa C.

Getting married on 04/04/2023

The nicest customer service!!!!

My wedding was supposed to be in April 2020. Then the pandemic hit and we had to reschedule. We were hoping things would be better by fall, but of course then fall came around and we were stiill on lockdown. SO for awhile we've been in limbo with no date. Finally we just got married on our own and are going to have the big reception in 2022 when things will for sure have to be back to normal (I HOPE!!! lol). Anyways, every time that we had to reschedule, customer service was super sweet and nice. When I told them I literally didn't even have any date anymore, they just put my order on hold and said I could get back to them whenever or cancel if I needed to. In which case they said I'd get all my money back. Having such nice people to work has been such a blessing especially with everything else so crazy right now. And I like that you're not stuck or going to lose any $ since everything is so unpredictable with covid. I give them 5 stars on custoemr service and I can't wait to use the up lights when we finally get to have our reception. Definitely recommend!

Rent My Wedding's reply:

Thank you for the kind words, Melissa!

I'm so sorry to hear about your wedding being canceled due to COVID. Glad to hear that you were still able to get married, and we can't wait for your big reception next year when things get back to normal.

In the meantime, were definitely here to help if there's anything you need! We are always happy to reschedule or provide full refunds if plans change. Our company was started by a bride planning her own wedding, so all of our policies are designed with the couple in mind.

Congratulations on your marriage, and we can't wait to work with you next April!

Dan S.

Getting married on 04/03/2023

Good price

We originally were going to use a DJ that charges $500 for gobos. Ended up finding rentmywedding doing the same thing for $99. Insane! Definitely a good deal.

Stephanie

Getting married on 04/03/2023

Awesome monogram!

We ordered a monogram light. Instead of using the catalog design we asked to do a copy of our wedding invitations. They did it custom for free! The design team emailed us a preview and it looks just like the monogram on our invites. So happy! Can't wait to use this for our wedding.

Summer N.

Getting married on 03/03/2023

Happy Bride

I'm a happy bride!!!! We rented a backdrop and uplights. Easy to setup and looked great for reception.

Becky

Married on 01/01/2023

Nicest customer service

My venue cancelled on me because of covid. Rentmywedding was very understanding and gave me a full refund. I felt like the agent I spoke with actually cared, I didnt have to talk to robots or go through some difficult process to get my money back. I'm definitely rebooking with them when I can reschedule my wedding!!!

B Crossland

Married on 12/03/2022

Awesome product

Items we shipped early, which gave me plenty of time to familiarize myself with the product. It was easy to install and very user-friendly. Highly recommend.

Marquavious W.

Married on 11/18/2022

Amazing company

They did an amazing job! Their Customer service was absolutely spectacular! They were very helpful and transparent in communication.

Karen K.

Married on 10/29/2022

Definitely Add this to Your Wedding!

Renting an "open photo booth" from RentMyWedding.com was one of the best decisions we made for our wedding event! They responded immediately, gave clear instructions, shipped the unit with comfortable set up time - gave us more than we expected - the set up was not complicated - and the guests quickly discovered that their unit took better photos than their selfies. The cost was insanely cheap for the fun it brought - I got quotes for $4900!! Do it yourself - RentMyWedding was too easy to do it! 5 Stars!!


L Littrell

Married on 10/22/2022

More than I expected

I was in over my head when our lighting guy backed out 8 weeks pre wedding date. I contacted Rent my Wedding. They were absolutely amazing! I sent them my floor plan, color scheme and budget and they sent me back multiple options with visuals on my floor plan that were within my budget. Everything was simple and arrived early. I will definitely be using them in the future! Thank you Rent My Wedding!

Rachel G.

Married on 10/22/2022

Amazing decorations on a budget

I was worried I didn't have the budget to have a pintrest perfect wedding but this site and their prices helped me do that.

Sikeea G.

Married on 10/20/2022

Consider for Your Company Event

Our company was really glad to have stumbled upon Rent My Wedding. We rented a gobo projector and had a customized gobo disc created for our company's 50th Anniversary Gala. From the reasonable price to the responsive customer service, we are very happy. It was very easy to return the gobo projector rental, the gobo looked great, and it was easy to use. Would recommend.

Ruth

Married on 10/20/2022

Exemplary attention to detail

I rented a wedding monogram. It was perfect. The company is exemplary on getting the time to you on time and they make it super easy to shop back with a pre assigned shipping label. All you have to do is drop it off at a fed x location. The monogram light looked amazing.

Lauren L.

Married on 10/15/2022

Gobo rental

Rent my Wedding was more than accommodating throughout this rental process. The projector showed up early, it was easy to assemble and looked AMAAAAZING once projected onto the wall.
The GOBO really was the icing on the cake for the night. We had some amazing up lighting during the reception and the GOBO was the final beautiful touch.
I would rent from this amazing company a hundred times over. It has been an absolute pleasure to work with Rent My Wedding.

Signed,
A very happy bride🤍

Great Value !!!

Found rent my wedding online. Best deal better than local providers, certainly would use you guys again.

Daniel K.

Married on 09/24/2022

Great experience!

Customer service was super responsive. The lights even came early. Returns were a breeze.

Heather H.

Married on 09/19/2022

Uplights added the perfect touch

The uplights were fantastic. Really easy to use. The batteries lasted the whole event. It was a perfect touch. Definitely plan to use this company again!!!


Carmen

Married on 09/12/2022

Uplighting rental

All supplies and instructions were included. Great value

Mimosa

Married on 09/03/2022

Happy! Wedding Rentals!

Glad I rented Uplighting for my wedding from 'Rent My Wedding'! The customer service rep that I chatted with was very helpful! They helped me with my specific questions and ensured I booked my rentals in time to receive them for my wedding day. In fact, the uplights showed up early which was nice. The quality of the uplights was professional and transformed my event space. They ship the rentals through Tracked Shipping with easy and clear return guidance. Would def. recommend and rent from them again!
Are you interested?
Send a message