16 Reviews
Recommended by 100% of couples
Quality of service

5 out of 5 rating

Average response time

5 out of 5 rating

Professionalism

5 out of 5 rating

Value

5 out of 5 rating

Flexibility

5 out of 5 rating
Awards
4 User photos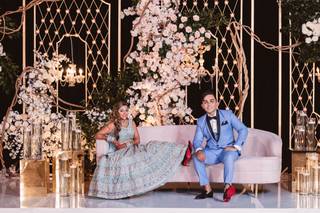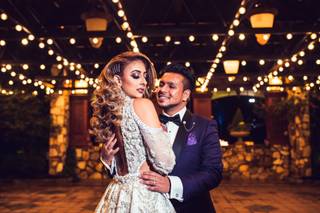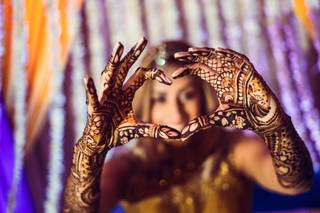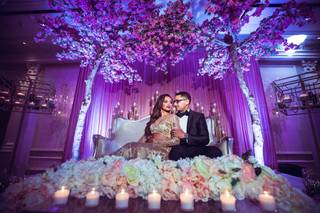 Niki Y.

Married on 09/10/2022

Most responsible, trustworthy, professional, talented photography team

Loved working with regal palette, especially with Hershey and Charishma. There was zero added stress on my wedding day from them and in fact they helped to make some things smoother. They were super flexible with what we wanted, changes in time against our control, and were always on time if not early. They made my husband and I feel super comfortable and encouraged us throughout and we are beyond obsessed with our photos. It's important to find a photography team you trust, feel comfortably with, and are professional and we couldn't be happier that we chose Regal Palette. They are also always available for any questions and concerns and are super responsive, which is huge. Felt like they really got to know us and tailor our experience

Bhasha M.

Married on 07/03/2022

Highly highly recommend!!

I have no words to explain my gratitude to Hershey and Charishma from Regal Palette Studio! My fiancé and I recently did our pre-wedding/engagement photoshoot, a few months before our wedding, to not only have photos to send with Save the Dates but also for us as a couple to get comfy in front of the camera and for them to get to know us! I was extremely nervous because I feel uncomfortable having any photos taken, but they both made me and my fiancé feel super at ease, and though they had multiple clients earlier that day in 95 degree weather, they were nothing but professional and spent ample time making sure we got amazing shots. Their creativity is unparalleled! The photos we got back are beyond words. I was so nervous with how we would look given the heat and lack of experience on our part, but that all melted away when I saw the pics! Would highly recommend Regal Palette Studio BUT ALSO would recommend any couples to do a pre-wedding photoshoot!! Even if the pics won't be used anywhere, it's great to have photos to cherish from before the wedding and also for you to get comfy with being photographed and for them to learn how you are as a couple! Thank you Charishma and Hershey!!

Shaini P.

Married on 07/02/2022

Incredible Experience!

Hershey and Charishma are such creative and talented photographers! From the very beginning, they explained all their packages and detailed out all of the services they provided. Starting with no knowledge of where and how to choose a location for the engagement session, or what to wear, they guided us through it all. I would highly recommended the engagement session as it's the best way for their team to get to know you and get comfortable with you before your big day. We were fortunate enough to not only have them for our wedding week, but also our engagement ceremony and bridal shower. They were able to be there for all our special events, even on such short notice! We truly appreciate all their efforts in capturing the perfect moments throughout our events. They are such a fun team to work with; it was all smiles and laughter on and off camera!


Are you interested?

Send a message

Priya P.

Married on 05/15/2022

Best Photographers

Hershey and Charishma were the best photographers Nimit and I could ask for. The pictures we receive speak for themselves. Even after the wedding we wanted to get canvases printed and they were still willing to do it for us. We loved RPS and their work! Also Hershey and Charishma are the cutest people to work with. They are always laughing and making sure your pictures turn out perfect!

Toral P.

Married on 09/19/2020

Absolutely amazing!!!

I couldn't imagine having a better team! We went through so much with COVID and Regal really was there and supportive throughout the whole process. They took so much stress off my shoulders. They were always available and remained in constant communication leading up to the event. The day of the event was exactly on schedule. Our parents were so impressed with how well they managed our crazy families and were able to capture us and our natural emotions. Even having just met us, they really were able to make us feel comfortable and get pictures that showed us laughing.

Regal Palette Studio's reply:

First... Thank You!
Second... you guys were so meant for each other. Such great vibes while we took photos. We really didn't have to do much other than click buttons and setup lights. Congratulations and we can't wait to get you all images very soon.

Sneha

Married on 09/05/2020

Most creative photographers

The entire team was amazing to work with and made us feel like family! They made us feel very comfortable through the entire process and made our wedding day perfect!! We highly recommend Regal Palette and will definitely have them capture our future memories as well!

Regal Palette Studio's reply:

Thank you Sneha! Day was just so perfect... plenty of time to do portraits, amazing weather, and of course the food trucks was an amazing idea! Can't wait to be there fore you guys in future chapters of your lives!

Rose F.

Married on 06/26/2020

Talented Photographer for Weddings

Had a great time creating the album!

Sukriti C.

Married on 01/25/2020

Perfect Wedding Weekend

Regal Palette did an amazing job capturing the most important day of our lives. We had a blast working with the team and they made us feel so comfortable throughout our wedding week. I still can't believe Ronak was able to put together such a great same day edit video in such a short amount of time.

Sonam K.

Married on 11/23/2019

Must book!

Regal Palette Studio was the best choice we could've made in picking our photographer/videographer for our wedding. We had a week full of events and they came and shot our pictures and videos for each one. Their level of professionalism is amazing and the quality of work even better! During the process of choosing a vendor, they were prompt, responsive, clear and honest. They worked with my husband and I on our vision for the wedding and actually cared about what we wanted. We received our photos and they all look so beautiful. RPS also recently posted our wedding video trailer/teaser on Instagram and it was incredible. I can't wait to see our highlight and videos, but I'm sure those will be equally amazing.

Beyond their actual work, another reason I love RPS is because of everyone on the team. They all made my husband and I feel so comfortable and we loved how invested and involved they were. They definitely went above and beyond and we couldn't be more appreciative.

Thank you RPS for capturing all our moments from the wedding. We can't wait to book you for our future events!

Regal Palette Studio's reply:

STOP IT! :)
You know how easy it was photographing both of your families it was... They just know how to GET DOWN and HAVE TONS OF FUN.

We cannot wait to be part of more events in your families. You guys are SO CUTE and we're so glad after SO MANY YEARS you guys are finally married.

Irina M.

Married on 10/26/2019

Book them before it's too late

Hershey and Charishma are awesome people and photographers. They were flexible with us on everything and worked with us through the whole process. The engagement shoot was very helpful in knowing what to expect and how a long photoshoot would work. They took a lot of natural photos and any impromptu ones we suggested which was great fun. They also had many ideas for what we should do and recommended places to take photos. You should book them ASAP since it's only going to get more difficult the more well known they get!

Regal Palette Studio's reply:

We actually didn't do much. All we had to do is get Thanh close to Irina and the emotions, expressions, laughter, and endless moments came out naturally. From the bottom of our hearts... Thank you! :)

Kishan P.

Married on 10/20/2019

Vendors to friends

Regal palette studio was the best decision we made. They made the entire process easy and fun. Their vision behind the lens is second to none. They captured our special weekend with unique and creative shots and videos! They went from being our vendors to friends! They did a perfect job and we highly recommend regal palette for any event. If you want to hire a photographer it should definitely be behind the lens of regal palette studio. Hershey and Ronak are the best in the business!

Regal Palette Studio's reply:

Thank you guys! :)
We felt more like family, but we'll settle for friends. Haha. No, but seriously we really couldn't thank you guys enough for having us part of your beautiful day.

Meera

Married on 10/05/2019

Speechless

So I came to know about RPS because I attended a wedding where they played a Same-Day Edit video at the couple's reception.....and I wasn't even engaged to be married yet, but I knew right away that this was the videography team I wanted for my own wedding one day.
Fast forward to my actual wedding 3 months ago--I am STILL watching my own same-day edit video on a weekly basis because it is just that unbelievable. They have soooo much creativity in them and just such a unique vision, its unreal. Everything they create is truly magical. I had friends the morning after my wedding, not reminiscing on the night itself, but literally just talking to me about how amazing the Same-Day Edit video was. That's Regal Palette Studio for you.
Aside from their remarkable work....this team is just so easy-going, friendly, flexible, and fun to work with. They made the planning process a breeze, and even at our wedding they were so warm with all of our friends & family. What else could you want from a vendor?
I will forever be so grateful to have came across RPS and to have had them be a part of my wedding. Hands down the BEST decision we made!!!!

Disha P.

Married on 07/06/2019

They are the full package!

RPS is not just a vendor; this group of individuals treats their clients like lifelong friends. We met Hershey and Ronak a few years back and we instantly clicked with them. They have been a text or phone call away ever since and that goes for even after our services have been long completed. I commend them on their kindness, flexibility and of course work. If you are looking for a vendor to not only meet your expectations but exceed them, you are in the right place. They covered 4 of our pre- wedding events including engagement, 2 photo shoots, and bridal shower and then all 7 of our wedding week events. We trusted them to capture all of these important moments in our life and we will continue too down the road :) and can't forget how they created a 7 pieces canvas cluster for our new home's living room! Thank you for everything RPS!!

Regal Palette Studio's reply:

Thank you for your wonderful words, Disha. It was an absolute pleasure to be a part of your beautiful wedding and we have surely made friends for life !!!

Rajiv

Married on 06/01/2019

Great vendor to work with!

We used Regal Palette Studios for our videography and loved working with them. Ronak is extremely talented, and he truly loves doing what he does best. Overall, he is very fun to work with which is exactly what you need on your wedding day.

He created an amazing same day edit and engagement shoot video. We kept the engagement shoot video as a surprise for our reception entrance, and we received so many compliments on it. Our guests thought it looked like a real production music video.

Whether you have a detailed plan of your own or looking for a creative mind, Regal Palette Studios will meet and exceed your expectations. We were very happy with their services.

Mikita

Married on 08/25/2018

Best Cinematography

I had hired Regal Palette Studio after I had already hired my photographer through a friend's recommendation. I was a little hesitant to hire them because they are a fairly new company. However, they exceeded my expectations! They are very punctual, professional, and friendly. They are funny and keep you entertained throughout the day. Everyone loved our same edit, trailer, and highlight videos. Some of the comments we received were "best video I have ever seen," "They did an amazing job with the video," "I felt like was in the theater," "wow" and so many times "best video ever!" I highly recommend hiring Regal Palette Studio. They are very creative and beautifully capture your special moments.

Sarika

Married on 08/27/2017

Best Photographers Ever!

Regal palettes went above and beyond to make our day perfect by capturing every moment. The whole team is very flexible when it came to our pre wedding shoot. Hershey, Chari & Ronak are good friends now and not just our wedding photographers. I would definitely recommend them for your wedding or any event to be honest they will not disappoint you. Any time you need them they will answer you right away and get your any answers you need. We really enjoyed working with the team and can't wait to have them shoot other events in the future. Thank you Regal Palette Studio!
Are you interested?
Send a message