Reviews
5.0 out of 5 rating
Quality of service

5 out of 5 rating

Average response time

5 out of 5 rating

Professionalism

5 out of 5 rating

Value

5 out of 5 rating

Flexibility

5 out of 5 rating
100%
Recommended by couples
22 User photos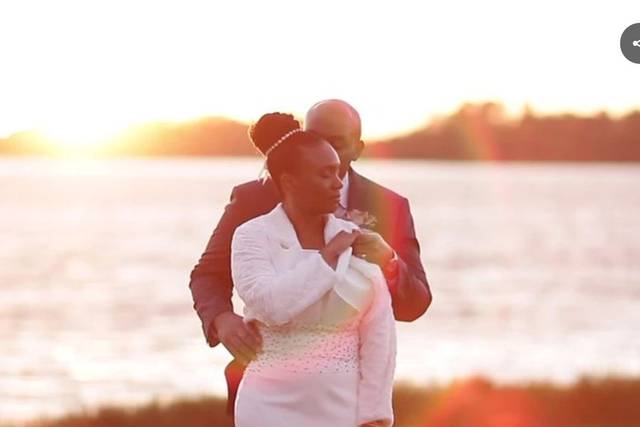 + 18

photos
Featured

Molly S.

Married on 06/17/2023

Enchanted Wedding

We built our wedding from scratch- we spent countless hours clearing our land of trees, twigs & overgrowth, threw our backs out building up the old farm structures, and lost our finger prints hot gluing the centerpieces together- and all of the hard work, sweat and many tears was not just enjoyed on the happiest day of our lives- but alll of that work together will forever be remembered and shown off thanks to Reagan studios. After all, What other videographers would traipse through the forest for you!?

If you truly want the magic of your day to be captured- this is the team to request!!! The details you didn't think of? THEY GOT! The moments that got blurred with the chaos- THEY BRING BACK TO LIFE! The special looks from your most loved people - THEY KEEP ALIVE FOREVER. I could not be more ecstatic. June 17 was the happiest day of my life and now those happiest moments, with every special detail, will never be forgotten.



Elizabeth N.

Married on 08/26/2023

They do amazing work!

Keith and Collins were amazing to work with! They made every part of the process go smoothly. They had great suggestions and made all my dreams come true.

Kacey H.

Married on 05/20/2023

Happy Hammock Wedding

Reagan studios is absolutely phenomenal! 100/10 recommend. Easy to work with, fun and happy energy. They captured our day so clearly and beautifully and I could not be more grateful! We received multiple videos very quickly and the quality was outstanding. The videos I received are absolutely priceless and will be cherished for many years so come!

Are you interested?

Send a message

Gigi G.

Married on 05/06/2023

Amazing team to work with!

Keith & Collins know what they are doing! My husband & I went back and forth as to whether we needed a videographer for our wedding and we are so happy that we decided to book Reagan Studios! They are kind, professional and so fun to work with- they felt like family. I cannot recommend them enough- you should 100% book them for your event!

Brenda R.

Married on 05/04/2023

Mother of the bride

I hired them for my daughter's wedding on May 4,2023 in Yorktown Virginia. These guys are the best! They are polite, have a sense of humor, work together with the photographer we had and the video is AMAZING! I highly recommend them.

Bryne L.

Married on 03/31/2023

Father of Gretchen (Mark & Gretchen)

I cannot believe anyone would not have Reagan Studios as part of their wedding planning team. This is the second wedding they did the videography for our family and can't say enough about the service and product they provide. It was a great experience working with them, JOB WELL DONE!

Gretchen K.

Married on 03/31/2023

You won't regret working with them!!

Keith and his team are an amazing group to work with. Keith took the time to meet with us before the wedding, get to know us, and prepare us for what to expect. Reagan Studios did my brother's wedding cinematography, which is when I fell in love with his work. As soon as we began planning, he was one of the first people I reached out too, because no one else's work compared to what they do. The team was wonderful to work with on the wedding day. We just got our video footage back and could not be happier with the outcome. We are so grateful to Keith and his team for documenting our day and making our memories last a lifetime!

Rebecca B.

Married on 12/27/2022

Super professional

Would highly recommend. Has great ideas for shots, is on schedule, keeps us on schedule. Reasonably priced, professional. Focuses on details. I can't say enough good stuff about Reagan Studios, and the necessity of having a Videographer for your wedding or event. So many memories I'll get to look on years ahead.

Analease K.

Married on 12/17/2022

The best ever!

Keith & Collins are the absolute best at their job and take it very seriously. They filmed several of our friends' weddings and we knew there was no one better for the job when it was our turn. Reagan studios exceeded any expectations I've ever had for my wedding day. I have cried daily watching our wedding videos and I cannot wait to share it with family for years to come.

Taylor

Married on 10/22/2022

A must have!

Keith and Collins were two amazing people to work with! Not only are they great at their craft, but you can tell how much they truly care by their interactions with you, your bridal party, and guests. I cannot rave enough about the time, energy, and thought these two put towards our final videos. From the song choice and specific shots they incorporated, it is truly a memorable video that people are still chatting with me about to this day, nearly two months later! Not to mention the turn around time! I was amazing we were able to relieve our special day within 12 hrs of our wedding ending (sneak peak) and within a week of the wedding (full video). We are so thankful we went with Reagan studios! Now we can relive our special day for years to come 💕

Kerstin A.

Married on 08/20/2022

Best day ever

What an amazing experience. These two men captured our wedding day perfectly. They are funny, accommodating, and beyond talented. If you're looking for a videographer you NEED to book Reagan Studios 🎥

Kendra

Married on 07/02/2022

Amazing work!

Reagan Studios did better than we could have ever imagined filming our wedding. They were one of the most reliable parts of our day. They made the day so light and fun while still capturing every moment. They went above and beyond when the power went out at our venue to ensure we still had good lighting while the sun was still up. We can't thank them enough for turning something terrible into something so beautiful. If you are having questions about hiring a videographer with out a doubt you should, and it should be Reagan studios.

Liz W.

Married on 05/21/2022

Stop searching, start hiring!

I hired Reagan Studios last minute, as they came highly recommended by my photographer, and I'm so thankful I did! My fiancé, now husband, had no intentions of hiring a videographer and he was absolutely against hiring one. I didn't listen to him and hired them anyways, with the knowledge that I was paying for them myself, and man, I will never regret that last minute decision and slight defiance! Once we got our highlight videos back-literally within days of our wedding, he would watch them on his own without me forcing him to! He enjoyed watching the raw footage that came on a hard drive in the mail, literally after only like a week and a half after our wedding! I'm so impressed with the quality of their work, their professionalism, and their humor! You will not regret picking Reagan Studios for your wedding! If you're worried about the cost, they will work with you to make smaller payments throughout, so please don't let that stop you! They'll also send you a link to your special videos, so you can access them and so you can share them with your friends and family. I highly recommend them!

Anna S.

Married on 05/20/2022

Hire them!

So worth it, hire Reagan Studios! We loved having Keith and Collins capture our big day! We did not get to observe many moments of our wedding day as a busy bride and groom. Reagan Studios has captured every precious moment that we missed that we can cherish for the rest of our lives! Very responsive, easy to work with and stay up for all hours to get your videos to you!

Shelbie G.

Married on 05/14/2022

WOW! Prepare to be amazed!

WOW! That is all I can say! Reagan Studios first got my attention in 2018 when I saw a friend's wedding video he had done for her. It was stunning! Of course at the time I was not engaged. When I got engaged 3 years later, I remembered the stunning video and had to have them. They were my #1 top priority, had to have vendor on my entire vendor list.

Boy, they did not disappoint. They showed up ready to do the damn thing! They captured so many important moments of our day and implemented them in our package so perfectly. Our wedding video is hands down the absolute best I have ever seen! It blew my mind how fast they had it ready for us. We had a sneak peak in less than 24 hours! UNREAL! Our day was captured so perfectly, and we will have our video to hold onto for the rest of our lives. We also got a video guest book that allowed all of our family members to leave us a message on video. That is something we will cherish forever.

They are so good at their job, it is amazing! You can spend hours looking through all the wedding videos they have done and get amazed with every single one. They make you feel so comfortable and capture literally the entire day for you. They didn't miss a thing. They were so easy to work with and communicate with you incredibly! They answered all of our questions and helped us through the entire process. The end result is AMAZING! I am telling you this should be the number 1 vendor on every couple's vendor list. You should all run to book them and I promise you you will not be disappointed and it will be the highlight of your wedding!

Cynthia S.

Married on 04/25/2022

Love that they are Extraordinary Experts!

I love that Reagan Studios have a naturally talented ability to incorporate the beautiful wedding surroundings, with an Eagle- Eye' point of view; as well as using excellent communication skills with helping everyone involved to be directed to geniusly, to capture those most 'Precious Moments' throughout the celebration, for the highest good of all. I am so impressed with their creative expertise in blending the reel music with each wedding uniquely, including Internationally. As being a 'Mother of the Bride', I highly recommend Reagan Studios, because it was a Phenomenally Fun and Wonderful Experience for our family. Gratefully yours, Cynthia

Emily B.

Married on 04/09/2022

Amazing videos, so fun and easy to work with!

Keith and Collins were so fun to work with! They turned around our preview video the night of the wedding and the rest of the videos within one week of the wedding. We are SO thankful for how amazing they were and how quick we received the videos back. Keith and Collins were both so easy to work with and the day flowed perfectly with them. They made us all feel so comfortable. HIRE THEM FOR YOUR WEDDING! You will not regret it. They are the best! Thank you Keith and Collins!

Samantha J.

Married on 01/29/2022

They are a MUST for your wedding

I cannot say enough good things about working with Keith and Collins! Not only are they so easy going and fun to work with, but their work is AMAZING! We received all our videos and the raw footage within less than a week after our wedding. I cannot stop watching them and the amount of compliments I still get on them is insane. Hands down one of the best decisions I made for my wedding was hiring them!

Christi S.

Married on 12/31/2021

Hands down, best around!

If you are looking for an amazing videography team, stop here!! I can not say enough about Keith and Collins!! They filmed our daughter's wedding on October 31, 2020 and now they have filmed our son's wedding on December 31, 2021.

These two gentlemen are professional, accommodating, talented, and downright amazing to work with. They have an eye for what works and capture every special moment of the day. I am so thankful we found them and will 100% utilize them when our other child gets married. We will also recommend them to every friend we know that has a child getting married.

You won't regret hiring them. Hands down, the best around!!

Rebecca G.

Married on 11/20/2021

Absolute dynamite!!

The moment I spoke with Keith, I knew he was a guy we wanted to work with. He is such fun, and extremely personable. As soon I met him and Collins I was at ease and excited to see what they would produce. They worked amazingly with our photographers, and guided us in all the right directions to get the best possible shots. Bloody hell were they right! Our sneak peek was ready before we even went to sleep on the night of our wedding and brought such tears to my eyes. They had captured every perfect moment and more. The quality of the video and the music was perfect. 2 days later they had our full video ready, and oh boy, I was not ready for it. Perfection doesn't even cover it. I seriously do not have the words to explain how wonderful these guys are, both as human beings and as videographers. It was so important to me to have a videographer as I know my loved ones will not be here forever. To have them immortalised on film, so full of joy… Keith and Collins caught every special moment with pure professionalism and talent. Book 'em, you truly won't regret it.

Kacie C.

Married on 11/11/2021

AMAZING! Highly recommend

Absolutely love them! Such a delight to have them film my wedding day.

Kelly L.

Married on 09/25/2021

Thank you!

Keith & Collins did an absolutely phenomenal job at making our wedding day memorable and creating content that we will forever cherish and share with our family all the years to come. They were both extremely professional, fun to work with, and knew exactly how to direct us and our guests for some seriously amazing outcomes. The videos they created turned out better than we could have dreamed and I think we watch them at least a dozen times every day. If you're on the fence about getting a videographer because you think photography is enough, ITS NOT!!!!! Watching the video footage, the ceremony, all the dancing and fun times, is so much different when you see live action versus photos. We will never regret hiring Keith and Collins for our special day and would recommend them to anyone!!!

Megan W.

Married on 09/18/2021

No need to look any further!

Go ahead and stop looking for a videographer for your wedding... you have FOUND THEM! Keith and Collin will blow your mind with the amazing videos they will produce for your wedding, I guarantee it!
I had a simple/rustic yet fun and elegant vision for my wedding - and Reagan Studios truly nailed my vision in each video they made! They had videographed one of my friends weddings - and I loved their work then so knew I had to have them for my wedding - and even still they proceeded to AMAZE me beyond my expectations. You will not be disappointed in the slightest if you choose them for your wedding. I could seriously not be any happier!!

Angel

Married on 06/26/2021

Hands down… the best videographers!

They were extremely personable, professional and fun to work with. They made me and my fiancé feel at ease in front of a camera and their videos are heart tugging and beautiful. Reagan Studios did AMAZING capturing our wedding. They worked great with our other vendors with incorporating everything together. I would highly recommend them and will definitely hire them again if I ever need a videographer again. If you're even debating on getting a videographer and who to go with, just do it and hire them. You won't regret it!

Kaitlyn C.

Married on 05/22/2021

The best duo you'll find!

Reagan Studios was the first vendor I booked for my May 2021 wedding. I fell in love with their wedding videos the instant I saw them. From the day I first contacted Keith until the day I got my videos back, Keith has been so easy to work with. He recommended the photographer and DJ I booked as well! On the wedding day Keith and Collins arrived at the very beginning of the day to get shots of us getting ready and stayed until the sparkler send off! They were knowledgeable and professional and everyone in my wedding party commented on how fun they were to work with! I was so surprised on the night of my wedding before I went to bed at 2am, I got a message from Keith saying that my sneak peak video was already finished! They had stayed up all night after working all day to get my sneak speak video done! All around Reagan Studios was amazing to work with and I would 100% recommend them!
Are you interested?
Send a message