17 Reviews
Recommended by 97% of couples
Quality of service

4.9 out of 5 rating

Average response time

4.9 out of 5 rating

Professionalism

4.9 out of 5 rating

Value

4.9 out of 5 rating

Flexibility

4.8 out of 5 rating
Awards
6 User photos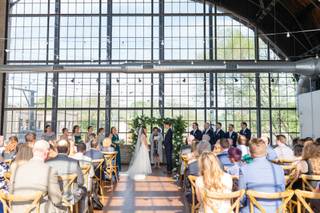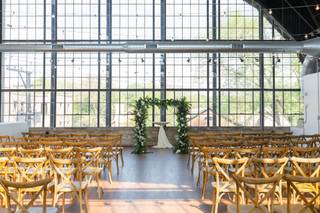 + 2

photos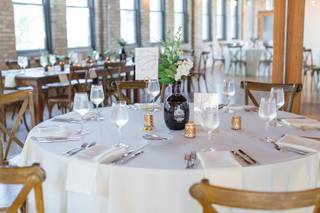 Michael L.

Married on 11/01/2022

Incredible wedding during a difficult time

The Ravenswood Event Center was incredible to us, and our wedding was beautiful as a result. We booked the venue shortly before the COVID pandemic, hopeful that things would pass by the time our wedding occurred this year. While COVID has not gone away, Veasna and the REC were nothing short of spectacular in helping us make our wedding happen! Andy was great with the menu, making whatever we wanted and plating everything beautifully, and our guests greatly enjoyed everything. Veasna was flexible and helpful as we made our decisions and worked through the details. We ended up having two waves of people in order to get to see as many people as possible safely while staying under the COVID restrictions in Chicago, and the REC was able to accomodate that plan with poise. Plus, the venue was beautiful! Thanks to everyone at the REC for the great job and for helping our wedding become a reality!

Christina M.

Married on 05/14/2022

Unique, Gorgeous Venue

If you are looking for a wedding venue with naturally gorgeous style, exceptional food, and an organized team that will make the day stress-free, look no further than Ravenswood Event Center. Let's start with the style – the space itself is naturally gorgeous and bright with massive windows in the Atrium. This is a truly great space for a ceremony and comfortably fits all guests. You can then go back up later for dancing! The Loft space is fantastic for cocktail hour and dinner and still has great style. Minimal decorations are needed because the space speaks for itself. Guests were loving the views and how unique the space was, and some family members spent a lot of time downstairs, by a collection of unique cars. Something that's not clearly shown on their website is the patio space, which makes the space even better! There's a massive patio off the Loft and the Atrium. With gorgeous weather, the guests will be on the patio space to get a break from the dancing – it's a beautiful addition. Another key point is the food, which is directly from the venue. We were invited to a tasting and were blown away – we didn't change much about the menu! Guests raved most about the appetizers and salad, and said the main meal did not disappoint. We also did our desserts through them, which were great to have next to the dance floor. Another key point is the organized team. Carly is FANTASTIC and has experience in wedding planning. She helped with so many details, coordinated with venues, and gave helpful reminders about what was next. She was present the day of and made sure everything ran smoothly. My husband and I have no regrets about choosing Ravenswood Event Center and highly recommend them to anyone who wants a unique venue that guests will not stop raving about for weeks after the celebration.

+ 2

photos

Andrea J.

Married on 08/13/2021

Amazing experience in uncertain times

There is so much gratitude we have for the Ravenswood Event Center, Vaesna, Andy and Carly. Our wedding was scheduled for April 11, 2020, just over 3 weeks from everything shutting down. We had made the decision to postpone our celebrations a few days before things closed. It was a scary time and Ravenswood Event Center went above and beyond. Upon making our decision Andy, the owner, personally reached out to us via phone where we had a lengthy conversation on our options. He understood these unprecedented times and over the next few months was flexible as we tried to reschedule our dates. In the end the third time was the charm, with the date falling on a Friday the 13th.

The venue is beyond exceptional with its rustic charm which is visible in every room. We used the atrium for our reception. If you are nervous about moving from room to room, don't be!. This was an aspect that many of our guests enjoyed and they made sure we knew they enjoyed this. It broke down the day and scenery that the guests did not get bored being in the same room for 6 hours. The outdoor deck space allowed our more COVID cautious guests to be outside but not far from everyone inside.

Luckily for us this is not where it ends with Ravenswood Event Center because they are really a one stop shop. Something we found fortunate during this COVID time was that our venue also provided food, tables, chairs, plates, silverware, non alcoholic beverages, and so much more. This limited the amount of vendors we would have needed at many other places. THE FOOD is the best wedding food we have ever tasted. It tasted more like food from a restaurant and not catered food you typically get at a wedding. We have begun hearing how amazing the food was and I am sure we will continue to hear this years from now. A great cost saver was bringing our own alcoholic beverages which we had delivered from Binny's. The venue and Binny's worked together on delivering and returning our unused purchase. It was as hasslefree as it gets.

Lastly we can not say enough about the staff. We have been through a lot in the last 2 plus years (it was originally only supposed to be 10 months) and we can not thank you enough. From our original planning, through COVID, reschedules, frustrations, and finally the craziness of the day you have been amazing every step of the way. When it came to the day of festivities the staff were friendly, attentive, took our decor and made it look incredible. We truly can't thank you enough.

Are you interested?

Send a message

Carolyn W.

Married on 07/08/2021

The best - Thank you!

We are so happy that we chose to celebrate our wedding at Ravenswood Event Center (REC) which is so much more than just a wedding venue!! First of all, the space itself was beautiful and was one of the first things that sold us (we had cocktail hour on the 3rd floor/Atrium, dinner on the 2nd floor/Loft, then went back to the 3rd floor/Atrium for dancing!) The massive windows, natural light/view of the sunset, and magical twinkling café lights created the coolest vibe that our guests loved as well. Second, Aly is the best coordinator ever! From the very beginning, she was super on top of every detail and helped us to create the day that we'd dreamed of. Not every wedding venue has a built-in coordinator, and it was so comforting knowing that Aly was there to help everything run smoothly, and she was awesome to work with as well. Third, THE FOOD. Ask anyone who's ever attended a wedding here, it was amazing. We opted for family style which our guests loved, and we still have people telling us how great the food was. I don't think you can beat the value REC provides compared to other wedding venues in Chicago (a reasonable price for a beautiful, unique space, an extremely attentive coordinator, the BEST food, and a full staff… amazing!) Thank you so much to the REC staff!

Melissa

Married on 06/09/2018

My husband and I got married at Ravenswood Event Center just over a month ago and we couldn't have chosen a better place! My husband and I fell in love with the coolness and uniqueness of the space the minute we step foot inside. It isn't just your same old ballroom that's for sure! We utilized all three floors (atrium, loft and showroom) for our wedding and received numerous comments from our guests on how much they loved the space. Aly was our coordinator and she was amazing to work with! She was always willing to answer our questions, responsive to emails and on top of every detail. She went above and beyond to make sure we had everything we needed even arranging a little private time for my husband after the ceremony with champagne and appetizers to take in the moment. As she said, it will be the only time you will be alone all night and boy was she right! We definitely felt very at ease that our wedding was going to go off without a hitch with Aly around!

The food that Ravenswood produces is to die for. From our initial tasting to our wedding day the food was impeccable. When we were first looking at the venue Andy said to us he doesn't just want to be the best wedding food you have ever had he wants to be the best food you have ever had. Just wait till you try it! It is AMAZING! I almost wish they would open up their own restaurant just so I can back and eat our amazing wedding food again!

Overall, I would highly recommend Ravenswood Event Center to anyone that is thinking about having their wedding or special event there!

Rose

Married on 09/22/2017

We had such an amazing wedding at the Ravenswood Event Center. They are a wonderful one stop shop, and the atrium space is a beautiful way to have the look of an outdoor wedding with the benefit of an indoor setting (we got married in the beginning of September and did not want to risk the chance of surprise Chicago rain!) We worked with Jen, and she was so helpful with planning all of the details. I DIYed all of my decor, and they followed my set up directions to a tee! Everything was perfect. The food is also absolutely incredible, AND as if that isn't enough, they're BYOB so you get to control how much you spend on your Booze. Absolutely worth every penny, and if you get to work with Jen, she's a master. Cannot recommend this place enough!!!

Patty

Married on 10/29/2016

I cannot say enough positive things about Ravenswood Event Center. The moment I walked into the door to the showroom before the reception started, it absolutely took my breath away! We used the atrium and loft space for our cocktail hour and the showroom for dinner/dancing. Where do I even begin! After our first meeting with the staff, we knew right away we had found the location we wanted for our reception. Andy made us feel comfortable and did not try to make us add things we didn't truly want to pay for. Aly was our coordinator, and let me tell you, as a couple with demanding full time jobs we were able to plan the entire wedding without a separate planner and this is all due to her amazing help. She recommended other vendors to us (photographer, florist) which we ended up using and they also did a great job. She coordinated everything the week of, despite us sending probably hundreds of emails, and she didn't get a single detail wrong. The venue was gorgeous on the day of and we did not have to spend a lot of extra money to make it look so great. The food, as many have said, was the best wedding food I have ever tasted -- and I have had many guests tell me the same! Using Binny's for the alcohol provided a peace of mind that other venues often are unable to. We did not run out of a single type of alcohol. The bartenders and other staff were extremely friendly and helpful. The space was clean and if we needed anything throughout the night someone was there to make it happen. The space more than comfortably fit our 206 person wedding. Andy and the rest of the team never made us feel like we were pressured into spending more than we felt comfortable and they stuck very close to our original quote, there were no surprises from a budget perspective or an event perspective! Additionally, there is plenty of parking and I was unaware of any guests having issues with it. I would wholeheartedly recommend REC to anyone considering it!!!

Katie

Married on 08/27/2016

I cannot recommend Ravenswood Event Center enough! Jen was a delight to work with as we were planning our day. She was prompt to respond to emails ... and I asked many questions! We had our wedding reception in the Industrial Ballroom with approximately 140 guests. Every detail was planned and delivered as promised. The food was phenomenal - and many guests mentioned this as well. We had such a great reception and that is due is large part to the team at REC. Our guests are still talking about our reception. :) Highly recommend!

Kristen

Married on 05/13/2016

Ravenswood Event Center provided us the wedding of our dreams. We had 150 people in the Industrial Ballroom and every time my Wife and I met with either Andy, Aly or Jen, they each made us feel like we were their most important client and would drop everything to fulfill any of our requests. The Ravenswood staff was impeccable and were incredibly attentive to not only us, but our guests, as well. The kitchen was superb and made sure our dinner was not just another wedding dinner. Oscar put together several food stations so people could get up and mingle and eat as they pleased...also the late night snack was homemade pizza cakes (my absolute favorite!). If you are planning to have your wedding in Chicago and having a hard time figuring out where to hold your ceremony and reception, do yourself a favor and choose REC. From your first walk through to the last dance, REC provides a celebration that is guaranteed to be an unbelievable and unforgettable experience.

Allison

Married on 05/07/2016

I am obsessed with the Ravenswood Event Center. We used the atrium for our ceremony, the loft for our cocktail hour and the showroom for our reception and our guests LOVED it. Such a unique space that caters to the rustic elegant style as well as the vintage foreign cars and neon signs really drew in the male crowd. The people we worked with were all incredibly helpful and knowledgeable and made our day go by flawlessly. Oh and the food was phenomenal.

The REC is such an amazing unique venue. We used the Atrium for our ceremony, the second floor for our cocktails, and the showroom for our reception for 250 people. How many other venues have classic cars surrounding the dance floor? The catering was so creative and delicious. The staff worked with us to create everything we wanted.

Halperin

Married on 05/18/2013

For a unique location in Chicago with free parking and you don't have to drive into the loop we chose this location. The price was affordable and the ambiance was very romantic. We had a smaller wedding in the atrium so it was just perfect for an urban wedding without all the stress of the city

Lindsey

Married on 01/29/2011

One word sums up this place...WOW! First off, Andy and Aly are so professional and extremely talented in what they do. We had our cocktail hour in the 4043 corridor, dinner on the 2nd floor, and dancing on the 3rd floor. We are still hearing from our guests about how awesome all the levels were and that it was the coolest venue they have ever been too. We completely forgot to pick up our cookie cake and Andy drove downtown the day of the wedding to pick it up, it was the most thoughtful thing ever. His staff were extremely hard working and make our wedding night perfect! I recommend this place to EVERYONE! Not to mention the food is delicious! This place is worth every penny!

Sahar

Married on 08/14/2010

We loved working with Aly and Andy! They were so helpful, responsive, and professional! They were always helping with ideas and really worked to make the look and feel of our reception just perfect! There is no one we would have rather of worked with and definetley no where we would have rather of had our reception. We used the Atrium, which is just such an amazing space! The two walls of the room are all windows (looked amazing in every picture) along with hardwood floors and exposed brick. We also used the loft for dinner, which has windows lining the room along with exposed brick and an entrance to a beautiful outside deck. The place is just absolutely beautiful and Aly and Andy are 2 people who really know what their doing! Were so happy RBF is a huge part of our wedding day memories!

Katy

Married on 10/22/2016

If you love the loft style this is the place to go. The atmosphere is amazing, the planners are very attentive, and they do all of the food in house and it is delicious! (I highly recommend trying the short ribs and grits - it was the favorite at our wedding). We got so many compliments from our guests on the space!

We had our ceremony and reception at REC. The staff was great throughout the entire process. It is a great option if you are looking for a loft/urban space in the city. They also provide catering services and rentals which was really helpful during the planning process. The cost can run a little high but it is worth the cost and fairly comparable to anything else similar in the city.

Aurora

Married on 03/07/2009

Both my wedding ceremony and reception were held at the Industrial Ballroom at Ravenswood Billboard Factory (RBF). The Industrial Ballroom is located just down the block from the RBF main space and is a converted Boiler Room. The space is beautiful and very unique, with really high ceilings and exposed brick and duct work. But it is a blank slate and you need to pay attention to flowers and lighting in order to warm it up. Blue Rooster Catering is located on site and although you can bring in your own caterer, they charge a hefty fee to do so. Andy, the head chef and co-owner of RBF, was very generous and allowed us to bring in our own alcohol which made the steeper room rental fee more palatable. Overall I was pleased with the service we received from RBF. I would have given them more stars except that the month before the wedding we decided to add an extra hour to our package and paid an additional fee for the service. During the wedding, our coordinator was told by Andy that the wedding was supposed to be over at midnight instead of one. He completely forgot that we had added and PAID for the additional hour. It was a small annoyance but it was completely unnecessary.


Are you interested?
Send a message