118 Reviews
Recommended by 100% of couples
Quality of service

5 out of 5 rating

Average response time

5 out of 5 rating

Professionalism

5 out of 5 rating

Value

5 out of 5 rating

Flexibility

5 out of 5 rating
82 User photos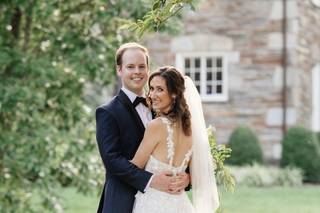 + 78

photos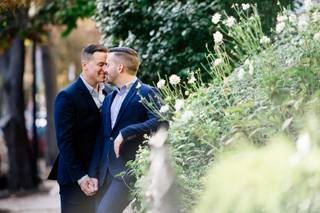 Jessica G.

Married on 10/09/2022

Premier Wedding Photographer

Look no further, your wedding photographer is here! Rachel Smith Photography is a premier wedding photographer with the skills to capture the beautiful moments you know you will have and the experience to capture the moments you didn't expect. Rachel and her team were perfect from start to finish. Her prices included an engagement session, the wedding day, and a photo album. Rachel made a perfect first impression. She met us at our desired location and quickly made us feel at ease. Her personality is wonderful and she is truly skilled at prompting couples to engage for a memorable photo shoot. The wedding day was perfect. Rachel and her team were in control and meshed well with every stage of the day. Rachel's knowledge of Photography and weddings shined in her product, capturing every detail you hope for. Rachel Smith Photography is worth every dollar and then some. Rachel delivers on her time lines and the product does not disappoint. A true professional. We plan to hire Rachel in the future for the many life milestones to come.
Thank you for everything! - Josh and Jess

Jack V.

Married on 09/24/2022

Ten out of ten

Rachel was an incredible addition to our wedding day. She is personable, talented and diligent. When she showed up to our venue on our wedding day, she immediately got involved and helped us get organized. She found some beautiful settings around the venue for our first look, kept us on our tight schedule, and she captured the day perfectly. As the reception went on, she went out of her way to find a beautiful spot for us to get some unique and stunning photos with the sunset. I would highly recommend Rachel and her team.

Rachel

Married on 09/10/2022

Rachel is amazing - hire her!

We really cannot thank Rachel enough for her hard work, talent, professionalism, and responsiveness! She captured our wedding day perfectly, got us comfortable being in front of the camera, was so helpful and easy to work with, and I cannot stop looking through our photos and smiling. I will recommend her to anyone I know who needs a photographer.

Are you interested?

Send a message

Hannah G.

Married on 09/05/2022

Rachel Smith is a rockstar - HIRE HER!

Rachel worked with us for our engagement photos in December and then our wedding in September. Both days had yucky weather (cold and drizzly and then hot and humid) but Rachel kept us happy and having fun! She's incredibly responsive via email, very reasonably priced, super quick with photo turnaround, and a total delight to work with. 11/10!

Adrienne G.

Married on 09/03/2022

Hire Rachel!!

Rachel is everything you could ever want in a photographer - she's kind, she listens, she makes you laugh to make you forget about the camera, she's goofy for the kiddos, she gives directions when you need it and somehow, she gets every picture you want in the time allotted. Rachel even went above and beyond to help us get those amazing golden hour pictures. On top of it all, Rachel's talent is clear in her pictures - she makes 2 very in photogenic people look like models. Rachel and her team are amazing - don't hesitate to book her asap!

Dennis S.

Married on 04/30/2022

Perfect piece for our big day

Absolutely perfect person for our day. On your wedding day, there is always things that happen, added stressors, late arrivals, family dramas, vendor/venue issues, and if you go with Rachel, you won't have to worry about that with her. She was cool headed and a calming presence in a chaos, she was more than just a photographer for us, she was a huge reason our day went so well. She was prompt, precise, but lead us with a gentle hand. I 100 percent recommend her for any event!

Kathleen T.

Married on 03/19/2022

10/10 Experience!

Rachel was recommended to us through our wedding coordinator who has worked with her in the past. My husband and I first met Rachel for our engagement shoot and we were immediately impressed with her warmth and professionalism. Our engagement and wedding photos turned out absolutely incredible and we would highly recommend her to anyone who is in need of a photographer!

Gloria S.

Married on 03/05/2022

Beautiful pictures!

Rachel captured our wedding perfectly! It was beautiful and elegant and reflected in the pictures. We have hundreds of pictures we love. Both my husband and I loved how we looked. We would use Rachel again and recommend her for your wedding.

Catherine K.

Married on 11/12/2021

Rachel Smith Photography is AMAZING!

Wow, we just got our wedding highlights back and Rachel's photographs are stunning. She captured our special day, personalities, and love perfectly. She was so friendly and professional to work with. I would recommend Rachel Smith Photography to anyone in the Baltimore area. I can't wait to order prints and albums from her! She truly made our day magical!

+ 3

photos

Tina

Married on 11/12/2021

Amazing and Breathtaking

I am obsessed with capturing life experiences with pictures. They last a lifetime and are cherished by everyone. As the MOG, I was so excited to see the end results of this awesome wedding day. I was breathless when I viewed all the wonderful pictures. Rachel Smith Photography is the best, hands down. They were so organized, professional, knew exactly what we wanted and captured every precious moment. And, our fast and quality results are priceless. I can't thank you enough. Look no further when needing photography.

Ben P.

Married on 09/05/2021

The perfect fit for us

Rachel is an amazing talent and wonderful partner to work with. She has a great eye for creating the perfect shot, and this was consistent in all of the photos she did for our event (engagement and wedding). Beyond her talent as a photographer, Rachel operated as a seasoned professional and was a great communicator throughout the process. We knew we were in great hands with her and would highly recommend her services to future couples.

Cathi R.

Married on 09/04/2021

Rachel Smith Photography

We loved Rachel!! She did our engagement pics and was our main photographer for our wedding. I even plan to use her for my maternity pics!

+ 9

photos

Ashish H.

Married on 07/03/2021

Rachel Smith is AMAZING!! Highly recommend!

Rachel was so wonderful to work with!! She made me feel at ease in front of the camera (never been really good with pictures) from our engagement photoshoot and all the way through to our wedding! I can't thank her enough for all of her amazing pictures and beautiful moments that she was able to capture with me & my wife and our family & guests.

+ 8

photos

Tiffany N.

Married on 07/03/2021

Excellent Shots

Rachel is an excellent photographer. She created amazing shots for our wedding and captured every moment. Highly recommend her!

Emily

Married on 07/03/2021

Incredible Photographer!!

Rachel Smith Photography was absolutely amazing. We had Rachel for our engagement photos and rehearsal dinner, and then we hired a second photographer through her for the ceremony and reception. My priority for our wedding, besides getting married to my wonderful husband, was beautiful pictures and she delivered in spades! She was communicative, professional, easy to work with both over email and in person, and made us feel so comfortable and like ourselves in the series of photos that can often start to feel overly posed or forced. I emailed her my favorite poses (and least favorites) from our engagement shoot and she made sure we got lots of photos in our favorite poses for the wedding day! Everything turned out *stunning*! We even had a few minutes of light rain transitioning from our ceremony to reception and she asked if we wanted to get a rain shot and we did- it's one of our favorite photos! The way she captured light was beautiful, and she did an incredible job lighting both of us even with very different complexions. I could not recommend her enough!!

+ 3

photos

Betty K.

Married on 06/05/2021

Incredible service, amazing photos

Rachel photographed our wedding this past June (2021) and she was awesome from the pre-wedding prep up through the big day! We had an introductory call via FaceTime to get to know her a bit and decided she was the right fit for us. She was very thorough in her pre-wedding prep and she was so organized, friendly, easy to work with and professional on our wedding day. Our family all commented on how efficient she was and how she really blended into the background during the important moments. We loved her style - a perfect mix of candid/natural moments and a few posed portraits. We prefer a more natural, bright look and Rachel really achieves that. Our photos came out absolutely gorgeous and everyone who sees them tells us so. Thank you Rachel for helping us capture memories that we'll have forever!

Alec P.

Married on 05/23/2021

Rachel Was Right

My wife Rachel, a known blinker, was so pleased by how her best friend's wedding photos that she insisted on having Rachel Smith photograph our wedding. This was easily the best decision we made in the wedding planning process.

Rachel Smith is an absolute professional that I cannot say enough kind words about. She went above and beyond with us, helping us craft our best wedding possible. With her help we were able to create a wedding timeline that ensured we got the photos we wanted whilst able to enjoy our wedding day. Her photo style will last the test of time and we have already hired her for other photo stories and will continue to do so. Rachel understands the importance in having a good relationship with the couple. Your comfort and confidence in her comes through in the photos.

While planning a wedding can be stressful, you can rest easy knowing you booked Rachel Smith.

Karen K.

Married on 05/08/2021

Can not recommend enough!!

Working with Rachel was a dream! She was attentive, flexible, and clearly had tons of previous experience. My now husband and I decided to move our larger celebration to 2022, but still had a small ceremony in 2021. Rachel was understanding and easy to work with in terms of coordinating details and deposits for both events. She was great with the timeline of the day and helping us stay organized. And let's not forget how AMAZING her work is! Seven months later, we still haven't decided which photos to put on canvases because we love them all so much! If you are trying to decide on a photographer, stop right now and book her. She is phenomenal and you won't regret working with her!

Brian K.

Married on 05/08/2021

Absolutely Phenomenal

Goes above and beyond what can be expected of anyone. Provides amazing pictures and is super attentive and wonderful to work with. Would continue to work with her again in the future for any photos needed long beyond our wedding.

Elizabeth B.

Married on 04/24/2021

Rachel is the Absolute Best!!

I first met Rachel when she photographed my best friend's wedding, and we loved working with her for both our engagement photos and our wedding! Rachel's photos are absolutely gorgeous and captured our personalities perfectly. Most importantly, she makes the entire experience fun and stress free! She is a true professional and tackled all our crazy family photo requests like a champ.

Sonia V.

Married on 12/27/2020

Amazing and best out there

Rachel was incredible. We did our engagement shoot as part of our package with Rachel, and then she shot our small wedding (and she will do our postponed wedding next September). I was so stressed the day of the small wedding and she calmed me down and was so flexible when I was running around busy. She also helped me STEAM MY DRESS which is well above and beyond the job description. I do not ever like photos of myself and I was not super excited about wedding photos and I was SO THRILLED with Rachel's work. My husband was so comfortable and relaxed as well. She captured the amazing shots we requested, along with awesome candids, and found the coolest angles to take photos from. She was invisible too. We never felt like we were being photographed and it was only a 12 person wedding (so it was easy to notice any extra people). I am beyond thrilled with Rachel and will continue to use her for when our family continues to grow. We had children in the wedding and she somehow got them to smile and look at the camera also. She's A GEM.

Rachel L.

Married on 10/18/2020

Amazing experience with Rachel Smith Photography

Rachel photographed our DC micro-wedding in October 2020 and we couldn't be happier with our photos and experience working with Rachel. My older sister worked with Rachel for her wedding in 2019, and as soon as I got engaged my husband and I knew we wanted her to photograph our wedding. We never did an official engagement shoot, so Rachel made sure we had extra time for couples pictures and was great at directing us. She's a pleasure to be around and was a very welcome presence on our wedding day. I absolutely recommend Rachel!

Dj Stalter

Married on 10/17/2020

Very professional and relaxed

My fiancé and I never had pictures taken together professionally, and our engagement session with Rachel was our first time. We had a little bit of the jitters as this was our first time, but Rachel made it so relaxed and was so easy and wonderful to work with. We absolutely loved our pictures and will cherish them for years to come. Unfortunately the pandemic caused rescheduling for our wedding and Rachel was already booked, but she was more than willing to help us find a replacement if needed. Rachel is talented and a joy to work with. Thank you Rachel!!

Katie H.

Married on 10/08/2020

The best!

If you're looking for a top notch wedding photographer, look no further – Rachel is extraordinary in every way! Her photography certainly speaks for itself – she is incredibly talented at what she does. Rachel captured every special moment of our big day, including details I didn't even notice at the time. We absolutely loved our engagement and wedding pictures (as did our family and friends). Not only is her work amazing but Rachel is the perfect person to have around on your wedding day – she is flexible, kind, energetic, organized, creative, professional, and the list goes on. Rachel certainly exceeded our expectations – on our wedding day, she was there longer than she needed to be and helped in ways that went above and beyond perfectly capturing the day. We will cherish the stunning photographs and memories she captured for years to come. Thank you, Rachel!

+ 5

photos

Brittany E.

Married on 10/03/2020

Amazing photographer!

Rachel has been the absolute best throughout our wedding experience! From our first point of contact to our engagement photos to our wedding ceremony, Rachel has been professional, personable and more than accommodating to our needs. Our dream wedding day did not happen as envisioned but we still feel that we had a dream wedding! Rachel was very organized and even remembered the names of our guests! Rachel captured moments that we did not anticipate on our wedding day, our favorite being an impromptu first dance in the streets of Fells Point. My husband proposed to me on the rooftop of our home and Rachel made it a point to incorporate our rooftop in our wedding photos. She found a way to capture all of our 23 guests without feeling like she was even there. We are so blessed to have these memories of our special day. We can't wait for Rachel to be part of our Wedding Part 2 next year and look forward to having Rachel capture moments as our family grows. Rachel is definitely a keeper!
Are you interested?
Send a message