189 Reviews
Recommended by 100% of couples
Quality of service

5 out of 5 rating

Average response time

5 out of 5 rating

Professionalism

5 out of 5 rating

Value

5 out of 5 rating

Flexibility

5 out of 5 rating
38 User photos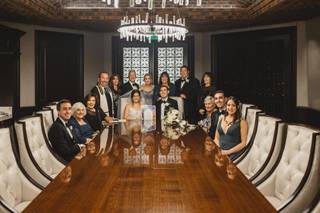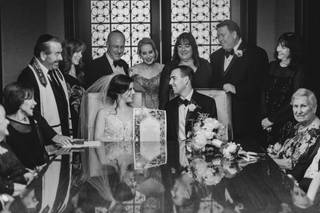 + 34

photos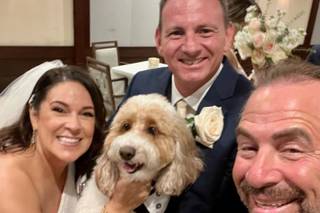 Featured

Jennifer

Married on 03/28/2020

Look no further, Rabbi Kaplan is hands down the best!!!

I had the pleasure of seeing Rabbi Kaplan in action at 2 different weddings before I myself was engaged. One of the wedding ceremonies even had both the rabbi and a priest officiating the ceremony. I can't say I've ever gone to a wedding and left thinking about how great the rabbi was until I witnessed Rabbi Kaplan in action. At both weddings he effortless came across as charismatic, funny, laid back, and I knew I wanted him for my own wedding ceremony. We are not religious at all so we did not want a very religious or traditional ceremony and Rabbi Kaplan had no problem personalizing the ceremony to best reflect us as a couple. We originally booked Rabbi Kaplan to officiate our wedding on Saturday March 28th, 2020 however due to the coronavirus pandemic everything shut down 2 weeks before our date we had to move the wedding date to November 6th, 2020 (a Friday). I was worried that Rabbi Kaplan would not be able to provide his services now that the wedding was on a Friday evening (Shabbat) but he told us that since we were going through so much rescheduling the event and trying to coordinate with all the vendors to find a new date that worked for everyone, he was willing to make an exception and still be the officiant for our wedding despite it being on a Friday before sundown. He also helped us immensely when we were having difficulty obtaining our marriage license due to limited available appointments at our local courthouses (no walk ins allowed). On the day of our wedding Rabbi Kaplan was so warm and welcoming and his demeanor instantly made all the guests (and the groom and I) so comfortable and relaxed. Multiple guests came up to me after the service raving about how personable and down to earth our rabbi was. In all honesty he rocked our wedding ceremony! We could not be happier with how smooth and effortless he made everything feel. Hiring Rabbi Kaplan to officiate our wedding was hands down one of the easiest and best decisions we made throughout the entire wedding planning process. I have yet to see anyone do a better job than him. With all the decisions that need to be made in the wedding planning process, this is one that is a no-brainer. Do yourself a favor and book Rabbi Kaplan for your wedding ASAP!!! There is no possible way you will be disappointed!!

Samantha H.

Getting married on 03/04/2023

Best officiant

Rabbi Kaplan did an absolutely amazing job officiating our wedding! We were both so lucky to have found him, it was such a special and meaningful ceremony! We could not have been happier with everything he did for us during the ceremony, it was so beautiful and personable with a touch of humor! We will definitely be recommending him for all future weddings!

Emily L.

Married on 11/26/2022

Highly Recommend

Rabbi Kaplan is wonderful! My husband and I are to fortunate to have had him as our officiant. He made our ceremony personal and special. He made our ceremony exactly how we wanted it and answered all of our questions along the way. He created a beautiful ketubah for us, also. I would highly recommend Rabbi Kaplan.

Are you interested?

Send a message

Ed Isaack

Married on 11/25/2022

Isaack-Anchondo Wedding

Rabbi Kaplan captured the true essence for what we were looking for in a wedding officiant. Ours was an Interfaith wedding. Jonathan was attentive to all the details we wanted to capture during the ceremony. We are extremely happy with the overall outcome. We highly recommend his officiant services for your specific type of wedding.

Max B.

Married on 11/12/2022

Rabbi Kaplan is the best!

Rabbi Kaplan made our wedding a huge success! We had a couple calls with him beforehand, where he instantly provided all the information we need and really got to know our backgrounds and personalities. On the day of, he made us feel calm and relaxed even though it was such an emotional moment in our lives. He's super helpful, funny, and goes the extra mile to make your big day the best it can be. He had the perfect balance between humor and sincerity in our ceremony. We can't recommend him enough!

Lauren G.

Married on 11/11/2022

Wonderful Experience

We were so thrilled with our ceremony by Rabbi Kaplan! He was so warm and welcoming to everyone. He made our ceremony feel so personal. He explains the significance behind every prayer and every ritual so guests feel included. He is such a genuine, wonderful person. Everyone loved our ceremony! Highly recommend Rabbi Kaplan.

Lindsay S.

Married on 11/03/2022

Highly Recommend!!!

Our wedding was a mix of Protestant and Jewish. Rabbi Kaplan was able to let both religions share in the experience by explaining traditions. Every person said how amazing he was. Not only that he was communicative, answered questions for us prior, and made the process so smooth. We were blessed to have him apart of our day!

Jonathan B.

Married on 10/19/2022

Perfect Officiant and Advisor

My finance (now wife) and I have a place in Singer Island Florida (long story but over many years visiting Florida we found our Hydra) and wanted to get married there. As this was our second wedding for each of us and we both have large families we wanted to get married on our beach. We did not want to have an event but we wanted something to share with the family so they could enjoy virtually (and so we would make a memory for generations to come). As such, the wedding canopy and video were the key items. But even more essential was my need for an officiant - I am Jewish my wife is not but she is familiar with Jewish events. We were blessed to find our officiant, Rabbi Jonathan Kaplan, from a West Palm Beach wedding guide web page list (both his first and last names caught our fancy) and we have never been so happy to give him a rave review. He was perfect, organized, joyful, full of meaning, understanding our unique story, what more could you ask for. But indeed we ALSO got a bonus as knowing nothing about Palm Beach weddings, Rabbi Kaplan also recommended both the video and design teams: Timeline Video, see its positive review and Events, see their positive review the best around., which Rabbi Kaplan correctly told me were the best around. All in all the event was perfect, thank you Rabbi Kaplan. If you need a caring, committed, compassionate officiant that will make your event personal and unique, go to Rabbi Kaplan!

Yarden C.

Married on 10/09/2022

Highly recommend Rabbi Kaplan!!!!

Rabbi Kaplan was flexible and informative as we worked together to build a ceremony filled with both Jewish traditions and our unique touch. He let us shine while also adding an important calming and meaningful presence. He also added in a beautiful Ketubah. We highly recommended Rabbi Kaplan!!!

Fanny S.

Married on 08/19/2022

Wonderful ceremony thanks to Rabbi Kaplan

Having a good Rabbi was very important to us as we believe the Rabbi's level of officiating really dictates the overall impression guests take away from a ceremony and we were so glad that Rabbi Kaplan was available to officiate our wedding. We knew he was very highly rated and hard to book and ultimately he was just as advertised. He was super easy to work with and he made the entire process before and during the wedding very joyful and seamless for us. He really took the time to guide us through each step and more importantly he really took effort in getting to know us. He ended up curating a personalized ceremony for us which was perfect and it resulted in a beautiful ceremony. We are forever thankful to Rabbi Kaplan and we are so happy we had him officiate our special day!

Gregory S.

Married on 07/31/2022

Perfect wedding experience!

Rabbi Kaplan couldn't have done a better job at our wedding. Everything leading up to the wedding went so smoothly as he was very communicative throughout our engagement and really took the time to get to know us in order to make our wedding ceremony unique and special. Rabbi Kaplan was so well prepared and organized, he did a fantastic job making us feel very comfortable under the chuppah. We laughed and really enjoyed his thoughtful words during the ceremony. Thank you Rabbi for this unforgettable experience!!

Amanda W.

Married on 07/17/2022

Rabbi JK is amazing!

Rabbi Kaplan helped facilitate our interfaith marriage. He was extremely understanding of both cultures and made sure to incorporate as much of the Jewish marriage ceremony components that we requested. He translated the Hebrew and explained the Jewish traditions to those who were unfamiliar. Highly recommend for interfaith and Jewish marriages. He has a great personality and meets with you before the big day to go over the ceremony and makes sure your requests are heard.

Lauren C.

Married on 04/03/2022

Wonderful Wedding Experience!

We highly recommend Rabbi Kaplan. He did a wonderful job at our wedding. We received so many compliments from our guests about it being the best Jewish wedding ceremony they have ever been to because of Rabbi Kaplan. Planning for your ceremony can be stressful, but Rabbi Kaplan made it so easy throughout the planning process as well as helping to keep you relaxed during the ceremony. Thank you, Rabbi!

Sarah G.

Married on 02/10/2022

Made our wedding day very special!

Rabbi Kaplan is warm and charismatic. He easily related to us and understood our vibe/ vision for the ceremony. He helped make our wedding day so special and we felt so fortunate to have him be our officiant.

Marisa Z.

Married on 11/07/2021

Amazing experience!

Rabbi Kaplan is awesome! He made our process so easy for both my husband and I. He did both weddings we had covid and regular ceremony. He listened to all my questions and made it such a wonderful and comfortable experience. He was always available for any questions and also help me get through my ceremony nerves! Best Rabbi around!!

Samantha G.

Married on 10/16/2021

Rabbi Kaplan is truly a gem!

My husband and I cannot praise or thank Rabbi Kaplan enough for officiating our wedding. He performed such a beautiful ceremony and we could not be happier. From the moment we sat down with him, he was so friendly and warm and made us feel so comfortable. He made the process so easy for us as he guided us through the entire thing step by step. So many of our family members and guests commented on how amazing he was. I would 100% recommended anyone to have Rabbi Kaplan be a part of your special day.

Paul M.

Married on 10/10/2021

outstanding and memorable

our october 10 2021 wedding ceremony could not be any better, Rabbi Kaplan is warm understanding and very professional, Everyone attending shared their views that the Rabbi was outstanding,

Erin G.

Married on 05/21/2021

Rabbi Kaplan is amazing.

Rabbi Kaplan has a wonderful personality and is extremely friendly and charming. He was there for us every step of the way through our wedding and answered all of the questions I had so that I would feel comfortable and content on my special day. He is a one of a kind Rabbi and person and made sure that everyone felt welcomed and included during our ceremony. His upbeat personality made our ceremony special and I would highly recommend him to anyone looking for someone to make your wedding day that much more special.

Gabrielle

Married on 05/20/2021

The most incredible Rabbi!

Rabbi Kaplan officiated our wedding at The Addison in Boca Raton, Florida. We cannot thank him enough for performing the most beautiful and inclusive interfaith wedding for us! From the moment we met Rabbi Kaplan, we felt comfortable with him. He is incredibly kind, personable, and truly takes the time to get to know you as a couple. Considering that many of our guests were not Jewish, he did a beautiful job in explaining the meaning behind the Jewish traditions and in making our guests feel so welcomed and included. Our guests absolutely loved him and have had nothing but wonderful things to say! He truly is one of a kind. We would highly recommend him to anyone looking for an unforgettable wedding ceremony!

Rhonda S.

Married on 03/21/2021

Looking for a great Rabbi?

Rabbi Kaplan is extremely personable, experienced, charming, funny, and very good with the latest technology. All of our Zoom guests remarked about how much they enjoyed the ceremony which was all due to Rabbi Kaplan. Prior to our wedding, he made sure to get to know us which enabled him to personalize the ceremony. We would highly recommend him. If you are looking for a Rabbi, don't hesitate to hire Rabbi Jonathan Kaplan. You won't be sorry!

Melissa M.

Married on 03/06/2021

Rabbi to the Rescue

Rabbi Kaplan was amazing! He made my non-Jewish husband and family feel extremely comfortable as he made sure to explain all of the Hebrew into English. We were so grateful that he was available for our wedding day and would recommend him to any bride to be.

Melissa E.

Married on 01/01/2021

The best Rabbi

Rabbi Kaplan was so amazing! My husband is Catholic and I am Jewish and he performed such a beautiful and inclusive interfaith wedding for us! My husbands family was worried at first when we told them we hired a Rabbi to marry us, but following the wedding ceremony they could not stop talking about how great he was! He explained everything that was incorporated into our wedding that those who are not Jewish would not typically understand right off the bat. He was amazing and I totally recommended to anyone looking!

Lisa K.

Married on 11/21/2020

The Best Experience

Rabbi Kaplan was wonderful and sweet. I was so happy choosing him as our officiant.
His explanation of Jewish tradition for non Jews at our wedding was exemplary. He has a great energy about him and contagious smile.

Yuliya V.

Married on 07/26/2020

Loved working with Rabbi Kaplan!

We cannot thank and recommend Rabbi Kaplan enough for performing such a beautiful, meaningful and personalized ceremony! We got married on 7/26 and had a small interfaith wedding. I am Jewish but my husband and his family are not. Since we first met, we automatically felt a connection and we both felt so comfortable with him! He made the ceremony personal to us and our different backgrounds. He even did a special prayer for my husband's father who passed away a couple of years ago. All of the guests from different backgrounds and religions had wonderful things to say about him. He made the ceremony fun and interesting. Everyone was talking about the ceremony the next day. He said something along the lines that during a time like this, we must cherish every moment and live life to the fullest. That is something that was definitely remembered! We loved every moment! Thank you Rabbi Kaplan!

Elana G.

Married on 07/19/2020

Rabbi Kaplan is the best!

We can't praise and thank Rabbi Kaplan enough. He was kind, friendly, personable and beyond accommodating. He performed a beautiful ceremony and we could not be happier. You can't go wrong with Rabbi Kaplan, he is the best!
Are you interested?
Send a message