127 Reviews
Recommended by 100% of couples
Quality of service

5 out of 5 rating

Average response time

5 out of 5 rating

Professionalism

5 out of 5 rating

Value

5 out of 5 rating

Flexibility

5 out of 5 rating
12 User photos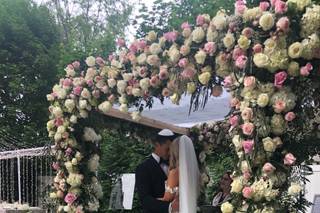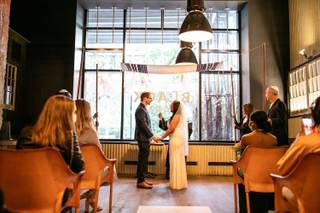 + 8

photos
Featured

Amanda G.

Married on 11/02/2019

Great experience !

Rabbi Andrea was so helpful during the whole planning experience and laid out things to make a very overwhelming time stress free and fun. The relationship continued past our wedding and 3 years later was the rabbi for our daughters baby naming.

Cheryl B.

Married on 01/21/2023

Best Rabbi Ever!

Rabbi Andrea was AMAZING! She made our wedding ceremony so warm, personal, and special. Everyone absolutely loved her and her energy. We are so happy we met her and were able to use her. She is also great at keeping in touch with all of her couples even after the wedding!

Chynna S.

Married on 10/22/2022

Hire rabbi andrea - the jewish wedding rabbi

Rabbi Andrea made our entire process SO SO seamless and easy, most importantly enjoyable! She really takes the time to get to know her couples and it was definitely apparent in our very personalized ceremony. All of our friends and family commented on how incredible she was and that it wasn't just another cookie cutter, plug & play ceremony. She is also VERY knowledgeable on all things Jewish Wedding Ceremonies and ensured that our ceremony went off without a hitch. My family has now used her for 2 weddings and 2 baby namings and are delighted to have her a part of our family!

Are you interested?

Send a message

Faye S.

Married on 09/10/2022

One of a kind!

What can I say – Rabbi Andrea is truly one of a kind. My older daughter found Rabbi Andrea last minute in 2015 when their officiant fell through. From the moment I met Rabbi Andrea 7 years ago, I felt instantly connected and knew we had to fly her out to California for my younger daughters wedding this past September 2022. Her whole approach to the ceremony is extremely personalized and she takes the time to get to know not only the couple, but the families involved. After both of my daughter's weddings I received so many compliments on the ceremony. She truly makes everyone feel comfortable and infuses fun and exactly what the couple wants. Rabbi Andrea has become part of our family and we can't wait to continue our relationship for future Simcha's.

Stefanie T.

Married on 07/02/2022

Hire Rabbi Andrea!

The officiant is a massive part of any wedding, and we could not be any happier with having Rabbi Andrea. My husband and I truly believe that we had the best ceremony we've ever been to, and the fact that it was ours is so special! Rabbi Andrea made it so personal and guided us in the right direction the entire way, starting almost a year in advance with sessions to get to know us. That made it seamless the day of. I would recommend Rabbi Andrea to all my friends and family!

Brooke S.

Married on 04/30/2022

Couldn't have gone better!!

We are SO happy we discovered Rabbi Andrea Frank for our wedding ceremony. She was very helpful, efficient, and was so flexible with how we wanted our ceremony to go. She took the time to listen to our concerns and what we wanted vs. didn't want. She took the time to truly get to know us as individuals and as a couple to be sure that she could make the wedding ceremony as personable as possible. I will admit, we were anxious about hiring a Rabbi that we found on the internet, but, if you are looking for a Rabbi that will perform a heartfelt ceremony, as if she has known you forever, then you should book Rabbi Andrea. We can't recommend her enough!! She even made our Ketubah signing special. Everyone was talking about how much they loved our ceremony. BOOK HER!!

Torie L.

Married on 04/02/2022

Wonderful experience!

Rabbi Andrea Frank did a fantastic job from start to finish! She was very patient with us and did an amazing job clearly explaining each of the components we could have for our Jewish wedding. She is also very flexible when there were some traditions we wanted to do, but wanted to modify slightly. Rabbi Andrea is very organized and keeps track of everything (and follows up to make sure you don't forget to order/get anything!). The day of the wedding, she spoke so eloquently and did such a wonderful job. We had so many compliments! 10/10 recommend!

Noelle M.

Married on 12/05/2021

Wonderful Rabbi

We found Rabbi Andrea on Wedding Wire and all of the glowing reviews we read were completely accurate. Rabbi Andrea was a pleasure to plan our wedding ceremony with, we felt like she really got to know us on a personal level and we got so many compliments about her and our ceremony after the wedding. I should also mention that we were a typical Covid wedding couple who had to switch dates and venues multiples times and throughout all of the stress, Rabbi Andrea was a calming presence and was always incredibly flexible with us. We wanted a religious ceremony that also felt inclusive to our many guests who were not Jewish, and Rabbi Frank did a wonderful job of explaining all the customs we incorporated into our ceremony in a way that helped everyone understand the meaning behind them rather than feeling lost/bored. We also enjoyed how organized and professional she was - her check-lists and dry run of our ceremony helped us feel prepared the day of the wedding and also allowed us to be more in the moment during the actual ceremony. We would 100% recommend her to anyone looking for a wedding rabbi - it is obvious that she has a special talent in officiating Jewish life-cycle events, as she helped us navigate what could have been a stressful and daunting aspect of wedding planning with professionalism and ease.

Christina W.

Married on 09/18/2021

Last-minute? Yes! Truly the best, YES!!!

I reached out to Rabbi Andrea about 5 days before my wedding, since the Rabbi who was supposed to officiate our wedding went MIA. I was really upset. So out of desperation, I started my search online and I was so grateful that I found Rabbi Andrea.

She was extremely responsive (responded to my request in just a couple of hours) and showed a lot of understanding of my situation. More importantly, she was willing to work with us to get things done within an extremely narrow window (2 days before Yom Kippur).

My husband and I are an interfaith couple, so Rabbi Andrea arranged a thorough walk-through for us to ensure we can customize our ceremony and honor each other's religious/cultural preferences. During the nearly 4h Zoom call, she explained everything that will happen on the wedding day and provided essential religious/cultural explanations to ease the digestion. Understanding all the meanings behind everything made the whole ceremony even more meaningful.

After that, Rabbi Andrea also shared a list of questions to guide us, so we can share our thoughts and perspectives about marriage, love, and our future with her. Not only she reviewed all of them but also ensured that the highlights were extracted to further customize our ceremony. Rabbi Andrea also went above and beyond to help us with the preparation, from where to buy Kosher wine to how to properly stamp on the breakable glass. She left leave no stone unturned.

On the wedding day, Rabbi Andrea showed up 2h before the ceremony with such a calming smile on her face. She joined us for the rehearsal and helped us to complete the ketubah signing. Everything was really well prepared and went smoothly.

Thanks to Rabbi Andrea, we had such a beautiful ceremony. There were many times that my husband and I were tearful and deeply touched. I had no doubt that I married the man that I love with all the blessings. Our family members were very impressed by the ceremony, and we received so many compliments from the guests.

Rabbi Andrea and I are still in touch and I'm sure our communication will continue. She is just truly amazing, and I can't appreciate her help enough.

Michael D.

Married on 08/29/2021

Above and beyond!

My bride and I started planning this wedding with Rabbi Andrea Frank well before the pandemic. Once things got put on pause, it would've been easy for Rabbi Andrea to put us on hold. Instead, she was right there with us, keeping us hopeful and excited for the day we could have our wedding again. Rabbi Andrea has a wonderful sense of humor and a personalized touch that makes the big day feel that much more special! Highly Recommend!

Thanks Rabbi Andrea!
Michael and Rachel


Allison

Married on 06/12/2021

Rabbi Andrea is the BEST!

Rabbi Andrea made our ceremony incredible. She worked with us for months before the wedding to tailor the ceremony to exactly what we wanted. She is so kind and funny- everyone loves her! She feels like a a friend right from the minute you meet her. I cannot recommend her enough.

Mr Hospitality

Married on 06/10/2021

Friendly & Professional!

#LoveIsNotCancelled! What a year it's been - it was so lovely to have Rabbi Andrea officiate our microwedding. The ceremony was heartwarming to witness and she made the couple's day so special. She's charismatic and professional, and we hope to see her soon! We'd be happy to recommend Rabbi Andrea for our upcoming Jewish wedding ceremonies.

- MR HOSPITALITY (NYC Wedding Planner)

Natalie H.

Married on 05/01/2021

Best Rabbi Ever

When I spoke to Rabbi Andrea for the first time, I knew we found the perfect person to marry us. She is warm, funny, and so easy to speak to. Because of COVID our conversations were via FaceTime, phone calls, and emails. She was flexible when our wedding plans changed twice along the way and was so supportive of all our decisions. When wedding planning became a challenge, she went checked in on us and offered to help any way she could. She helped us draft our Ketubah multiple times, reviewed each part of our wedding ceremony including different options to choose depending on whether or not we wanted to go a traditional or more Americanized route, and did a run through so we'd know what to expect on the day of. We enjoyed speaking with Rabbi Andrea so much that we didn't even notice we had FaceTimed for 2 and one night 3 hours. Just pure laughs and story telling. It was so clear to us that she wanted to get to know us and it showed when she spoke about us in such intimate and personal ways during our ceremony. Our Ketubah signing and ceremony was warm, intimate, and funny! We had time during the Ketubah signing and ceremony to take in the magical moment we were living and are so appreciative of that. Our families enjoyed the ceremony and described it as being the perfect blend of, emotional, beautiful and funny. And of course we were asked how we found such a great Rabbi and it was here on Wedding Wire!! We are so thankful we met Rabbi Andrea and look forward to celebrating more milestones together in the future!!

+ 3

photos

Ellen W.

Married on 10/18/2020

Amazing Experience!

Rabbi Andrea went above and beyond to ensure my son's wedding was perfect! Even on very short notice, she met virtually with the couple and personalized their wedding. She was always available for questions, and made the wedding warm and welcoming. Highly recommend!

Ashley S.

Married on 10/03/2020

Wedding Daver

Rabbi Andrea is funny, sweet, and reliable. She will always be remembered as an instrumental part of our ceremony. She took the time to get to know us spiritually and personally to create a wedding with a deep connection to who we are not only as Jewish people but individuals. She coordinated with our wedding planner seamlessly and when out ketubah got lost in the mail and we thought all hope was lost she created one for us the day before the ceremony . I cannot say enough nice things about this woman. If you book with her you are going to have an amazing ceremony that people will remember for a lifetime.

Rachel L.

Married on 08/30/2020

Rabbi Andrea is the BEST!

Rabbi Andrea truly went above and beyond to make our wedding day so special! We are still in awe of the beautiful pre-ceremony and ceremony she created for us. Despite these crazy times, she was extremely flexible and kind throughout the entire process. Rabbi Andrea took her time to get to know us and add beautiful personal touches to our ceremony. We are so thankful for the warm, unforgettable, intimate, and overall amazing wedding day she helped us create!

Michael T.

Married on 06/07/2020

Perfect experience

It is not often that you find in one person an incredible combination of warmth, friendliness, genuine interest in you as a couple and in depth knowledge of Jewish culture. Rabbi Andrea has it all. We were very happy and impressed with Rabbi Andrea from the time of our first contact and up to the wedding. She created a customized ceremony and included our close family members given each a special task. Do not look any further. Rabbi Andrea will help you create the most memorable and personal experience.

Mike M.

Married on 10/12/2019

Friendly, profressional, and communicative

Rabbi Andrea was always communicative and made the process very smooth and simple. Her online checklist was helpful for organizing things to do to make the wedding happen.

Meryl

Married on 09/21/2019

Friendly and Available

Rabbi Andrea was always available to talk about the ceremony. She met with the couple a few times before the wedding to get to know them. This made the ceremony very personal, and special. During the ceremony she chanted some of the prayers, which was lovely. After the ceremony, friends commented on how well she conducted the service. We were very pleased.

K Globus

Married on 09/20/2019

Wonderful Rabbi!

Rabbi Andrea is so wonderful! She blessed our son during his baby naming ceremony and we didn't hesitate to have her back for our wedding. We had several phone calls and in-person and online meetings (i.e., Skype). She really listens and it showed during the ceremony. We would very highly recommend Rabbi Andrea for your wedding or any special religious occasion!!

J. Friedman

Married on 08/01/2019

Life Event Enthusiest

Rabbi Andrea officiated a life event ceremony for us and we couldn't have been happier with her! She took the time to listen to us and figure out what it was WE wanted and needed, then worked with us to make our ceremony personal, special and memorable.

Lauren U.

Married on 07/21/2019

Rabbi Andrea became our family

Totally organized, caring, excellent at all aspects of your service. Couldn't have asked for more. Helped us to make our wedding even more memorable!

Julie

Married on 09/02/2018

We love Rabbi Andrea!

From the very first interaction, we knew Rabbi Andrea was exactly what we were looking for. We were planning a non-denominational destination wedding in the Caribbean and wanted to have a marriage license and Ketubah signing ceremony in NYC a few weeks before our wedding day. After several Skype, phone call, and in-person meetings, Rabbi Andrea created a customized ceremony that captured the true essence of a Jewish wedding. Rabbi Andrea incorporated a number of spiritual, meaningful, and personal elements to create a ceremony that perfectly complemented our subsequent beach wedding ceremony. On the day of the ceremony, Rabbi Andrea captivated everyone with her warm and generous spirit. I recommend Rabbi Andrea to all couples and am so grateful for everything she's done to make this day memorable and truly magical for us. Thank you Rabbi Andrea!

Mandy

Married on 08/25/2018

We were absolutely floored by the wedding ceremony Rabbi Andrea Frank did for us. It was the most perfect and special ceremony we could have imagined. She did such a fantastic job blending our personalities with the more traditional Jewish aspects. Throughout the ceremony, she made every moment feel special while maintaining the lightness and sense of humor we asked for. She even personalized a prayer for our dog! Everyone was complimenting our officiant, and it was such a wonderful experience getting to know Rabbi Andrea Frank through our wedding meetings and coffees leading up to the big day! I would definitely recommend having Rabbi Andrea be a part of your day!

Emily

Married on 07/14/2018

Rabbi Andrea Frank was wonderful! She was so warm, attentive and a joy to work with! She helped make our dream wedding come true. She really made the ceremony special by customizing it to our needs. She simplified the ceremony gave explainations of Jewish traditions and customs for our guests who had never been to a Jewish ceremony before. We were very happy with her and I highly recommend her to anyone.
Are you interested?
Send a message