Reviews
4.9 out of 5 rating
Quality of service

4.9 out of 5 rating

Average response time

4.9 out of 5 rating

Professionalism

4.9 out of 5 rating

Value

4.9 out of 5 rating

Flexibility

4.9 out of 5 rating
99%
Recommended by couples
1 User photo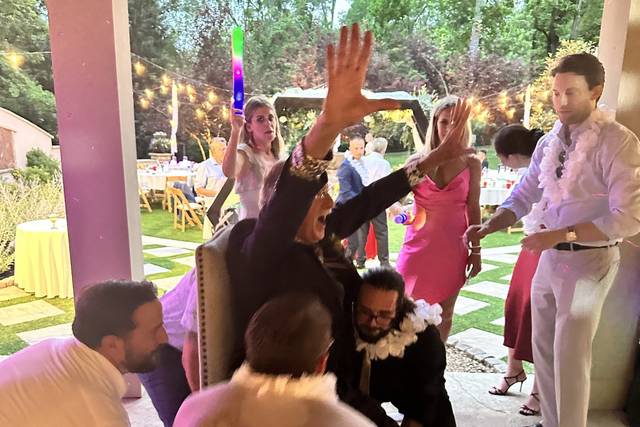 Melody B.

Married on 04/28/2023

Outstanding

Queen City DJ's really helped to make our reception fun! Brad helped to move along the slow spots and kept our friends and family dancing all evening.
He was wonderful to work with.

Abigail B.

Married on 04/08/2023

Amazing All Around!

Queen City DJs is an AMAZING team! They truly thought through every detail & gave us and our guests the most fantastic wedding and reception we could've asked for!! Not only were we thrilled, but so were our guests! The music selection, flow, and energy it created throughout the entire event was perfect!

Abbey C.

Married on 11/19/2022

Kept our dance floor rockin!

Brad absolutely killed it at our wedding reception. If I had to do it all again, he'd be one of my first calls. Totally kept the dance floor rockin'!

Are you interested?

Send a message

Sammy

Married on 11/19/2022

Wedding and Reception

We had Greg and Lisa as our DJs and they certainly did not disappoint! They were easy to work with and had our guests up and dancing from the very first song to the last song of the night! They played music for our ceremony and cocktail hour and helped our night go so smoothly- we did not have to worry about a thing! Lisa even helped bustle my dress before the start of the reception. We were so glad we went with Queen City DJs for our wedding and highly recommend them!

Joelle S.

Married on 08/13/2022

Look No Further! Seriously!

We cannot recommend this company enough! Communication with Brad and Chris (the DJ at our wedding) was wonderful! They listened to our wants and needs and were laid back, yet professional. Now to the actual wedding.... CHRIS CRUSHED IT! He made our reception dreams come true. He had the dancefloor packed from start to finish and people were dancing that I've never seen dance before. He read the room and truly made it a party! I can honestly say that it was so fun I didn't even want to take a bathroom break to miss a minute of it. If you want the dancefloor of your wedding packed, go with Queen City and request Chris!!!

Jourdan V.

Married on 06/04/2022

The perfect DJ experience

Greg and lisa were amazing. They played the exact type of music we wanted and we had the best time. 10/10 would book again

Jacqueline W.

Married on 11/16/2021

Perfect Playlist

Brad and Chris were great to work with start to finish, offering great ideas and being flexible when we had changes. Everyone at our wedding were RAVING about the DJ and how great he was. 10/10 would recommend

Rebekah M.

Married on 11/06/2021

Entertained All Evening!

Greg and Lisa were absolutely amazing! They worked with our Wedding Coordinator and Photographer to make sure everything was timed perfectly and kept our guest entertained all evening!

Elizabeth S.

Married on 10/30/2021

Best videographer in Cincinnati

Have you ever been to a wedding where the DJ literally didn't have to say anything? And, it was AMAZING!! They went above and beyond to make our day fantastic. They worked perfectly with the Videographer and other vendors. BOOK THEM!

Katie S.

Married on 10/30/2021

Fantastic! Able to accommodate any bridal couple!

Wow. Brad did the most amazing job at our 10/30/2021 wedding. My husband and I have rather eccentric taste in music, ranging from punk rock, to classic rock, to Disney, to Broadway musicals. Brad was able to capture all the moments and songs that we wanted, while still ensuring that our guests had an amazing time and had something to dance to. I can't tell you how many guests complimented the music stating, "its like we were singing and dancing in your kitchen all night. So fun and comfortable!" Brad was so incredibly helpful when planning our special day. He asked questions that I had never even though about, that ended up being very beneficial. I would highly recommend Queen City DJ. 10 out of 10!

Adam D.

Married on 10/16/2021

Awesome service!

Queen City DJs helped make our wedding day incredible! They were incredibly easy to work with and communicated very well. They were fairly priced and very honest, they did not try to push us into spending too much money and were respectful of our budget. The music was amazing too! And Chris did a fantastic job of keeping things on track all night. We cannot recommend them enough!

Cassie D.

Married on 08/28/2021

Brad is the best!

We had Brad from Queen City Djs as our sound guy for both our Ceremony and Reception and it was perfection! I was so worried about ceremony timing of songs and my husband was worried about keeping the dance floor packed and Brad could not have done a better job. He met with us to go over all of our details and did everything we asked. We were so thrilled with our choice! Brad is your guy!

Mark K.

Married on 08/21/2021

Amazing, professional service

We worked with Greg and Lisa and they were an amazing team! Everything they provided brought an entire new level to our wedding from the roles they played in the ceremony to the reception! They made everything beyond our wildest dreams! The company was amazing to work with, professional, courtesy, easy to work with from beginning to the end...They were on top of everything and made our day so much more enjoyable! We would recommend them to anyone who asked and to anyone who doesn't ask! Doesn't get any better then Queen City DJs!

Kelsey

Married on 05/22/2021

Highly recommend!

Queen City dj went above and beyond for our special day from planning the whole day on paper to it flowing the day of the ceremony! It was beyond perfect for every single song to our dj chris at the reception keeping the night flowing perfectly! Everyone loved our music selections and requests and made the dance floor packed all night long! Highly recommend! Always a phone call away if there were any issues or questions or song changes which helped stress levels of planning a wedding during covid lol! Please don't miss out on a great DJ!

Allyson

Married on 11/07/2020

For the Bride Who Doesn't Want to Worry

When all of my destination wedding plans were changed because of COVID, we decided on a wedding close to home in Cincinnati. Queen City DJs was on the preferred vendors list for my venue, and being that I was scrambling to replan an entire wedding in 6 weeks, I just went for it! I am SO glad I did.

Brad from Queen City DJs was so easy to work with. DJ services are not something I know about and kind of took the back burner for me. Little did I know what kind of unexpected and amazing experience I would be in for! Brad responded to my inquiry very quickly and made everything easy and understandable with his very user friendly online portal. Then we had our final phone meeting before the big day and he had everything planned out to the last detail. My only job was to upload some song suggestions and/or give him an overall vibe I was trying to accomplish before the day before the wedding...and it wasn't until cocktail hour hit that I realized I forgot to do any of that. Luckily, this is where I was so impressed. There wasn't a single gap in the dance floor for the entire night. We danced until we couldn't dance anymore. Everything was perfect. He has a great intuition when it comes to reading the crowd, playing requests, and helping emcee the evening. I had two people come up to me during the wedding tell me that this is the best DJ they've ever experienced. The best part is that a friend of mind is getting married next year and asked if she could have the playlist that I "gave" my DJ for the reception. I told her, sorry, that was all him!

I'd make the decision to go with Brad and Queen City DJs all over again if I had the choice. I'd recommend them to anyone.

Katie B.

Married on 10/10/2020

Highly recommend Queen City DJs

My husband and I could not have been happier with Queen City DJs! We talked with Brad about our vision and he was able to provide us with the greatest DJ we could have ever asked for. Chris was absolutely amazing! He was always quick to respond to our questions, helped us maneuver through the DJ website, was extremely flexible and met with us during the days and times that worked best for us (as we live out of state), and was just overall fun to work with. He heard our vision and made it come to life. He did a great job managing the ceremony, cocktail hour, and reception. He knew exactly how to make the music flow and everyone had a great time on the dance floor! If you are looking for fun, energetic, and talented DJs, Queen City DJs is it! My husband and I could not be happier and will have fun memories that will last a lifetime!

Lisa

Married on 10/10/2020

Amazing and perfect!

This company was amazing to work with! I recently had a wedding this past October 2020 and I couldn't have asked for a more amazing DJ then Jimmy. Since covid, our venue cancelled on us and we had to make changes. Our original site was set in West Chester Ohio. But with the cancellation we came up with changing location to Sunman Indiana. Quite a different location but Queen City had no problem traveling to the different location. We originally met with Brad, who spoke with us at a bridal show. I was already feeling a bit overwhelmed since our day was a popular one and many companies pretty much told us to pick them now or they will be booked. As soon as I spoke with Brad, he made me feel at ease and said that I had plenty of time to find a DJ. He never made me feel pressure but comforted me and told me even if they were booked, he knew he could give me other references. Brad was also able to help me and my brother splice a song so we could do a choreographed dance! It went perfectly!
On the day, Jimmy was able to set his equipment with ease. The timing was perfect and everything flowed very well! Jimmy made this day amazing and I had no worries or stress, he knew the timing of everything and was on top of it! Couldn't have asked for more!

Ashli T.

Married on 06/20/2020

Highly recommend!

We worked with Greg and Lisa for our postponed wedding reception and they did such a great job! Lisa made sure we had everything we needed for each event throughout the night while Greg played the music. Brad was also very helpful throughout our entire planning process and was willing to work with us when we had to postpone our reception twice due to COVID. Greg came out for our wedding ceremony as well as our reception and we couldn't be more thankful for them making everything so easy for us!

Melissa B.

Married on 06/20/2020

Best DJs Ever!

Words cannot extend my excitement of how well our wedding went this last weekend using Queen City DJ! Brad and Chris were PHENOMENAL! They kept the party bumping, and even in the summer heat the dance floor was packed! They even had Jewish music for the chair lifting ceremony. It was an unbelievable time and I couldn't have asked for more. Wish we could do it all over again, was so sad it went by so quickly! I HIGHLY RECOMMEND them!

Joe H.

Married on 03/14/2020

Cathy and Joe's Wedding/Reception

In choosing a DJ Company for our wedding and reception, we wanted to choose a DJ that was experienced in both band and DJ weddings. WOW! Did we hit the jackpot with Queen City DJs!!!

I met with the owner (Brad), and realized very quickly why Cathy had felt they were a great DJ Company candidate for our wedding. Brad's company has received numerous awards for wedding receptions in the Cincinnati, OH area. Brad has a team of experienced DJs that realize the reception is about the couple, not the DJ being the center of attention.

Then we met with Chris, one of Brad's star DJs. What I didn't know until later was that Chris most likely had more experience than anyone else in the Cincinnati area in doing band/DJ combo weddings/receptions.

Chris and I met again to iron out details for the wedding and reception. We had a lot of fun discussing the various options, music, but more so Chris playing the part of MC while supporting video, music and the entire wedding day.

Simply put, we couldn't have been happier with the support Chris and Queen City DJs played in our wedding day. Save time in your search for a DJ for your special occasion. Go to the professionals where they make the day all about you!


Ellen C.

Married on 01/12/2020

Went above and beyond!

What a great day! Brad went above and beyond! He was a lot of fun and super helpful. I enjoyed working with him throughout the wedding process. I could tell right away he loves what he does and takes it seriously. He even provided the equipment for our ceremony! We would recommend Queen City Djs to anyone! Thanks!

Brian T.

Married on 12/13/2019

Great Husband and Wife DJ team!

I have to say hiring Queen City DJs was the best decision we could have made for our reception. Greg and Lisa took such great care of us during the wedding that we could just relax and be in the moment. Greg held true to our preferred music list, and mixed songs perfectly for every portion of the reception. Sound was on point; not too loud during dinner and keeping the party dancing thru the rest of the night. The up-lighting made a great addition to the venue! Lisa was incredible. From the time we arrived thru the end of the night, Lisa made sure all we had to do was enjoy ourselves. She was our liaison with the reception staff and helped us get thru the evening so seamlessly. This husband and wife team is a must have for your wedding!

Casey S.

Married on 09/21/2019

PERFECT! I have literally no words! It couldn't have gone any better!

Greg & Lisa did a FANTASTIC job at our wedding recently! They played my own music and filled in the spaces and their choices were on point! Everyone was dancing until they packed up and left. Lisa helped so much by coming up to me to let me know what the next thing to do was that was had on the timeline planned. Relieved so much stress from me having to look at my own timeline to make sure everything went smoothly. They did that for me! WAY more than I ever expected let alone from any DJ. I highly recommend! They're super easy to work with and I will def use again if I ever have a party event and need a dj! And I have already recommended to my best friend for her upcoming wedding. Can't wait! Kudos to Greg and Lisa!

Lia V.

Married on 05/11/2019

Dancing all night long!

I highly recommend using QCDJ's for your wedding. Brad was so helpful in helping us plan out the entire day so when it came down to it, we didn't have to think at all. He took care of making sure everything went smoothly and even asked us if we needed anything during dinner like more drinks! Everything about the wedding was perfect and I have Brad to thank for that. I just can't recommend them enough. If you want everyone to stay on the dance floor all night long QCDJ's is the way to go hands down!

Merrick A.

Married on 12/01/2018

Brad from qcdj's - amazing

Brad from QCDJ's was incredible! The night was all about us and he treated us like royalty. All of our friends and family loved the music selection. Stop searching for a DJ for your event - QCDJs is without a doubt the way to go.
Are you interested?
Send a message