101 Reviews
Recommended by 100% of couples
Quality of service

5 out of 5 rating

Average response time

5 out of 5 rating

Professionalism

5 out of 5 rating

Value

5 out of 5 rating

Flexibility

5 out of 5 rating
18 User photos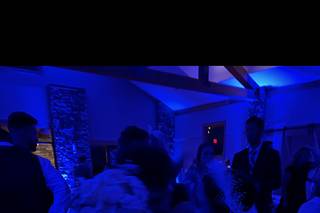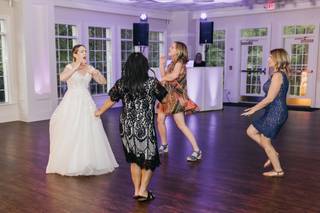 + 14

photos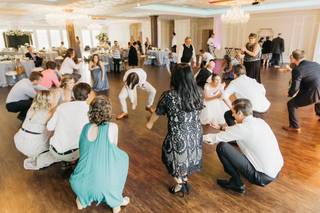 Featured

Alexa M.

Married on 09/22/2021

I was thrilled with Billy's organization, communication, and willingness to make our big day unique to us!

As I began searching for a wedding DJ, I contacted Billy Quesenberry via email. He responded in minutes friendly set up a Zoom call to learn more about my future husband and I as a couple and our big day.

I was thrilled with Billy's organization, communication, and willingness to make our big day unique to us. As our wedding day grew closer, Billy set up two more times for us to Zoom where we went through the website and documents he created for us to ensure our day was outlined and just the way we wanted it.

The day of our wedding I was 100% worry free because of Billy. I felt relieved to know that he was keeping us on our timeline and also orchestrating the fun for guests!

Our families LOVED the lighting, music, and environment Billy provided. After our wedding, we had family and friends texting us and calling us telling us how much they loved our DJ! I was happy to share Q It Up's name and contact information.

Two weeks after our wedding, Billy sent us an incredible surprise that truly made our wedding memories last a lifetime. We are incredibly grateful for this wonderful experience with Billy. If you or someone you know needs a DJ, this is the guy for you!

Kristen F.

Married on 10/22/2022

Great Experience!

DJ Q It Up (Billy) was so wonderful and easy to work with. He is very detailed in the planning process, which ultimately reflects on how smooth the event went. He played music for both my ceremony and reception, both of which went on without a single issue. He kept the schedule going and the dancefloor was absolutely packed the entire time. I highly recommend Billy for all your DJ needs and couldn't thank him enough for his professionalism and enthusiasm!

Maddie R.

Married on 10/15/2022

Billy is the BEST!

We were so incredibly lucky to have Billy be a part of our special day! He was so organized, friendly, and helpful during planning. He made the night so incredibly fun, memorable, and special. Our friends and family cannot stop raving about Billy! Thank you so much for making our wedding absolutely amazing, Billy!

Are you interested?

Send a message

Emily P.

Married on 10/08/2022

Best Wedding DJ!

We hired Billy as our Wedding DJ, and we are so glad that we did! Billy was extremely organized throughout our entire wedding planning process, and made himself available and accessible whenever we had questions or needed advice! He is truly a professional in his field and helped walk us through how to plan the timeline of our day, and the different music we should plan for. Our dance floor was PACKED, and we had so much fun dancing the night away with the great music! We highly recommend Billy - you won't regret it!

Maddie G.

Married on 09/24/2022

Amazing experience

I don't even know where to start… From the second we first got in contact with Billy he was seriously amazing.. Before we officially booked he was more than happy to answer any and all questions we had no matter how stupid those questions may have been. We had two meetings with him before the wedding which he went above and beyond in helping us understand everything that went into scheduling the day and even helped me decide things that really were above his pay grade lol. I had such a peace of mind going into my wedding reception because he was truly so organized, so well planned, and so informative during all of the planning sessions I just knew everything would go smoothly.. which is exactly how a bride wants to feel going into her big day! Not to mention how quick to respond and how friendly he was every time I needed to communicate with him before hand. During our reception he ran around like crazy making sure the photographer, videographer, bar tender, etc were all perfectly timed for each thing that was to come next.. he even did things that he totally did not need to do like went and found us a knife to cut our desert lol. I could go on and on about how amazing of an experience we had with Billy as our wedding DJ, but my point is that he is 100% is the best DJ and you will not regret booking with him!!!

Kyle A.

Married on 09/09/2022

Bride and Groom

Very professional, punctual, talked to us multiple times leading up to the wedding so he was totally prepared. He was ready the day of with a complete set up and kept the party moving along according to our time line. He even brought us drinks up at our table so we didn't have to run around so much. The mood lighting was great set up around the reception room, 10/10 would recommend. We gave him songs we wanted to hear and he included them all through out the night. His friendly attitude makes the whole process very easy and comfortable.

Angela S.

Married on 09/04/2022

Wedding & reception

Billy is professional and did an excellent job during our ceremony and reception. He was very organized in creating a timeline with our photographer and was key in getting our wedding party where they needed to be at the exact moment with the timing of our music. He kept our reception organized according to timeline and kept the party going. We were so happy to have found him and hired him for our wedding and reception!!! He did not disappoint!!! Highly recommend!!! Completely awesome job!!!

Rachel A.

Married on 08/20/2022

Amazing wedding DJ!

What an amazing wedding DJ! From planning with us via zoom months in advance, helping us feel at ease before the big day, and keeping everything flowing the day of! Billy is such a professional and truly cares about his clients. He works great with other vendors and keeps the timeline running so smoothly. He is able to read the crowd very well and keeps people on the dance floor! Everyone was asking who our DJ was and he has been getting compliments from ours guests nonstop. Such a pleasure working with you, Billy! You made such a wonderful impact on our day!

Laine G.

Married on 07/23/2022

Billy was amazing!

Billy was absolutely amazing during both the planning process as well as during our actual wedding. He was always very prepared for all our meetings and was always on top of every detail. We had nothing to worry about leading up to the big day because we knew Billy had already thought of everything. Our ceremony and reception ran perfectly, and the dance floor was always busy thanks to the great music choices!

Mackenzie Y.

Married on 07/16/2022

Book With Q It Up Sounds & Entertainment

Billy did a phenomenal job making sure our wedding was perfect. We had no idea how much of an impact your DJ has on the day. Billy was so much more than a DJ. He met with us multiple times before the wedding, answered any question we had, worked with our vendors day of, kept the entire evening moving smoothly, and played awesome music. We couldn't have asked for a better DJ and would recommend him to anyone. He offers many additional things to add onto your package and we personally chose to add glow sticks and his photo booth. The guests loved the glow sticks and thought it made the dancing super fun. The photo booth was worth every penny. Our guests had so much fun creating pictures, videos, boomerangs, and even adding filters to the pictures. The pictures were incredibly clear and sent directly to your phone with a link. The photo booth was a huge hit and we highly recommend adding it to your package. You will not regret booking with Billy.

Jessica C.

Married on 07/09/2022

Best DJ ever!

Billy is THE best! I'm glad I got to snag possibly his last slot in 2022. Initially decided to go with Billy because of his professionalism, but he went above and beyond prior to and on the wedding day. Billy met with us several times and I loved his system that he uses and that we used Zoom so we can talk face to face. It felt like we knew each other before meeting on the wedding day. He had a whole template for all the different songs we needed to fill in and a great system where I could upload spotify playlists for pre-ceremony, cocktail, dinner, dancing. It was easy-peasy for us as a couple. Also, in one of our initial touch base meetings, Billy sensed that Run and I hadn't really thought out what we were going to do for our ceremony and provided a lot of suggestions that got our brains churning. Billy was flexible and made us feel at ease and made sure we had everything we needed during dinner. Billy didn't just play music for us during the dancing, he was able to read the crowd, field song requests appropriately, and hyped the dance floor up! Almost everyone who I touched base with the days following the wedding said our DJ was SO AWESOME and helped create a fun atmosphere! My dad even gave Billy a hug at the end of the night! I 100% recommend Billy if you are looking for not just a DJ who is knowledgeable about music but also a great host to your wedding that can definitely keep the night going!

Tanner B.

Married on 07/02/2022

Tanner Brown

Billy was awesome at being a DJ. We had some email exchanges and some zoom meetings with him. He walked us through different stages of the wedding ceremony and reception. We were able to easily choose a song for each of the important parts. He even allows you to add songs to an online portfolio that you would like played during the reception. Overall he was easy and great to work with.

Aly W.

Married on 06/11/2022

Couldn't Imagine the Day Without Him

Billy was amazing!! He was so thorough and meticulous in his planning. He was always checking with us about our thoughts on every single detail, even the details we didn't consider. His experience and genuine love for what he does is apparent in his work. He was instrumental in creating the atmosphere we wanted through lights and song order. We are so appreciative of him and his work!!

Amanda Z.

Married on 05/21/2022

Hire Billy!

Hiring Billy was one of the best decisions we made for our wedding day! He was so attentive and organized and worked so well with our other vendors to make the day run so smoothly. We did not have to worry about a thing and it was so special. Our guests, as well as my husband and I, had a great time dancing the night away and Billy made certain everyone was enjoying themselves! Working with Billy was an absolute pleasure and he exceeded our expectations of a DJ!

Ryan B.

Married on 05/07/2022

Best DJ Around!

Q It Up Sound & Entertainment does an amazing job and I would highly recommend using them. Billy was very well organized and made everything easy on us from the planning meetings through the day of the wedding. Billy leaves no stone unturned and by the time the wedding comes you will be 100% confident that everything will go according to plan. Billy helped coordinate the day of timeline and took a lot of weight off our shoulders. The dance floor was never empty and Billy did a great job with the music. If you go with Q It Up Sound & Entertainment you will be getting a great DJ!

Anthony

Married on 04/16/2022

Amazing, fun, exciting

Me and my husband could not have been happier with bill as our DJ! He had everyone at our wedding up dancing all night long. We highly recommend anyone to have him as your DJ at your event

Sarah L.

Married on 01/31/2022

Best Night Ever.

Billy was the BEST to work with. From day 1 of booking him, to the actual day of our wedding, the communication was spectacular. He asked all of the right questions to make it the best day ever. We got married 2 weeks ago and our guests are still raving over how much fun they had. He reads the room so well to ensure everyone there has the best time possible. Bonus feature that Billy brought to the table was a photo booth! Everyone had so much fun with it and it's very easy to use.

Genuinely. If you want to have a wonderful time, Billy is the way to go.

Tyler H.

Married on 01/01/2022

Couldn't have asked for a better DJ. I have zero complaints.

Billy was so wonderful from start to finish. He was organized, thoughtful, and helped make our day run smoothly! He even came to the rehearsal to make sure everything with the processional went well. Not to mention that everyone had a blast on the dance floor! He was so kind and professional, and made our day so special.

Katelyn B.

Married on 12/10/2021

Best dj ever!

We had the absolute BEST time working with Billy!! Trying to plan a wedding during a pandemic was so stressful but having Billy on our team made it so much easier! Billy even made a timeline for the reception, and made all of our meetings so fun! He also does an amazing job connecting with your other vendors to ensure everyone is on the same page. My husband and I love to dance and wanted a party feeling on the dance floor and Billy made that happen! Billy knows how to the keep the party going all night long! All of our guests are still talking about how awesome he was! Look no further brides HE IS THE BEST DJ!!!

Megan C.

Married on 12/07/2021

Billy for the win!

Billy was a pleasure to work with throughout the entire process from answering questions and providing information prior to us booking him, to planning our night, to making it all happen on our wedding day. He is extremely organized and prepared to help you figure out your plans for the night. He genuinely learned about us as a couple and listened to what we wanted for our celebration. He adapted and adjusted as plans changed during the pandemic and was always there for us like a good friend would be. Billy made sure we wouldn't have to worry about a thing on our wedding day which gave us peace of mind and allowed us to actually enjoy our night. Let me tell you, it was a party. After the wedding, we heard a lot of our guests raving about him so it's not just us who think he's THE BEST! If you are looking for a DJ who's more than just a DJ, look no further than Billy with Q It Up Sounds & Entertainment!

Emma

Married on 12/04/2021

So Much More than a DJ

When looking for wedding vendors, having a phenomenal DJ was one of my top three most important priorities. As a DIY Type-A bride who chose not to have a wedding coordinator, I knew it was important to hire someone who didn't just play music. I wanted someone who would run the ceremony and reception, and I wanted a person who was professional but obviously loved doing their job. I can honestly say that Billy checked every single box as well as some boxes I didn't even think about. His pre-wedding Zoom meetings were SO helpful, as both my now husband and I live out of state and were planning our entire wedding a thousand miles away. The forms he provided really made me feel like all of us were on the same page, and my husband and I had a blast filling out our song request playlists together. At the wedding, Billy jumped in to help wherever he could, and SO many of my guests commented on how impressed they were by Billy after my wedding. I really felt like Billy was a fantastic positive energy on my wedding day, and I would truly recommend him to anyone I know.

Amanda S.

Married on 11/10/2021

Billy was great!

If you need a DJ, host and wedding planner all in one, Billy is the guy for you! Not only did he put on a great show for my guests, but he was just an absolute joy to work with! He made sure our big day went super smooth and easy. He listened to all of our requests and made our day fantastic!

Andrea

Married on 10/02/2021

Best DJ Ever!!!

Billy was very intricate part of our entire wedding. He was fun and easy to work with. He absolutely went above and beyond what we ever expected. Planning was a walk in the park. Any minor changes were made with grace. Even the day of I decided to do a bouquet toss last minute and he worked it in. He helped groomsmen with their boutonnières. The entire day from the beginning of the ceremony all the way to the end of the evening went so smooth. All because of Billy!! It was the best day ever and we are so happy we chose him!
Corey and I thank you so much, Billy! It was an absolute pleasure meeting you. Because of you, our day was perfect! We didn't have to worry about the flow of anything!! We can't say enough kind things about you!! You're not only an awesome DJ, you're a pretty cool and genuine person too! Thank you so much for everything!
If you're looking for an awesome DJ, Billy IS your guy!! I promise you won't regret it!


Jennifer B.

Married on 10/01/2021

Detail-oriented

Billy was great! He was great at communication, the details, the planning, etc. He provided feedback from his expertise that was helpful as we continued to plan. One thing that really stood out to us was during the cocktail hour, not a ton of people were taking pictures for our guest book and he went around and made sure that people were taking pictures. super kind!

Hannah S.

Married on 09/25/2021

The wedding was perfect!

I was married on September 25th, and Billy provided everything he said he would and much more! He was awesome! I cannot tell you the amount of people who asked who the DJ was after the wedding. He was extremely detailed in the planning to ensure the day would be perfect. He was in contact with our other vendors and helped create a timeline that would keep us on track for time. We discussed our plan over zoom on multiple occasions, and he provided us with great suggestions that we ended up going with. He arrived early to the venue so he could set up and make sure the sound was clear. We had our friend singing live for our first dance, and he was quick to accommodate him and his equipment. He gave us a Spotify list where we could add songs that we loved so we could make sure they would be played. The other songs he chose were a good mix of new and old so everyone could enjoy. The dance floor was packed the entire night and we couldn't have asked for more.
Are you interested?
Send a message