56 Reviews
Recommended by 100% of couples
Quality of service

5 out of 5 rating

Average response time

5 out of 5 rating

Professionalism

5 out of 5 rating

Value

5 out of 5 rating

Flexibility

5 out of 5 rating
15 User photos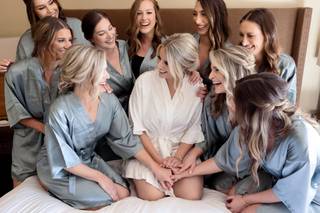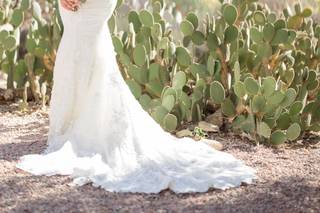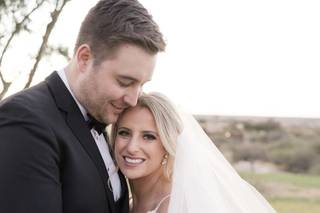 + 11

photos
Kaylla

Married on 04/09/2022

The Best Decision We Made!

After our Venue, finding our perfect photographer was the most important vendor for us to book. Across Arizona, there are SO many photographers, and I spent hours, if not days, getting a consolidated list together of photographers I wanted to meet with. For me, hiring a photographer based off their work wasn't enough. I really wanted a photographer who had the style I wanted (romantic, true to color), the experience as I needed someone who could travel for the destination wedding and work within a sporty day of timeline without sacrificing quality, and most importantly I would say, I wanted a photographer that my husband and I vibed with. We can both be uncomfortable in front of the camera, so to have a photographer who made us feel more comfortable so we could capture our most important moments was key.

I would say I knew pretty immediately after meeting Tina that wanted to work with her. First off, on a personal note, Tina and I had a lot in common so that really made me more comfortable off the bat. Second, she KNOWS HER TRADE. You just have to glance at her portfolio to know she is top tier. Thirdly, she is so genuine. When speaking with other photographers, I found the interaction could feel very transactional. But, with Tina, I was confident that our wedding day was something she valued and cherished, and because of this, I knew she would do everything in her capability to capture these heirlooms; which pictures essentially are.

Leading up to the wedding day, we had an engagement shoot with Tina , and that shoot just validated we made the right choice in Tina. On the actual wedding day, Tina was on time, professional, and honestly, an additional comfort during the chaos of wedding day. Tina gave perfect direction, wrangled all members of family as well as friends, and she made sure that by standers were out of frame and that she always captured my "best side" which she learned I had a preference for during our engagement shoot :) . She also went above and beyond photographing our wedding. She helped with transportation, always ensured I had a water in my hands, and when I had a dizzy spell, she was right there to help me and make sure I was taken care of.

Since the wedding, we have had our reveal and I can't put into words how absolutely stunning our photos are. I really feel like I'm reliving the day when I look through our photos. I have had many members of my family say they have never seen such amazing wedding photos, and that we should be thrilled with our decision to hire Tina (which btw we ARE!!).

We are now in the process of getting our wedding album manufactured and framed wall art. This is another reason Tina is amazing because she is invested in the process and quality of these products, and works with you to get them just right. I also love the convenience of working directly with her vs a distributor; much more personable and convenient!

I sincerely hope that my relationship with Tina continues beyond our wedding day. Tina is someone who I would be friends with in everyday life, I love working with her and seeing the passion she has for what she does. I can't wait for the next milestone I get to work with her again...perhaps maternity?!

If you are on the search for the perfect wedding day photographer, look no further than Tina. There is no one I would trust with capturing any event of my life. The investment is absolutely worth it to have generations be able to look back on our most special of days.

#Toast2Thompsons

Married on 03/12/2022

Tina, you are amazing.

We are so thankful we found Tina & Pure In Art Photography for our wedding! Talk about an amazing decision on our part. My husband and I did so much research on photographers in Arizona, and Tina is just the entire package deal. From the very beginning she was engaging, so kind, and knowledgeable. She spent time getting to know us and even sent us a wedding care package to get us excited for our day. By spending time getting to know us, she was able to fully capture our love and everything we could have ever wanted on our wedding day. The day of our wedding, Tina helped us stay calm and collected, and all of our photos are absolutely amazing. We are now awaiting our photo book she made for us and cannot wait to use it for years to come. Thank you, Tina, for everything you did and continue to do for us. We are so appreciative and can't recommend enough.

Chris L.

Married on 02/26/2022

Excellent photography and experience

Tina has been an absolute joy to have photographing mine and my wife's journey over the past year or so. It began in 2021. During COVID, my wife and moved our wedding date from early 2021 to early 2022. In the interim time, my wife got pregnant with our beautiful baby girl. Tina did a maternity shoot for us in a beautiful location in the desert, and from that we now have lovely framed pictures on the walls. When she came over to install the frames, she did a shoot of our baby who at the time was two months or so old, and she did a great job of getting the baby to 'pose' despite the baby's reluctance to do anything other than sleep. I am so glad that we have professional photographs of those days, as though our phone pictures are wonderful, having the immaculate touch of someone who knows how to frame a shot and get the correct lighting is an immeasurable positive. These are memories we will cherish forever, and I am glad we had Tina take photos of her both before her birth and after.

Last month, February 2022, Tina photographed our wedding. She was the vendor that was able to make sure our day ran on track. She talked us through the process and had an amazing timeline to follow that allowed us to have the moments we will always remember in photographic evidence. She encouraged us to do a 'first look', which I had to look up to make sure it was something I wanted, and it was the best idea for the day, and I am glad it was suggested. We were able to get pictures of our wedding party, family, and friends without the pressure of the wedding itself and all of the guests approaching us during photographs. Because of the first look we were actually able to enjoy the reception for ourselves and our loved ones, rather than herding them for pictures.

We started the day like a traditional wedding, I, the groom, left before my future wife got ready so that her and her bridesmaids could all begin their process. I was able to see the pictures of them getting ready and the moments that were captured were priceless. Tina did a great job posing people, making sure they were in the right place at the right time, and also (my favorite part) capturing candid moments. Tina also had sent another photographer to the groom's ready room and we were treated excellently as well. I am not a fan of how I look in pictures, but Tina made me happy to look at myself.

The ceremony itself was, as weddings go, such an exhausting experience. It was the best day of my life (except maybe the birth of my child) and Tina and her crew were able to parlay any of our worries about fitting all of our tasks into the day into a calm, lovely demeanor. She kept us on track and we benefitted from that. The ceremony included a few 'missteps' that made the day great, including our flower girl not wanting to walk down the aisle with her mother, and my child not wanting to be held by her grandmother necessitating me holding her. Despite these events being unplanned, Tina caught them all excellently! I even mentioned that I hadn't even noticed that she was taking pictures in the crowd, she caught some really good moments at the ceremony while we were up focusing on each other, all without any intrusion.

After the ceremony, we took a few pictures with the backdrop we had for our vows. We then took some further in the reception room, including one I consider unique with some fun reflective techniques. We then left the reception area and went to another location at the venue to take sunset photos (again, something we wouldn't have had the opportunity to do very easily should we not have done that first look). The sunset photos came out amazing, there was still some snow on the mountains and Tina was able to get us into locations where she was able to get such good moments.

After, Tina sat us down a few weeks later in her studio and showed us a slideshow of the experience. That too was lovely. We were always treated with respect and positivity, and even when my wife and I disagreed about what photo may be better, Tina was able to handle that and give us the best product we could possibly imagine. The physical photographs she has already produced for us were excellent and we are excited to see more in the future.

I have ran out of characters in the review, but I recommend Tina and Pure in Art Photography for any moment you think may be worthy of capturing. She has done an excellent job and we are excited to continue to have her photograph the moments in our lives that matter.

Are you interested?

Send a message

Beth H.

Married on 02/12/2022

Tina is amazing!

Tina deserves a million stars for everything she does! Having her as a photographer was an absolute dream. She provides a truly personalized experience from the first encounter. Her genuine kindness and love for what she does makes her the person you want to care for this important part of your wedding. She made this experience completely stress free by collaborating with our vendors, sending us style guides, and giving us very detailed advice to make our day as smooth as possible. On the day of, when our ceremony went way over the allotted time, she got us back on schedule without a problem. She also put up with all of my questions about style, colors, and details!

Tina also made the process of taking photos not just stress free but fun! My husband and I were definitely not comfortable in front of the camera, and we were nervous that we would just look awkward. Tina not only made sure we felt comfortable, but she made us forget that we were being photographed. She captured our love for each other, and she brought our entire wedding to life in her photos. She is one of the most talented individuals I have ever met. The designer of my dress even posted her photo of us on their instagram page, which was wild! I really could go on and on about what she did for us, but bottom line is Tina is INCREDIBLE!!! I know it may seem like an exaggeration but truly, there is no one better than this insanely talented woman.

Abby M.

Married on 11/27/2021

Tina is the best!

My fiance and I have had the best experience working with Tina for our engagement photos and wedding. Not only is Tina one of the nicest people ever, but she is also an incredible photographer. She is very responsive, flexible, and so talented. We just got our engagement photos back from her and we absolutely love them. Tina was the photographer for my sister's wedding and after meeting her and seeing her work we knew we wanted her to be our photographer, too. We do not have enough good things to say about Tina! If you are looking for a wedding photographer, I highly recommend her!

Edited to add: Tina also did the photography at our wedding and we couldn't be happier with how our photos turned out. She perfectly captured our personalities and all the emotions we felt throughout the day. Tina is so fun and easy to work with and her photos are beautiful. Tina takes the time to get to know you before your wedding day so that she can really focus on the things that are important to you and that reflect who you are as a couple. I will recommend her to all my friends who are getting married in the future!

Emmy R.

Married on 10/30/2021

Best Wedding Vendor We Hired

Tina made the entire wedding experience easy and enjoyable. She was the most organized vendor we worked with, regularly sending helpful articles/tips/tricks/etc! Her positive attitude and genuine demeanor made her someone all of our wedding guests, family and friends feel comfortable around. We literally had friends saying how wonderful she was even after the wedding! Picking a wedding photographer was a very important decision for us and Tina DID NOT DISAPPOINT. If anyone wants a reference, I am more than happy to be one because we had an absolutely phenomenal experience working with Tina!

Lindsay M.

Married on 10/23/2021

Best Photographer out there

Pure in Art Photography is hands down the best choice we made when it comes to vendors/caterers/all decisions related to the wedding. Tina, is very friendly, easy to work with, professional, communicates well, punctual and most importantly genuine and fun! She does all the footwork for you so you don't have to. Her expertise allows you to just enjoy the day and be in the moment. No awkward poses, weird positions or bad lighting.....everything was perfect. The first look was something we weren't sure about. However looking back on it we are SO GLAD we did it. That private moment captured on film will always be our most cherished moment. Her delivery and presentation of the photos is also superior. She makes you feel like you are her most important client at all times. Her efficiency and organization allowed us to sneak in extra last minute photos which actually turned out to be our favorite. There are not enough words to express all the positive things we have to say about Tina. Look no where else, the investment is worth it.

Genna E.

Married on 10/02/2021

Pure In Art = The Best

Selecting a wedding photographer was an important part of the planning process. We knew that when vetting photographers, we wanted one that would be versatile. Not only did we want photos that we could print, we wanted candid shots that captured what it was like to actually be at the event. The photographer is someone who is extra eyes during a once in a lifetime event. Selecting Tina Kraemer + Pure In Art was one of the best choices we could have made – we have timeless memories from our extra eyes. Our photos exceeded our expectations because they were aesthetically beautiful, not over edited, and incorporated every thoughtful detail. Additionally, Tina was resourceful. She took the time to scope out a variety of locations, made us feel comfortable throughout the event, was incredibly organized during family photos (we had a LOT of people), and did a phenomenal job navigating the day. On our wedding day, it rained. We had to work with the weather and change the timeline multiple times. Fortunately for us, this had no impact on our final photography deliverable because Tina had a back up plan without compromising quality, aesthetic, or capturing each portion of our event. Aside from her unparalleled skill, Tina is personable. She has a way of connecting with the customer quickly as if you had been friends for years which is helpful when you and your partner share intimate moments throughout your wedding day. We loved our wedding day, we loved our vendor team and we are beyond fortunate to have shared that with Pure In Art Photography.

Lauren P.

Married on 05/01/2021

Look no further - Tina is the perfect wedding photographer!

Choosing Tina with Pure in Art was one of the best decisions that I made for the wedding! I found Tina when researching photos of wedding venues and became obsessed with her style and the quality of her work. I went in to our introduction meeting knowing that she was an excellent photographer, and I left knowing that she was an equally great person. Within the first five minutes of the meeting, I knew that Tina was my dream wedding photographer. She asked so many thoughtful questions to get to know me and my fiancé, which made it clear that she truly cared about each of her clients. From that first meeting to the final photo reveal session, she provided so much help and support throughout the wedding planning process. She shared an excellent preferred vendor list, which took ALL of the stress out of choosing vendors, and regularly checked-in to make sure the planning was going well.

Tina brought so much joy to our wedding day! Despite never having met in person, it felt like seeing a old friend since she had been so intentional about getting to know us leading up to the wedding. After a quick intro, she memorized the names of the bridal party and did such a great job directing people (by name!) to avoid any awkward poses. She also did an incredible job in capturing so many special moments during the day. Some of my favorite pictures are of our guests at cocktail hour since they are a great memory of our family and friends that helped us celebrate. Tina and her assistant photograph did an excellent job in capturing these photos of our guests and we received SO MANY compliments from our wedding guests about how amazing she was.

I cried tears of joy during our photo reveal session when I saw the incredible work that Tina produced. The wedding album that Tina created truly tells the story of our wedding day. I will be forever grateful for Tina's ability to perfectly capture the love and joy that I felt on my wedding day.

Joe C.

Married on 05/01/2021

Pure in Art Photography Review

I have never been to a wedding before where so many of the guests commented on how amazing the photographer was prior to seeing any of the pictures. Tina was perfect. She's extremely friendly, professional, and thoughtful. Her friendly attitude made both our bridal party and our bride and groom photos fly by (which alleviated a concern of mine as I typically do not care for taking photos). She floated effortlessly around the cocktail hour and the reception and was able to capture both portrait shots of many of our guests but also great candid shots. The photos we received captured the look and feel we had envisioned for our wedding. Tina's skill was evident throughout our wedding and its planning: in capturing our preferences, staging our shots, capturing a gorgeous sunset, designing our wedding book, and even just getting to know us as a couple despite us living in Chicago. She's well worth the investment and will be one of the highlights of your weekend.

Victoria J.

Married on 11/14/2020

Jaw Dropping Results!

Tina is just the sweetest human and oh so talented! So first of all she wasn't even my original photographer – my original photographer for my husband's wedding gift (boudoir book) had a family emergency the night before the shoot. I couldn't reschedule because I had booked a nonrefundable hotel room and had it all worked out so that my fiancé (at the time) didn't know what I was up to. So, Tina at the very last minute saves the day and by the grace of God is able to do the shoot. I was a little nervous being that the boudoir shoot is nerve-wracking as is and then I had this wrench thrown into my plans. However, Tina immediately calmed my nerves. She was INCREDIBLE, she made me feel so comfortable, so sexy, and we had SO MUCH FUN!

She was amazing at directing me, as I had really never been in front of a camera before. She was able to see every detail and adjust me accordingly she has a serious talent that shows in the final product. Every step of the boudoir process with Tina was seamless. Post photoshoot we went over the photos and I was floored! We sifted through them together to pick the ones that we thought he would love the most to put in the book. Once we had selected our top 20ish, which was no easy task, she went over any edits I would like done to them – amazing! Just a few weeks later my book was ready, it was STUNNING. I had to hold onto it for a few weeks before he got to see it and I was dying in anticipation. I gave it to him on our wedding night and let me tell you his jaw hit the ground. All he kept saying was "oh my, you look so good" over and over. So I'd say the boudoir shoot/gift was a major success!

Thank you, Tina, for all your hard work and sharing your talent with us, you're amazing! For those reading this review thinking "ahh it's so expensive, should I really do it?" YES, do it!!! It is pricier but let me tell you it is worth it!


Aubrey

Married on 09/06/2020

Hands down best decision!

Tina with Pure in Art Photography was hands down the best decision we made for our wedding day! First of all, her photos speak for themselves… she's a superb photographer and true artist. But second of all, Tina is a dream to work with! She made everything so fun and easy! I've never had professional photos taken so I was a bit nervous to step in front of the camera, but Tina guided us so effortlessly through them to create the most beautiful photos that captured the love and feeling of our wedding day so perfectly! I knew after our engagement session with Tina that we made the right choice; I immediately felt so much relief heading into our wedding day with her behind the camera.

But Tina was so much more than our wedding photographer.. she guided us through the entire process! From the day we hired her I felt like I had an ally in the industry. She sent a preferred vendor list, made sure to give her guidance on MUCH more than photography, and by the time we got to the wedding day she made sure we were 100% ready for everything. She even finalized our day of timeline and sent it to all the other vendors for us. I can't tell you how valuable Tina became to our peace of mind. She clearly loves what she does and you can tell that in the love and care she puts into everything she does for you.

When I look at our wedding photos I can feel and see the happiness of our day and that is priceless. Thank you for everything Tina!

Bianca

Married on 02/15/2020

Organized, professional, and the BEST at what she does!

Our wedding planning was a little different compared to the "average" couple. My fiancé and I decided we wanted as long of an engagement as possible to avoid the stress of wedding planning. I do not recall the exact moment that my fiancé approached me about this "amazing photographer," who she absolutely loved and HAD TO have. Knowing me, I probably was just happy that she made such a quick decision! I later found out Tina photographed my cousin's wedding which I was not able to attend, so when I found out the amazing photographs that my cousin shared of her wedding were Tina's, I knew she made the right choice. I assumed that picking a photographer based on that was the end of it. For the next months and year(s), Tina was constantly checking in with us, which I loved because it always seemed to be at a time when my fiancé was overwhelmed with wedding stuff. I was always so appreciative of that!
The majority of the correspondence was between Tina and my fiancé, and I was totally fine with that. My fiancé always kept me involved with the planning, or, at least, as involved as I wanted to be. She did, however, know that there were some things that I knew I wanted in the wedding. The first, above everything, being seeing her, for the first time, walking down the aisle. A little background on my wife and my relationship, I was after her for several years before she finally took a chance on me. Even before we were together, I knew she was the one I was going to marry, which meant a lot of years thinking about that day. I remember thinking about my reaction when I would finally get to see her in her beautiful dress, walking down the aisle. So, when the question of a "first look" came up, I quickly scoffed at that idea. It just did not jive with what I wanted. My fiancé agreed at the time, as part of her felt the same way. But it resurfaced in conversations we had later on. We talked about some of the benefits that Tina mentioned to us. We discussed how it would open time for other things, like being able to spend more time with our loved ones during the reception. Eventually, we decided on doing the first look.
As the day got closer, I recall talking to my fiancé about how, as time passed, the idea of the "first look" grew on me. Still, I was bummed that the first time I would be seeing her wouldn't be in front of our loved ones, and wouldn't be the traditional way I had always pictured. At one point, during the reception, I approached Tina to thank her for bringing up the idea of the "first look." I thanked her because there was so much about it that I actually loved! As begrudgingly as I may agreed to it at first, that was the best decision I ever made! I loved that I had that time with my fiancé, alone. I loved that there wasn't this pressure on me to look emotional when my bride was walking down the aisle. It let me relax and be who I was in that moment. Weddings are stressful! As much as most of us guys like to think it's not the case for us and that it all falls on the woman, no matter how much or little you are involved in the planning process, we experience that stress. Having the first look, for me, allowed me to relax, but most importantly, it let me be in the moment and those memories, in my mind, are the most important thing I could have taken away from our wedding day.

Emily B.

Married on 01/10/2020

Perfectly captured our wedding day!

Tina, owner of Pure In Art Photography, photographed our wedding in October and we could not be more pleased with both the results and the experience of working with Tina!
Her perspective:
The images perfectly capture everything from the details of the day to sweet moments shared with grandparents and everything in-between. So many people have complimented how beautiful our wedding photos turned out! Tina was so easy to work with and she made us feel at ease and completely comfortable. We very much enjoyed getting to know Tina before our wedding day through phone and email correspondence and our Sweetheart engagement shoot. Tina makes a great effort to get to know her clients on a personal level. We will cherish re-living and sharing our wedding day through these photographs for the rest of our lives!
His perspective:
What a professional! Of all the things we stressed over during the wedding process we never stressed about our photos. Tina delivered on everything we wanted and so much more. As someone who doesn't particularly enjoy having photos taken, Tina made the process easy and enjoyable. The results are incredible and we enjoy re-living our wedding day through the photos all the time. We couldn't recommend Tina enough.
Thank you, Tina,
Brad and Emily


Morgan V.

Married on 06/28/2019

Seriously, Tina is the BEST photographer. EVER!

I have had the opportunity to work with other photographers for photo shoots, but none of them compare to Tina's work. There is a reason she has five stars and nothing but positive reviews because the quality of pictures and memories are beyond amazing. Truly, I have never seen better pictures then the ones that Tina provided us. Her phenomenal customer service, beautiful smile, and contagious personality made our afternoon and day together one to remember. Whatever you are looking for in a photographer, look no further then Tina. I PROMSE YOU, YOU WILL NOT BE DISAPPOINTED.

Louie R.

Married on 06/28/2019

Simply Phenomenal!

Tina made my fiancé and I's experience one to remember. The photo's speak for themselves, but the personal touch and how much work that Tina puts into her couples is phenomenal. Tina is extremely friendly, always smiling, and knows how to make you laugh. When we asked her for idea's she shot them our way and is an expert when it comes to lighting and photo positions. I would not recommend anyone else! Thank you so much Tina for making our afternoon with you for our engagement shoot just magical!!!! - The Groom

Jamie G.

Married on 05/10/2019

Tina is amazing at capturing intimate moments

Tina is a pure joy to work with and is great at making her subjects feel comfortable, even if they've never been professionally photographed before.

Megan

Married on 05/04/2019

An amazing experience with Tina!

Our whole experience with Tina was more than I ever expected. Tina is not only an amazing photography, but she really takes time to get to know her clients and meet their needs. Her expertise and attention to details helped us with so many other parts leading up to the wedding as well which really eased the our planning process. It felt like we were working with an old friend. Throughout all our wedding planning we felt so thankful to be working with Tina, as she puts so much thought and care into everything she does. I can't recommend her enough! She's talented at taking photos and makes you feel at ease; after such a fun time at our engagement shoot and knew we had picked the right person for our wedding day. Her associates were also amazing and were so fun to work with. My bridesmaids also commented on how wonderful they they were to work with. They did a great job quickly organizing family portraits and also capturing us and our family and friend "in the moment." We enjoyed working with Tina so much and our wedding photos turned our absolutely beautiful!

Danielle M.

Married on 05/04/2019

Amazingly Talented, Easy to work with, BOOK HER!

From the moment Tina and I started, the experience was nothing short of amazing. From small surprises, to a seamless and phenomenal engagement session, and the wedding (somehow she captured it all without anyone noticing). I was simply floored when I saw the photos. We booked her for her gift to find the magic - and it was the BEST investment we made. Tina is amazing!

Grace

Married on 03/16/2019

Amazing!

Tina was truly amazing. When we met her at our engagement shoot, we felt like she was already our friend! She is kind, compassionate and talented. During our wedding, she got so many amazing photos, yet we hardly knew she was there! She was discrete, yet she knew just what to say to make us look good :) She took amazing candid shots. Everyone from the wedding just keeps talking about how incredible she was! We were so lucky that she was our photographer and we look forward to using her for more events in our life :)

xoxo
Grace+Danny

Kathya

Married on 10/13/2018

The BEST photographer ever!

Where to begin! Tina was recommended to me by a family friend who had just hired her as her wedding photographer. Being that she is also a photographer, I knew Tina had to have something special to catch her eye. Photography was the first thing on my to do list for our wedding. From our first interaction, Tina was so friendly and made sure we were a good fit for one another, getting ideas of what we were looking for in a photographer. We had our first and only meeting prior to our engagement session via Skype and instantly felt a connection. The communication was clear, quick, and no question was left unanswered. Our engagement session was on THE windiest day ever. However, I wasn't worried because I knew Tina could make it work. Not only were our photos beautiful, but she made us feel so comfortable in front of the camera. It was fun, easy, and natural. On the day of our wedding, we had nonstop rain, which didn't seem to phase Tina or her assistants. Our photos were nothing short of incredible. Every detail and emotion was captured so perfectly, it made those who couldn't attend feel as if they were there. We have loved looking back at our photos and reliving our wedding day, thanks to Tina. The quality of her photos and the emotions she captures is what sets her apart from others. Her support and guidance throughout the planning process made her feel more like a friend than a vendor, we are so blessed to have met her. Five stars just isn't enough!

Brittany

Married on 10/28/2017

Tina is amazing! She is professional and makes you feel so comfortable. She really knows what she is doing and listens to your wants and needs. Tina was the best vendor out of all our wedding vendors! She takes the stress off you because you know you'll have amazing pictures to look back on.

Steven

Married on 10/14/2017

Tina is the best!! She goes above and beyond on your special day!!! HIGHLY RECOMMEND!!! Thank you again for the outstanding pictures of our special day!! :)

Eva

Married on 10/07/2017

Words can't describe how much I loved every minute of working with Tina! She truly got to know my husband and I before our wedding day so we felt 100% comfortable with her on the almost important day of our lives! My huband and I sit down every month and looking through our photos, remember what a spectacular breathtaking day it was all due to Tina capturing every single emotion!

Aleen

Married on 09/02/2017

The absolute BEST!!!
Tina is an amazing photographer! She made everyone feel comfortable on the day of the wedding, especially us- the bride and groom. She has so much energy and is truly passionate about what she does. Her attention to detail is impeccable. We have received and continue to receive so many compliments on our photos. We did our engagement session with Tina and couldn't be more impressed with how far she was willing to go to capture the perfect shot...even if it means getting completely soaked.
We highly recommend Tina and Pure in Art Photography. Thank you, Tina!!!
Are you interested?
Send a message