Reviews
5.0 out of 5 rating
Quality of service

5 out of 5 rating

Average response time

4.9 out of 5 rating

Professionalism

5 out of 5 rating

Value

5 out of 5 rating

Flexibility

5 out of 5 rating
99%
Recommended by couples
3 User photos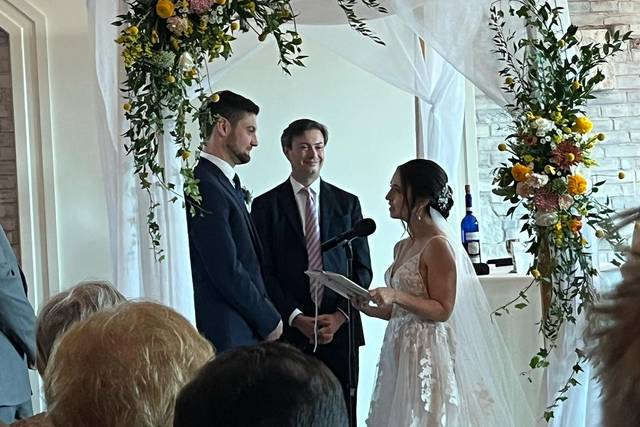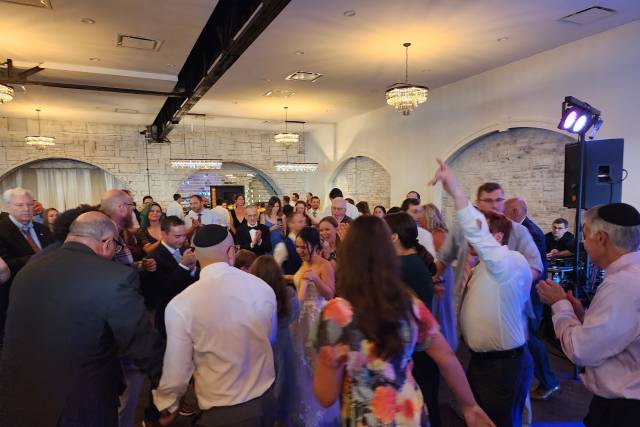 Amy S.

Married on 09/03/2023

Best Wedding Planner Ever!!

Proposing Dreams Wedding and Events is fantastic!!! The wedding planner knows what she is doing and will lead you in the right direction. She listens to your dreams and helps you make them come to life. Sabrina is personable, and understanding, and will support you in every way she can.

Sarah S.

Married on 09/03/2023

Amazing experience

We worked with Rebecca for day-of wedding planning and she was wonderful. This was probably the best investment we made in the entire wedding. I would highly recommend her to anyone looking for a planner.

Allie W.

Married on 09/04/2022

The Absolute Best!

If you're even thinking about reaching out to Sabrina for your big day, just do it! She and her team was truly amazing at not only moving things along prior to the event, but also ensuring our day was the absolute best! Cherry on top - she's the most fun!

Are you interested?

Send a message

Joanna G.

Married on 07/30/2022

Absolutely Perfect!

I loved Sabrina from the moment I booked her for my daughter's wedding. We hired her for the
rehearsal and all day for the wedding.
She would post timelines for me to make sure we were on tract during the wedding process which was a
great organizational tool starting at 9 months, 6 months and then 3 months. My daughter filled out a
detailed questionnaire that Sabrina would study to familiarize herself with our wedding. From the
questionnaire, she called all of our vendors and made sure that everything was in line for the wedding.
I met her the week of the wedding at the venue and knew right away she was the right pick.
She streamlined rehearsal at the church. Worked with the volunteers at the Shrine of St Joseph. She
worked with the wedding party of 20 to get them in order, when to walk, worked with the bride's
mother and the groom's mother, made sure the flowers were delivered to the church, programs were
handed out, bubbles were distributed, worked with the organist and soloist, worked with the priest,
flowers were given to bridesmaids and bride, boutonnieres on guys. Everyone loved her personality.
She got the job done in an organized way and had a great demeanor in how to handle all the different
personalities of the wedding party.
The day of the wedding she was our go to. She and her assistant Jamie were at the venue at 10:00 am.
Until 8:30pm. They made sure the men were doing ok in their dressing rooms, checked on the girls in
their respective dressing room to see what was needed, decorated the ballroom exactly the way we had
gone over from table numbers, escort cards, memory table, tablecloth overlays, candles votive and free
standing candles, napkins with menu cards, hanging guest list, guest book, flowers, cake. Made sure the
wedding party was on the bus at the appropriate time to get to the church.
Sabrina directed the guests during the cocktail hour. Made sure the guest book was open during cocktail
hour and in the ballroom. Brought the signage from the cocktail hour to the ballroom. Made sure the
guests went from the mezzanine to the ballroom at the appropriate hour.
During the photo session, the groom forgot the keys to their house where they were going to take
pictures. One phone call to Sabrina and she was on it. She found the keys at the hotel and delivered
them to the house and put them under the mat when the bride and groom arrived they were there. It
was way out of her way (from downtown St Louis to University City)
Once the bride and groom arrived from photos, she directed the wedding party and the bride and
groom. She oversaw the timeline of the reception. (the grand entrance, cutting of the cake, the father
of the bride toast, the best man's speech, bride and groom dance, father of the bride dance and mother
of the groom dance.
I can't ever thank Sabrina and Jamie enough. I am a very detailed and organized mother of the bride and
I didn't trust anyone directing this wedding but myself. But I have to tell you, I could not have done it
without Sabrina. She made my day enjoyable and I felt fully confidant in her care that our wedding was
in good hands. She truly was a very good wedding planner and would highly recommend her. We loved
her. She made our wedding go as planned and went above and beyond.

Jessica Z.

Married on 09/25/2021

Bride and she was my wedding planner

I would highly recommend Proposing Dreams for absolutely any party planning needs! I cannot possibly express in words how valuable Sabrina was while we were planning our wedding. We came to her a little halfway into the process and I was extremely overwhelmed at that point. I was having trouble putting my vision into words and actions. We had three different wedding planner interviews set up but after talking with Sabrina on that initial meeting, we canceled the other two without even talking to them! She immediately caught on to our vision and was so easy to talk to! Throughout the whole process she was extremely quick to respond and handle situations in real time. Anytime I was having issues trying to decide on what I wanted, she would immediately start showing me pictures of different options until we found what I liked. Then magically she would not only make it happen but somehow do it in our price point! She took all the work and stress off my shoulders. Everyone kept commenting the week before my wedding about how calm I was, but it was because she had everything handled and there was nothing else for me to do/stress about! Now everyone talks about how seamlessly the day ran without any hiccups! I got to spend my wedding day having fun and really living in the moment, because I knew she had everything handled. Our wedding was absolutely perfect and I know it never would have happened without her help.

Alexandra M.

Married on 06/19/2021

Absolutely Recommend!!!

Sabrina made our wedding the best experience it could have possibly been! She made the whole process as seamless as possible, and was always available to answer questions. She was so helpful in making several difficult decisions related to the event. I was able to just relax and enjoy the day rather than worrying about any logistics or details because I was confident that Sabrina had everything taken care of.

Elizabeth O.

Married on 11/14/2020

Beyond Amazing

When starting the wedding planning, I honestly felt like I could do it all on my own and wasn't sure of the value of a day of coordinator. However, a cousin recommended Sabrina after having used her at her wedding and told me it would be the best money I spent. She couldn't have been more right.

As Covid entered our world and became a part of every wedding decision, having Sabrina as a point of contact was invaluable. Sabrina not only is a positive and extremely friendly person, but she has a tremendous network of industry contacts that knew everything that was going on and it that provided me so much confidence in a time of so much uncertainty.

Given all the stress during the planning process, I wanted nothing more than to ensure that I, along with my family and friends, had a great time and that we could enjoy our day. Being able to turn all the day of responsibilities over to Sabrina and team allowed us to do just that.

I absolutely can not recommend Sabrina and her team enough. Covid wedding or not, they are the best of the best!

Kelsey B.

Married on 09/19/2020

I couldn't have done it without Sabrina!

I cannot say enough great things about Sabrina and Jamie. We had to change my wedding three times and I can't imagine doing it without them. They kept us organized and on track. Sabrina was also a great moderator between my mom and me. :) I'm going to miss my wedding meetings and talking to Sabrina.

Kelsey B.

Married on 09/19/2020

Hiring Sabrina is necessary to having your dream wedding!!!!

I can't say this enough, HIRE HER NOW, HIRE HER NOW, HIRE HER NOW. The stress a wedding can bring is crazy and Sabrina knows the industry and it's vendors inside and out. She kept us updated while COVID was taking over. And roled with every change we made. She made sure I got everything I wanted and kept both me and my mother happy. Which says a lot :) Hiring Sabrina full time was the best decision we made for our wedding and I'd do it again in a heartbeat. You never know what's going to go wrong and having an asset like Sabrina is key. At times, I felt like she could read my mind. We loved working with her and cannot say enough good things about her and her team.

Olivia O.

Married on 12/20/2019

Sabrina is a wedding angel

Sabrina and her team are incredible! They took all the stress the day of a wedding can hold and turned it into utter joy. Sabrina's main focus is YOU, the bride and groom. She truly has your best interest and vision as her top priority. Don't wait, hire these angels!

Patrick D.

Married on 07/27/2019

I Miss Sabrina Already

I want to get married again just to use Sabrina and Proposing Dreams again. She gave me all the suggestions I needed and pointed me in the right direction every step of the way. I was dragging my feet on plenty of details and Sabrina just pleasantly hounded me into gettin everything done. Would not have happened with out her. I think I called her "mom" at a couple points during the day of, when I ran into a couple issues. I could text her last minute stuff and it would be the most ridiculous request and it got done. She caught problems I hadn't even anticipated (or maybe caused...) and fixed everything. Her personality was the cherry on top. Hire her.

Savannah U.

Married on 01/12/2019

Excellent experience! Highly Recommend!

I have to start by saying if you are in the market for any wedding or event planning I HIGHLY recommend hiring Proposing Dreams. From the beginning to end working with Sabrina and her assistant, Amanda was such a pleasure. Our wedding was exactly what we wanted and more! We even had a blizzard the day before and day of the wedding and there was still not one hiccup! Sabrina truly made our dream wedding come true and made the planning process exciting instead of stressful. Thank you SO much Proposing Dreams for a truly unforgettable day!

Danielle

Married on 09/22/2018

Sabrina is amazing!

We were so lucky to have had Sabrina (and her assistant Amanda) join our special day. I can't imagine it going as smoothly as it did without her. She was a truly selfless professional, doing everything she could to keep the group on task and on schedule without ever inserting her own needs over ours. Sabrina brings a huge amount of experience and expertise, which was apparent in our initial consults and on full display during the big day. She expertly executed our ideal vision (which had various levels contingency for weather) and nearly read my mind throughout the day. She was able to provide valuable advice and sober thinking throughout the process but never insisted we change anything that was important to us and always had a get-it-done attitude. She worked very well with the venue staff and outside vendors. We were impressed with Sabrina's ability to work with the families and attendants as well. From unruly groomsmen to stressed mothers, she successfully herded cats without rubbing anyone the wrong way or adding an ounce of additional stress. We highly recommend Sabrina and her team for your wedding day!


Erin

Married on 09/01/2018

I knew we needed a wedding planner since we were planning a wedding a 1,000 miles away. My now husband and I were together for 8.5 years before we got married. We waited so long to get married because we wanted to be able to have the wedding that we truly envisioned. We went with Sabrina and her team 2.5 years before our wedding and we were never disappointed. I can't tell you how much I appreciated Sabrina's honesty while planning. If something wasn't going to work, wasn't really needed or was too expensive, Sabrina was honest with us and kept us in check. That's exactly what we wanted! Her years of experience shows in structure and organization of her planning. I would say 3-5 days out from our wedding day everything was planned. I was blown away walking into our event space. Sabrina and her assistant, Jamie nailed the exact look and vision I had in my head. Battling 90-degree heat at our outdoor venue and wind gusts all night, we had some decor blow over during set-up and they ran out and found a replacement before we ever knew about it. AMAZING! I heard so many stories from friends and family saying how stressed and overwhelmed their wedding days were. Even some saying they are so glad it's all over because it was so stressful. We wanted the opposite. We had a completely stress-free day, which is an amazing feeling! At the end of the night, I was in tears. Not because anything went wrong but because I didn't want the day to end and I wanted to do it all over again! There isn't a single thing we would change about our wedding day. Thank you, Sabrina, Jamie and her team for making our wedding day everything we imagined and waited for and more!

Sheri

Married on 07/20/2018

Sabrina and Proposing Dreams were invaluable in helping plan and manage my daughters wedding, from the rehearsal to the wedding to the reception. I was able to enjoy all the events as a guest.
She is professional and personable at the same time.

Kerri P.

Married on 06/30/2018

Sabrina was great!

At the time, my fiancé and I had been engaged for a year and were completely overwhelmed with planning a wedding. We finally decided to hire a wedding planner- I'm convinced if we hadn't, we still wouldn't be married. We interviewed several and ended up going with Sabrina. She was immensely helpful planning a St Louis wedding from Indianapolis. She put us in touch with all the vendors we ended up using, helped us make decisions when we weren't sure which to choose (which happened often) and was available even when going through major family events in her personal life. We had about a million questions and she took the time to answer all of them for us. We would recommend her and would definitely use her again if we were to do our wedding over.

Allison

Married on 04/07/2018

Sabrina and her team at Proposing Dreams are fantastic at what they do. Sabrina did a great job explaining her wedding coordinating services clearly at our "getting started" meeting which helped us choose a customized package with as little or as much help as we wanted throughout each part of the planning process and her rates were very reasonable. We had her involved early on in our planning process which helped significantly with selecting vendors, resolving any concerns that came up early, and really helped ensure everything went smoothly (while minimizing our stress!). Sabrina is very personable and down to earth, and I highly recommend her and her team to any bride or groom!

Laura

Married on 04/06/2018

They are the best day of wedding coordinator. This is my second event that I used them for and it was perfect.

April

Married on 11/11/2017

I didn't really think that I needed a coordinator, my sister gifted it to us and it was the best gift! I don't think I could have pulled it off with out the assistance of Proposing dreams , specifically Krissi. From the moment we met with Krissi we knew that she would be such a great help to us. She kept me on task with all the checklists and timelines that needed to be accomplished. Every time we met it was like talking to a friend but better because Krissi knows what shes talking about. I am not a stressed out kinda girl but as we got closer to the big day I was stressing, she was calm and kept telling me it was gonna all work out and it did. The day of was perfect. I was completely relaxed because I knew Krissi was in control of the day. We had the best time and had nothing to worry about, also we were told over and over that it was the best wedding by the guests. Thank you Krissi for everything.

Lisa

Married on 10/21/2017

Sabrina has a wealth of experience and connections to all the best wedding vendors on both sides of the river. We came to her midway through the planning process and she was a great resource for us. Any loose ends, problems, roadblocks, were quickly resolved. She is smart and engaging. Also, she tailored the price for her services to our exact needs. Highly recommend her!!!

Will

Married on 10/07/2017

Sabrina and team made our wedding planning process seamless. From day one, she lined out a game plan to prioritize what needed to be finished when. We didn't have a traditional wedding in mind, but Sabrina listened to our vision and communicated what we were hoping for to every vendor along the way. Our wedding weekend was beyond what I imagined - meaningful, fun, and full of love! Icing on the cake, Sabrina is a joy to work with and stays calm when you need her to most. If Proposing Dreams is available for your event - book them!

Emily

Married on 08/26/2017

Awesome, awesome, awesome services and experience.

They are top notch, best of the best, the whole package.

From the very beginning to the day of, they didn't miss a beat. Definitely made my wedding day stress free, exciting, and unforgettable.

Anna

Married on 07/29/2017

We couldn't have been happier choosing Proposing Dreams to be a part of our wedding. Sabrina made the planning process very smooth with her attentiveness to detail and organizational skills, making our wedding day worry free and one to remember!

Nancy

Married on 07/15/2017

Proposing Dreams took the stress out of planning our wedding. Sabrina and Amanda made sure all details, small and large, were covered. They listened to us carefully in the months leading up to our wedding and helped us plan the ceremony we wanted. They made our wedding day worry free. Proposing Dreams is the perfect wedding planner.

Debbie

Married on 06/03/2017

Sabrina helped us plan our second daughter's wedding. Why did we choose her? She had helped us plan our first daughter's wedding. Sadly, we've run out of daughters but would highly recommend her and her team to help with your daughter's wedding! She can help with other events and we'll always go to her first. If you want to feel like a guest at your own event, she's your gal!
Are you interested?
Send a message