45 Reviews
Recommended by 99% of couples
Quality of service

5 out of 5 rating

Average response time

5 out of 5 rating

Professionalism

5 out of 5 rating

Value

4.9 out of 5 rating

Flexibility

4.9 out of 5 rating
47 User photos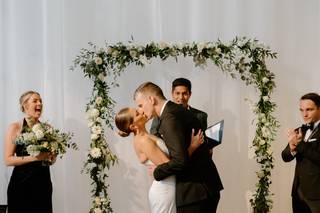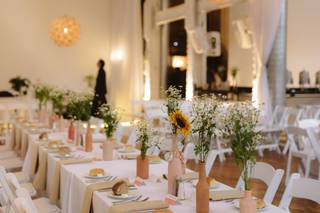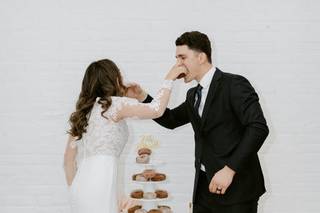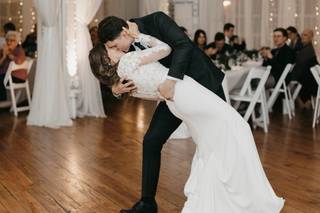 + 43

photos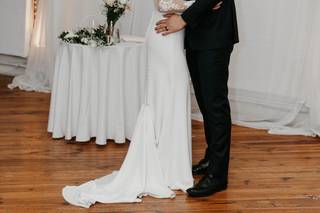 Keith L.

Married on 10/29/2022

Keith & Ashley Lerch

We had our wedding last weekend and we are still in awe of how perfect everything turned out. Chris and the staff were there for our every need and were instrumental in turning our vision into reality. The relationship they have with their vendors make your wedding day go as easy as you wish. The Power Plant is the perfect place for a wedding and we can't wait to attend one ourselves.

Haley M.

Married on 10/08/2022

Stunning venue & stress-free process!!!

We could not have asked for a better venue than Power Plant Productions! We were looking for an industrial-style, flexible indoor space and we knew it was right for us the moment we walked in. It's bright, naturally beautiful, it was the most gorgeous canvas for a relaxed, fun ceremony and cocktail-style reception. We got compliments from our guests about it all night long! 

We had about 85 guests and it was a perfect size, though we can easily see it working well for a smaller or larger group. The location is ideal and made for a fun Old City weekend, and the easy parking is a major plus. Drop-off and pick-up were a breeze.

Chris and the whole Power Plant team were responsive, helpful, knowledgeable, and honest throughout the whole process. Anyone who is looking for a flexible, DIY space that doesn't require serious decoration to be stunning should consider Power Plant! 

Emily M.

Married on 10/01/2022

Our Perfect Venue

My husband and I were married at Power Plant on 10/01/22 with a wedding of about 90 guests. Power Plant helped us make the day exactly how we pictured. The venue itself is unique and beautiful, and its location in Old City was perfect for our guests traveling to Philly from out of town. We had an open canvas for our decor (although you'll really only need minimal since the building is already so pretty!), and Chris and her team were very helpful throughout the whole planning process and were on top of everything the day of. This gave us the fun of a DIY venue without any of the DIY stress, which made it easy for us to be present and enjoy every moment of our wedding day.

Are you interested?

Send a message

Kelly

Married on 09/24/2022

Incredible venue!

My fiancé and I just got married at Power Plant on 9/24/22 and it was an absolute DREAM. Everything about the venue was amazing—the high industrial ceilings, the natural lighting, the lights and lanterns strung from the ceilings & windows…my guests could not believe how beautiful everything looked. Power Plant was the ONLY venue we toured during our wedding planning process & as soon as we met Chris & saw the space we immediately booked it. Throughout the entire 2 long years of wedding planning, Chris & her team were communicative, SO helpful, and did absolutely everything possible to make our wedding day perfect. We had 90 guests and the space was filled beautifully. Everything about this venue is an absolute dream & we are so glad that Power Plant made it all possible.

Bailee H.

Married on 09/10/2022

SUPERB customer service!

I had a great experience with PPP for my wedding! Chris was so helpful and responsive leading up to the big day, and the venue staff was beyond attentive during the big day. PPP was the blank canvas I needed to make my dream day come true, and they were amenable to our requests and worked so well with the vendors. If you're looking for a unique, intimate venue downtown with great customer service, I recommend PPP!

Sarah J.

Married on 09/09/2022

Absolutely Amazing Venue!

We had our wedding here on October 7th and there aren't enough works to describe how thankful we are that we selected this venue.

Chris & Jim the venue owners, were absolutely fabulous the entire process. Chris's communication style and response time is impeccable and she's always reachable by email or phone. She answered every and any questions we had and is extremely knowledgeable about vendor recommendations.

The venue it's self it's stunning and extremely unique. It has gorgeous natural light, hardwood flooring, and an exposed ceiling. With all those natural features we didn't feel a lot of decor was necessary.

We were initially drawn to this space because they were really flexible about having an intimate 60 person wedding which is rare to find in Philadelphia.

The day of the wedding we were givin a bridal suite to store all our stuff and have the bridal party hang out before the ceremony, which was extremely helpful. The venue also provided a day of coordinator, Chole who was super helpful for the ceremony lineup and setting up some of our decor. This venue is bring your own vendors which is really convenient to shop around for catering staff within your budget.

I highly recommend this venue for its uniqueness, staff, proximity to hotels & parking garages, and it's very budget friendly!



Maddy

Married on 07/09/2022

The perfect space for our wedding!

When we were looking for a wedding reception venue, we knew we wanted somewhere not-so-traditional and were struggling to find somewhere that fit our vision - at least, until we toured PPP. After visiting, we knew it was the perfect space to host our wedding reception! It is such an awesome industrial loft space and truly does not need much to make it look cool. One of the best things about it is that you can bring in whatever vendors you want to make your day exactly how you want it to be. Chris was awesome and flexible whenever we wanted to visit and helping us with our layout for the day. We were able to use the space the day before to get most of our decor sorted out in advance. On the day of, things went perfectly smoothly and our guests would not stop raving about how awesome the space was. I would book PPP again in a heartbeat!

Kayla C.

Married on 05/21/2022

Power Plant Productions was a dream!

BEST VENUE EVER! Seriously, if you are considering going with Power Plant Productions for your wedding you will definitely not regret it. The venue is not only beautiful but Chris and her team were AWESOME! From day one, Chris made me feel taken care of - she sent long lists of vendor recommendations and frequently checked in to see if I needed anything. Everything on our wedding day went perfectly and seamlessly - I could not have asked for a better venue and team to work with for our big day!

Kat S.

Married on 05/02/2022

Power Plant Productions was Perfect

Like so many others, Power Plant Productions was the only venue we looked at because we were sold immediately. The space is absolutely gorgeous and the perfect canvas for a wide variety of visions (for us, we felt it reflected our taste in simplicity and modernness). As an added bonus, we wanted a venue in a part of the city that guests coming in from out of town would enjoy exploring over the weekend, and PPP is ideally situated in Old City for this (and is right across the street from a parking garage). We had both our ceremony and reception at PPP on Leap Day! Chris and the team were the utmost in professionalism and helpfulness. Their expertise in the wedding industry was invaluable and we never doubted that we were in extremely capable hands. Since we didn't work with a planner, it was so important to us to work with self-sufficient and knowledgable vendors and that was exactly what we got with PPP. We had even misplaced a really important decoration (a letter to our parents) sometime during load in the day before, and the venue rep on site with us for the wedding actually found it moments before the ceremony! We were overjoyed and so thankful at their attention to detail. Getting married at Power Plant Productions was absolutely perfect and we cannot recommend it enough!

Ali M.

Married on 02/18/2022

The Perfect Venue!

Power Plant Productions is the best!! The venue is gorgeous and made our wedding reception perfect. From the beginning, Chris was SO helpful and accommodating. She sent us so many amazing vendor recommendations and helped us coordinate to make sure that everything was in order for the big day. She helped make sure that all details were accounted for (decorations, seating, photo booth, dj, signage, etc.), and was great about following up in the months and weeks leading up to make sure that everything was set. The venue is spacious, yet feels warm and intimate, and has a beautiful modern look. Our guests loved it. We can't recommend it highly enough if you're looking for a wedding venue in Philly!

+ 5

photos

Morgan N.

Married on 10/08/2021

Wonderful & unique wedding in downtown Philadelphia that doesn't "break the bank"

We had a wonderful wedding experience at Power Plant and would absolutely recommend it to anyone looking to have a unique wedding experience in center city that doesn't have to break the bank! The venue coordinator, Chris, was amazingly responsive from the beginning through helping us postpone due to Covid and of course in the final weeks before the wedding where she went above and beyond to ensure all the pieces came together how we wanted. The space was absolutely beautiful & dreamy and our guests raved about the entire experience! I can assure you, you will NOT regret booking with Power Plant! P.S. - Power Plant's recommended vendor list is so helpful. If you are looking for an affordable catering option on the list, I have to give a shout out to Catering By Rich!

Elias R.

Married on 08/21/2021

One of the best venues in the area!

Power Plant and their owner Chris are some of the most caring and thoughtful people when it comes to assistance with wedding planning. They helped my fiancé and I curate a plan and gave us tips on how most efficiently use or space. We couldn't have been happier with the excellent service that they provided. What we loved about the venue is that is a "blank canvas" in a way. It comes with tons of amenities but also is flexible and accommodating in terms of decorations.

Lindsay

Married on 08/13/2021

Incredible venue

We had our wedding at Power Plant in August after having to postpone twice due to the pandemic. Chris (the venue owner and coordinator) and Jim (also a venue owner) were so flexible, helpful, and downright lovely before, during, and after the postponement process. Chris was great in general -- she patiently answered my (many) questions and offered up so many good ideas. When we had a last minute issue, she was very encouraging and sweet.

The venue itself is amazing. We looked at so many places before Power Plant and nothing really spoke to us. We weren't into ballrooms or farmhouses (which seem like a vast majority of venues in the area), so when we walked into Power Plant it was a breath of fresh air. It's a white brick open warehouse feel that is a dream to photograph in and honestly doesn't need a lot of decoration. We did flower centerpieces and a bit of greenery down the aisle for the ceremony and that was more than enough. So many of our guests commented on how cool the space was! I also loved that we could bring all of our own vendors in as it allowed for so much flexibility. I would 1000% recommend having your wedding here!

Brendan M.

Married on 08/07/2021

Perfect venue!

The Power Plant was absolutely perfect for our wedding reception, and their team was extremely communicative, kind, and thoughtful throughout the planning process and during our reception. We couldn't give a stronger recommendation!

Jackie M.

Married on 07/09/2021

Microwedding Dream

Despite 2020 putting a twist on long awaited wedding day, everything about Power Plant was an absolute dream. From the moment we walked into this hidden gem almost 2 years ago, we knew it was exactly where we needed to be for our wedding, and then getting to know Chris, Jim, and Brian was icing on the cake. Not only is the space beautiful but everyone went out of their way to make our day special. We attempted to hold out with our original guest count of 120 as long as possible and then in August we were faced with the decision to postpone, relocate, or re-route to a micro-wedding of 24. WE ARE SO HAPPY WE CHOSE THE MICROWEDDING!!! Chris was there every step of the way providing us with options and keeping a very Type A bride calm while re-planning a wedding in a months' time. I might be biased  but it was the most special, intimate wedding I've ever been a part of. Everyone one of our family and friends who attended, both personally and virtually, have not stopped talking about how beautiful everything was. We walked out of there knowing we were blessed with something special that we will hold in our hearts forever and we cannot wait for our next excuse to return and make more in the future.

Ellisa C.

Married on 06/18/2021

Dream Elegant & Industrial Venue in Old City

Power Plant Productions was the perfect venue to host our June 2021 wedding, and the Power Plant team went above and beyond to help manage our event details (after having to reschedule our date twice!).

The venue: If you're looking for a gorgeous and unique venue space, with an industrial feel and blank canvas to work with, then Power Plant is for you! It has a great Old City location and is truly unlike any other wedding venue we've ever been to. Featuring large floor to ceiling windows, and beautiful white walls, the lighting at this venue can't be beat and there is definitely a cool factor that comes along with the space. The venue easily fit our 115 guests and was the perfect backdrop for our traditional wedding ceremony and cocktail style reception.

The team: Chris, Jim, and Brian were extremely easy to work with and made us feel heard, valued, and a part of the Power Plant family. Chris helped manage event details and vendor coordination and made us feel at ease throughout our event reschedules due to Covid. Chris was flexible, offered creative solutions and workarounds, and respected our decisions when we decided to push back our wedding dates. We truly felt that we were all in this together, and it was a really sweet feeling to come out on the other side and have the celebration we dreamed of last month.

+ 2

photos

Stephanie G.

Married on 03/08/2021

Our micro-wedding was amazing!

Our micro-wedding at Power Plant was a dream! In short, this venue is beautiful, Chris and her husband are incredible, and we were so happy that we ended up choosing them to host our day. 
We had the incredible misfortune of being one of the many 2020 couples who were faced with the difficult decision of cancelling, postponing, or changing our wedding due to the pandemic. We had chosen Power Plant - and our August 2020 date - almost a year prior to the pandemic because of its modern style, flexibility, and laid back (yet extremely helpful) manager Chris. While we were already excited to have our wedding at Power Plant, we found that we were even more thankful for this choice when the pandemic began to upturn all of our best laid plans. Once we  knew we were going to need to modify our special day, Chris stayed in extremely close touch. She and her husband bent over backwards to make sure we were comfortable with whatever we decided (despite all of us being in new uncharted territory). I will say that their communication throughout this process was incredible. We were given the options to postpone or continue with one of their brand new packages for elopements or micro-weddings. We chose to scale back our 130 person wedding to a 23-person event with Power Plant's brand new micro-wedding package. And we ended up being their first ever micro-wedding! Those who had planned a wedding can only imagine how stressful this was, but Chris was our constant. She made sure we were informed and happy with our choices, and played a heavy hand in helping us transform the space and re-design our special day. This included re-doing our timelines, floor plan, helping us implement covid safety procedures, and facilitating a seamless wedding live stream for our guests who we could no longer have in person. When the day came, our family and friends had no idea what to expect and they were blown away. Not only did the live stream work so well and was easy for everyone (technology literate or not) to access, but the day and the space turned out perfectly. The space at Power Plant allowed us the space to safely distance while still having dinner, dancing, and all of the typical wedding traditions! Our guests came away from the event saying that they might be PREFERRING micro-weddings in the future. All in all, we could not be more grateful to Chris and the rest of the Power Plant team for everything they had done for us!!

+ 10

photos

Clara F.

Married on 03/07/2020

amazing venue!

Chris and her staff at Power Plant were phenomenal. We had a relatively last-minute wedding which was only possible because of how helpful she was. She offered vendors that she had worked with previously to speed up the process and was willing to give recommendations when we wanted them, but we never felt as if she was imposing or demanding. She is VERY responsive and always available to answer the smallest of questions. The space is stunning even with very little decorations. If you are looking for a no-fuss wedding venue with helpful and kind staff, Power Plant is for you.

+ 3

photos

Jb Lagos

Married on 01/08/2020

Great Wedding Venue!

Chris and Jim at Power Plant Productions were already amazing to work with, accommodating, and professional before COVID-19 arrived in Philadelphia. Ever since city based limitations and capacity restrictions were put in place, they have only been even more communicative, understanding, and supportive of our wedding planning and decision making. Chris is so quick to respond and she and Jim worked with us every step of the way as we altered our wedding plans. We are grateful and excited to work with their team and get married at such a beautiful and unique venue in the heart of Old City. We cannot recommend Power Plant Productions enough for couples looking to find their wedding venue. You will not be disappointed!

Anne

Married on 10/26/2019

Beautiful space and an even more amazing team

We just got married at Power Plant and it was the absolute best. We did a 120 person cocktail style wedding, so no assigned tables. Chris helped organize how many tables we would need for the appropriate amount of seating and how to arrange the space so that the flow worked perfectly. The ceremony set up was beautiful and perfect. Chris was so helpful. They supplied everything we needed for the wedding like chairs, tables, easels, and even baskets and things. She also recommended AMAZING vendors for catering (Power Evens), photography (Peach Plum Pear) and flowers (Vault and Vine). Her son even did our photo booth! Her team made set up and break down for the wedding easy. They were so helpful and caring. I absolutely loved working with Chris and Jim and would recommend them for any event or wedding.

Erica P.

Married on 10/12/2019

Amazing Brunch Wedding!

Our brunch wedding at Power Plant Productions was everything we could have ever wanted! The space is beautiful, bright, and airy during the day and made for the perfect backdrop to our big day. From the beginning Chris was so helpful! She sent emails with detailed recommendations and information to help us plan our wedding. Because this is DIY venue it can be a little overwhelming to bring in all the vendors yourself, but Chris was there to help every step of the way. They went above and beyond to help with setup and make sure the day went seamlessly. I felt like Chris and Jim truly cared about making our wedding everything we wanted it to be. We are so happy we chose Power Plant for our wedding!

Kelsey

Married on 06/15/2019

Beautiful, unique Venue

I fell in love with PPP the moment I saw it. It is a gorgeous loft space full of natural light and white brick, and it looks amazing in our wedding photos. We wanted our ceremony and reception in the same space, and Power Plant made that work perfectly. It was a great size for our 110 guests, and it even has a private bridal suite that was the perfect spot to catch our breath and relax for a bit in between. Chris and Jim are the owners, and they are super responsive, wonderful people. They helped us every step of the way, and it was clear our happiness was important to them. They only do one wedding a weekend, so we really felt like we had time to drop stuff off and set it up how we want. We also got to choose all of our vendors which helped us save money on things like liquor and catering. We truly got to make our day exactly as we wanted, and Power Plant helped us do it! The only cons are that it is on the 3rd floor of a building with no elevator.

Alexandra M.

Married on 05/10/2019

The perfect venue!

We had our wedding at Power Plant in October. It was perfect! Chris helped us organize everything. She recommended amazing vendors. The set up was great, we had about 145 guests for a cocktail style reception. There was plenty of seating and plenty of room to mingle and dance. The space is so unique and has great lighting. I highly recommend this venue, everything went perfectly and we couldn't have done it without Chris and her staff!

Gina

Married on 04/27/2019

Seamless and Enjoyable Experience

Power Plant was the only venue my now husband and I visited - because as soon as we stepped in and met with Chris, we were sold. The place is so unique and chic in an industrial way -- and Chris greets you like you're an old friend. Throughout the entire planning process, Chris (and her husband, Jim, and team), were responsive, courteous, and went above and beyond to help us. They coordinated seamlessly with all of our vendors, and made our drop-off and pick-up process so convenient that I didn't feel any stress throughout it! All of our guests raved about how cool the spot was - even some of the older folks who we thought might think it was a bit too non-traditional. Thank you to the entire Power Plant team who made our event so incredibly special and for making the day stress-free (as stress free as a wedding for a bride can be! :) ) I only hope a friend of mine gets married there so we can experience it all again!

Alice B.

Married on 01/17/2019

A Magical Evening--Perfect Venue!

Too bad there isn't a way to give them 7 stars! First, the venue is great. It's different but warm and inviting. It allows for a great flow of people so they can mingle. Because of the flow, if someone doesn't want to hear the music much they can find quieter spaces. What also stands out is that Chris and the crew were absolutely fantastic to deal with! They knew what we were trying to create and worked creatively with us to make it our vision. They were incredibly available and really really helpful. We can't say enough good things about Power Plant Productions!
Are you interested?
Send a message