39 Reviews
Recommended by 88% of couples
Quality of service

4.4 out of 5 rating

Average response time

4.5 out of 5 rating

Professionalism

4.2 out of 5 rating

Value

4.4 out of 5 rating

Flexibility

4.4 out of 5 rating
17 User photos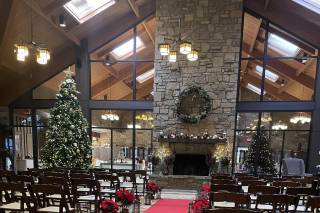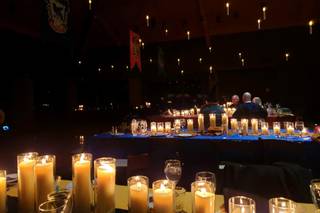 + 13

photos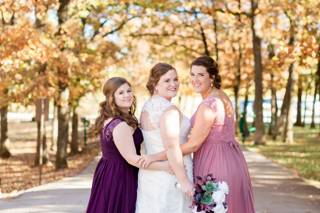 Veronica

Married on 12/18/2021

PostOak has a special place in my heart!

We cannot say enough positive things about PostOak, and the GM Trisha. We planned our Christmas-themed wedding from out of state and still had an easy experience finalizing and planning the big day. Trisha was so accommodating and helpful in the process of planning an out of state wedding. Trisha was someone who we bonded with immediately upon meeting, and we feel very lucky to have gotten to know her.

The PostOak staff was all very sweet and professional on the big day. Extra kudos to Chef Damien, who provided one of the best meals we've ever had! We had our initial dinner tasting with Damien and we're extremely impressed with the amazing food he prepared. Our guests also raved about the dinner! Additionally, breakfast was provided to everyone staying at the lodge, complete with eggs, bacon, coffee, juice, oatmeal, and much more. This was very convenient for our guests and much appreciated.

The on-site lodges were one of the reasons we picked PostOak, since guests were coming from all over the country. The lodge provided a convenient and safe place to stay right on the property where the ceremony and reception was held. This made it very easy for guests to safely drink and not drive or wait for ride shares at the end of the night. The lodge also has a common room which gave our guests the opportunity to meet and mingle, not to mention play shuffle board, pool, and cards. Some guests even used the hot tub.

Another plus about PostOak is that they provide linens, tables, chairs, dinnerware, and bar services, which not all venues do. This made the list of vendors and to-do's shorter than if we had to rent/book these items on our own. The bar selection was also very well received by our guests.

The space itself is absolutely gorgeous. There are several rooms to choose from for ceremonies, receptions, bridal rooms, etc. the Great Room and Dining Room feature huge stone fireplaces which provided a beautiful backdrop, especially for a Christmas wedding.

Overall, we cannot say thank you enough to the great staff at PostOak for helping in our big day and helping us achieve perfection! I can truly say our big day went flawlessly and perfectly, and that is due largely in part to the kindness and professionalism of Trisha and her team and PostOak.

Sincerely,
Veronica and Cody Lowry

Jeremy M.

Married on 11/16/2019

Hands down best venue for the price

POSTOAK met all of our expectations and then some. Heather and staff did a phenomenal job meeting our every need and working with us on our perfect Wizarding World Wedding.

Sandra

Married on 09/30/2017

​We were searching for a venue that would allow us to have both the ceremony and reception indoors, at the same venue, and in a large of enough space for our 200 or so guests​ and PostOak was the perfect spot.​ ​From the night before to the morning after, our guests and wedding party had an awesome time. The ​retreat offers private lodges, which ​were fun for our guests the night before the wedding and also offered a safe place for them to stay after celebrating the ​evening. ​On our wedding day, the staff was extremely professional and eager to make sure all of our ​needs were met. ​We chose bold colors for our Art Deco theme and this venue was the perfect choice to bring our vision to life. They offered personalized decor for our ceremony room, and walking down the aisle was simply unforgettable. The whole night was a fairytale and I will forever be grateful to PostOak and their wonderful staff for that gift. During the planning period​,​ everyone we came in contact with was pleasant and happy to have us there. ​My only critique would be that​ the venue cycled through several wedding coordinators over the year we had our contract,​ which suggested to me that they have a difficult time keeping that position filled. Eventually we were paired with the corporate event manager, Alysha, who we truly enjoyed working with and wish we could have had the pleasure of corresponding with from the start. Alysha picked up exactly where the other coordinators had left off and worked very hard to make sure we felt appreciated and satisfied with all of our choices at the Lodge. She deserves recognition for her extraordinary dedication to her work as well as her for seamless transition into wedding coordinator on top of her preexisting responsibilities. As soon as we met with her, we immediately felt reassured that our dream day would not be lost in the fold. Every venue would consider themselves lucky to have an Alysha on their staff.

+ 2

photos

Are you interested?

Send a message

Kelly

Married on 08/27/2016

Beautiful venue. Emily is very accommodating and professional. We want to add some custom items to the menu and have had no problem doing so.

Iryna

Married on 09/18/2015

Great venue, very helpful and professional staff!

Amanda

Married on 09/13/2015

Beautiful venue and helpful staff. The pricing for what you get is awesome and everyone loved the food. Loved it overall.

Elizabeth (.

Married on 05/17/2014

Post Oak was great! Biggest plus was the AMAZING food and the beautiful scenery. Few minor issues that were all worked out. Staying at the lodges all weekend with our bridal party was perfect!

Sara

Married on 03/29/2014

Post Oak Lodge was the perfect setting for our wedding reception. Lodge rooms were great and a lot of fun for the wedding party to stay in the night before and the night of the wedding. Food was excellent, we got many compliments from guests. Was a little hard to get to with all of the construction on the highways in downtown Tulsa but it was well worth the drive. Location and scenery were breathtaking. They offer so many things to do, you could spend a whole weekend out there easily! We will be going back each year for our anniversary.

Abby

Married on 11/24/2012

I held my wedding this past weekend at Post Oak and it was the best decision! The whole team is so helpful and dependable. They were there with us from start to finish. All the food was done by them as well and I got so many compliments on how it wasn't just "plain wedding food". It was very good and people kept going back to seconds. The venue itself is beautiful and located in such a wonderful location for pictures and just relaxation! I would recommend Post Oak any day!

POSTOAK Lodge & Retreat's reply:

Thanks, Abby! You were so great to work with and your wedding was beautiful. We're so happy your experience was everything you hoped it would be! We wish you and Hunter all the best!

Megan

Married on 11/03/2012

Everyone at Post Oak Lodge was a joy to work with and really helped to make my wedding the best day ever. Literally, not one thing went wrong and I credit a lot of that to the wonderful staff at the lodge. Planning with them was super easy and they were always assessable to answer whatever question I had. They have their setup process done to a fine science and through the whole process I felt like I was not nickel and dimed for everything, but that they were genuinely happy to help in whatever way would make the day better. The food is amazing! From our tasting to the actual meal at the reception, it was top notch the whole way. I received so many compliments on the dinner from my guests! We also had our rehearsal dinner in the pole barn. It was a pig roast country theme and again, fantastic food and really great table cloths and centerpieces already set up and ready to go for us. The wait staff during both dinners was very attentive and super nice. Most of our guests used the lodge as their hotel for the weekend and enjoyed being able to stay so close to the festivities. The number you call to make reservations was a little hit or miss on the information that was being given out but all it took was a quick phone call to Amber and everything was right again! I strongly recommend using Post Oak Lodge, esp if you are interested in an outdoor venue. You will not be disappointed and you'll end up having the best weekend of your life!

Brooke

Married on 09/29/2012

The staff was great! And Layne is so professional and friendly. She helped so much and made my husband and I feel comfortable and made us feel well informed. Post Oak Lodge is gorgeous and it offers so many unique aspects such as different areas for a ceremony or reception, there is lodging, they take care of food and they provide a friendly and classy environment for a wedding venue.

POSTOAK Lodge & Retreat's reply:

Thanks for your kind words, Brooke. We enjoyed having you and Brandon at our facility. We just loved your peacock centerpieces!

Hayley

Married on 05/19/2012

They were GREAT. And the facilities are incredible. You should stay there with the whole wedding party and all the families. The place was so fun for the whole weekend and everybody had a blast. The staff was so helpful and literally everything went perfectly. We had the rehearsal dinner, the ceremony, and the reception all at post oak. They were fantastic.

POSTOAK Lodge & Retreat's reply:

We're so glad you enjoyed your day, Hayley! Your vintage decor was timeless and beautiful. Our staff especially enjoyed reading yours and Taylor's "love story board"!

Nikki

Married on 09/10/2011

We were beyond pleased with the services that Post Oak Lodge provided for our wedding day. Layne, and the rest of the staff at Post Oak were always available to answer my millions of questions while planning the wedding. And because of the amazing staff at Post Oak our wedding day was not stressful at all! Everything went perfectly!! The on-site cabins provide an amazing, and affordable, way to make your wedding day last as long as you would like!!! After the wedding we were able to relax on the covered porch with over 40 of our closest friends and family members!! Our wedding was a dream come true and I can not say enough good things about Post Oak Lodge!!

Jaime

Married on 07/03/2011

Everyone at the Post Oak Lodge is professional and wonderful to work with when planning a business event or wedding. (I have worked with them in both capacities.)
The food was excellent, and that is difficult to do for a buffet style meal service for almost 200 people. I have been getting rave reviews and thank you cards from my guests that loved this venue!

Avery

Married on 06/03/2011

The staff at Post Oak Lodge were so amazing! I cannot stress enough how important the venue of a location is and this one has it all: scenery, lodging for your guests, peace and serenity, amenities, and great customer service.

We had our rehearsal dinner at the pole barn on the property. It was very rustic and "country western". The staff set everything up - there were boot centerpieces filled with flowers like sunflowers and wildflowers, red checkered table cloths, candles, and plenty of cold drinks since it was pretty toasty that evening. My guests had a ball. The food at the lodge is amazing. For the rehearsal dinner, we had BBQ brisket, sausage, potato salad (DELISH), corn, and COBBLER!!

It was quite warm and about a half mile from our rooms, so the staff generously provided golf cart trips for four guests at a time up to the parking and the rooms.

Amber, Eric, and Jennifer were literally the best ever! At the wedding, they made sure that my groom and I always had a full drink and got whatever we asked for. Since we were outside getting our pictures done, we missed the cocktail hour and the appetizers. They were kind enough to get us a plate that we could share before dinner. They made sure that we were having fun and comfortable all evening long.

The chef allowed us to customize our menu. I had picked something that was a favorite dish of mine - macadamia nut crusted chicken breasts w/pineapple papaya chutney. TO DIE FOR. We also had a macaroni and cheese station. Everyone raved! They wanted to eat more of that, than our wedding cake!!

On one day, we were out at the pool and Eric even called us in a pizza and just asked that we bring some cash up front to pay the delivery driver! They stopped at nothing to make sure we were comfortable.

My bridesmaids and I were in the bridal dressing room, and we were all getting ready and the staff made sure we had plenty of refreshments and anything we needed. Eric hooked up a DVD machine so that we could watch our favorite wedding movies!

I was literally bawling the next day when we had to leave. It was such a special venue and I was so glad we had it at Post Oak. I highly recommend them!!! My guests still rave about their wonderful beds (they are so soft and fluffy), our amazing wedding, and the AWESOME food!

The only drawback for the lodge is that they do not have room service or meals that are not planned. It is only for hire for special events or functions. Their food is so good that I wish we could have had it every meal!

Abby

Married on 10/23/2010

The lodge is AMAZING!! THe entire experience was great, and the staff was perfect. Anything we needed or wanted was done! The entire process was very stress free, and Layne and Amber helped us make some decisions to take stress off of us. The venue is beautiful, and most of my guests stayed on site, and all agreed the amenities were exquisite! If you are in the process of selecting a venue, CHECK IT OUT! Totally worth it

Ashley

Married on 07/20/2013

Post oak lodge was an amazing venue. They provided us with a great location, accommodations and food and drink. They did whatever I asked and were so nice! Kristin was amazing and took care of us! We ha a perfect wedding and I couldn't ask for more! So happy with the post oak!

everyone at Post Oak was great. I would highly recommend them.

POSTOAK Lodge & Retreat's reply:

Thank you!

Raelyn

Married on 08/15/2009

Post Oak Lodge is a hidden treasure of Tulsa. It is in the northeastern hills and a beautiful setting! The staff is top notch and there to serve and make your day wonderful, but not just your day, your entire experience as a bride! They require you to cater through them but don't be hesitant about that, their food is superb and you would not want anyone else. The catering tasting was one of our favorite days as we could not get enough of their food! They even specially made several dishes just for us and created new recipes. The beauty of this property is hard to beat and you can fit over 500 people in their main lodge. The three rooms are only divided by glass walls, so it is one of the only venues in Tulsa that doesn't divide up your guests to the point they can't see everything going on at your reception. The other bonus is they give you from 8:00am that morning to start decorating! They set up all the rentals the night before so it is ready for you to get things set and you're not doing it only 2 hours prior to the reception like most other vendors. They are there to make your day fantastic and you will not be disappointed!

Laura

Married on 09/19/2015

Postoak is absolutely breathtaking, the scenery and building itself both far exceeding our expectations for a reception venue. The staff is awesoms, always very friendly and prompt in responding to questions and concerns. They do have some rules that we found a tad stifling. Such as no outside food or drink at all, nothing can be hung on the walls, no open flames, and we could only work with one company to provide all of the decor. We got excellent reviews for the food though and the service was outstanding, though maybe a little too outstanding because all i got to eat at my own wedding was a bite of a potato and a half piece of cake. They would clear the food everytime my husband and I got up so we were starving by the end of the day. Another rule was that we had to book rooms there. It worked out fine because we met their 4 room requirement but I would have been a bit peeved if we had to pay for rooms that no one was even using. They do include a room for the bride and groom (i.e a honeymoon suite) the night of, that was very nice.

Shana

Married on 09/12/2015

We were incredibly pleased with Postoak lodge for our wedding venue. We chose this location because catering is included in their packaging and because we wanted a beautiful outdoor ceremony. The chef Damien is quite skilled and our guests raved about how tasty and juicy the chicken dish was. The serving and bar staff were all darling and so professional. We wanted a simple outdoor ceremony and reception and got everything we asked for at competitive rates. We are very happy with Postoak Lodge!

Graham

Married on 01/25/2014

Easy to work with, I could call or email them. Sometimes it was difficult to get a hold of someone there.

Thank you for the great service

Lanae

Married on 04/03/2015

Post Oak Lodge is a beautiful venue for a wedding. Sheila is the event coordinate we used and she was very professional and went the extra mile for us! The food was delicious, the bar tender was great and the staff was helpful. I would highly recommended Post Oak for your wedding if you want the venue to provide the ceremony, reception, food, alcohol and lodging. What a great value and amazing experience.

Lindsay

Married on 10/28/2017

I will admit, at first I was a little wary of the service we were receiving at POSTOAK. There was no wedding sales coordinator when we signed contracts, so we signed with one person, were transferred to another when someone was hired for the position, and then transferred yet again when that person resigned. Thankfully, Alysha, the catering manager who eventually took over our account, was great about alleviating our concerns and was on hand the night of our wedding to make sure everything went smoothly. She was super great about last minute additions for tables/linens/chairs, and even checked in with us the week of when the weather got suddenly chilly to make sure we didn't want to move the ceremony indoors. We were able to have our ceremony outdoors on the gorgeous little island in their pond and our reception indoors in the Aspen Room. The day of went super smoothly and service during our dinner was fantastic (our bartender was especially amazing and welcoming to our guests). I've gotten a million compliments on the food and the charm of the venue, and our photos look SPECTACULAR. For what's included with the price ($49/person, for a plated dinner, set up/take down, table/chair/linen rental, ceremony AND reception space), I don't know if you can beat POSTOAK for value in Tulsa. For brides wanting a beautiful venue but balking at prices around town, I highly recommend POSTOAK.
Are you interested?
Send a message