148 Reviews
Recommended by 98% of couples
Quality of service

4.9 out of 5 rating

Average response time

4.9 out of 5 rating

Professionalism

4.9 out of 5 rating

Value

4.9 out of 5 rating

Flexibility

4.9 out of 5 rating
67 User photos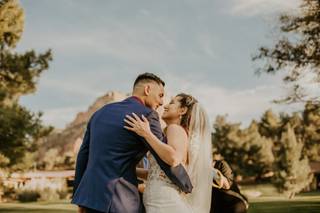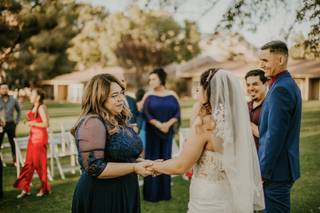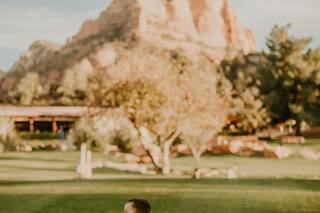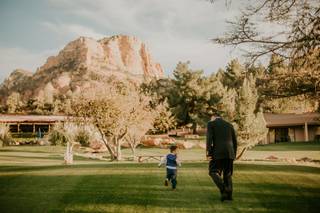 + 63

photos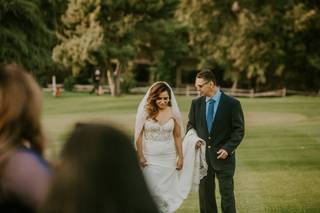 Tracy F.

Married on 03/06/2022

Friendly, helpful staff

Staff is communicative, friendly and helpful all the way around. We had many updates that were responded to immediately and in a professional and friendly manner. We had many of our guests compliment the helpfulness and friendliness of the entire staff at Poco Diablo.

Hailey

Married on 02/26/2021

Loved everything!

The venue is beautiful and the staff that worked our wedding were awesome. We loved everything and would highly recommend.

Lissette S.

Married on 10/30/2020

Sedona Wedding at Poco Diablo Resort

The amount of gratitude I have for them I have no words for. Tanya has been the sweetest and most patient from day 1. The day of my wedding, not only did I forget my wedding cake I locked the replacement my mother in law picked up on the way from Phoenix in the bridal room. They were able to make desserts for everyone (chocolate lava cakes and red velvet cupcakes). They also helped my piano player with a cord he lost. They helped with a lot of other small details. I definitely panicked but everything came together so amazing for our small wedding. Definitely going back for future stays! It's really peaceful and beautiful views of elephant mountain and I like that all these rooms face the green golf course with the fountain pond. There is a trail near by that my mother in law discovered to a nearby creek when we were first touring the resort. I loved it all and I am so happy with my choice. Also, this was all planned in about 2-3 weeks... by a miracle they had the day we wanted and worked with us in short notice. We found a spot near by for photos which came out amazing, about a 5 minute or less drive from the resort.

+ 5

photos

Are you interested?

Send a message

Cassandra W.

Married on 10/24/2020

Poco Diablo exceeded all our expectations!

They exceeded our expectations! We had a destination wedding here and planned everything with the site unseen. Jill made everything easy and was sure to answer every last question I had. The resort is gorgeous, the food was fantastic, the staff was helpful, and so much more! Our guests talked about missing the resort after they left. Thank you for making our wedding weekend perfect!

Poco Diablo Resort's reply:

Thank you so much Cassandra for your very kind words. We so appreciate it! We loved having you and Glenn here as well as all of your family and friends. We hope to see you back at our resort in the New Year.

Diamond

Married on 10/07/2020

Amazing!!!!

This venue was magical. The view and crew were more then I could ever imagine,Everyone was so helpful and the attitudes were so joyful. Highly recommend. Javier and Tanya are so great at there job, they make it smooth sailing.

Poco Diablo Resort's reply:

We are honored to have hosted your wedding, Diamond! We thank you and wish you, Erik and your family joy, happiness and wellness in the years to come!

Lou O.

Married on 09/07/2020

Most Accommodating and Attentive vendor in Sedona

Thank You Tanya and Banquet Staff for an OUTSTANDING job pulling off a wedding breakfast during this Covid year. It was a challenge but Together, we did it!
Tanya's Communication was flawless. The consideration and attention to detail was top notch. The rooms were spacious, the grounds were relaxing and the golfing was entertaining.
Thanks again, we look forward to seeing you all next time we visit Sedona.
Love,
Chuck & Lou Olson and Casey (the happy bride)

Ashley L.

Married on 08/16/2020

A Beautiful and Stress Free Experience

Jill made everything so easy for me! All I really had to do was show up. The patio was set up beautifully for the reception and the staff were all friendly and attentive.

Poco Diablo Resort's reply:

Poco Diablo Resort is so pleased that you and James were happy with your wedding on Sunday. We appreciate you and your family coming out this summer to celebrate your love and devotion to each other. Wishing you both much happiness.

Jessica

Married on 06/20/2020

Amazing Wedding

Poco Diablo was more than we could have ever asked for. Our original plan was canceled and we were stuck looking for an alternative with two weeks until our wedding date. Tanya was a miracle! She helped us plan our special day and made sure our dreams came true. Javier set our magical day up and made it look beautiful. Everyone at Poco Diablo made a point of congratulating us and were so friendly. We will definitely be back to celebrate special points in our life. Thank you all!

Poco Diablo Resort's reply:

A special Thank you to you Jessica for allowing us to be part of your celebration. We appreciate it. Congratulations and come back soon.

Lori S.

Married on 06/20/2020

Poco Diablo Resort

Excellent wedding venue for ceremony and reception. Staff is terrific and go above and beyond!!! Our family and friends had an awesome time!!! This property is gorgeous!!! We saw a shooting star while enjoying on patio view!!! The guys loved the golf course!!! Something for everyone!!!

Poco Diablo Resort's reply:

Thank you so much Lori. Your wedding was blessed with a shooting star! That is so wonderful. We hope you come back to our resort in the very near future.

Kayla

Married on 05/13/2020

An Aahmazing Small wedding!

The staff, grounds, and amenities at Poco Diablo were great!

Tanya in catering was so helpful, responsive and kind. She helped us organize a small coronavirus wedding in under a month! Day of we needed to make a quick change from a live guitarist to a playlist, and Tanya was able to help with technology! She didn't even bat at eye. We were so grateful!

Concierge William was so helpful! He gave my MoH a ride to our bridal suite and back a few times for gear. Everytime we requested extra water, we were greeted with a smile and 2-4 bottles! The bridal suite was perfect, and it was so convenient that it was right next to our room!

Joy helped schedule hair and make-up. The girls did a great! Loved my hair and Jacy did a great job with my make-up! She was overly cautious - is she had perfectly cleaned brushes and was continuously sanitizing items and her hands.

Javier, the server captain, for our small wedding was kind and attentive! All of the staff was amazing! Our in-laws enjoyed lunch at TJ each day and Mario always gave amazing service! Mario is funny too :)

Our rooms were great, I loved being near this couch and fire place area. I think our dogs loved the resort as well! We had no idea but we had a jacuzzi suite in a dog room! Our two sets of parents had regular rooms, and some friends had patio rooms.

This property is seriously perfect! We didn't golf, but it is a perfectly kept pitch and putt style 9-hole golf course. We enjoyed morning walks around the course.

+ 15

photos

Poco Diablo Resort's reply:

Thank you so much Kayla for your very kind words. We were so honored to have you both here with us and all your family and friends. Loved the beautiful photographs and hope to see you back at our resort in the very near future. Congratulations!

Coral B.

Married on 12/14/2019

Best day ever

The staff here is beyond exceptional! The entire resort is well maintained and gorgeous nestled in between the stunning red rocks. The beautiful willow trees provided the most beautiful backdrop to our outdoor ceremony. The staff might be the best part of the resort from the time that we checked in we were greeted by 2 smiling faces congratulating us, then I met with the event coordinator Jill K and got to meet the wonderful team that would be setting up both the ceremony and reception and they were beyond accommodating. I could go on and on about how perfect every part of our stay and wedding was at Poco Diablo but you have to see it to believe it.

Poco Diablo Resort's reply:

Thank you so much Coral! We truly appreciate it! We enjoyed having you all here with us this weekend. Happy Holidays.

Kim B.

Married on 10/27/2019

Top Notch in Every Way!

We had several challenges as the bride and groom lived out of state, the mother of the bride lived out of town. We checked other venues in Sedona as my daughter wanted this wedding to be a staycation for all guests. I can say that Jill and the entire staff at Poco Diablo show the utmost professionalism from the first visit to the end of the wedding day! I highly recommend Poco Diablo for any of your events! They had several events on the same weekend as our 50-person wedding and all were handled flawless! Kudos to Jill and the entire staff of Poco Diablo thank you so very much! Kim B.

Poco Diablo Resort's reply:

So glad you were pleased with our service Kim. We appreciated the selection of our venue and were truly happy that everyone enjoyed the wedding celebration. We can't wait until you can return to our resort once again!

Andrea

Married on 10/26/2019

Beautiful venue for a perfect wedding

Poco Diablo is unbelievable. We feel so lucky that we had the chance to get married there. After months of grueling venue searches, we happened upon Poco Diablo on WeddingWire, and immediately got in contact. We ended up booking it as our ceremony site without even seeing it, and I'm so happy we did. When we finally visited the site months later, I was awestruck by the beautiful views, the charming hotel rooms, and the fantastic customer service. We fell so in love that we decided to host our rehearsal dinner there as well. The food was fantastic, and the atmosphere was wonderful.

Communication with Jill was timely and effective--she was very helpful from the start. I actually never even had the pleasure of meeting her in person, and everything went so smoothly. The bridal room for getting ready is a perfect size and very comfortable. I didn't feel nervous at all on my wedding weekend, and I attribute much of that to the excellent customer service and peaceful atmosphere. You really can't go wrong with a wedding at Poco Diablo! Very excited to celebrate many anniversaries at this wonderful resort.

Poco Diablo Resort's reply:

Thank you so much Andrea for your thoughtful review. We were honored to host your wedding at our resort and enjoyed welcoming your family and friends for your rehearsal dinner. We truly appreciate you and your family. Hope to see you back here soon.

Kimberly W.

Married on 10/12/2019

Highly Recommend

We decided to have our reception at Poco Diablo. It was absolutely gorgeous and stress free. They set up the tables, chairs and place settings the day before and the morning of we just set up the centerpieces and the favors/seating assignment. The food was amazing; we chose the Bell Rock dinner option and loved it. We are so glad we found this place in Sedona. Highly recommend.

+ 5

photos

Poco Diablo Resort's reply:

Thank you so much Kimberly! We loved hosting your wedding reception at our resort and you were wonderful to work with. We hope you will return for a visit in the New Year.

Wildes

Married on 09/14/2019

Beyond Exceptional

As a long time Sedona resident, I can honestly say this was the absolute BEST venue to have a large wedding. All staff was very accommodating, kind and went above and beyond to make our guests and family very welcomed. Food was fantastic, rooms very clean and comfortable, and the views were spectacular. Poco Diablo Resort is a TOP notch resort for a Beautiful Sedona Wedding. Jill was very prompt in her service and knowledge about having a wedding at Poco and always had excellent suggestions. The GM of the resort Karen Oakley was beyond Exceptional and made every effort to make our Daughter's wedding day Perfect.
5 STARS to the Poco Diablo Resort

Poco Diablo Resort's reply:

Thank you so much for your very kind words. We are so happy that everyone had a wonderful time and you were pleased with our food and services. We appreciate it!

Jonica W.

Married on 09/14/2019

Beautiful Wedding Venue Location

The most beautiful, quaint location for a Sedona wedding. The reason we chose this venue was because of the stunning red rock views from the gold course, the greenery, the ability to have 170 guests, and our guests were all able to stay on the property, which meant we did not have to book transportation or worry about guests driving after the reception. Karen Oakley, the general manager, went above and beyond to ensure our wedding day was everything we could have wanted. Eric and Javier were also amazing and ensured our wedding day ran smooth and our guests were happy.

Stephanie

Married on 10/13/2018

Couldn't recommend more highly

Poco Diablo provided an amazing experience from booking through the actual wedding day. Jill at Poco Diablo helped us coordinate every detail every step of the way. We were emailing Jill constantly as we booked this venue site unseen for a destination wedding. We also had many last minute changes due to a rainy wedding day, which she and the rest of the Poco staff executed flawlessly. The venue provides stunning views, the rooms were very nice, and people are still raving about the food at our wedding (we opted for the Southwestern buffet). We could not recommend this facility more highly for a wedding!

Poco Diablo Resort's reply:

Thank you so much Stephanie and Matthew for your very kind words. We were so thrilled to work with you both in the months leading up to your beautiful wedding and truly appreciate you and all of your family and friends. We look forward to welcoming you back to our resort in the near future.

Rebecca

Married on 09/30/2018

Poco Diablo Created our Dream Wedding!

We are so grateful that we booked our wedding at Poco Diablo! I don't even know where to begin because their staff was outstanding and truly made all the difference in our special day.

Jill K. worked with us from the very beginning to plan our dream wedding at Poco Diablo. She was always so knowledgeable and friendly. So great to work with! She always went above and beyond for us to make sure our day was perfect. Really cannot say enough about her professionalism, willingness to put her guests first and her overall quality in work. I was a very particular bride and always had a million questions. Jill answered every email, met with us countless times and eased all of our worries. I always knew we were in good hands. THANK YOU, JILL!!

Catering and banquets teams were amazing and their quality of service made our wedding top notch! Eric was so wonderful preparing our food tasting and beyond. Always such a friendly guy; we so appreciated his help! Kudos to the chef for preparing amazing food that all our guests loved! Front desk and concierge (Gina, William) were also incredibly accommodating and friendly. Dory M. in reservations helped us with any room requests we needed and they were all granted! Spa staff was very friendly, as well.

I cannot thank these people enough for providing us with memories that will last a lifetime. Sedona was our dream location for our venue and we toured almost every venue there, but Poco Diablo stood out from the crowd and truly captures the natural beauty and essence of this magical place. From the moment we first toured this venue and stepped outside onto the green and saw the majestic red rock backdrop, we fell in love and knew it was the one. We couldn't be happier with our decision. Thanks to all at Poco Diablo who made our wedding so beautiful and memorable. We will be sharing for the rest of our lives and can't wait to bring our future family!

Peggy H.

Married on 09/11/2018

Most Beautiful Wedding They'd Been to (my guest said!)

If you are thinking of having your wedding at Poco Diablo Resort-Do It!! My husband Tom and I were married on the small golf course by the beautiful gazebo in November 2018, and we could not have been happier! The scenery was just gorgeous, the day was beautiful and Jill Kyriakopulos was wonderful to work with! (Her crew was great too!) The brunch on the deck was absolutely beautiful and delicious too!! Jill suggested terrific vendors for our flowers and the cake, and it was all so perfect. We just wish we had had more time to stay at the resort longer to soak all the magic in!! But alas, we were hosting a party the day after our wedding in Phoenix and had to leave. Thank you Poco Diablo Resort for making our special day incredibly beautiful!! Peggy and Tom

Poco Diablo Resort's reply:

Thank you so much Peggy and Tom for writing such a wonderful review. We are truly pleased that your wedding was just as you imagined and we enjoyed working with you both. Hope you can come back at see us soon.

Valerie

Married on 05/26/2018

Hands down, the most PERFECT & BEAUTIFUL place to be married, Poco Diablo resort in Sedona, AZ. We had stayed here before and really enjoyed it, but when we arrived on our wedding day and saw how gorgeous the property was prepared for our special day,, we were SO HAPPY and excited. The property was very clean, landscaping was gorgeous and well maintained, the rooms were beautiful with gorgeous views, the new restaurant/bar and umbrellas were extremely nice. The staff was incredible, starting with Jill from the first time we talked to her. She provided really great ideas accommodating our budget, and helped support our needs for a destination wedding/ weekend schedule: Friday a Mexican Fiesta Welcome Reception on the covered patio, Saturday an outdoor wedding facing Elephant Rock with a dinner on the covered patio and dancing under the stars. Food was delicious, especially for the Mexican Fiesta. Her estimates were extremely accurate which helped to ensure we planned/budgeted appropriately. She was very detail oriented and helped provide reminders to ensure we met all the key deadlines. We really loved working with her, as she was professional and knowledgeable, but so kind. We really enjoyed spending time with her as we planned our special weekend. We now know why she and the resort receive so many positive Wedding Reviews. In addition to Jill, we had such a great experience with every staff member on site- William from Concierge, Chelsea as Bartender for our Friday Fiesta and Captain for our Wedding, Anita and Eric for managing our Friday Fiesta and Wedding Dinner events. They were all very kind, courteous, detail oriented, and helpful. The champagne/chocolate covered strawberries on our wedding night were DELICIOUS. Can't rate this resort staff high enough, and can't wait to come back and visit our Friends at Poco Diablo Resort on future anniversaries. Our wedding weekend was prefect in every way. The property is a photographer's dream. Thank you for everything!

+ 7

photos

Erica

Married on 05/19/2018

Words can't describe how happy I am that I chose Poco Diablo Resort to have my wedding reception. Jill is amazing, she was so helpful and a joy to work with. My guest and I were so pleased with how attentive all the staff were. Great service! Thank you Jill and all the staff at Poco Diablo Resort!

Poco Diablo Resort's reply:

We were thrilled to host your wedding reception Erica and enjoyed working with you and Ted. Your family on both sides were amazing and we loved having all of you here with us. We hope you will come and visit us the next time you are in town. Thank you so much for your kind words. Sending best wishes to you both.

Kyla

Married on 05/12/2018

So professional, did everything they could to make our day as special as possible! Staff was courteous and food was impeccable! I was never wondering where people were and everyone was so helpful!

Poco Diablo Resort's reply:

Thank you very much Kyla for your comments. We appreciate it. Best wishes to you and Nic.

Kara

Married on 05/04/2018

From the moment we toured the grounds of Poco Diablo over a year and half ago, we knew it was going to be our venue for our ceremony and reception. There are many gorgeous Sedona venues, but we could feel how authentic this place was from the moment we stepped foot here. I think what makes Poco so special is Jill K and the hard-working staff. We planned our entire wedding from out of town (as many do) and Jill was communicative and helpful throughout the entire process. Aside from the people who work here being absolutely lovely, the resort itself is something for the eye to behold. From willow trees, to rose bushes galore, lush green grass, a sparkling pond, and views of Bell Rock, Poco Diablo is simply beautiful. If you are looking for an outdoor venue look no further! Overall, when it came down to the day of the wedding, the guests could not have been happier with the service, food, and spectacular sights. We are both just so happy and thankful for Jill and everyone that helped make the wedding day of our dreams! Thank you Poco Diablo, Mr. and Mrs. Conforti

Poco Diablo Resort's reply:

Kara and John, we really appreciate your wonderful review as you both were such a pleasure to work with. We wish you both much happiness and thank you so much for choosing our resort for your amazing wedding.

Autumn

Married on 04/08/2018

My husband and I got married at Poco Diablo Resort on Sunday April 8, we had about 75 guests in all and opted for the brunch wedding from 10am-2pm. The reason we chose Poco Diablo Resort was because of the packages they offer and Jill. She is so direct, organized, and prompt that I knew exactly what to expect and what I'd be getting every step of the way. It was never difficult to get a hold of her and no questions went unanswered. It was worth every penny, my guest cannot stop talking about how beautiful it was and they enjoyed not only Sedona but the hotel as well. I had a vegan bridesmaid who said it was the best vegan meal she has had in a while. The staff was so friendly and the wedding happened exactly on time and exactly how I hoped it would be. It was beautiful and organized with exceptional service. I'm thrilled we made the decision to get married at Poco Diablo and I trusted Jill every step of the way, she handles everything perfectly. Thank you Jill and the rest of the amazing Poco Diablo staff from the waiters, to the bartender, to the check in guest for making me and my guests a happy wedding crowd! I was nervous a brunch wedding would feel rushed or would not be enough time but it was a great choice that I'm happy I made.

Kim

Married on 03/30/2018

Awesome in every way! Venue, accommodations, staff, catering all easy to work with and so helpful. Poco Diablo Resort was the perfect pick.
Are you interested?
Send a message